If you are a gamer, you must be familiar with Steam, a popular digital platform for video games. Yet, it is common to experience errors while using Steam, including the E84 error code. This error can occur when you are trying to launch a game or perform other actions on the platform. Sometimes it can be frustrating to deal with.
Usually, corrupted game files or outdated drivers can cause the Steam E84 error code. Also, it can happen due to your system's compatibility with the game. You can try several solutions to fix this error and get back to gaming. This article will discuss how to fix the Steam E84 error code in detail. I will provide you with step-by-step instructions on different methods you can use to fix the error code e84.
Whether you are a newbie or a professional user, this article will be helpful for you in fixing the error code. By reading this article, you should be able to fix the error and continue enjoying your favorite games on Steam. Let's get started.
What Is The Steam Error Code E84?
If you're experiencing the Steam error code e84, don't worry, it's a standard error, and you can fix it quickly. This error occurs when you're trying to launch a game or application on Steam. It means there is a communication problem between the Steam client and the game server.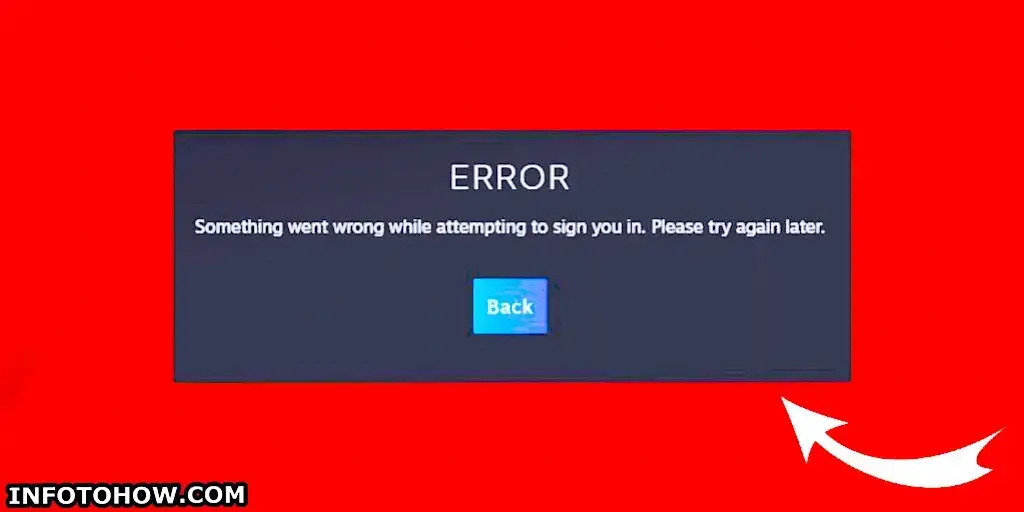 There are a few reasons why this error could occur. One of them is there's a problem with your internet connection. The appearance of this type of error commonly shows that there is a gap between the user and the system. If your connection is slow or unstable, then it can stop the Steam client from communicating with the game server.
Another possible cause of this error is a problem with the game server itself. If the server is experiencing issues, the Steam client may be unable to connect. So, it will show the Steam e84 error.
Causes Behind The Steam Error Code E84
The Steam error code E84 can lift the head due to factors other than an internet connection or game server issues.
One common cause is a corrupt or outdated installation of the Steam client. This can occur if the Steam client is not updated or has deleted or corrupted files. So, the Steam client may be unable to connect to the game servers or download game updates.
Another cause of the Steam error code E84 is a problem with third-party software or antivirus programs. Antivirus can flag the Steam client as a threat, causing it to block access to the game servers or prevent updates. Other software running on your system may interfere with the Steam client.
Hardware issues can cause the Steam error code E84. This can occur if there are problems with your computer's graphics card, RAM, or hard drive. Therefore, the Steam client may be unable to launch the game, resulting in the E84 error code.
Outdated installations or conflicts with third-party software can cause the Steam error code E84. If you experience this error, then it is important to troubleshoot and address the root cause.
Basic Checks To Avoid Steam Error Code E84
Steam Error Code e84 or the other code can be a nightmare for gamers. But before starting a wordy solution, here are the basic checks to prevent it.
Check your system requirements: Ensure that your computer meets the minor system requirements to run the game you want to play. Check the game's specifications and compare them with your system. Your game will never work if your hardware is not compatible with it.
Update drivers: Outdated drivers can cause different errors, including Steam Error Code e84. The driver works as fuel for your program; without fuel, nothing will work for you. So, check for updates for your graphics card, sound card, and motherboard drivers.
Run Steam as an administrator: Sometimes, Steam needs administrative permissions to work. It tells a system that the administrator is commanding the system and not by a non-related person. It is just a minimal thing, but it does work. Right-click on the Steam icon and select Run as Administrator.
Close unnecessary programs: Other running programs can put down the resources that Steam needs to run. So, close unnecessary programs before launching Steam and your game.
Following the basic checks, you can prevent Steam Error Code e84 and return to gaming.
Also Check: ChatGPT Error in Body Stream: How To Fix It?
How To Fix Steam Error Code E84?
So, you are looking for more methods to solve error code e84 indicates basic checks didn't work for you. Don't worry. We have you covered. Steam error code E84 can be pretty distracting and frustrating for gamers. Some users may experience frustration if they are unable to fix the error. If you have limited time to play games and this happens, this ruins your day. You can follow the listed solutions to help you fix your error and take you back to your game.
Check your Internet Connection
Checking the internet connection is crucial when troubleshooting the Steam error code E84. By checking your internet connection, you can check if this is the cause of the E84 error code. Almost everything is connected to the Internet, increasing the chances of Internet problems. Without the Internet, you can't enjoy your favorite games on Steam.
You can improve your internet connection by restarting your router. Also, you can upgrade your internet package for better speed. You must contact your Internet Service Provider (ISP), who can help you find problems with your network.
By ruling out network problems first, you can save time.
Search "Device Manager" in settings to check your internet connection.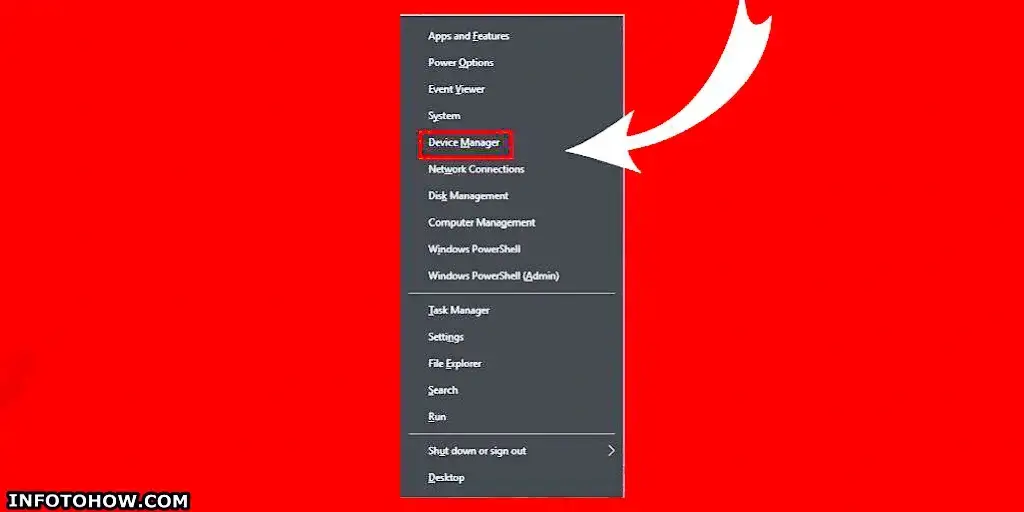 Click on "Network Adapters" in Device Manager.
Click on your adapter in the opened list. A screen will show up showing the status of your Internet connection.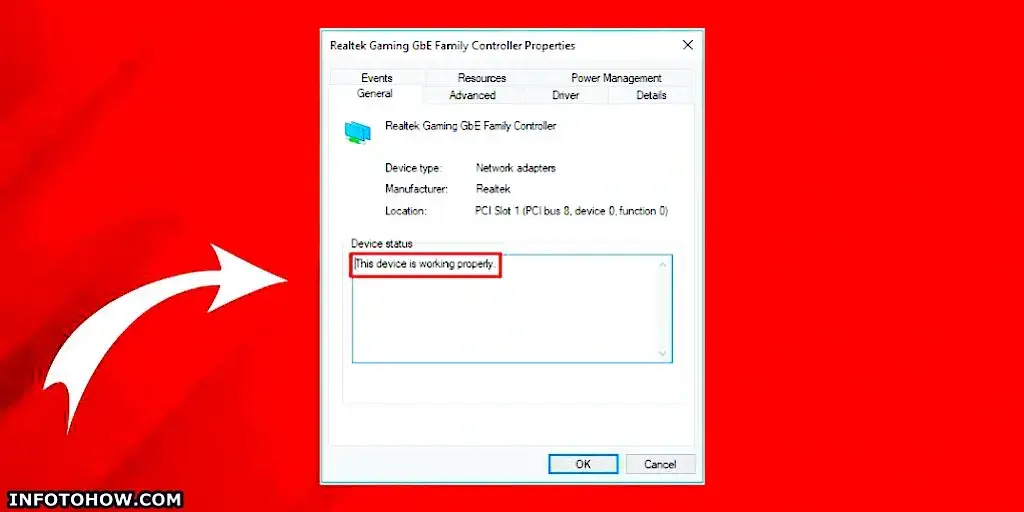 Also Check: How to Fix Hulu Error Code 504 (Gateway Timeout)
Reset your Steam
Error code E84 on Steam usually indicates a problem with your network connection or the servers. Resetting Steam can help fix the error code e84 by refreshing the Steam client and server connection. Also, Resetting Steam can give it a new start and let it work without errors. Also, running Steam in legacy view can help you fix the error. You can run your Steam on legacy error until the next update comes in.
Follow the steps to reset your Steam or run it with no updates.
Click on the "Windows key" and search for Steam.
From the menu of options that displays, select "Open file location."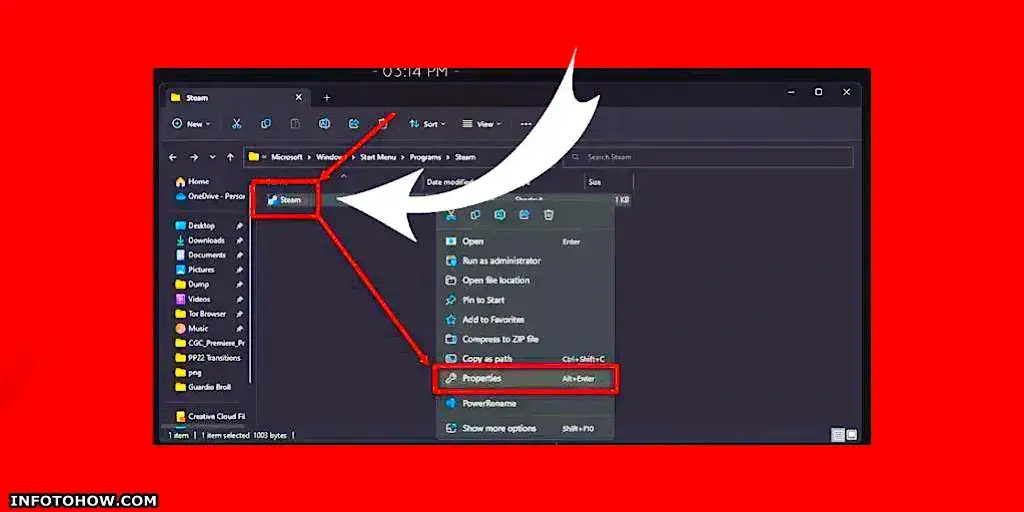 Right-click the Steam icon and select "Properties."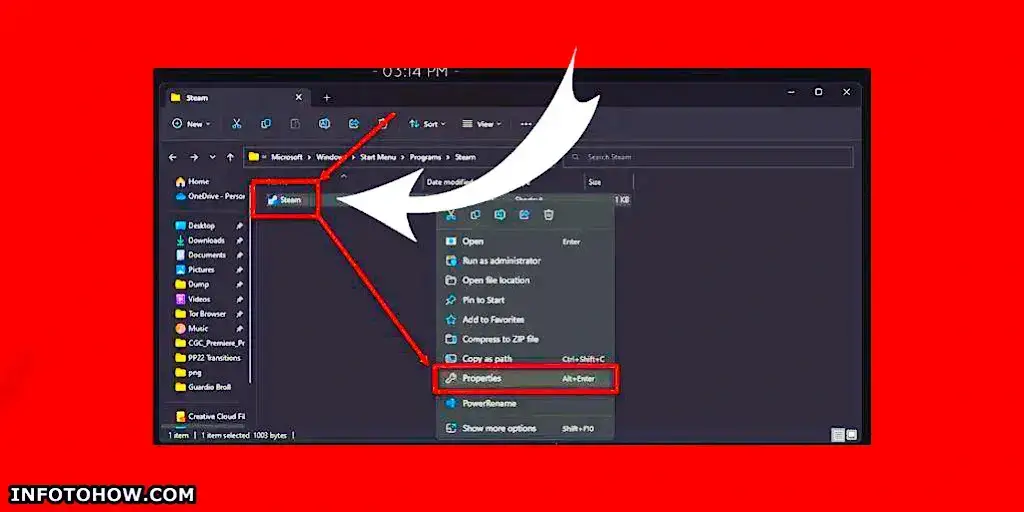 Add the -noreactlogin flag at the end of the path in the Target box.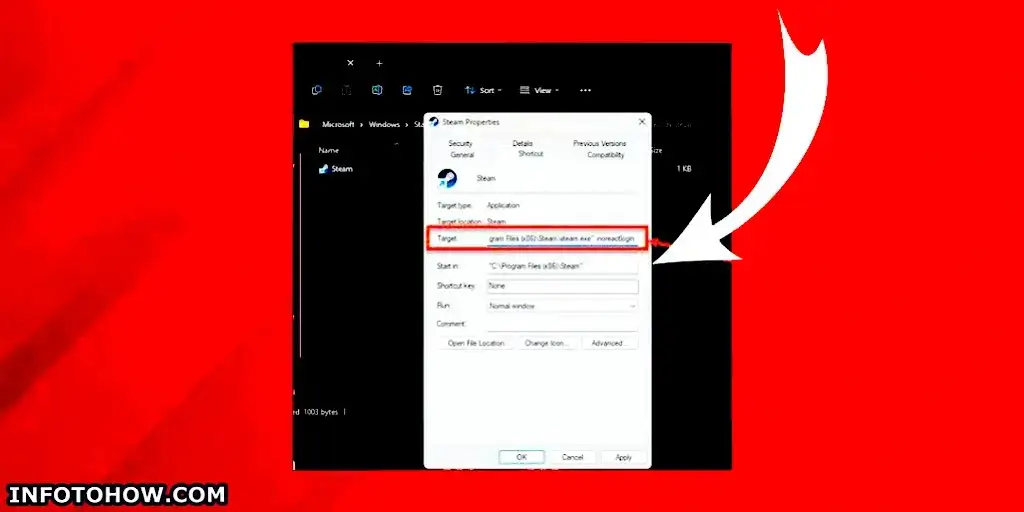 Your Steam will now open with default updates and keep working until the next updates.
Also Check: How To Fix Xbox Error Code 0x80190190?
Clear Cache Memory
Steam error code E84 is a standard error that can occur while using the Steam platform. This error is often caused by corrupt or outdated cache files stored on your computer. Clearing your cache can help to fix this error and get you back to using Steam usually.
When you use Steam, it stores data on your computer in the form of cache files. These files help your computer run Steam better by keeping repeatedly used information locally. Over time, these cache files can become outdated or corrupted, causing errors like E84.
To clear your Steam cache, follow a few simple steps to get your Steam platform back up and running smoothly.
Click on "Downloads" in the "Settings" Tab
Then, at the bottom of the page, click on "clear download cache."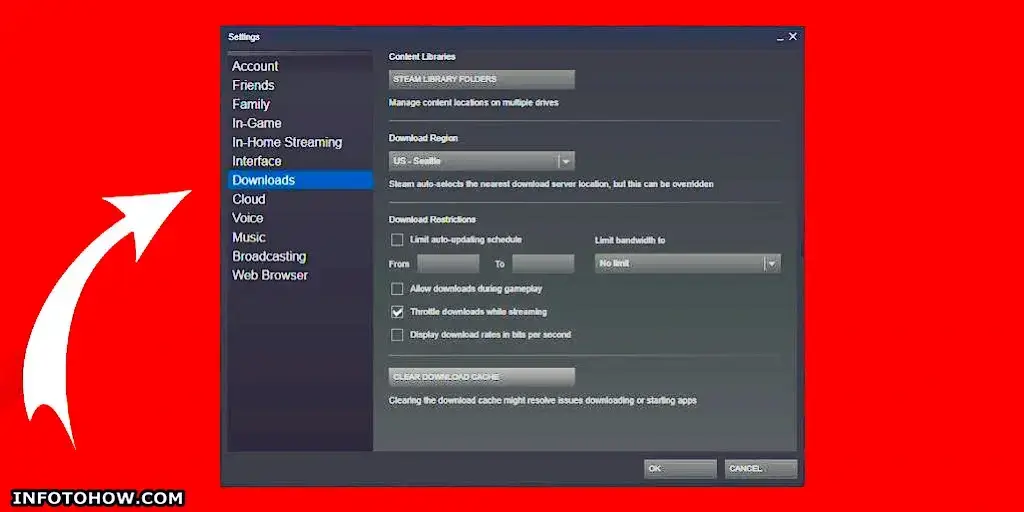 A confirmation box will pop up. Click on "Ok" to perform clearing.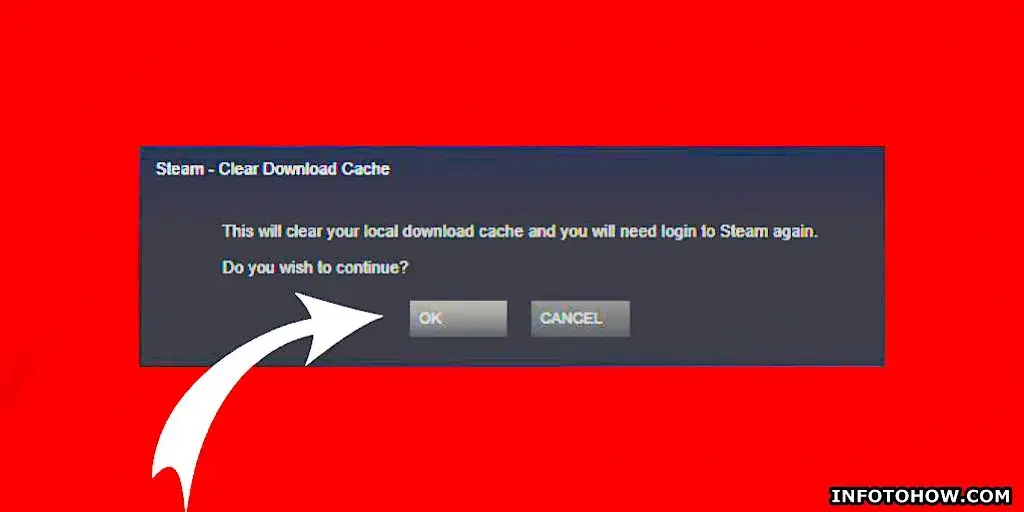 Also Check: How To Fix The Paramount Plus Error Code 4200?
Update Your Steam
The Steam login error code e84 is usually related to problems with the Steam client and many factors. Corrupted files or outdated software can cause it. One of the practical ways to fix the Steam error code E84 is by updating the Steam client to its latest version. Updating Steam can fix the error code e84 due to outdated software or corrupted files. Since, the newest version of Steam will have the needed fixes and patches to address these problems.
Also, updating Steam can help to improve the performance of the client. Because, newer versions often come with optimizations and improvements. You can update specific games you are having problems with or your Steam.
For updation:
Click on "Games" in the Home Tab
Select your desired game and right-click to select "Properties" from the options.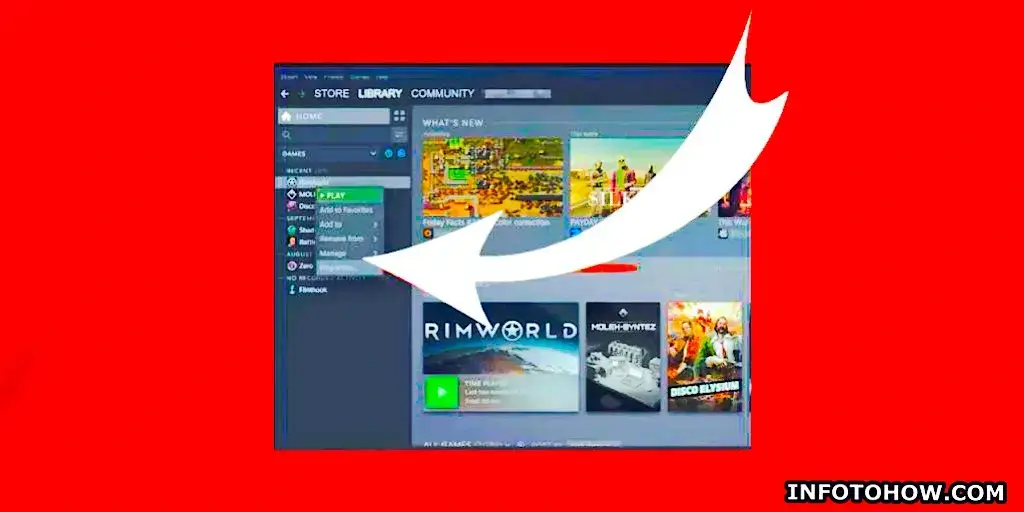 Click on the latest version you want from the Alpha & Beta versions.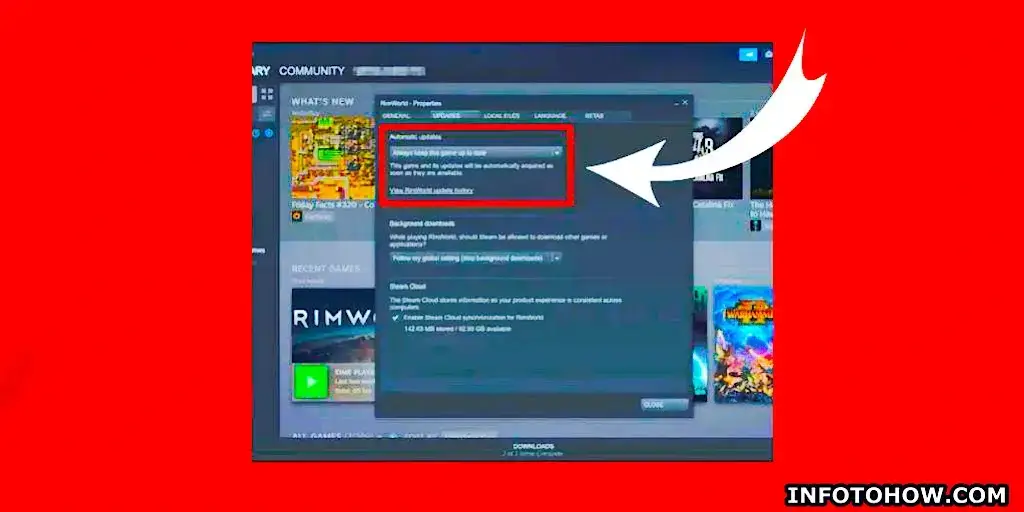 Now restart your Steam and let it do its work.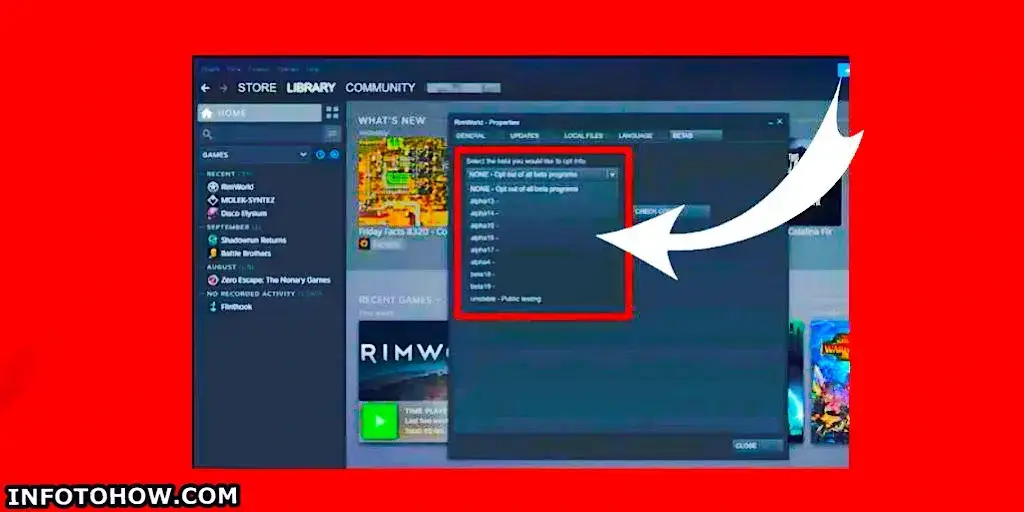 Also Check: How To Fix Spotify Error Code Auth 74?
Disable Windows Defender
Disabling Windows Defender can fix Steam error code E84, caused by a problem between the two programs. Windows Defender is an antivirus program. It comes pre-installed on most Windows computers. Also, it helps to protect the system from threats. It can sometimes interfere with other software programs, including Steam. So, it may result in errors like error code E84.
This error usually appears when you try to download or update games on Steam, which can be frustrating. Since, it prevents them from accessing their game library. By disabling Windows Defender, users can turn off the antivirus software. So, it allows Steam to function without interference.
To disable windows defender:
Click on "Update & Security" in Windows Settings.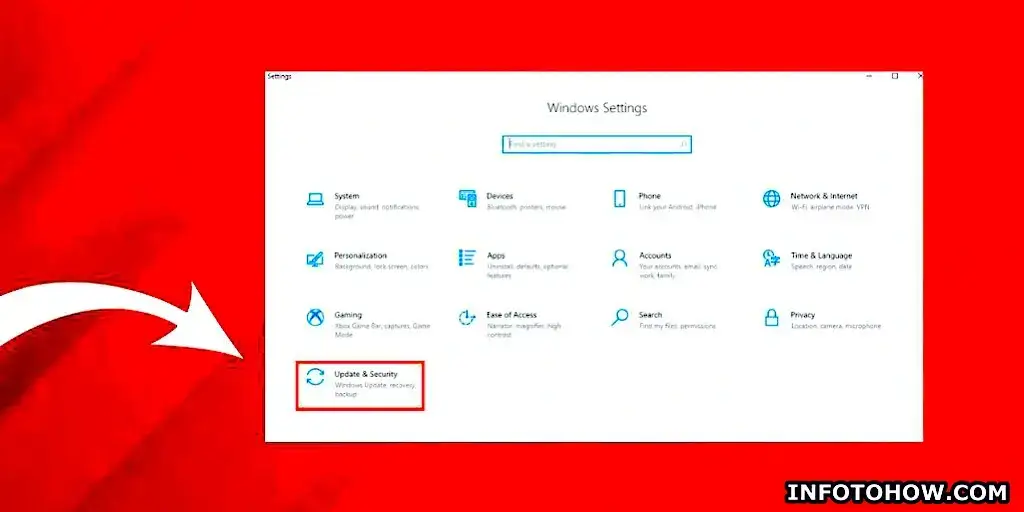 Then, click on "Windows security" below the delivery optimization.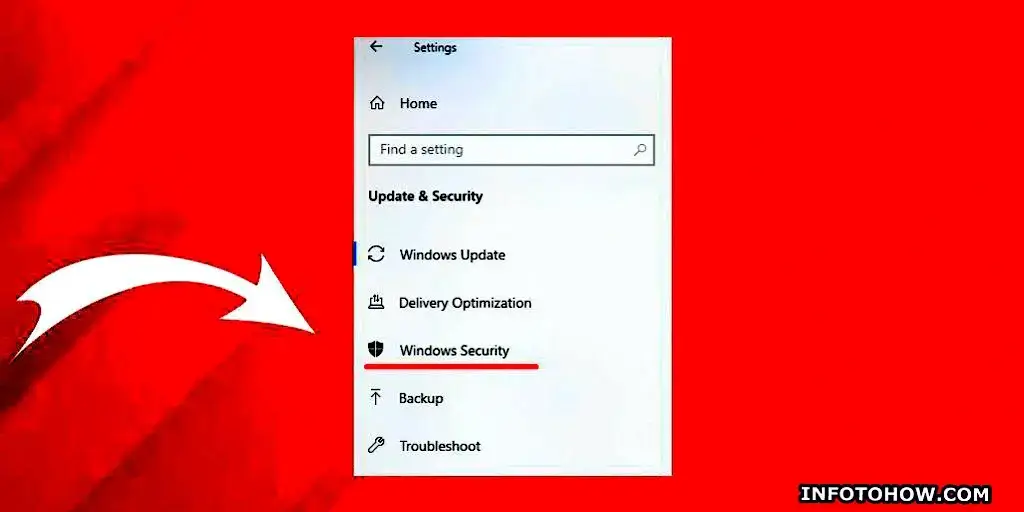 Click on "Virus & Threat Options."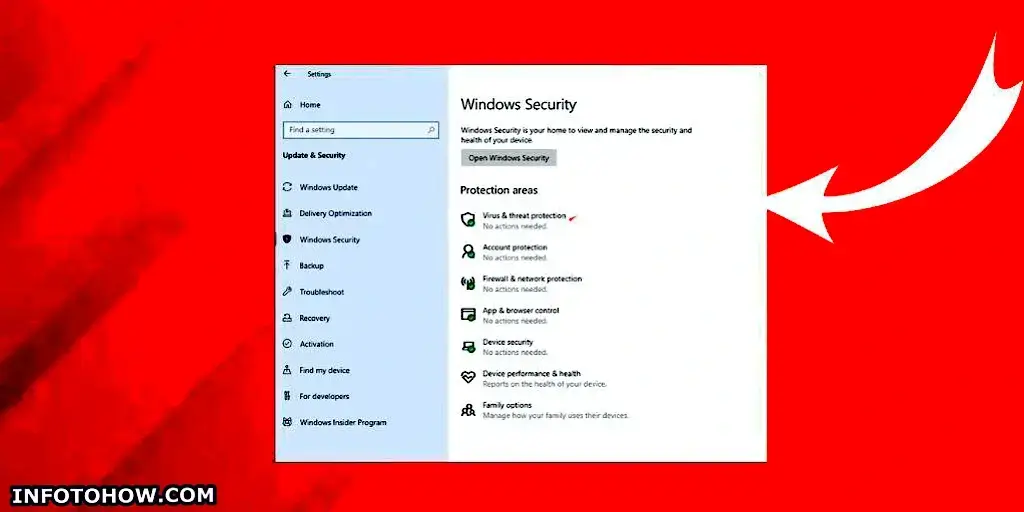 Click on "Manage Settings."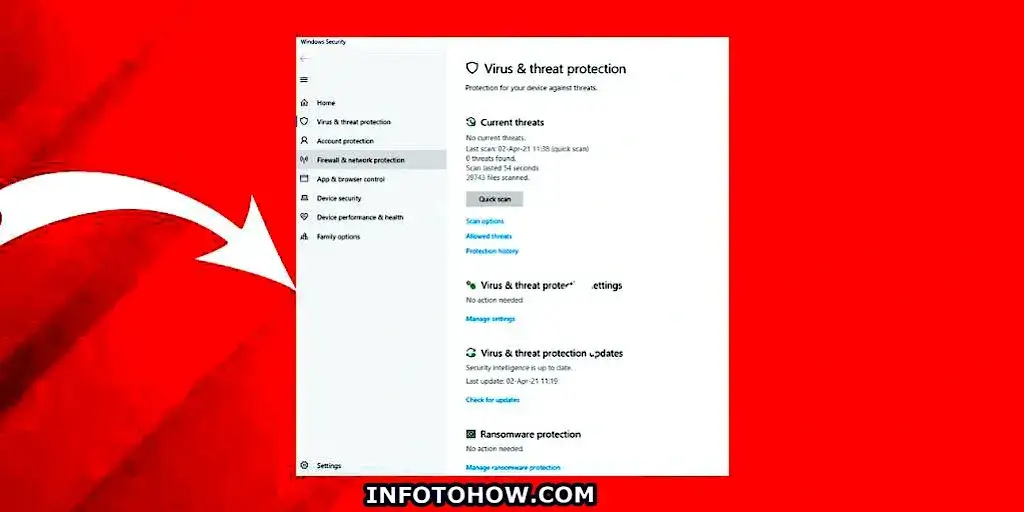 Turn off the Real-Time Protection.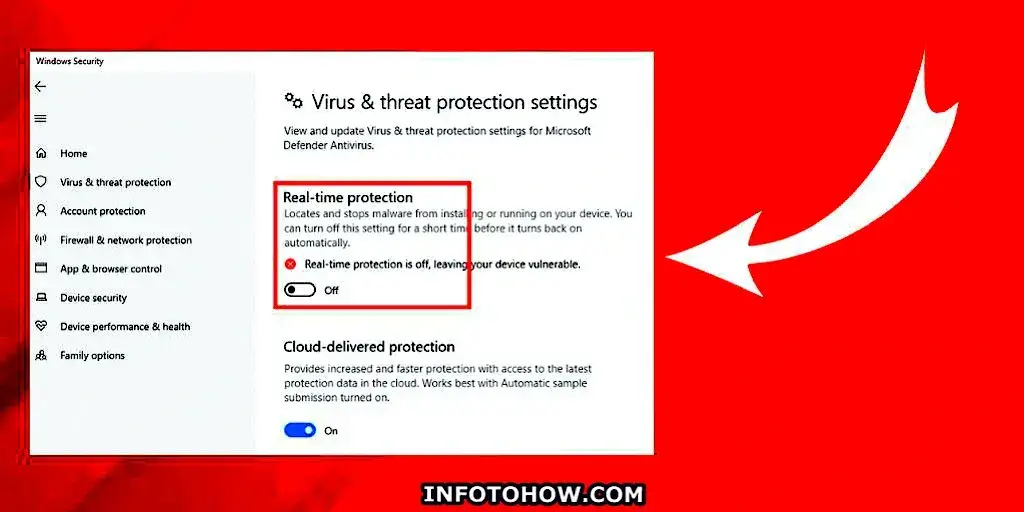 Also Check: How To Fix QuickBooks Install Error 1712 – Effective Methods
Correct the Date and Time of your Computer
Steam Error Code E84 is a common error gamers face when trying to launch their favorite game. The error is usually caused when the date and time on the system are wrong.
The date and time of the system play a crucial role in the functioning of Steam. So, it is a must to keep the date and time of the system up to date. It ensures the proper functioning of Steam and avoids errors like Steam Error Code E84.
This error occurs because Steam uses the system's clock to verify the validity of the SSL/TLS certificate of its servers. If the date and time on the system are wrong, the certificate validation fails. So, the user cannot connect to Steam.
You can update the date and time by following the listed steps.
Press "Win + S" to open up the search
Search for Settings.
Click "Time and Language" and select "Date and Time".
Turn on the toggle "Set Time Automatically."
Click on "Sync Now" under Synchronize your clock
After updating the date and time, users should restart their computers and relaunch Steam. Also, you should fix the error if the wrong date and time are causing it.
Also Read: How To Have A Better Experience When Playing Video Games?
Conclusion
Steam error code E84 can occur due to a poor internet connection, wrong date & time settings, or corrupted cache memory. But, it is possible to fix this error by following simple steps. Ensuring a stable internet connection can help to prevent E84 from occurring. Updating date and time settings and clearing cache memory can help to fix this error. So, disabling Windows Defender can help you to avoid problems in Steam's operation
To avoid Steam error code E84 in the future, it is important to keep your computer and Steam client up-to-date. So, you must check and install updates to your operating system, Steam client, and game software. Also, you must ensure that your internet connection is stable and reliable. Moreover, clearing cache memory and disabling Windows Defender can help to prevent this error. By following these straightforward steps, you can enjoy a smooth and better gaming experience on Steam.
Also Read: How To Fix Hulu Error Code 500?
---
Featured Image by Wolfsrib