Coronavirus has had an unprecedented impact on the world. The on-demand online food delivery services have been a significant source of income for restaurants in the US. At the current state, wherein most restaurants are available only for takeouts and deliveries; these apps are getting more orders like never before.
Top 6 Online US Food Delivery Services
Top Contenders In The Online Food Delivery Sectors In The US Are: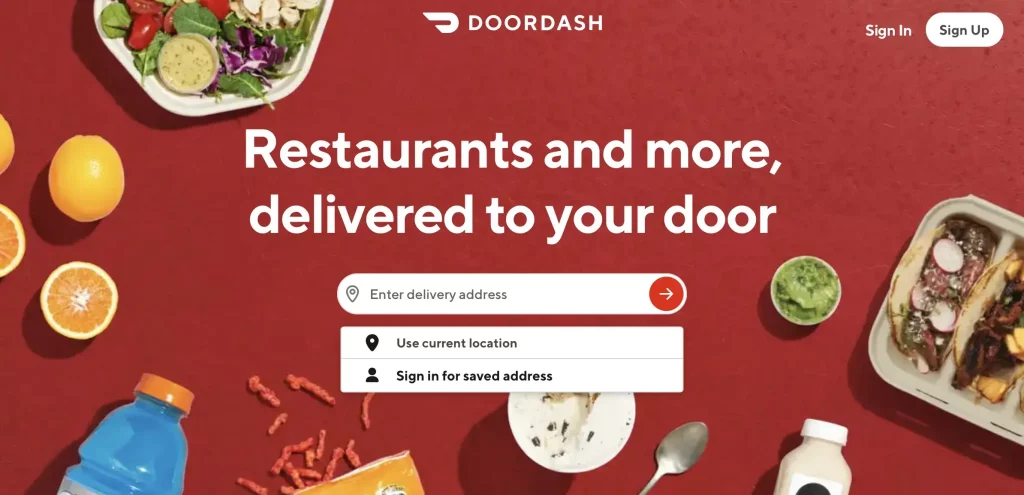 DoorDash: Your favorite restaurants, delivered
DoorDash is a third-party US food delivery services provider. And which acts as a connecting force between the brands(restaurants) and customers. DoorDash is a leading third-party food delivery app, holding 35% of customers' spending in the US.
The main reason for its growth is that it is technology-driven. A notable example is that it provides partnered restaurants with advanced data; including the locality in which more people purchase, the peak time of orders, etc. These data are concerning specific restaurants. So this helps them to improve their business decisions.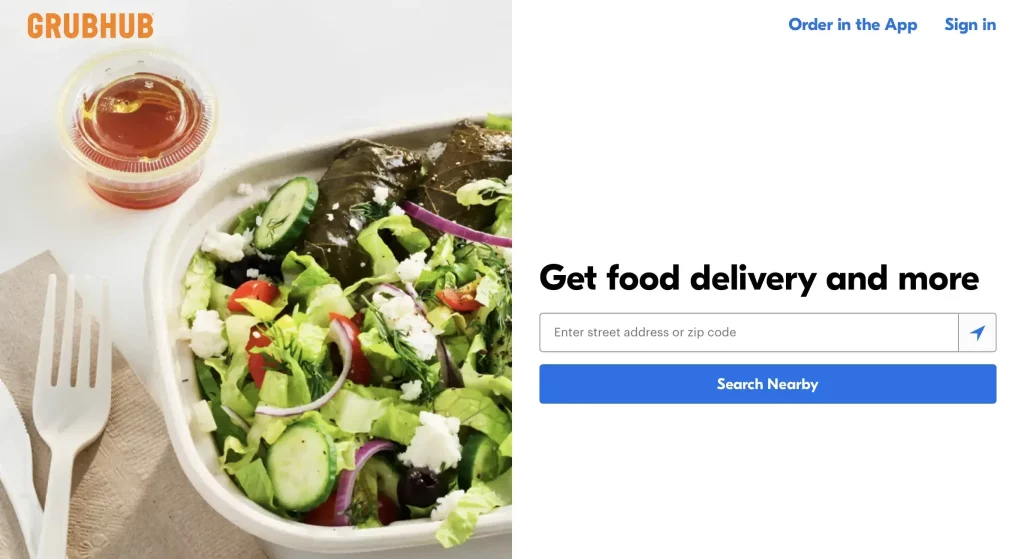 Grubhub: Order Food Delivery You'll Love
Grubhub is an American online food delivery marketplace that connects diners with local restaurant takeouts. More than 60% of the Americans order food through online services, so the market of online takeout services is evergreen.
According to Grubhub, 30% of the customers discover new restaurants through their app. This is to have attractive UI and simple navigation facilities that allow users to locate the restaurants they prefer. They have a fast online delivery service to keep up with demand during peak hours.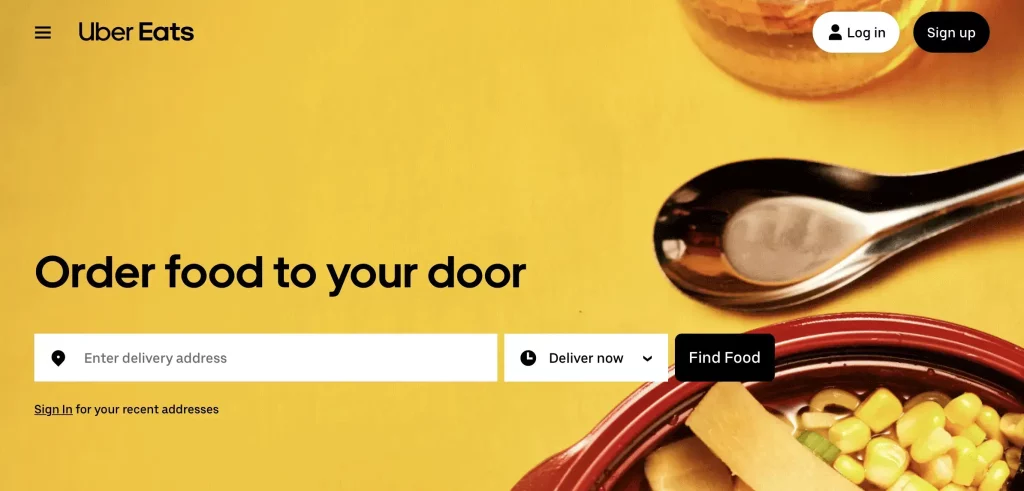 Uber Eats: Your Favorite Food, Delivered with Uber
Uber Eats is a mobile and online delivery platform for ordering from restaurants across the city. As of 2017, It has partnered with 47,000 restaurants to fulfill customer demands.
Ways by which UberEats makes money
In every order, restaurants keep 70% of the profits, and UberEats gets 30% of the profits.
It gets a small delivery fee from customers based on the distance between restaurants and customers' places.
There is an optional monthly subscription fee, which includes exclusive options.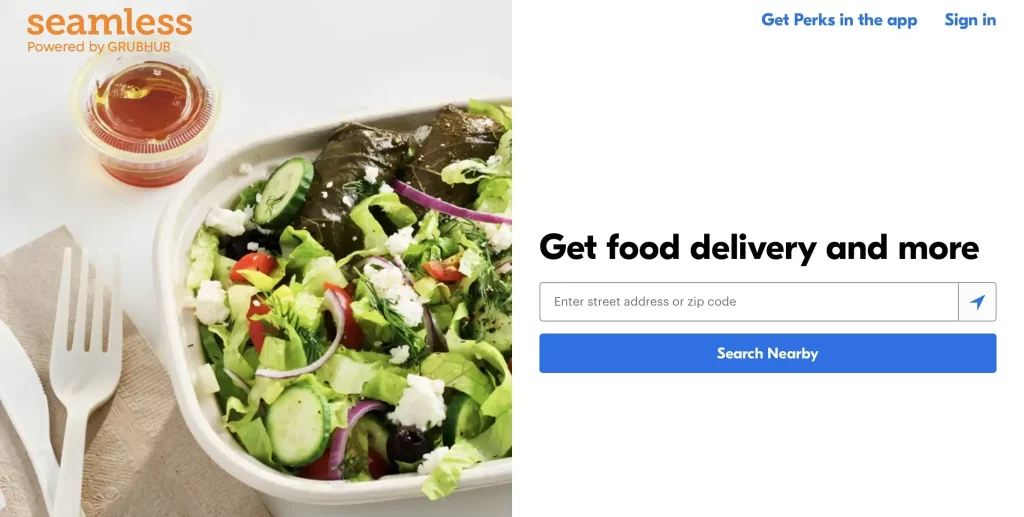 Seamless: Seamless Food Delivery Every Time
Seamless is a North American based food delivery service that provides ordering and takeout from restaurants. In 2013, Seamless merged with Grubhub to offer higher order volume and improved regional coverage. The merger processed 13,000 orders in a day in the first half of 2013.
Seamless, as the name suggests, has a simple and easily navigable user interface. Many customers are ordering through it as it provides enticing discounts. It offers immediate discounts on your first order and frequent coupons. These offers can be availed once you enter the website, thereby encouraging even hesitant customers to order.

Deliveroo: Your Favourite Restaurants and Takeaways, Delivered to Your Door
Deliveroo is based in London, the UK, and has a valuation of $2 billion approximately. It is a food delivery app that currently has more than 12 countries and operates in more than 68 cities.
It is one of the few food delivery service providers in the US that offer a specific category of healthy foods. There are various cuisines like Thai, Japanese, Indian, Mexican, Greek, etc., to choose from.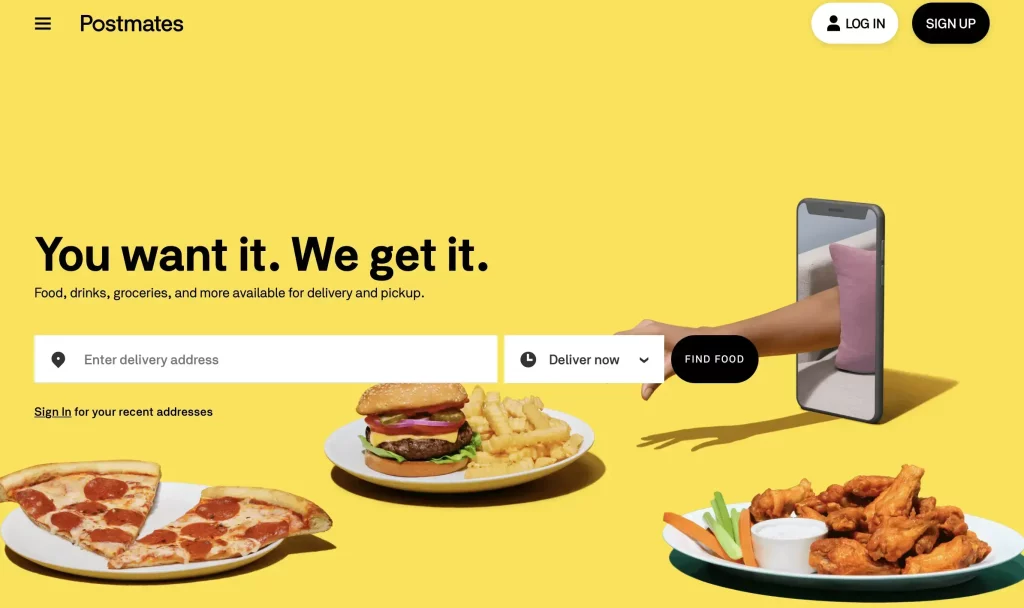 Postmates: Food, Drinks, Groceries, and More Available for Delivery and Pickup
Postmates is a goods delivery service in the US that offers a wide range of delivery services such as food, grocery, alcohol, etc. When it comes to food delivery, it delivers within an hour of ordering it. The services are available 365 days and 24 hours a day.
The delivery usually charges around $5 out of which 80% goes to the delivery agents, and 20% goes to Postmates. Apart from this, there is an additional charge as a convenience fee of 9%. There is no cap on this fee. But people are happy to pay for these services for the comfort and ease it offers.
Also Check: How To Make Money With Online Food Ordering System?
The Marketing Strategies Opted For Online Food Delivery Services In The US
The Strategies Must Be Adopted By Online Food Delivery Services In The US Are:
Define Your Target Audience
Developers must build a food delivery app to suit the buyer personas. There are three essential aspects to consider
Take a general survey to understand customer requirements
Choose the appropriate communication channels
Come up with an effective strategy to attract customers.
Create a Unique Selling Proposition
There are several food delivery apps available, like Swiggy, Zomato, UberEats, etc. So there is a need for USP to attract more customers. Let us look at the top performers to get an idea of the strategy. UberEats focuses on 24 to 35-year- old customers, so it offers fast foods from restaurants across the city. On the other hand, Deliveroo provides food from various cuisines from high-end restaurants. Your USP should be different from the existing online food service providers. The creative marketing team will take care of this.
Social Media & Advertising
Reports suggest that 71% of the people buy products after seeing them on their favorite social media handles. Choose the right platform and post content accordingly. For instance, Instagram and Snapchat are used mainly by younger generations; so post ads with foods that will be interesting to them. They do not mind much about the place if you want to target older audience posts on Facebook.
When it comes to advertising, keep the content relevant to the current times; so that people find it entertaining and engaging. More than 70% of people opt for the platform after seeing the Ads.
Also Check: A Look Into The Growth Of Online Food Ordering And Delivery Business
DoorDash's Support to Help Restaurants and Customers:
Crucial measures are taken by an app like DoorDash to support restaurants and customers.
Restaurants are facing a huge setback amid the Coronavirus outbreak. DoorDash has been a helping hand in supporting the restaurants in these tough times. In mid-march, they started a campaign to raise funds to recommend restaurants. By May 31st, they raised an approximate of $120 billion.
According to a survey, DoorDash has said; "We're proud to report that the restaurants on DoorDash are four times more likely to have remained open during the COVID-19 pandemic than US restaurants as a whole."
We can understand the role of the on-demand food delivery DoorDash service app in stabilizing the restaurants' economy in the US.
DoorDash has announced a digital storefront for restaurants. So, restaurants need not invest in building the application as they can use these services for free; on the condition that they use DoorDash for delivery services.
More than 40% of the partnered up restaurants do not have their delivery platform. So they have come up with the DoorDash storefront for restaurants to create their services and manage their orders. The delivery service is taken care of by DoorDasher, and a cut has to pay for every order.
It offers zero commission throughout the year for weblinks to order; both pick-up and delivery only for restaurants with five or fewer locations.
So the time is ripe to invest in the DoorDash clone app.
The Bottom Line
While developing a food delivery business app like DoorDash, there is a need for the app features to be; both advanced and unique to stand apart on the competitive market. A proper marketing strategy plays an essential role in increasing the customer base of the food delivery services in the US. So it is crucial to have well-established, knowledgeable developers and marketing teams for your DoorDash clone app development.
Also Check: How To Build Taxi Booking App Like Uber?