An online food ordering system has become a predominant part of eateries and diners. Going to a restaurant, waiting for the waiter to receive, take the order, and waiting for the food to be prepared has become an old tradition. Just open the app, select the food you want to order, and get it delivered or pick up the order from the restaurant when it's ready. Order your favorite meal from the nearest restaurant without having to step outside!
What Is The Online Food Ordering System?
The food ordering system is a promising industry trend that will stay forever! Even the world-renowned research website; Statista testify in a report that the global online food delivery market will reach US$ 223.7 billion by the year 2027. The Compound Annual Growth Rate (CAGR) is predicted to be 11.44% from 2022 to 2027.
Many of you know what this means; but restaurant owners must know that these figures speak volumes about the online ordering system's prosperity.
What does it mean to order food online? The food ordering system allows customers to order their food or meals using a website or mobile application. The system facilitates the doorstep delivery of the ordered food. The workflow of such a system is easy. First, the customer will search for their favorite restaurant or directly the food item's name, "sandwich". The customer will then add desired items to the cart and select a preferred payment option to confirm their food order.
Also Check: 11 Must-Have Features Of A Food Delivery App
Food Ordering System: A Step Closer To Making Money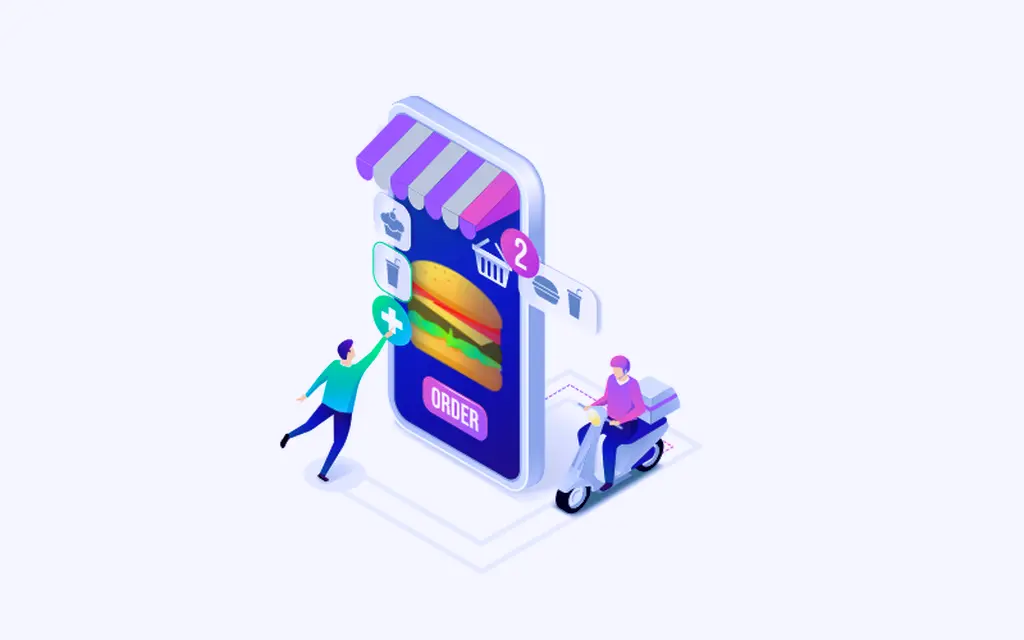 The online food ordering system is not only easy, convenient, and quick for the customers but also beneficial for the service providers! How? The providers see this system as a robust platform to increase their sales, make more money, reduce their labor expenses; and even reduce human-made errors.
That brings us to this blog's core objective: "how to make more money using the online system for food ordering". But, before we explore the money-making side of this system; let's look at some of the most popular ordering systems that have made a remarkable presence in the economy.
Also Check: Top Online food delivery services and their strategies
Real-Life Food Ordering System Inspiration
I hope these real-life examples give you a little motivational push towards the idea of creating your online system!
GrubHub
The app processes nearly 242,000 online food orders every day. With around 6.75 million active users, GrubHub has become one of the most popular digital platforms for food ordering. Moreover, in the year 2015, it "sent US$2.4 billion in gross food sales to take out the restaurants" – says RubyGarage
Deliveroo
Deliveroo raised nearly US$200 million in funding. The digital platform has over 300 employees and around 5,000 delivery drivers; making it one of the top-most online systems for food ordering. This platform holds so much caliber that it has caught the attention of great investors; like Greenoaks Capital and Index Ventures in a blink of an eye. – says RubyGarage.
Do you wish to develop an ultra-modern online food ordering system for your restaurant? If you're nodding right now, then continue reading this blog; because it is here where we discover some ultimate ways to make more money with the online ordering system.
Also Check: A Look Into The Growth Of Online Food Ordering And Delivery Business
Monetize With Your Food Ordering And Delivery System
Now that you have read some numbers and statistics about successful food ordering companies; it is time you uncover how they earned so much money!
Delivery Charges
Almost all of us who have peeked into an online ordering system know what a delivery charge is. When you order food using a food ordering system, you pay specific amounts as a delivery fee. That may be a percentage of the cost that you pay for your food. Or, it can also depend on the distance.
One of the food delivery apps that monetize via delivery charges is Deliveroo. According to a publication on Insider, Deliveroo charges £2.50 from customers for each delivery. Other apps that popularly earn part profit from this monetization method include; UberEats which charges a flat delivery rate starting at $4.99. DoorDash charges a service fee of 7-15% on every order and delivery charges that range from $0.99 to $7.99. Swiggy, the famous Indian online food ordering system, charges a delivery fee as high as 30-35% of the order!
Charging a delivery fee per order seems to be a stable income-earning approach; but your platform needs to undertake other practices in the long run!
Monetization During Peak Ordering Hours
Interestingly, you can make some good bucks using the monetization method. For example, you can charge a delivery surcharge during the busiest hours, say the traditional lunch and dinner timing. Some locations are limited from ordering during these active hours; or a few items are cut off from the online menu. This helps the restaurants to manage online and dine-in orders better! Also, customers requesting certain items by placing online orders are then charged extra money.
The biggest con of this monetization method is that the platform and the restaurant will earn some extra cash with every order. However, remember that not all the customers are ready to pay the surcharges and that annoyance could cause them to order from a competitor's food ordering system.
Also Check: 6 Things You Need to Know About Process Manufacturing
Advertisements
Advertising has always been the primary mode of profit earning for any business. When we are talking about ordering and delivery systems, advertising is just another essential monetization technique for the platform. A food ordering and delivery system can earn some extra cash; by advertising or listing a restaurant in top search results for a specific period.
Many platforms like Swiggy and UberEats use this monetization method. The money that the food ordering system charges from restaurant owners are predefined. In other words, restaurants that want to be on the featured list have to pay a fee for it!
The competition is humongous, and every restaurant wants to be on top of the featured list. You imply that food ordering and delivery systems can earn considerable money from this method. But, remember, whenever you're planning to partner up; see that the restaurant is trustworthy and has excellent customer ratings and reviews; otherwise, you will put your platform's reputation at stake!
Earn Commission On Every Order
Earning commission is another significant way to monetize your online food ordering system; and the platform can decide a predefined commission rate and collaborate with restaurants. To convince you about the mind-blowing results this method draws, let me put forth the examples of Deliveroo. Thanks to the commission-based model; Deliveroo'sDeliveroo's revenue has increased by 20 to 25% in a month over the past three years!
To help you understand this commission-per-order better, let's take an example.
For example, it's Friday Happy Pizza Hour; and 115 people have already ordered food from ABC Pizza via your online system. As per the legal bond; ABC Pizza is supposed to pay you 10% on every order transaction made via your app. So, calculating the sum; your platform will earn a 10% commission from 115 orders during the Friday Happy Pizza Hour itself!
Now, that's what is called earning an "Almighty Dollar".
Another bonus monetization method with your food ordering system is daily deals. Food ordering and delivery platforms also tie up with reputable restaurants and offer discounts on purchases from their menu! You can find these restaurants or dishes on the daily deals pages on the platform.
With increased sales, the commission amount that the platform receives also towers!
Third-party advertising, app homepage advertising, extra delivery fee during bad weather, etc.; are other ways of monetizing your food ordering system.
Conclusion
Looking at the statistics and facts, food ordering systems seem to be an up-and-coming business. With the evident success of famous companies like UberEats, Deliveroo, Swiggy, and GrubHub; the monetization aspects of the app are hence proven!
So, are you willing to build your own online food ordering system?If you are, don't wait up for another second and quickly call the industry experts!
Also Check: 5 Best Food Delivery Business Ideas – How Can One Be Profitable?