When it comes to going on a tour with your family to enjoy your vacation or going on a business tour abroad, booking flight tickets and hotels comes first. If you travel regularly, you probably know how to plan and manage those bookings. But for a newbie, it'll be a hassle for sure! So, for experienced and newbie for both, here we have listed the best hotel and flight ticket booking apps for Android. The apps are highly efficient and packed with features that help you get inspired, explore, plan trips, and enjoy your travel time like never before.
7 Best Hotel and Flight Ticket Booking Apps For Android
Let's check the list of 7 best best hotel and flight ticket booking apps without wasting any more time.
Crazy Destination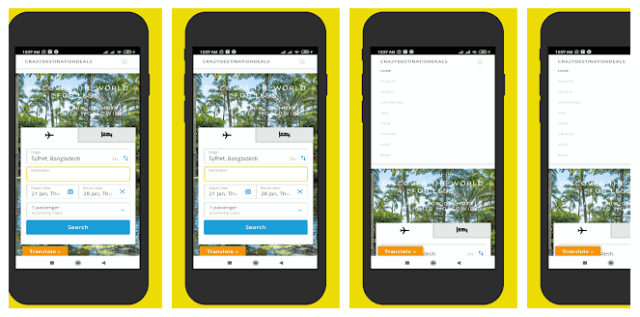 The app Crazy Destination is crazy, entirely! With over 700 airlines, 5000,000 hotels, and 30,000 car rental locations, this is one of the best travel booking apps to compare and book cheap flights, hotels, and cars! The moto of the app that makes it an all-in-one travel app is travel more, pay less.
With an easy-to-use and customizable search tool, you can search through thousands of offers and crazy deals to book your flight, hotel, or even a car and get your e-ticket within minutes of making your booking.
Its continuously updated system always ensures providing nothing but the best-priced offers. Moreover, CrazyDestinationDeals.com partners and negotiates with top airlines so you can get the most significant savings possible.
Overall, one of the complete and best hotel and flight ticket booking apps, also companion for all your bookings.
Goibibo Travel – Hotel, Flight, IRCTC Trains & Bus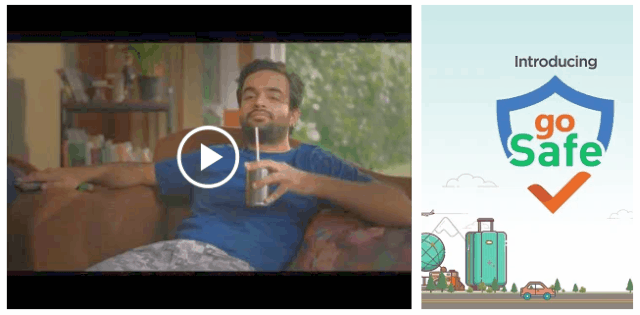 Goibibo is another excellent application being used by millions of passionate travelers. If you want to get the best deals on booking Hotels, Flights, Cabs, Buses, etc., you can try it too.
It offers the best travel deals & discounts on all of your travel bookings. It provides users additional discounts on first-time bookings of Flight, hotel, Train, Cab & Bus if you book through the app.
Moreover, as a new user, you can get up to 250 goCash+ and save on your bookings. As well as, it also has a referral program so you can invite friends & earn goCash+ on every referral you make.
There are much more, and overall, it's one of the fantastic best hotel and flight ticket booking apps to book your next flight or hotel when you travel.
KAYAK – Flights, Hotels & Car Hire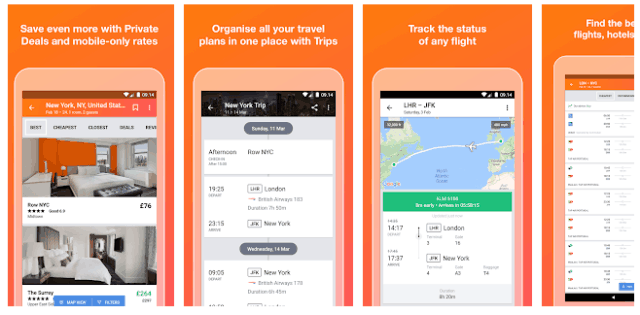 Now it comes to KAYAK — one of the most notable hotel and flight ticket booking apps for travelers.
By searching, filtering, and sorting your options from hundreds of travel sites at once, the app allows you to find exactly what you need for your trip. Cheap flights, hotel deals, and car rentals.
You can even change your flights with no fees and cancel hotels and car rentals without any fee or extra charge.
Using the price alert feature, you can know when prices drop and using Explore feature, you can discover new destinations within your budget.
MakeMyTrip Travel Booking – Flights, Hotels, Trains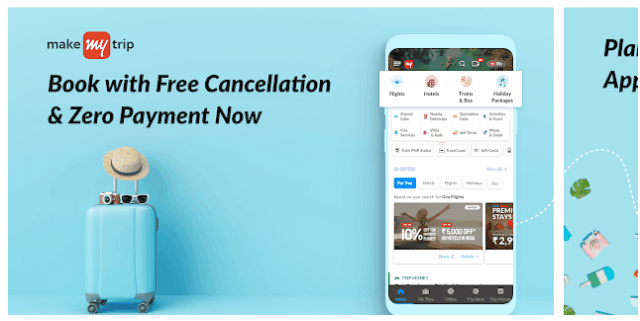 If you live in India, you should check MakeMyTrip first because it's the no1 among other best hotel and flight ticket booking apps in India, as we know so far.
Using it, you can book flights, trains, metro, hotels, taxi cabs, bus tickets, and rental cars.
You can manage all your travel bookings and make revisions & cancellations within the app, as well as; you can also get instant discounts on select bank credit & debit cards.
Another exciting feature of MakeMyTrip is that you can discover local & international events, book tours & enjoy experiences ranging from museums, wild-life safari, and even adventure sports.
Expedia – Hotel, Flight, Car Hires & Activities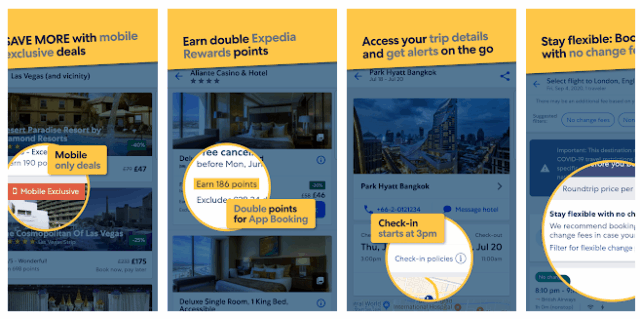 Expedia is one of the most popular hotel and flight ticket booking apps for travelers. Its modern search filtering pulls essential data and pricing information from thousands of travel booking websites.
So users can compare, contrast, and easily book the cheapest hotels, flights, rental cars, cruises, something to do, and package deals on the app as well.
The app is designed to make it easy to plan your trip and book your travel needs.
Expedia also has special deals for mobile users that are most users love. A fantastic travel booking app undoubtedly.
Wego – Flights, Hotels, Travel Deals Booking App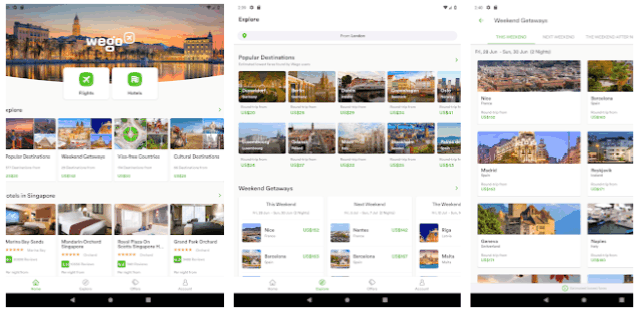 Wego is a pretty good travel booking app specially designed to serve you to find the cheapest travel costs available online. It displays the entire airfare or hotel rates openly and upfront, including taxes, surcharges, and other associated fees.
So, there is nothing to suffer about while booking your flights or hotels. You can also compare flights & hotel rates from a comprehensive list of airlines to pick the most suitable one.
The app also has the Explore feature to browse all possible destinations by popularity, visa requirements, weekend trips, cheap deals, and themes.
Overall, Wego is one of the pleasant hotel and flight ticket booking apps, and it does what it says.
Cleartrip – Flights, Hotels, Train Booking App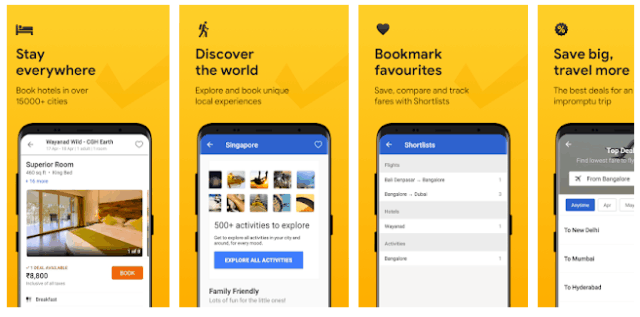 Now it comes to the Cleartrip — another tremendous mobile application that makes it easy to search, plan and book your holidays or business travel faster with comfort.
With its advanced features, you can use Shortlist to save flights that match your budget, get a total airfare refund if you cancel your flight (only for international flights), watch 360º photographs to details about the area of the room, and more.
Moreover, with the "Cleartrip for Work" feature, consultants, frequent travelers, and entrepreneurs can benefit from exclusive cashback, flight changes without any fees, reduced cancellation fees, and more.
Definitely, one of the best best hotel and flight ticket booking apps you must try.
Conclusion
Now, I'm sure you are more acknowledged of flight and hotel bookings when you go on a journey with your family or a business tour. So, enjoy your travel and experience far better than ever using the best hotel and flight ticket booking apps above.