If you play Rise of Kingdoms Lost Crusade, want to improve your gaming, or looking for a companion app where you can chat with other ROK players, ask for guides, tips, and donations, buy merch, and more? If the answer is yes, then you are in the right place now. Because in this post, we have listed the five Best Rise of Kingdoms Social Companion Apps. Using these Rise of Kingdoms Social Companion apps, you'll be able to enhance your ROK gaming from noob to the pro level fast and easily.
So, let's check the list without losing time anymore …
5 Best Rise of Kingdoms Social Companion Apps
1. Rokverse Rise Of Kingdoms Social Network Companion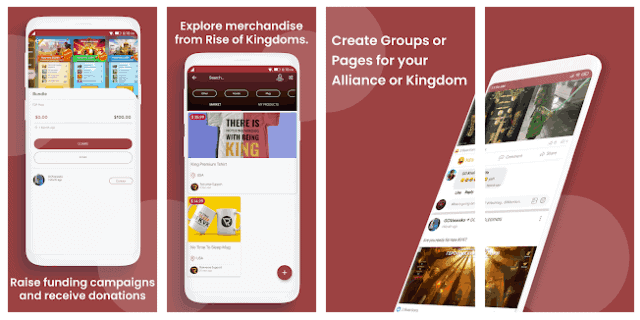 Our first pick is the Rokverse — a growing social platform where ROK players can connect, share their passion, and get precious advice. Suppose you want to connect with governors worldwide or want Rise of kingdoms playing guides and tips from a real gamer community to improve your skills. In that case, Rokverse is the most suitable companion app available.
Rokverse is more than just a companion app for Rise of Kingdoms. Using it, you can easily find and connect with players or groups that matter to you across all kingdoms and civilizations. As well as, you can also share what's happening in your Kingdom, whether there is a new king, a new KvK season coming, or your most significant achievements on the game.
Besides that, the app lets you spread your presence as a successful ROK player with a fan page and get more intimate with players with the same interests as you by joining others' groups.
Rokverse also allows you to ask your followers to join your cause & donate. There is no need to explore other social media or use other apps; you can quickly start funding operations within the app and receive gifts from your fans and the whole Rise of the kingdom gaming community.
Moreover, you can sell your merchandise to other players within this fantastic gamer social media platform. An all-in-one among best Rise of Kingdoms social companion apps without any doubt.
Also Read: 8 Best Anonymous Social Media Apps
2. Rise of Kingdoms – The Companion (Free)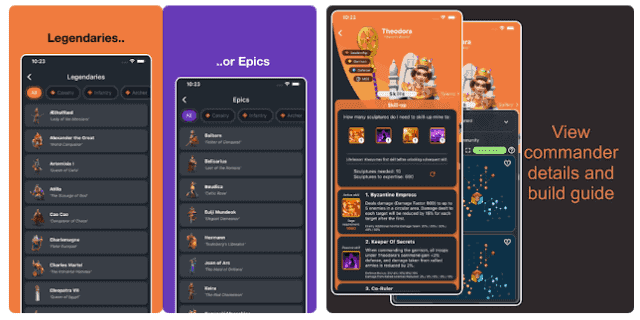 One of the most popular free Rise of Kingdoms companion apps with a responsive and beautifully designed UI made as a tribute to the Rise of Kingdom title. This app allows you to view details for all available commanders and provides you effective build guide for your commanders. Also, it allows you to keep track of your resources with an easy-to-use resources calculator.
You can even see how much time you have with the included speedups calculator and plan yourself a win. For training troop, it has another calculator too. However, you can do it on your home calculator. Overall, a great ROK assistant app.
Also Read: What Are The Best Camera Apps for Android?
3. Rise of Kingdoms Assistant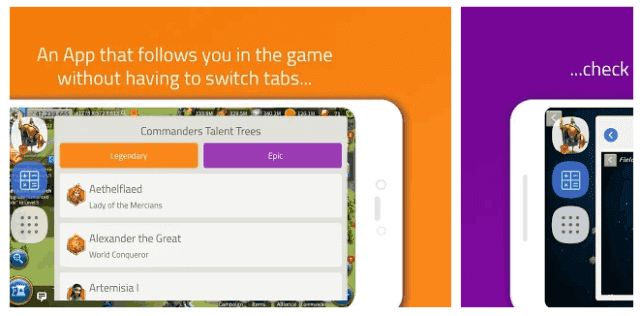 Another one of the Best Rise of Kingdoms social companion apps help you improve your skills and improve your gaming experience with direct entrance to commander talent trees, speedup, and resource calculators without switching apps or using a spreadsheet.
This free app works just like Facebook Messenger, and this means you don't need to close the game to access those tools, as well as, no need to leave your talent tree page to set up your commanders straight — only open and close the app's bubble while you're editing your talent trees.
The app also has calculators for different calculations. Just fill in the speedups, supplies, or even the material you want to produce and let the app calculate for you.
Also Read: 5 Best Location Sharing Apps (Paid & Free)
4. Rise Of Kingdoms Guides and Pro Tools (Free)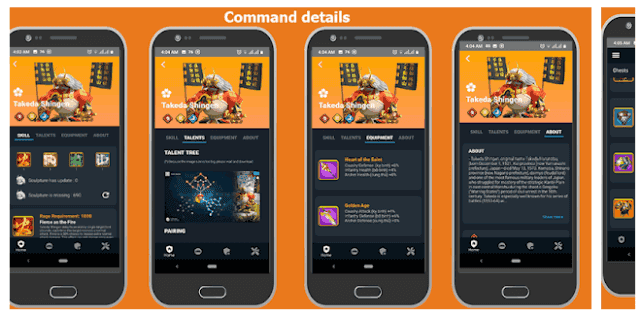 Rise of Kingdoms Guides and Pro Tools is a free app made as a support player in-game ROK. It mainly helps you build your commanders, calculate resources and time acceleration, and time zone orders. Through the app, you can see details on improving the talents, equipment, and skills of professional players.
You can also simulate and identify the number of sculptures to upgrade the skill of the commander. The app also allows you to know how many resources you own, so you can better schedule your building or technology upgrade.
It also lets you quickly calculate the amount of time acceleration you have the most accurate way. Moreover, help you not to miss any important thing in the game because of the time zone by scheduling them.
Also Read: Top 30 Best Job Search Apps to Find You Dream Job
5. Companion App for Rise of Kingdoms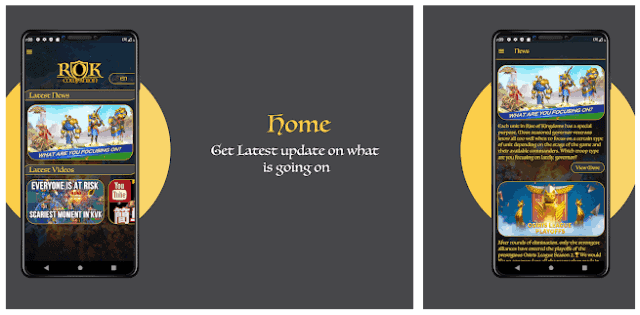 This is our last pick on this list of best Rise of Kingdoms social companion apps. The app is free to use and comes with unique features, including Resource Calculator, Speedup Calculator, Tome of Knowledge XP Calculator, MGE Calculator, VIP Calculator, Event Tracker, and much more.
With the app, you can also check the latest news and videos about ROK. You can also subscribe to support the YouTube Content Creator. Not all videos are posted in the app due to the limitation of Google YouTube API.
However, you can go to their profile and watch videos from there. Overall, an excellent ROK companion app for free.
Also Read: Best Driving Apps – Enjoy Safer, Easier, and Comfortable Driving
Conclusion
So, what are you waiting for? Download the best Rise of Kingdoms social companion apps on your Smartphone, get quickly what you need to improve, and enhance your ROK journey. Enjoy!
Also Read: What Are The Best Android TV Apps?