Grammarly Vs ProWritingAid, which one is the best? As a blogger, I was always searching for a useful writing tool to improve my content to be excellent. I used every free version tool as well as paid versions. However, I stopped my search when I first got Grammarly. I am pleased with this tool.
When it comes to the cost I may seek an alternative slightly lesser price. But with the Almost same or more features. Then I found ProWritingAid.
Therefore, in this article, I am going to review two proofreading tools; Grammarly Vs ProWritingAid. Their features, pros and cons, and other few factors you might want to consider before selecting one.
Grammarly Vs ProWritingAid
What Is Grammarly?

Released in 2009, Grammarly has grown to become a recognized grammar, spelling and plagiarism checking platform.
It has a broad client base (over 10 million users worldwide) and is regarded widely as one of the best proofreading tools around.
Grammarly Discount Coupon: (Get 33% Discount In A Quarterly Plan And 61% Discount In Yearly Plan). Click this link Grammarly to get this offer with hidden additional discount.
What Is ProWritingAid?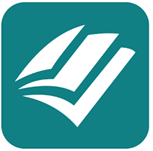 Compared to other proofreading tools like Grammarly, ProWritingAid has many features. At first glance, it may be a bit intimidating due to having many buttons once you open it.
Its web editor lets me access over twenty checks. Also, by using real-time checker, I can get corrections while writing.
ProWritingAid Discount Coupon (20% OFF): Click this link ProWritingAid. Use coupon code IX7EALFLZI to get instant 20% off.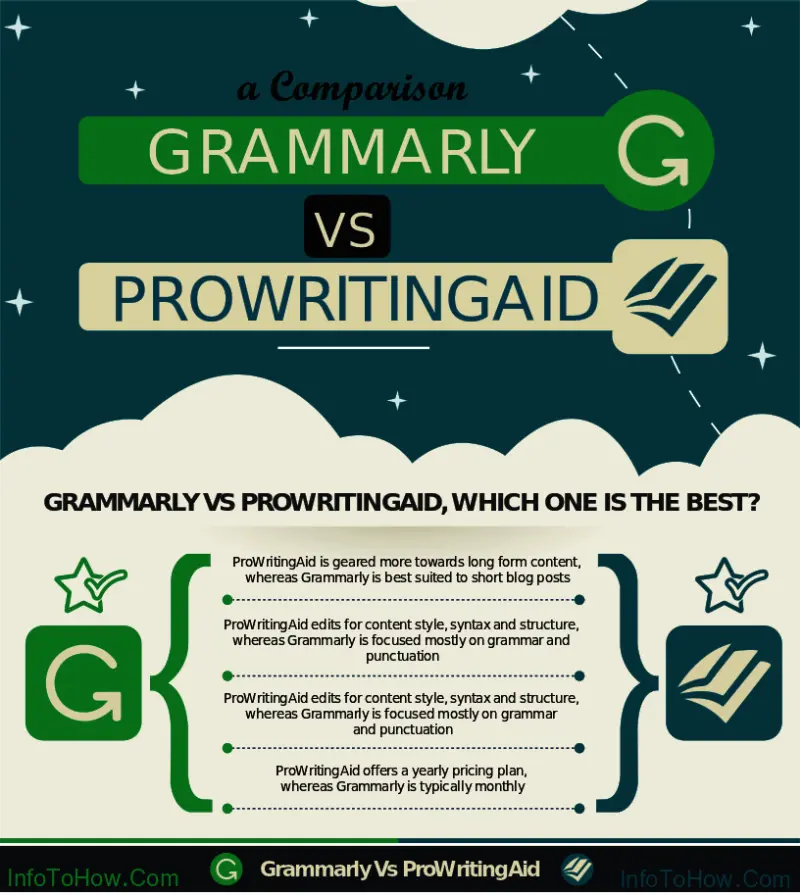 Please Don't Miss:
Take Your Writing to the Next Level: 20 Editing Tips from Professional Writers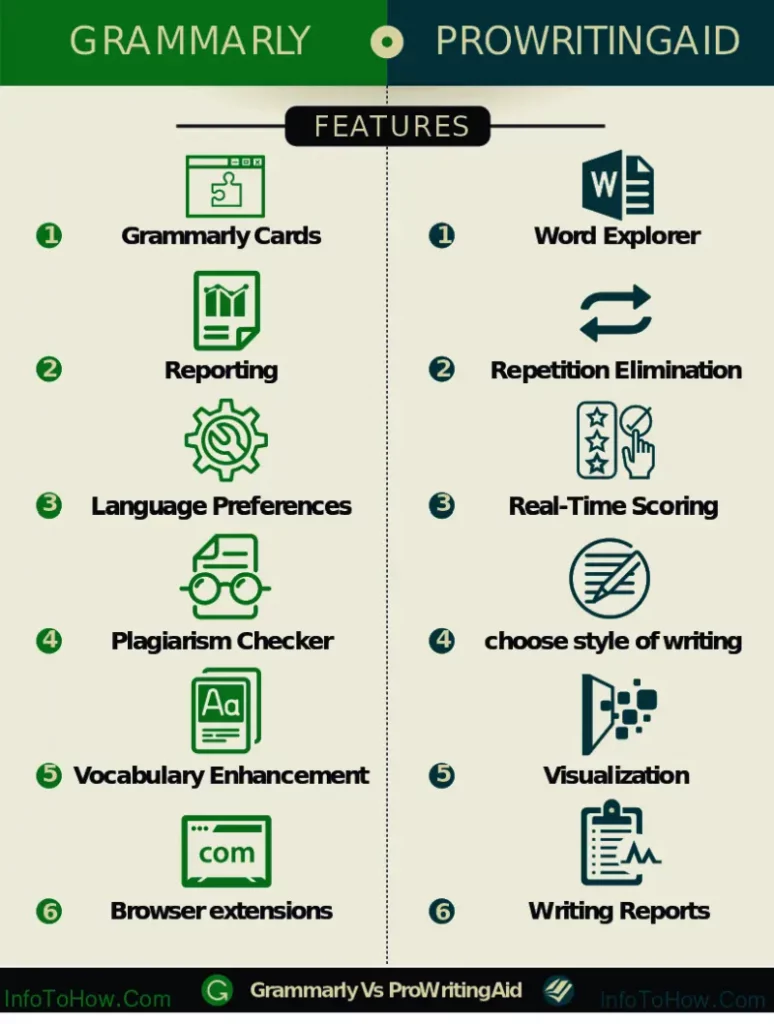 Main Features of Grammarly
Among some of Grammarly's best highlights incorporate the accompanying:
Grammarly Cards: Other than merely marking where it identifies issues. Grammarly also gives far-reaching clarifications of language guidelines and tips for how to avoid making related errors later on.
Reporting: With Grammarly, I can get a report specifying my precision in punctuation, spelling, vocabulary, and plagiarism. With time, you will notice you make fewer and fewer mistakes.
Language Preferences: I can switch between American, British, Canadian, and Australian English lingo; by exploring my profile and changing my language inclination.
Plagiarism Checker: Grammarly will scour the World Wide Web to cross-check and guarantee no plagiarism. It is especially helpful if you need your content to be plagiarism free.
Vocabulary Enhancement: Grammarly helped me to grow my dictionary, by recommending good or even better alternatives in case I used repetitive words.
Browser Extensions: Grammarly has browsers extensions for all the major browsers such as Chrome, Mozilla, Safari, and Edge.
Main Features of ProWritingAid
Word Explorer: Word Explorer enables me to use the most proper word conceivable to pass on my exact meaning. Using tools like the Dictionary and Contextual Thesaurus; ProWritingAid it naturally examines my word composition to find the correct usage of words to improve my wording.
Repetition Elimination: Repetition is a bad thing for scholars as it ruins user experience and can be difficult to spot. With ProWritingAid, any repetition is pointed out for me, which improves my composition. And helps me to grow in my general composition ability.
Real-Time Scoring of Writing: ProWritingAid is continuously checking my grammar and provides a score in the upper left corner. The score changes as I continue writing making it very easy to know if my writing is improving.
Choose style of writing: You get to choose between the following categories; General, Academic, Business, Technical, Creative, Casual, and Web. Once you select your style; ProWritingAid will change how it prescribes things to you to prevent your writing from looking out of place.
Visualization: ProWritingAid offers a visual analysis of my work. It does this by using charts that represent how my sentence structure looks over time; and a few ways in which you can improve.
Over 20 unique Writing Reports: ProWritingAid offers over 20 different reports which help me to analyze and improve my general writing composition.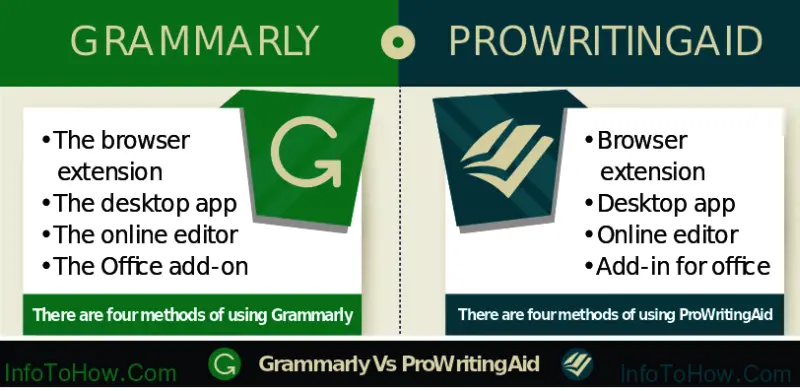 How to Use Grammarly?
There Are 4 Methods Of Using Grammarly:
The Browser Extension From Grammarly: This method required me to download the browser extension and install it to my preferred browser. To download the extension, head over to the Grammarly website or click here. You will be required to create an account before you can install the extension. The extension corrects your emails, social media posts and even google docs as you type on the browser.
The Desktop App Of Grammarly: This is one of the best methods to use Grammarly fully. To start, it's advisable you have a premium account so that you can exploit Grammarly's full potential. Next head over to the Grammarly website and download the app. After installing it, use the email and password you registered with; and you can now start importing documents or typing right into the Grammarly app.
The Online Editor Of Grammarly: The online editor is very much similar to the desktop app. It has the same User interface and the same features. The only different thing is the fact that the online editor runs inside a browser while you install the app on your computer. To use the online editor, you should have a premium account and log in to the Grammarly website. Then each time you want to check your documents, you head over to the Grammarly website and import your documents.
The Office Add-In: You can install this add-in in word and outlook. It checks your text as you type.
How to Use ProWritingAid?
There are 4 methods of using ProWritingAid:
Browser Extension Of ProWritingAid: To use this method, head over to the ProWritingAid website, choose an extension, then download, and install it. It will check your text you type in the browser. You can now type your social media posts and emails without the worry that you might have misspelled words.
Desktop App Of ProWritingAid: The desktop app is an excellent way to use ProWritingAids features. To use this method, head to the website and download the desktop app either for Mac or windows. Accept the terms and conditions and install it then open the app. The desktop app requires a premium account, but you can get the 14-day trial and still use it for two weeks. Once you have added a document to the app, you should now see something red numbers on the top-left corner. Start Editing.
Online Editor Of ProWritingAid: The online editor is still similar to the desktop app. It has all the features and is quicker in terms of loading speed. You need to create an account at ProWritingAids website and click on editing tools.
ProWritingAid Office Add-In: You can install this add-in in office, and it checks your text as you type. To install it, make sure that Office is closed and download the add-in. Run the setup and once complete, open word or outlook. You should be able to see a prewriting aid section on the home toolbar. You can install this add-in in office, and it checks your text as you type. To install it, make sure that Office is closed and download the add-in. Run the setup and once complete, open word or outlook. You should be able to see a prewriting aid section on the home toolbar.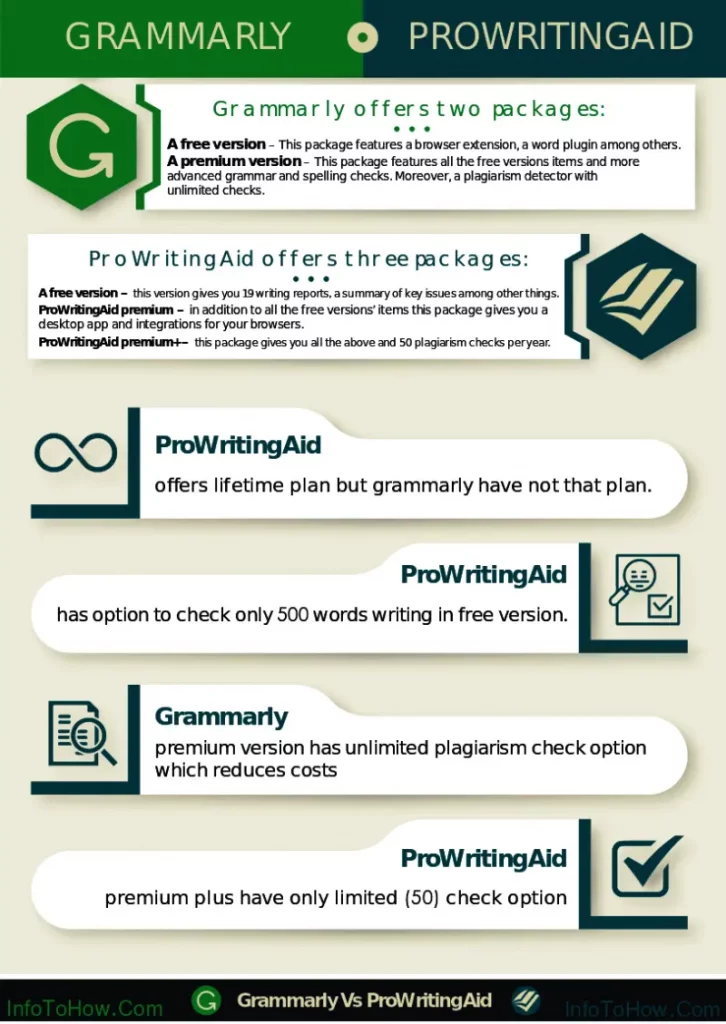 Grammarly Cost:
It Offers 2 Packages: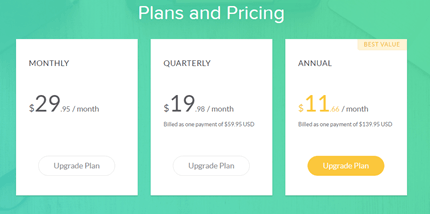 A free version – This package features a browser extension, a word plugin among others.
A premium version – This package features all the free versions items and more advanced grammar and spelling checks. Moreover, a plagiarism detector with unlimited checks.
So you can always write a decent article. However, the free version of Grammarly can only provide you with limited assistance. So that will not be enough for you to write the perfect essay.
Most of the time, emails with a lot of grammar errors look like spam or even a possible fraud. So if you are also planning to write better content, you should invest in the Grammarly premium account now.
ProWritingAid Cost:
It Has 3 Versions:
It is an alternative to using Grammarly. It is available in two packages where one of them is free and the other one you have to pay. The free version has minimal functionality and would never give you accurate results. Also allows you to upload a 500 words document. The pro writing aid has a premium account and premium plus.
A free version – this version gives you 19 writing reports, a summary of key issues among other things.
ProWritingAid premium – in addition to all the free versions' items this package gives you a desktop app and integrations for your browsers.
ProWritingAid premium+ – this package gives you all the above and 50 plagiarism checks per year.
The good thing about the premium plus is that you will be able to check for plagiarism from multiple sites. Knowing the cost of the ProwritingAid. It is one step another one is to know if the plans are worth the cost.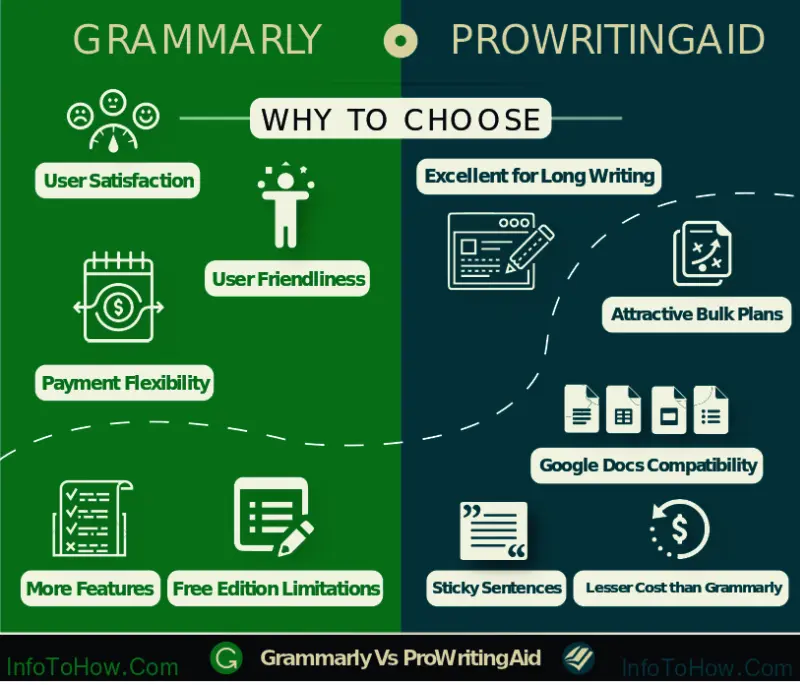 Why To Choose Grammarly?
Online auto-correction tools like Grammarly, ProWritingAid, etc. have proved to be of great help for budding as well as established writers. While each software has its advantage, Grammarly has certain notable benefits over the latter.
User Friendliness: Grammarly is the most user-friendly writing editor today. Its layout is very simple, yet the editor is very powerful. You can get rid of grammatical errors, unnecessary words, and plagiarism with ease.
User Satisfaction: Based on an impartial survey, Grammarly clocks a whopping 96% as against 92% of ProWritingAid in terms of user satisfaction. The overall improvement in writing quality makes it is one of the best among the most successful language correction tools.
Payment Flexibility: While both sites offer a free version, but the payment options with Grammarly are more flexible. Because you can even go for the monthly membership pack in addition to the usual annual plan.
More Features: It offers a much more extensive range of features both in the paid as well as the free versions.
Free Edition Limitations: The free version of ProWritingAid can only be used for articles of length up to 500 words. But there's no such limitation in Grammarly, and you can even check articles as long as 1000 words.
Accurate: Grammarly is one of the best tools that are accurate in checking the grammatical errors of every content you upload. The tool gives you one of the best options for the word you thought was better. It also enables you to check on available synonyms. Also, it checks for plagiarism by comparing your document to millions of online submitted tasks. Accuracy is what makes grammar to stand out among many available tools for checking grammar.
Easy to use: Unlike other tools, Grammarly can be used by even a ten years kid. Once you log in to the platform, you only have the button for upload. Whereby you can easily upload your file and start making the necessary correction. It is also one of the reasons why Grammarly is widely used by a vast number of people; as no one would like to follow too many processes only for one goal. The ease of use is what makes an enormous number of people.
High-speed correction: Another vast reason why Grammarly is better to use than other platforms is the essence; that it is very fast in correcting errors. Within less than 5 minutes, depending on errors in one thousand words, you are done. No one would want to spend his entire time; waiting for a tool top load for an hour to use it. That is why Grammarly is fast and makes corrections as need by a vast of proofreaders around the globe.
Works on multiple platforms: Depending on the platform you are using, you can easily integrate Grammarly plugins; and use it to correct errors as you write. You can use it in word, any browser or any platform where grammar check is needed. It is not always necessary to copy and paste your content to the website to correct the errors. Grammarly has looked upon this problem and enhanced its tool. So you do not waste time in the name of checking for grammar. It is another vast reason why grammar is still the best tool to use.
Has vast of functionality: The functionality of the software is another reason that makes the system great and better. With vast futures, Grammarly enables you to check for grammar, plagiarism, and proofread. Nobody who would wish to pay someone else to do the proofreading work. With Grammarly, you will easily do this for free once you have the premium package.
Due to the above reasons, grammar is still the best tool to check your grammar. There is no other tool better than Grammarly, and everyone should use grammar. Moreover, if there are looking forward to getting professional work from the platform. It is also not much expensive to pay for the monthly plan compared to other tools.
There are a vast number of devices such as pro writing aid that are also available for checking the grammar but are not as efficient as Grammarly.
Why To Choose ProWritingAid?
You can find a head to head comparison of ProWritingAid Vs Grammarly on various review sites. However, you need to understand your requirement; and then choose the language correction tool suits best for your needs.
Excellent for Long Writing: For writing books and other long manuscripts, ProWritingAid is the software of choice. Aside from correcting grammatical errors, this software also helps you create an engaging and consistent piece.
Sticky Sentences and Same Writing Tone: The Sticky Sentence feature removes boring sentences. Moreover, this tool enables you to maintain the same writing tone throughout your article. It is an editor worthy of professionals. The free version is limited. But at only $60 a year, ProWritingAid is a bargain.
Lesser Cost than Grammarly: When you consider the annual membership plans of Grammarly and ProWritingAid, the latter wins hands down. Costing roughly $50.00, as compared to $140.00 of Grammarly, ProWritingAid is undoubtedly your best choice. If finance is a significant factor in your decision making.
Attractive Bulk Plans: Talking of finances, ProWritingAid has a unique quote-based payment option and offers substantial discounts; when you go for bulk purchase of licenses. You can get over a 25% discount on the price if you need 16 or more licenses.
Google Docs Compatibility: ProWritingAid is compatible with Google Docs. Also, it offers useful tips to improve your overall writing skills through its big-picture report, unlike Grammarly.
Spelling and grammar error correction for a high number of words: The free version only allows you to correct grammar for only 500 words. With the paid version, you can easily upload the number of words you want. The version will correct the errors, thereby allowing you to present high-quality work. Because, no one perfect in grammar hence the need to pay for the services.
Integrate with various sites: Another vast reason why the Prowritingaid plan is worth paying for is the capability to integrate with various sites; such as google docs, web browsers, word, etc. While integrated, you can correct any mistake in your document without uploading it to their website.
Summary report: There is always a need to check how good you are in the paper. Prowritingaid generates a report showing how well you wrote. You will be able to identify how you performed in terms of spelling issues, readability tests, word count, and also the usage of different words. By this, you will know if your readers will be able to read the text you wrote. It would help if you had a paid plan so that you can be able to evaluate this one.
Plagiarism checker: There is a need to write clean work and original content. Google will never accept plagiarized content. Also, if it's for schoolwork, your teacher will always deny you marks for plagiarized work. It would help if you used premium plus to check for plagiarism and correct any errors that might arise.
Change of passive to active: Another vast reason why you need a paid plan is because of the passive voice conversion. It is difficult for you to quickly identify a passive voice hence the need for the paid plan. Most websites require you to submit files in an active voice for easy reading of the content. That has been made possible by the Prowritingaid.
Cost: The cost of the plan might seem high in the first place. But when you decide, you will find that it is worth the payment. Learn that the above reasons are most of the features that the Prowritingaid package has. You will, for sure, submit high-quality content that you would not have imagined. Avoid grammatical errors and vast of spelling mistakes to have an incredible score.
Close Competition – ProWritingAid Vs Grammarly: Although Grammarly is the world leader when it comes to quality, ProWritingAid is not far behind. The latter may not have the most extended list of features. But it has all the necessary features. It even offers features like the identification of passive verbs and repeated phrases.
Grammarly – Pros And Cons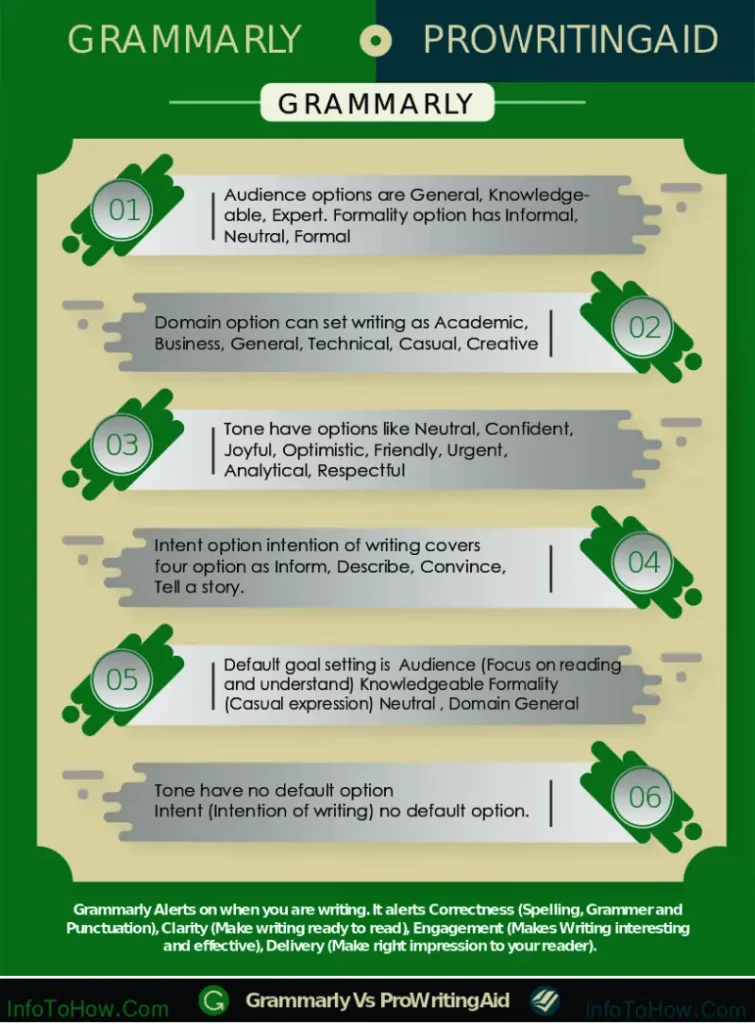 Pros
It has a primary and straightforward easy-to-use interface.
You can integrate it with an assortment of browsers, and even word-like software's.
Its free version is still dominant.
Cons
It doesn't offer much criticism.
Grammarly is a bit expensive as compared to ProWritingAid
ProWritingAid – Pros And Cons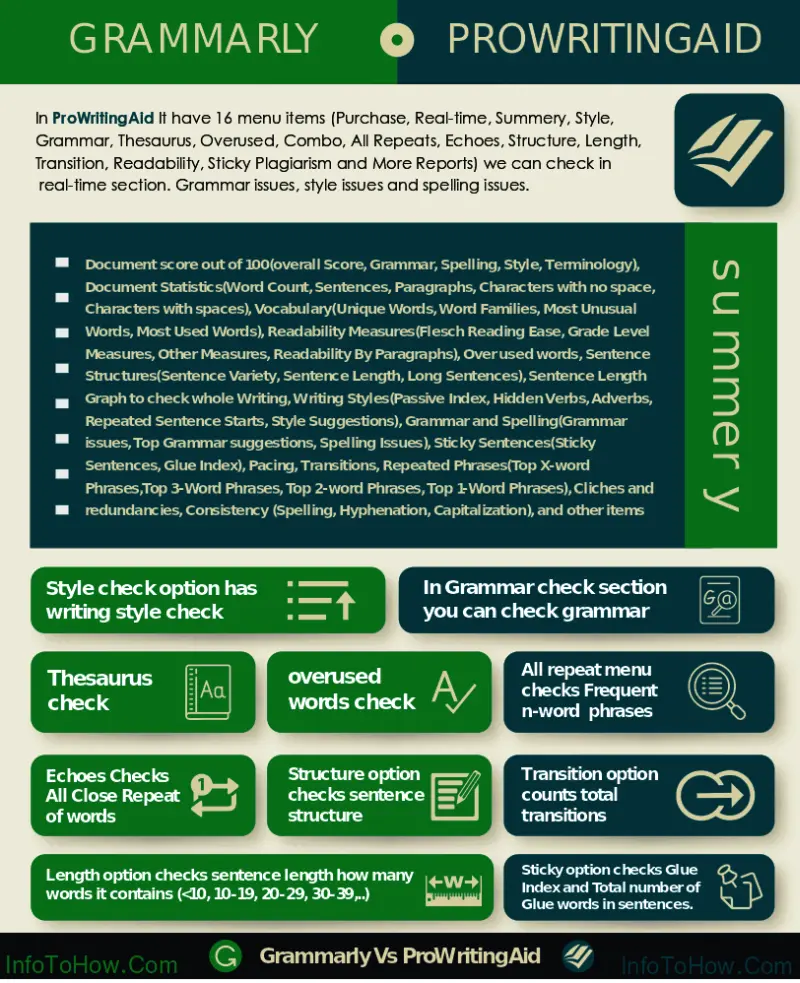 Pros
Helps me fortify my composition style using its many tools.
It is an excellent tool for checking spelling and punctuation blunders.
Its free version also gives you excellent service.
It is Compatible with Google Docs.
It offers a one-time-pay alternative.
Cons
It Only offers a limited plagiarism checks as per your plan, unlike Grammarly gives unlimited plagiarism check option.
It is more complicated as compared to other editors. So, its more appropriate for longer bits of texts, for example, books, papers, or blogs.
Summary:
In this guide, I have written about two proofreading and grammar checking tools; Grammarly Vs ProWritingAid. I noticed that they both have a wide assortment of features. And, when it comes to choice, you may opt to go for either one. I also wrote about the pros and cons. However, you should note that the two tools are continuously improving their services so the advantages may increase. Finally, I wrote about the pricing of the two tools. As I have shown you in the outlined points in the guide above, the two proofreading tools are both excellent. Therefore with the above pointers, you can confidently make your decision on whether you will opt for Grammarly vs ProWritingAid.
Frequently Asked Questions:
Which Is Better – Grammarly Vs ProWritingAid?
Both Grammarly and ProWritingAid are Better at different factors. If you think whether to download Grammarly or ProWritingAid; both software is better than each other depending on different factors. If you are a writer of short blog posts and articles, then it will better suit your needs. And, if you are an author of journals, books, and other longer forms, then ProWritingAid will be great for you. The following will detail the pricing, features, advantages, and shortcomings of Grammarly and ProWritingAid as among today's leading editing software.
The Good of ProWritingAid
When your writing is good, ProWritingAid applauds you. This feature counters the feedback it gives you in terms of editing your material. So, you won't feel too much pressure. Also, the Axolotl feature helps in sustaining your article's tone.
The Bad Of ProWritingAid
The Bad of ProWritingAid are: first, the free version has limited functions. Second, it gives you editing feedback after you finish your work.
Is the lifetime version of ProWriting good?
If you prefer to use it forever, the lifetime version is worth $210. ProWritingAid is editing software that checks style, structure, and syntax. It detects errors, hard to read sentences and redundant and undecipherable words. It also checks sentence and paragraph lengths, diction issues, clichés, sentence voice, and sticky sentences.
ProWritingAid and Sticky Sentences
Sticky sentences are long, boring sentences, that if frequently used, could slow the reader down. The software highlights the sticky sentence index of your material and explains the recommendations in detail.
Word Limit of ProWritingAid in Free and Premium Version
ProWritingAid also has two versions. The free version has a 500-word editing limit at a time and can only be used online. It can do up to 19 writing reports and provides a summary report of key issues per narrative. The paid version has two categories. The premium version is worth $50 per year. It has no word limit, has a desktop version, and can be integrated for Google Docs, MS Word, Scrivener, and Chrome. Meanwhile, the premium plus version is worth $60 per year. It has 50 plagiarism checks every year and is excellent for academic purposes.
Is There Anything Better Than Grammarly?
Currently, there is no tool better than the Grammarly to check grammar errors and formatting. It is one of the best tools used globally by a vast number of people as it has various features. It is also easy to use, unlike other tools. Other grammar checkers include ginger, after the deadline, Hemingway editor, etc. None is like it due to the following reasons. Accurate, Easy to use, High-speed correction, Works on multiple platforms, Has vast of functionality etc.
ProWritingAid Worth The Price?
Yes, indeed, comparing the paid version and free version, there is always a need to pay for; the plan due to the following reasons: Spelling and grammar error correction for a high number of words, Integrate with various sites, Change of passive to active, Plagiarism checker, Summary report etc.
Is Grammarly Worth The Price?
Is Grammarly Worth the Price? Yes, Grammarly is worth paying for since it can make it possible for you to make writing seamless. It may look as if it's not a big deal when you send an email full of grammar lapses. But if you want clients to trust you, it should be flawless. Since not everyone has a lot of writing to do, they have an option to go for the free version. Since it offers the necessary spelling and grammar checker for free, you can take advantage of it. That way, you can still make sure that your grammar is getting monitored by this software.
Is Grammarly Premium The Best Choice For Non-Native English Writer?
Is English your first language? If Answer is No. Then, Grammarly premium will definitely worth the price for getting a subscription. Even if you're an English speaker, it doesn't mean that you can get it to write; when it comes to written English. They are two different things; that's why the English language can be confusing. The best part of getting a premium account is ensuring that your article is error-free and even improved. The plagiarism checker is just one click away, so you can be confident that you're always submitting original content.
Why Pay If You Can Use Grammarly For Free?
There are many benefits that you can get from the premium account compared to just using the free tool. This version will help you correct your grammar mistakes as well as spelling errors. But the premium account can give you some style and vocabulary suggestions. It will improve your writing style as well as avoiding being wordy with your sentence construction. You can also use the plagiarism checker with the premium account; which will be very helpful in preventing having plagiarism issues.
Is Grammarly Only For Writers?
Authors and editors can get a lot of benefits from getting a premium account from Grammarly. Since their jobs involved writing articles and even books most of the time. But it's not just writers who need to use it with their everyday lives. Students, people in business, and professionals can take advantage of using this tool. That's the best way to save yourself from writing a letter full of grammatical errors. Conversing while maintaining a correct grammar can be quite tricky. It's best to get some help and use Grammarly, especially when sending emails to your clients. It's worth subscribing to the premium account; since you can have peace of mind that you can build your client's confidence; when it comes to communicating with them.
How Much Does ProWritingAId Costs?
A premium account goes for $70 one yearly, or you opt to buy a lifetime plan for about $240. Where you will never pay any other amount for the services. For the premium plus, the program costs $89 yearly and $ 399-lifetime plan.
That's all about Grammarly Vs ProWritingAid.
Also Check: Why You Need Written Communication Skills And How To Improve Them?