Ever since the AI revolution is here, AI tools have helped humans make their chores easier and faster. These days, we rely on many AI tools while completing our daily tasks, including coding, writing, and content creation. But it may sometimes be confusing to decide which tool I should use when comparing tools like Wordtune VS. Grammarly. That's why we are here today!
Wordtune Vs. Grammarly
Grammarly is different from Wordtune—the former works to redraft your writing by correcting grammar and spelling mistakes. In contrast, the latter works to paraphrase the sentences you want to change.
But despite that, these tools have many features to explore. This help makes writing job easier, more effective, and more accurate.
So, settle up with me, and let me share my experience with you on these two compelling AI tools. Helluliah! You will get a different vibe after knowing what I will share!
Overview of Wordtune:
Wordtune is an AI assistant. It helps you make those complex and lengthy sentences more straightforward and shorter. Understanding this nifty tool is like eating candy!
Wordtune is a beautiful creation of Yoav Shoham and Ori Goshen, who developed it in 2018.
It is a rewriting tool. Wordtune works on advanced language models that read your text.
It determines what could be better in the alternative and helps you replace a specific text version. That's how you make your lives easier!
The tool can also help rephrase the text to make it more concise and detailed. People who use Wordtune often recommend it to remove or ensure zero plagiarism in your text.
That's because one can rewrite the sentences creating the problems of plagiarism.
Again, the tool is equipped with many features. These include tone checker, sentence rephrasing, grammar checking, and more.
But when you go compare it with Grammarly, both have the difference!
Overview of Grammarly:
As of today, who is unaware of Grammarly? Writers, students, freelancers, and even ordinary people can use this masterpiece AI tool once a day.
It is used to correct spelling mistakes or rectify grammatical errors. Grammarly is also created on some advanced language models! These models can read your entire written text.
It provides different suggestions for the text. Here, you can improve the tone, grammar, and spelling and even check the plagiarism.
The tool has different settings for different audiences. It can help you mold your text in that particular way. That's the case, as it helps me with the same blessings!
This powerful Ai Writing tool is the creation by Max Lytvyn, Alex Shevchenko, and Dmytro Lider in 2009.
Since then, it has been quite a favorite choice of many people who has anything to do with writing. Also, Grammarly is more famous than Wordtune as it came earlier than Wordtune!
Over Wordtune, Grammarly has millions of users. Grammarly works on almost all interfaces or places you write or edit a document.
It could be a Word File, a Google Doc File, Email, Message, Notepad, or anywhere on your laptop or mobile!
Besides, the app or tool has extensions to be used over several platforms. It includes Safari, Firefox, Chrome, Edge, Apple, Android, and whatnot!
Features of Wordtune:
While comparing Grammarly Vs. Wordtune, let's differentiate them based on their features and working.
I've both tools, and I use them quite often! Both have unique features but are not parallel to each other.
So, let's end the talk and describe what we can do while using Wordtune over our documents!
Use Wordtune Editor or Install an Extension:
Before using Wordtune, you must know how to get into it. Dear fellow, using this exceptional Ai Tool in two ways is pretty straightforward.
First, you can browse the Wordtune website. Then you create an account using your Google, Apple, or Facebook ID. Once you are in, you will have an editor like this!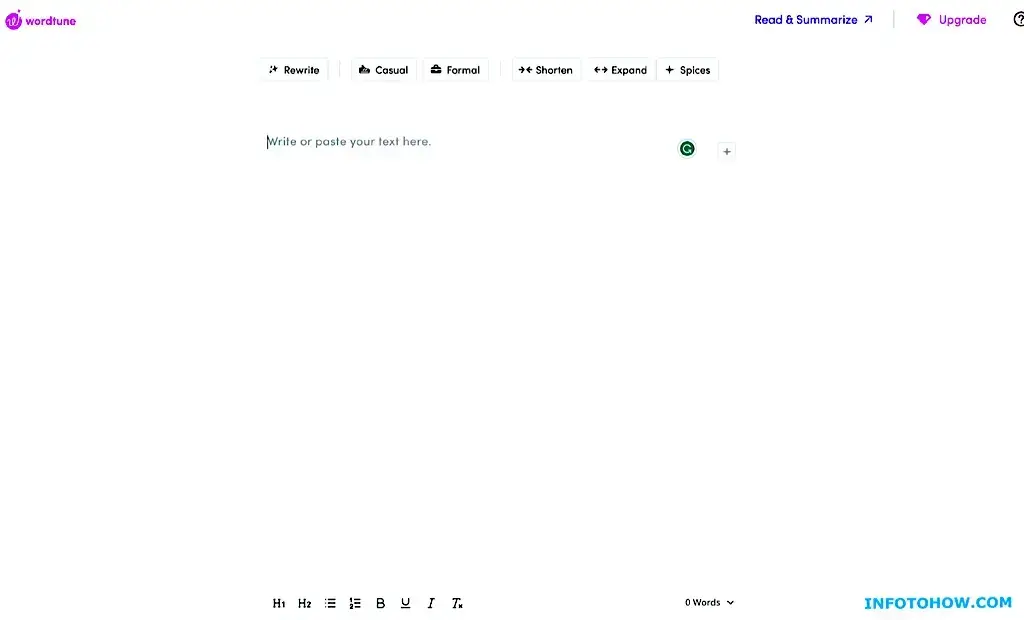 Here, you can copy-paste your sentences and change them accordingly!
The second way to use this tool is to install a Chrome extension using the Chrome browser.
You can use it by looking at the Extension online. Or you can find it on the same Wordtune website!
The Extension will look like this! Rewriting or Paraphrasing Sentences:
It is the first and main feature of Wordtune. One can use it to convert complex sentences into easier ones. Or wordy sentences into shorter ones or vice versa.
All you need to do is to pick sentences you want to change. After that, paste them on Google Docs if you are using the Extension.
Or you can paste those sentences inside the Wordtune Editor.
Once the sentences have been pasted, you can pick one and Click on the Rewrite option. You will have the following things to do!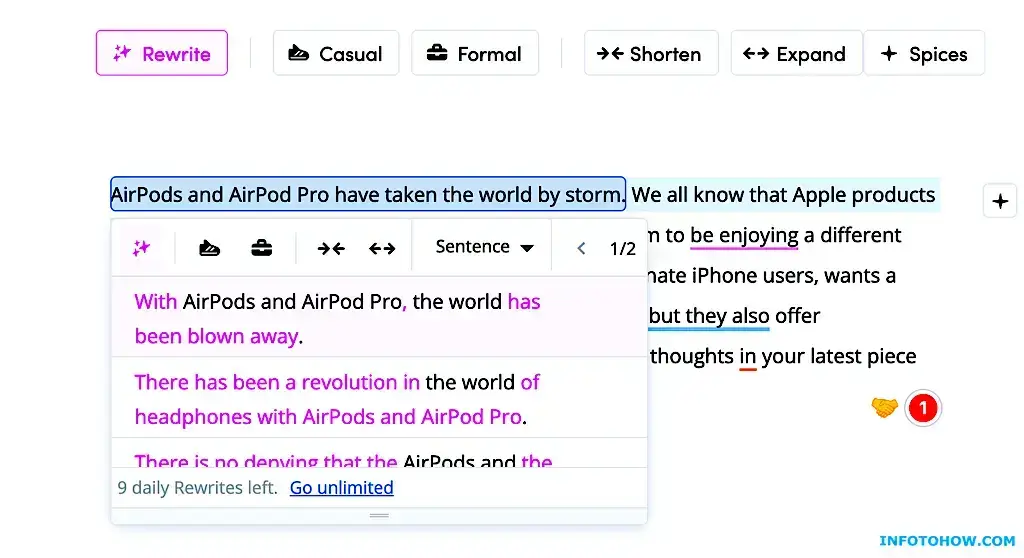 The rewrite or paraphrasing feature will give you many versions of your sentence that you can choose from.
You can choose the most appropriate one and replace it right there! I use this feature often to remove plagiarism from my text!
Tone Changer Of Sentences:
The second most compelling feature of Wordtune is the tone changer. What if you want to speak softly? Or with love?
You could be a professional. But all in one person, you can be a great writer! The help is all from this super cool feature!
It can change the tone of those sentences into Formal or Casual Tones, whatever you like.
Pick a sentence and click on the Casual or Formal Icons to review the changes! There is nothing that could be better on Earth. That's true; it's excellent!
For Casual: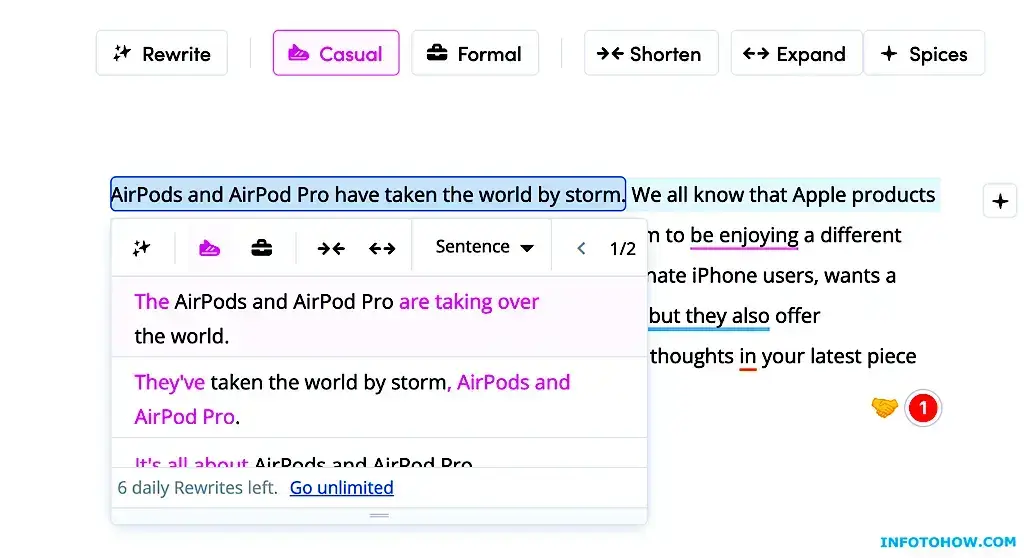 For Formal: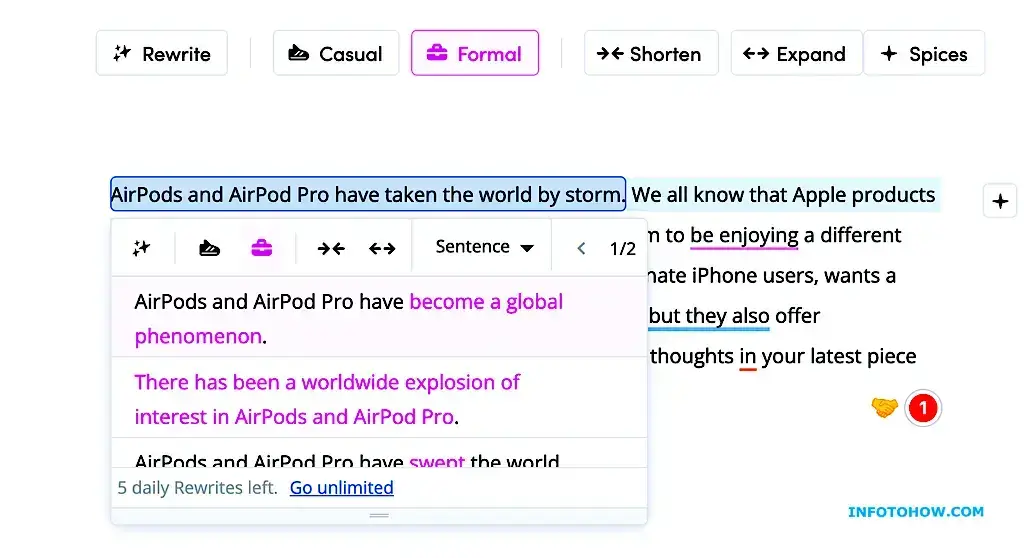 Sentence Shortening or Expanding!
This feature is also there to surprise writers.
Because they can make their sentences shorter or expand them to a reasonable deal depending on what they need in writing. How amazing it would be to convert a single line into a paragraph. What on Earth could be better than this for a writer? Superb!
Again, all you need to do is to pick a sentence. Then click on either Shorten or Expand icon to do the required.
For Shortening the sentence: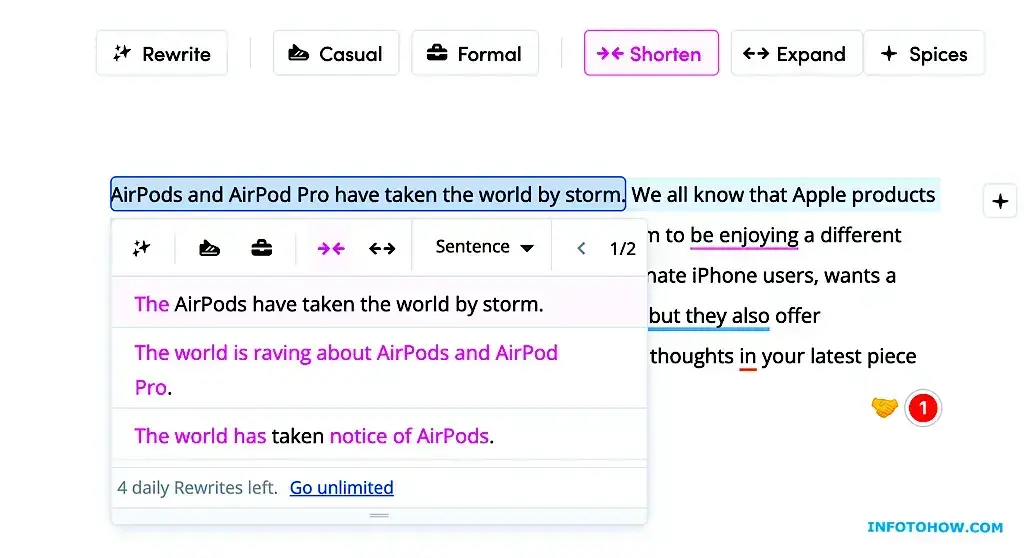 For Expanding the sentence: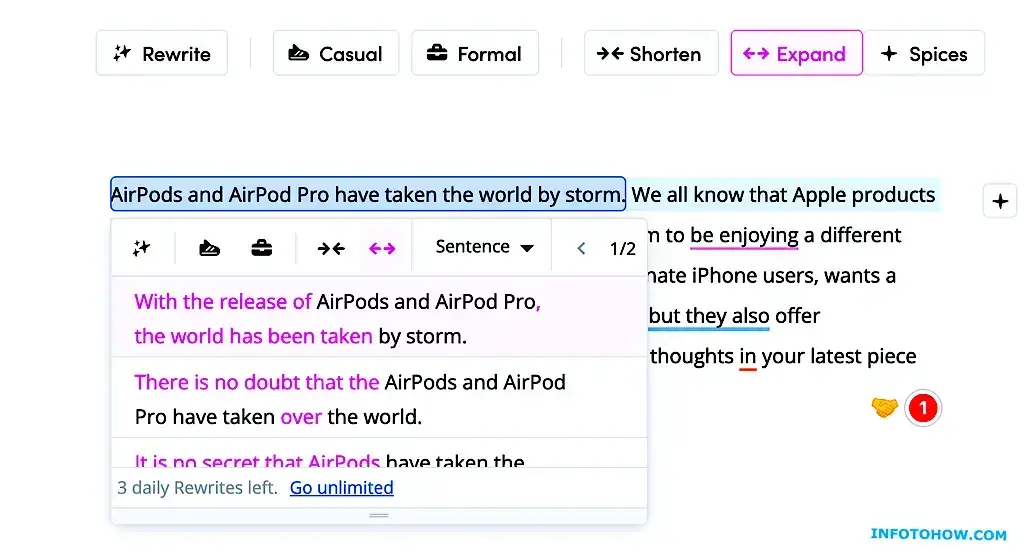 A Powerful Ai Writing Assistant!
The last but one of the most developed features Wordtune possess is a model of an AI writing assistant. When you click the Spices icon, you can get the following window!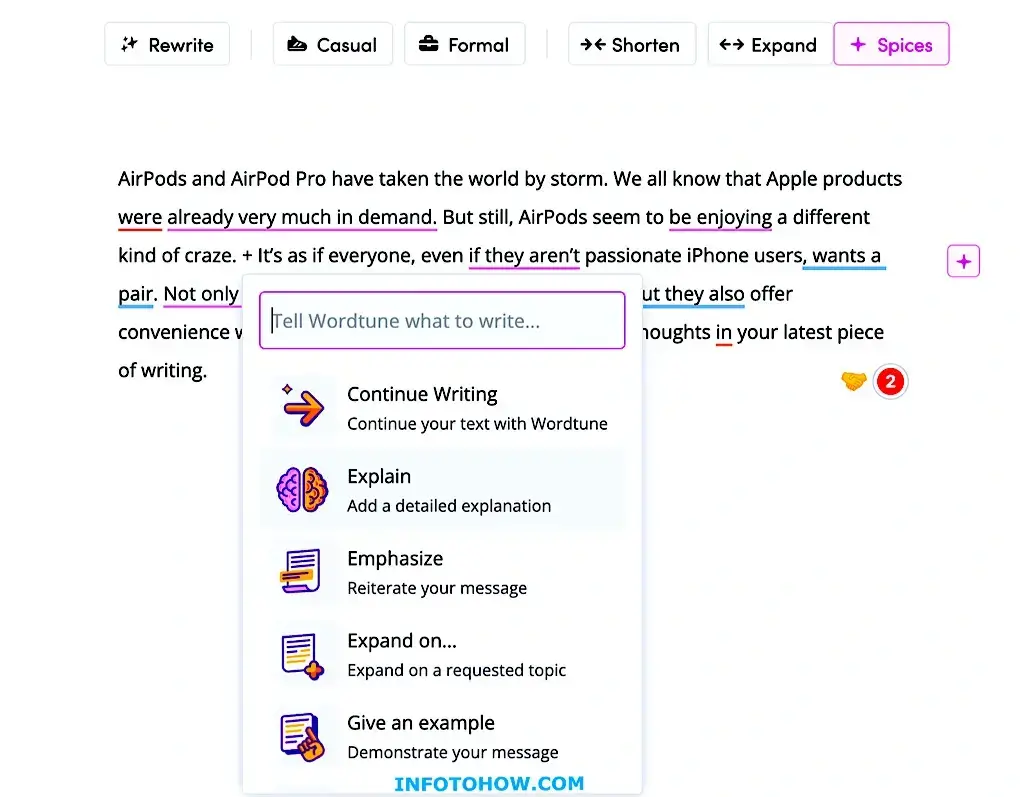 It includes commands to do several tasks. You can use these features if you have pasted a sentence or paragraph in Wordtune Editor.
With Continue Writing, the tool will read your existing text and write as much as you want!
By clicking on the Explain button, it will provide you with a detailed explanation of the text.
Being a writer, I never knew this feature before. But my life is much easier now. Because guess what? I can do several things at a time! What a blessing!
Similarly, one can use the Emphasize, Expand On and Give an Example features to do the tasks designated to these functions.
Wordtune will provide exceptional help in completing your daily writing tasks. It is highly used when you need to make many changes in documents.
Or where you are considering adding shorter or larger sentences.
So, Wordtune has a demand, so we keep it compared to Grammarly!
Please Note: It doesn't matter whether you use the Extension on Google Docs. Or use the Wordtune editor on their website; both will have the same features!
Features Of Grammarly:
Now, let's talk about Grammarly and the blessings it can provide. You will feel amazing because there are so many! But I think I shouldn't doubt you! Guess why? That's because Grammarly is already there in your daily life!
Speaking of the facts about Grammarly Vs. Wordtune, Grammarly is entirely different from Wordtune. Because it may not help you rewrite or paraphrase your sentences. 
So, this Ai Powered tool works excellently and helps you remove all your text's grammatical and spelling mistakes.
To understand using Grammarly, let's explore its features and discover what's so different!
Setting Goals To Get Desired Results!
We start Grammarly by purchasing a premium subscription that can give you access to all its features. Otherwise, you'd be a normal guy benefiting from its free features. Believe me; it's annoying when you cannot make the premium changes!
I should tell you guys to get the premium subscription. After that, the first thing to explore after pasting your desired text in it is Setting Goals.
On the right side, you will have a full Window. Here you can find Goals. It will be shown as follows!

Click on Goals, and it helps you set an explicit goal for a particular type of reader.
For example, you may want your text easily readable by General Audience who doesn't have an excellent English background.
You can set the goals for that as follows.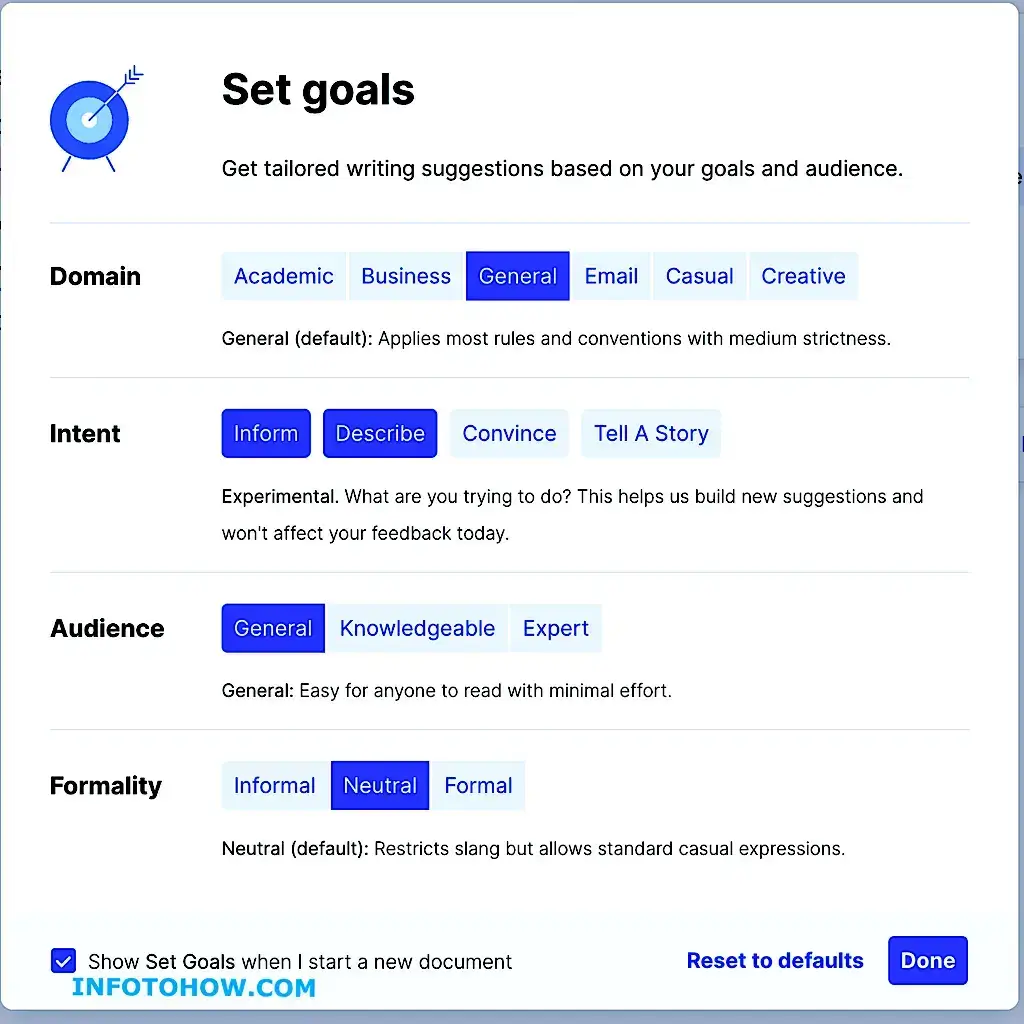 Here, the Intent feature helps you set a specific intent for your text, and it means whether you want your text to be informed or described.
Or you want to be convincing in a story. Thus, one can set these goals and start editing the document!
Checking Performance of Your Text, Readability Score:
The Overall Score feature on the right side helps you understand how you have made your text according to the Current Grammarly Settings.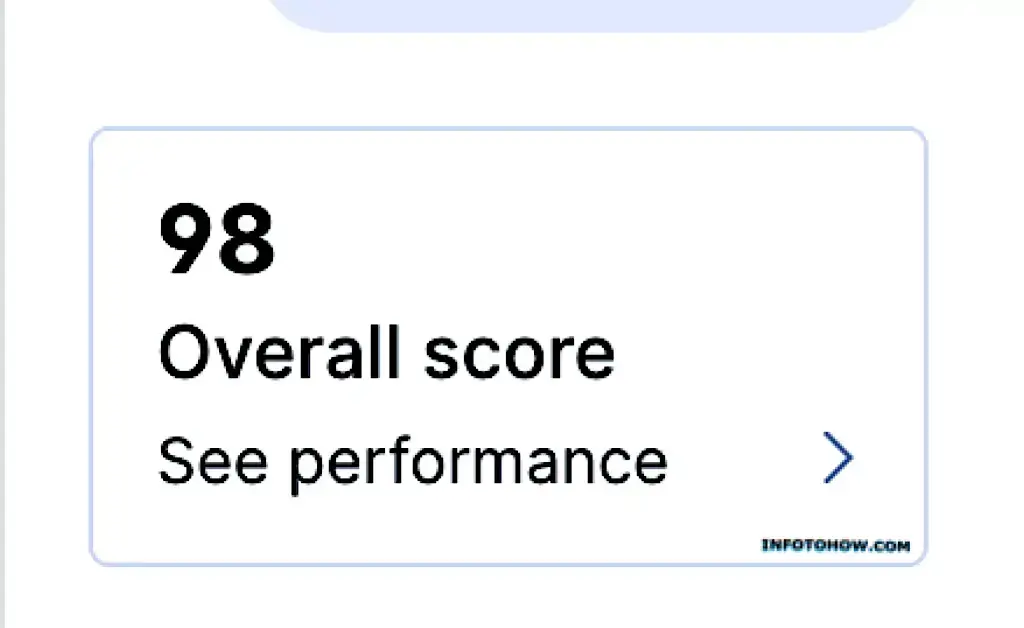 You can take this score to 100 by making all the changes needed!
Grammatical Corrections and Spelling Corrections:
Once you paste your text into the Grammarly Editor, you will see the Blue and Red Suggestions.
The Blue suggestions will be recommended for Grammatical errors you may want to correct.
At the same time, the Red suggestions are for correcting spelling mistakes. Besides, it also does the punctuation corrections all in the same place.
You can understand Grammatical and Spelling Corrections from the picture below.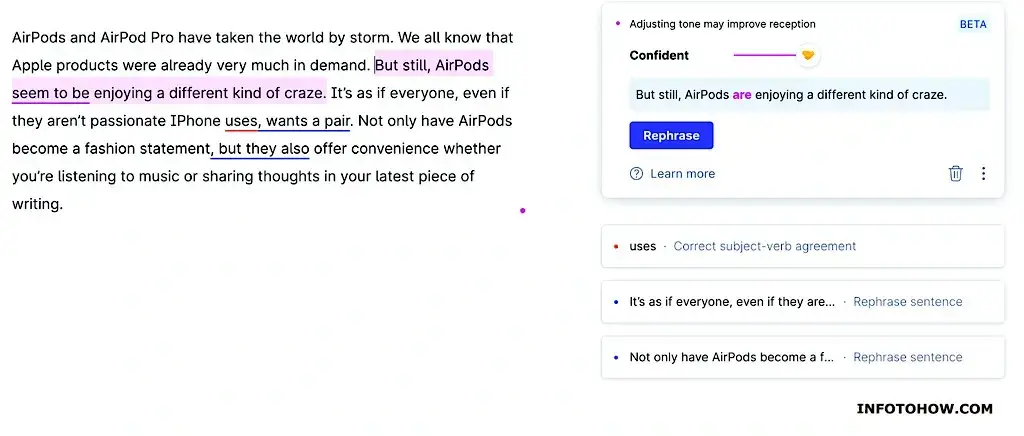 You can see the progress of these corrections and suggestions from the panel on the right side of the Grammarly Window.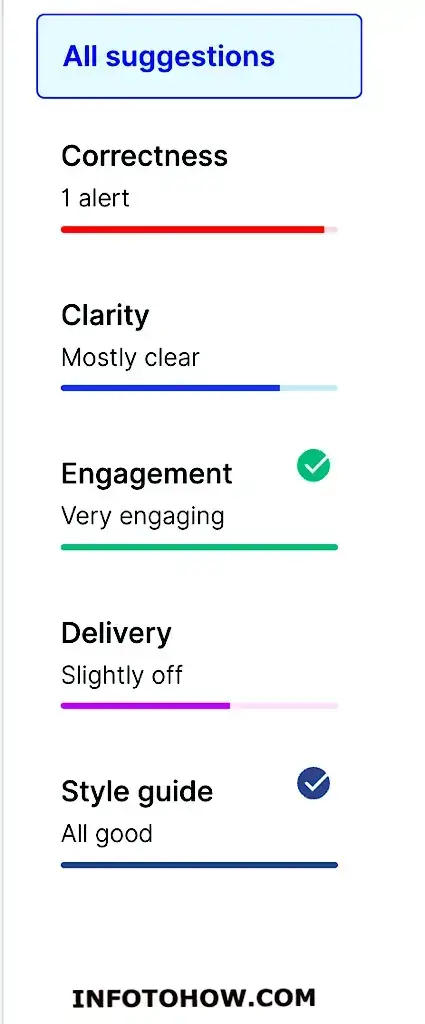 So, you like things to be colorful, don't you? That's why they have made these differences!
Tone Checker:
It is another cool feature of the app. Grammarly helps a writer or an editor set a specific tone for the text. With this, one can achieve a unique objective.
Moreover, just like Wordtune, it does have a fantastic tone-checking feature. Thus, using this will help you to express your specific message to a particular type of audience.
Writing Assistant:
You will also find a writing assistant in Grammarly that gives you many suggestions. What a pro writer you'd be if you would take help from this feature! I can tell the professional geek inside you or me who would love to explore this feature!
So, all you need to do is to click on a specific word. And you can have synonyms or antonyms of that word.
Thus, many professionals use this feature to make their writing more compelling and enriched with a high vocabulary.
Even if you have edited a document 3 or 4 times, this assistant would still give you suggestions. What a masterpiece. Isn't it? But these suggestions are based on your settings before editing the document.
Language Setting or Audience:
I was happier when I came to know about this feature. Grammarly comes in different languages, like American English, British, and Indian.
It also helps you edit your copy for a specific country audience. For example, some words may have different punctuations in British English than in American English.
So, it depends on which country audience you are spreading your message to. A professional, just like you, can speak to a broader audience. Lovely, isn't it? But, most people like you prefer to work in American English as it is used highly!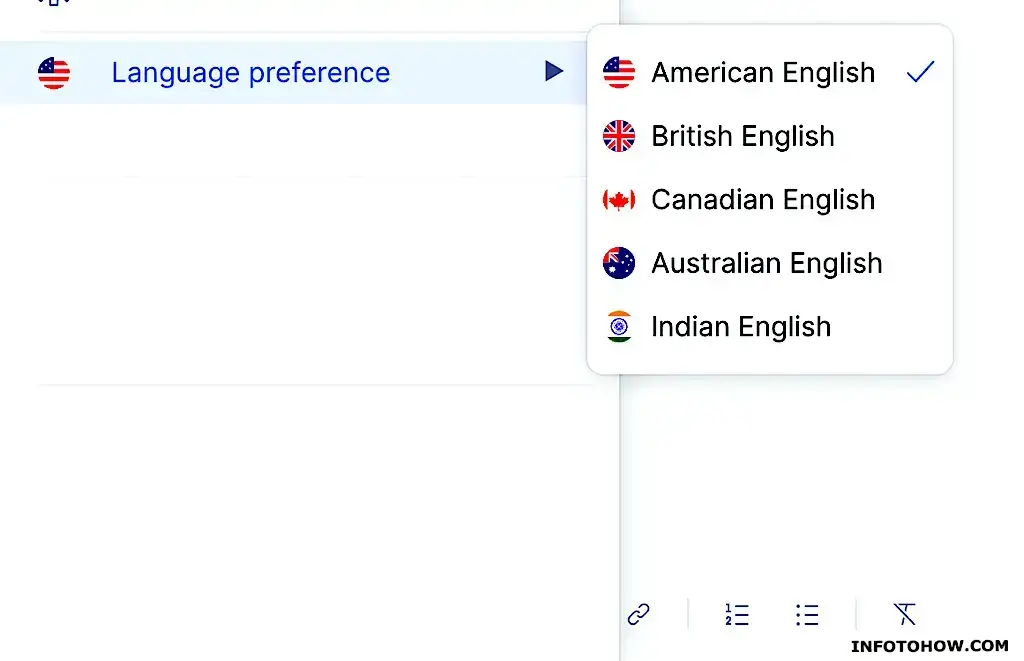 Plagiarism Checker:
The last feature that the Grammarly Ai tool provides is the Plagiarism Checker. With this feature, you can check for plagiarism in your document.
But, this feature is less efficient than a plagiarism tool designed for that task.
Yet, one can use it to check the documents for basic similarities that may match some prominent resources.
To access the plagiarism checker feature, go to the right panel and look for the" icon. Click on the feature, and it will give you plagiarism suggestions as follows.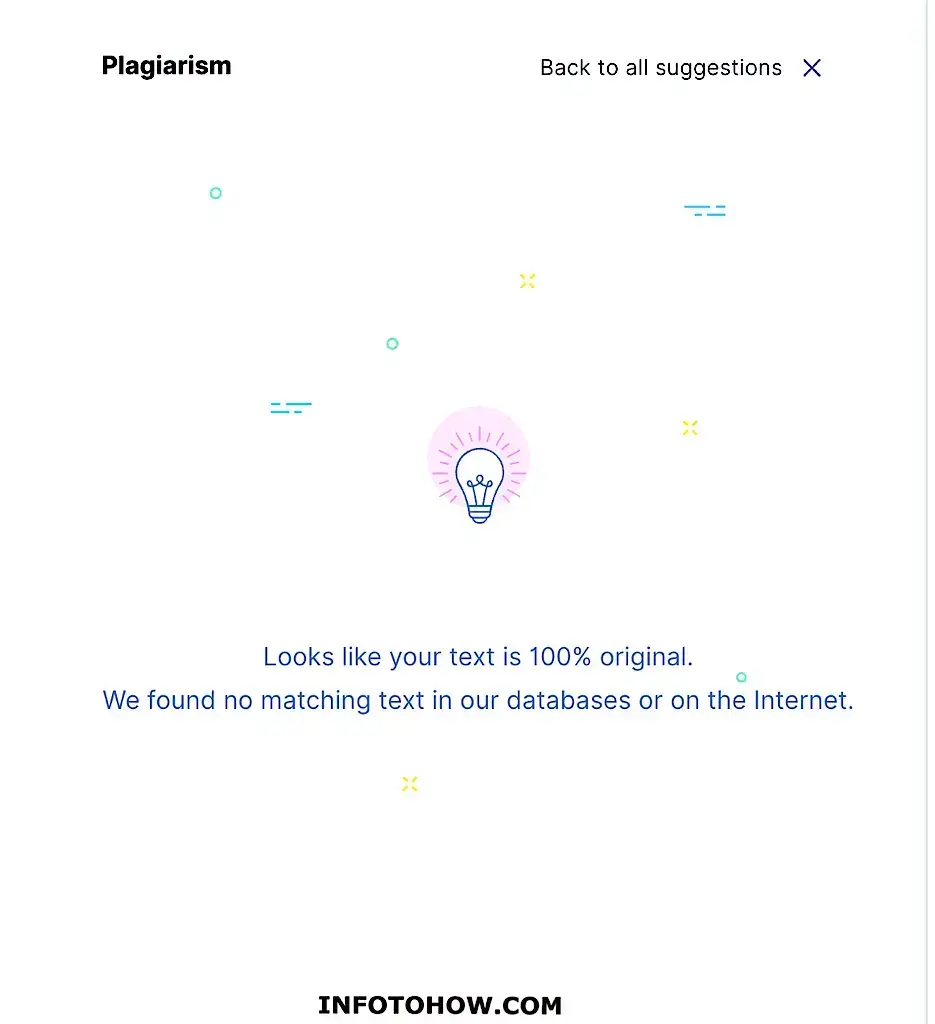 Hence, these are all important features one can explore in Grammarly. From there, you can easily idealize that Grammarly differs from Wordtune. But both work great for their respective tasks and duties assigned to them!
Please Note: As with Wordtune, Grammarly has an extension you can use on several platforms.
It could be Google Docs, Word Files, Emails, Messages, Notes, etc. You can install the Extension from the Main Grammarly website and use it as needed!
An Infographic Comparing Differences Between Grammarly Vs. Wordtune:
Even if we know there are few things to compare these two tools.
Yet, we will enlist all the primary differences between Wordtune and Grammarly in the below table. Please look; you can find everything about these Ai tools in one place!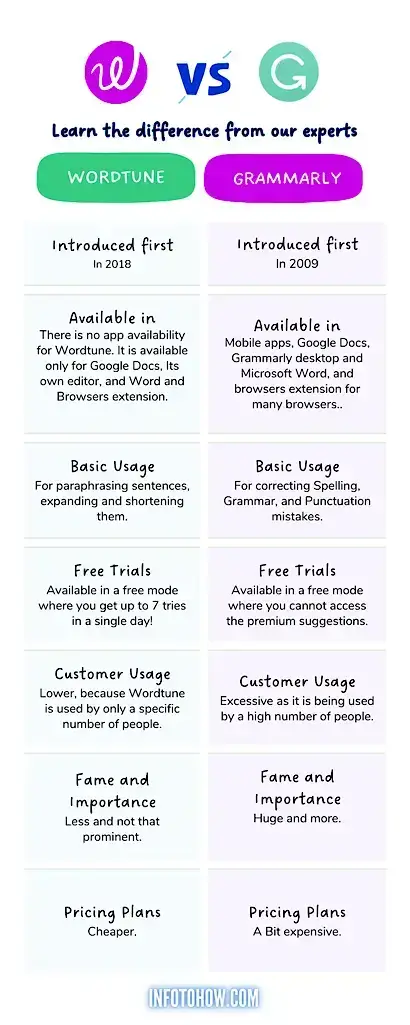 Pros and Cons of Using Wordtune Ai Assistant:
Since we know about these tools, let's view what is missing in Wordtune, which Grammarly offers, and vice versa. 
Below are some of the most important pros and cons of the Wordtune Ai tool.
Pros of Wordtune:
Writes easy-to-understand sentences
Amazingly cheaper tool for paraphrasing sentences
It also provides different tones
It comes with embedded features to explain, write and expand content
Available in extensions for many platforms like Docs, Chrome, Gmail, and more
There comes a translator tool but not visible on the screen
Expanding sentences and making them shorter
Cons of Wordtune:
It doesn't provide spell and grammar checking to the exceptional level
Only limited to rewriting the English language
It comes with limited tries in the free version
It does not offer plagiarism checking
No app is available, which is not great for a person like you
Pros and Cons Of Grammarly Ai Tool:
As stated earlier, Grammarly is an AI-powered writing tool.
It aims to improve users' writing skills. And it does so by identifying and correcting grammar, spelling, and punctuation errors.
Plus, suggesting better vocabulary and sentence structure. Here are some of its pros and cons:
Pros of Grammarly:
Very easy to use
Correct spelling, grammar, and punctuation
It comes with an in-built plagiarism checker
Operates in different languages
Ai Writing assistant provides countless suggestions
Available in free version
It can be installed as an app, has extensions, and work on various platforms
Better human interaction and provides improved reading
Cons of Grammarly:
An expensive tool than Wordtune
Does not offer to paraphrase
Some people dislike Grammarly because it sometimes changes the whole context of the text.
The plagiarism checker doesn't work effectively
Which One Is Better To Choose: Grammarly Vs. Wordtune?
The final selection for either tool depends on your needs and requirements. That's because both cannot be used as an alternative to each other.
You will need Grammarly to make your text grammatically correct, which will help remove all the errors in the document.
At the same time, you may need Wordtune to paraphrase some sentences to avoid plagiarism or write more authentic content.
Both have a specific place in a writer's computer, so professionals recommend both.
So, It is always on you whether you want to keep Grammarly only or Wordtune. Or you want to keep both at the same time! The decision is yours! But in my case, I have both on my desktop!
Also Check: Grammarly Vs ProWritingAid – Best Proofreading Tools
Final Thoughts:
Concluding, I hope that this article has helped me understand the primary differences between Wordtune Vs. Grammarly.
There is nothing wrong with using either tool, as both are designed for specific tasks.
Where Grammarly can make a document free from all grammatical and spelling errors, Wordtune helps you do more.
Most writers or professionals use both tools to help themselves in their writing tasks.
Hence, I hope you enjoyed the topic and got what you sought. Your queries and suggestions are welcome. Thanks for reading. Have a nice day!
Also Check: Top 10 Best Paraphrasing Apps For Android Phones