Course designers can put their minds at ease thanks to the advent of rapid authoring tools explicitly designed for eLearning. With these fantastic tools, designing and editing an eLearning course will be much easier and more intuitive.
With the current COVID-19 pandemic currently forcing people to stay at home, E-learning has become the new normal. Students are taking courses online, and some are even using their mobile phones to prepare for exams or get help when writing a dissertation!
E-learning is also quite challenging for course designers. Not only will they have to adapt to the changing delivery platforms, but they will also have to create learning content designed for these platforms. For a non-tech savant, this task will probably be a nightmare without an end in sight.
What is an Authoring Tool?
An authoring tool is a tool that helps you to create digital content, which includes either written content or graphic content. An authoring tool can be as easy as Microsoft Word, or it can be a more complex tool that allows more in-depth edits and manipulations.
For example, some tools will help you manipulate not just words but also pictures, allowing you to make a better presentation that is much easier to understand.
Using an authoring tool in eLearning is not a new idea. It has been around for quite some time now, but the pandemic has pushed the need even further.
With a specialized authoring tool for eLearning, you will be able to:
Personalize content more effectively.
Facilitate team effort by letting the teamwork on a document together
Make it easy to roll out new courses
Collect feedback to help you improve the quality of your eLearning course
Thus, a rapid authoring tool for eLearning will help content creators for an online course to make new content more quickly and efficiently than traditional tools.
Also Read: 5 Recommended Online Paraphrasing Tools – Best Tools To Help In Article Writing (Free/Paid)
Top 10 Rapid Authoring Tools For eLearning
There are different rapid authoring tools on the market now, but not all tools are equal. In addition, some tools are more suitable for creating eLearning courses. Therefore, to help you make an informed investment decision, we have picked out the ten best rapid authoring tools for eLearning.
First, let's go through the criteria of a successful authoring tool for eLearning. Without these criteria, it would be challenging to judge which rapid authoring tools will be the suitable investment.
The first criterion would be how the tool affects the final product. This category includes the number of features and formattings that the tool offers. It also deals with whether the tool offers multiple branching options, which allow complex content to be presented.
Next comes speed and efficiency. Does the tool allow you to create new content without all the fuss quickly? Will the tool allow multiple authors to work on the document simultaneously?
Finally, scalability is the last piece of the puzzle. This category involves the ease of use for each rapid authoring tools for eLearning and the inclusion of a translation feature.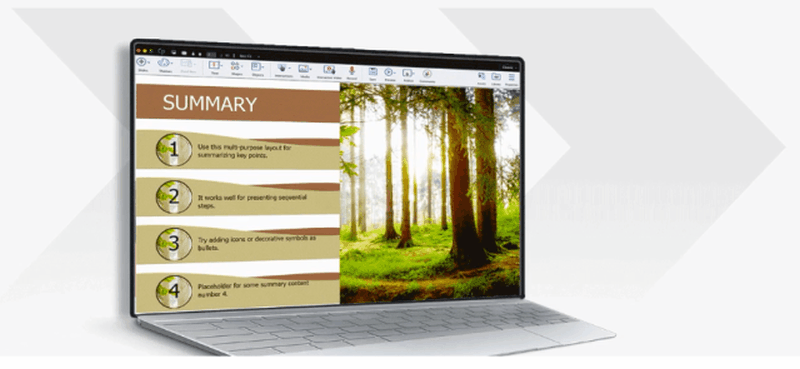 Adobe Captivate is a premier rapid authoring tool that offers a wide range of new features. However, it comes with a rather steep learning curve, so it will take a while for course designers to get used to it.
The tool offers many unique themes and complex interactions, allowing for interactive courses with more exciting content. Adobe Captivate also recognizes common mobile phone gestures such as pinching or sliding, making it an excellent choice for mobile learners. As a huge plus, the tool allows course designers to create VR learning content as well.
The biggest downside is that the tool is tough to use for beginners. However, this problem can be somewhat offset by looking for writing experts from SpeedyPaper, who are familiar with rapid authoring tools.

Articulate Storyline is another famous authoring tool that boasts an interface resembling that of PowerPoint. It is a flexible, rapid authoring tool for eLearning that comes with a modest learning curve, making it a more accessible choice than Adobe Captivate.
Articulate Storyline allows you to control the theme pages via project colors and slide masters. The tool is not overly complex, and its popularity means that course designers are likely to have had experience with it. However, its mobile device integration is not very intuitive.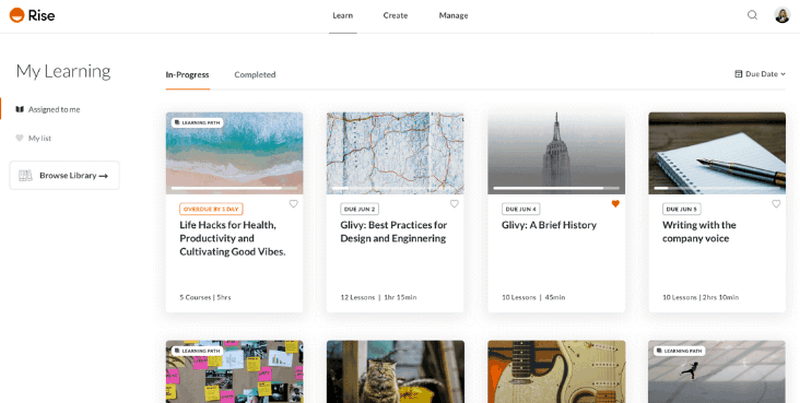 Unlike Articulate Storyline 360, Articulate Rise 360 is a web-based platform that prioritizes ease of use over complex interactions.
This software features several pre-built templates and standard interactions that help you to create a simple lesson with ease. The tool is also relatively easy to use, and course designers can clone and then reuse the courses. However, the main downside is the lack of complex interactions and the limited level of customization.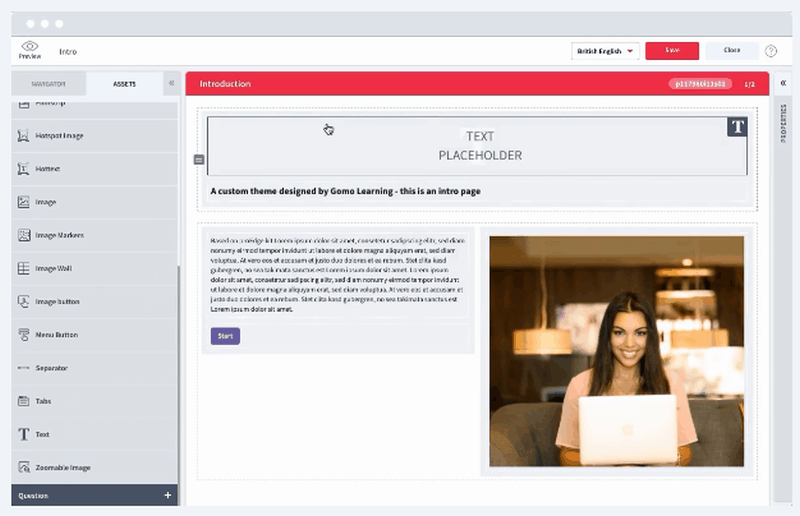 Another cloud-based solution for eLearning course designers, Gomo strikes a good balance between customization and ease of access.
Gomo offers both simple and complex themes for course designers, but the latter requires the designers to sign up for a premium package. The tool's cloud-based nature means that it allows numerous editors to work on the same file simultaneously, making it a good choice for a team of content creators. The tool's main drawback is the limited customization and the lack of options for more creative courses.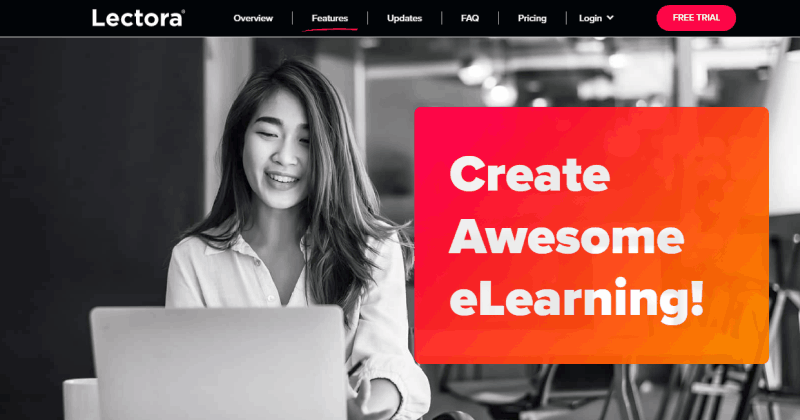 Lectora is a long-standing software with an established reputation in the field. It allows you to create unique web-style learning content, but its steep learning curve might be problematic for new authors.
Lectora comes with many pre-loaded interaction templates that you can tweak a little bit to adapt to your lessons. The software also features an in-built translator, but you will have to translate each file separately. The biggest shortcoming is the steep learning curve and the somewhat clunky interface.
Also Read: How To Get The Best Price For Software Tools?
Adapt is a free rapid authoring tool that allows creators to design HTML5 content. It is also a community-based app, so creators can make new content and add it to the database to benefit others.
Adapt is a pretty simple tool that does not feature a steep learning curve. That said, its lack of a translation feature is a rather big letdown. Furthermore, as the tool employs a grid-like design with content blocks, the finished product might look a bit generic.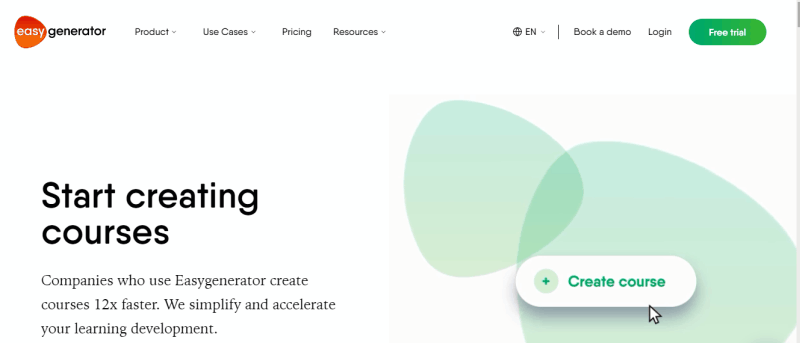 Fast-growing one of the most popular choices among course designers, Easygenerator is a cloud-based rapid authoring tool that boasts superb user-friendliness.
The tool is straightforward to use and easy to install, so much that even students or employees can use it to create their content. However, as it also uses the block-based mechanism, the finished product might lack creativity and uniqueness.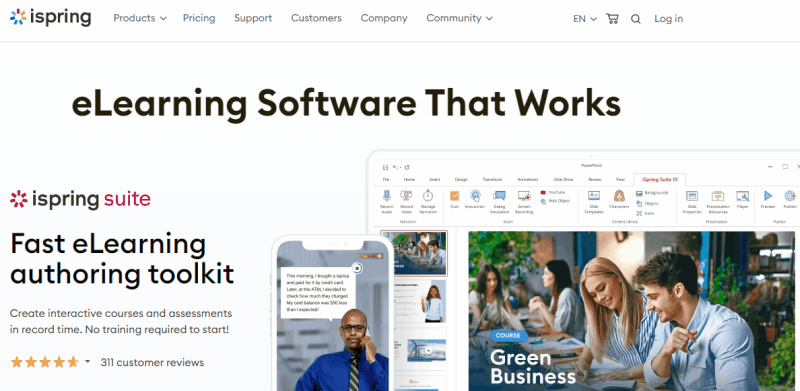 iSpring shares many similarities with the famous Microsoft PowerPoint, but it allows quizzes and a lot more unique content. The output file will be in HTML5 format.
iSpring Suite is relatively easy to use, especially for those who have had experience with PowerPoint. The results tend to look clean and professional, albeit rather generic due to its similarities with PowerPoint. In addition, the learning paths for each lesson can be saved and reused, providing a quick solution for future lessons. The tool is not available for Mac users, however.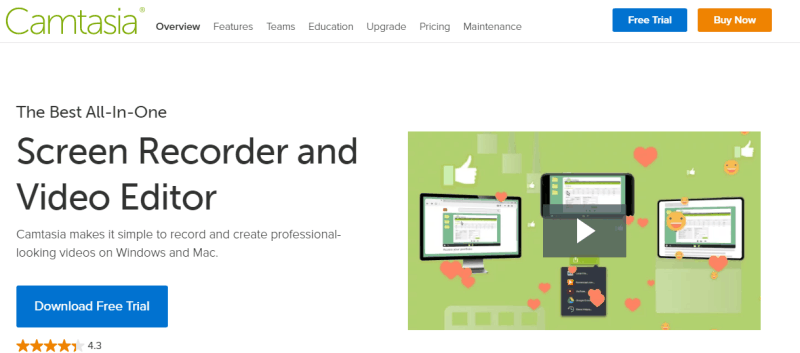 Camtasia is the premier choice for making video content for your eLearning courses. The software will not only help you capture your screen to make video tutorials, but it also allows quizzes and other interactions to be added to the video. Thus, if videos are the main focus of the course, Camtasia is the best choice.
Camtasia boasts a user-friendly interface with straightforward processes. However, the program is not entirely cloud-based, and it cannot be used to make slides, which means it has to rely on other programs such as PowerPoint to make this kind of content. Furthermore, you will have to install Camtasia to use it, which can be quite troublesome for some course designers.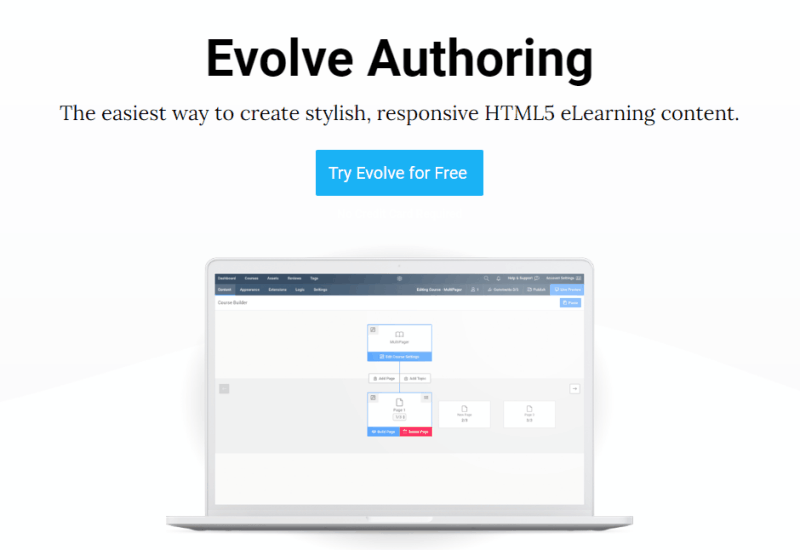 Evolve is an online authoring tool that produces courses that work on all platforms, devices, and systems, presenting it as one of the most flexible options around. In addition, the program is designed to help novice authors design new courses, making it pretty easy to use.
In terms of scalability, Evolve allows you to apply your branding across the course and make changes within minutes. However, its main downside is that it does not allow for more complex and unique interactions. Thus, the course might end up being a bit generic and bland. In addition, the fact that the tool is online only means that you will need a strong internet connection to make full use.
Also Read: Top 7 Best Distance Learning Tools For Teachers
Conclusion:
With these 10 best rapid authoring tools for eLearning, making an engaging online course or an online tutorial for your colleagues or students will no longer be a huge issue. Some of these tools are relatively easy to use, and some trade their ease of access for unique interactions and themes. The key to making a good course is to find the right approach for your target audience!
Must Read: Best 5 Reverse Image Search Tools That Can Make Your Life Easier
---
Author's bio. Jessica Fender is a blogger and copywriter with a background in sales and marketing. She likes sharing her experience with like-minded experts that try to provide customers with high-quality services.