In this article, we are going to tell you the best method to make your content unique. Also, we will present a list of best online paraphrasing tools with the help of which you can complete this task within a fraction of time.
Uniqueness in writing is the most critical factor that you should analyze while writing. Whether you are working on a theoretical paper, blog, or legal document, your content must be unique.
The mirrored content is overgrowing in every field because people don't want to add hassle to their work. Every person wants to get data from the internet and use it for his task without facing any problem.
If you are a webmaster and duplicating other's content, quit this action instantly. Otherwise, you have to face different problems or actions like DMCA regarding your platform's progress.
What Is Paraphrasing?
Paraphrasing is a method to restructure a sentence or paragraph to make it unique. It is often termed rewriting, spinning, and with some other names.
While rewriting, you have to preserve the actual meanings and intentions of the original content. A person will first read the content properly to understand its intentions.
Then, he will start editing by replacing synonyms and related phrases to change the sentence structure.
In this way, he will be able to get plagiarism-free content for his website or project.
Let's discuss its importance intensely to determine why you need to paraphrase copied sentences.
Why Do Paraphrase Mirrored Content?
We all know that duplication is always enough to push your efforts in a deep well of darkness. You won't be able to get notable success in your field when you are copying someone else.
Similarly, a search engine hates copied content the most than any other factor. In turn, it will never let you rank in higher positions no matter how much perfect SEO you are implementing.
In the same way, you have to face the worst consequences in your educational career if you are plagiarizing your work.
Shortly, plagiarism is the most threatening factor for making progress in your field.
In addition to penalties by search engines, you may also get copyright strikes from the original author of the work.
He can put a case against your platform and demand to penalize it or remove it from search engines.
If something happens like this, your investment, time, efforts will all go in vain. Therefore, you should paraphrase the copied lines after checking your work with an efficient tool.
You only have to browse a tool and check for similarities in your writings by following few steps. Lastly, you will get unique content to publish or submit as per your task requirements.
Why To Use Paraphrasing Tools For Instant Rewriting?
No doubt, you could do paraphrasing manually if you have enough perfection in that subject.
You would have to read and understand the actual context of the topic to perform this task precisely. This method will take much time that may harm your routine and lead you on the wrong track.
To avoid this problem, you can use a paraphrasing tool to do this task for you with 100% perfection. Always try to check grammar errors or plagiarism with one of the the best proofreader and plagiarism checker tools like Grammarly or ProwritingAid.
5 Best Online Paraphrasing Tools – Free And Paid
Due to an extensive list of paraphrasing tools, you might get confused among all of them. By this, you will not be able to get a reliable tool for your work and effectively rewrite your document.
For our readers, we have wrapped the list to pick the best of all paraphrasing tools. We recommend you to read the following sections and get any of these paraphrasing tools for getting perfect results.
1. Paraphraser.io
Sometimes, you have to rephrase sentences that you found copied in your work. You have rarely got entire content copied while writing on a specific topic.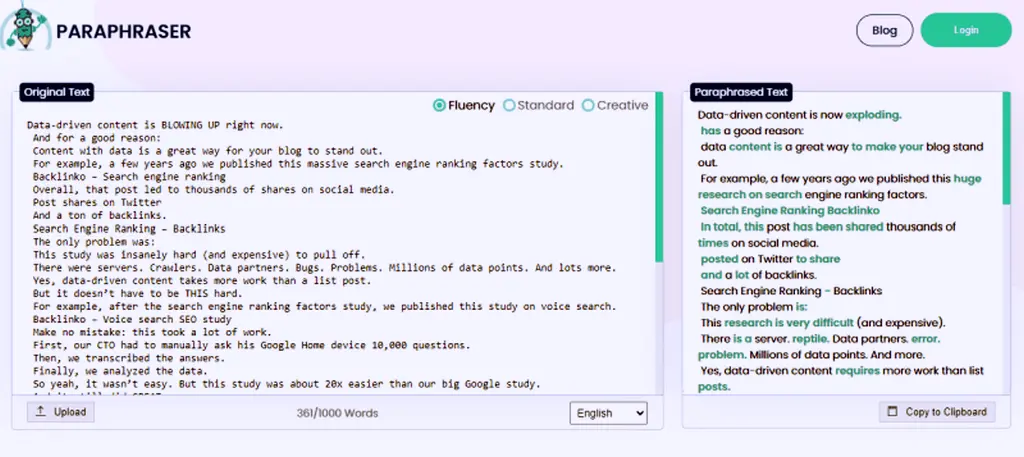 A few sentences may find under the duplicate center. So, it would be great if you had a tool that will collect those lines and rewrite them correctly.
Paraphraser.io is the best tool to rephrase a sentence without harming its actual intentions. You can use this tool for any kind of document because of the AI feature.
With AI technology, it will understand the line and give you the final line with maximum human-friendly language. In this way, your content will be readable and perfect to use at any place.
In addition to this, you can switch between three different modes of this tool that will enable you to paraphrase the content with progressive nature.
It all depends on you that on which communication level you want paraphrased content. Overall, this tool has perfect features to allow users from all fields to get help.
The only issue that few users found in this tool are the word count restrictions. You can't use this tool to rewrite an article of more than 1000 words.
2. Softo.org
On the second rank, we have a rewriting tool by Softo.org. It is one of the fantastic online paraphrasing tools because it will give you access to various new features for free.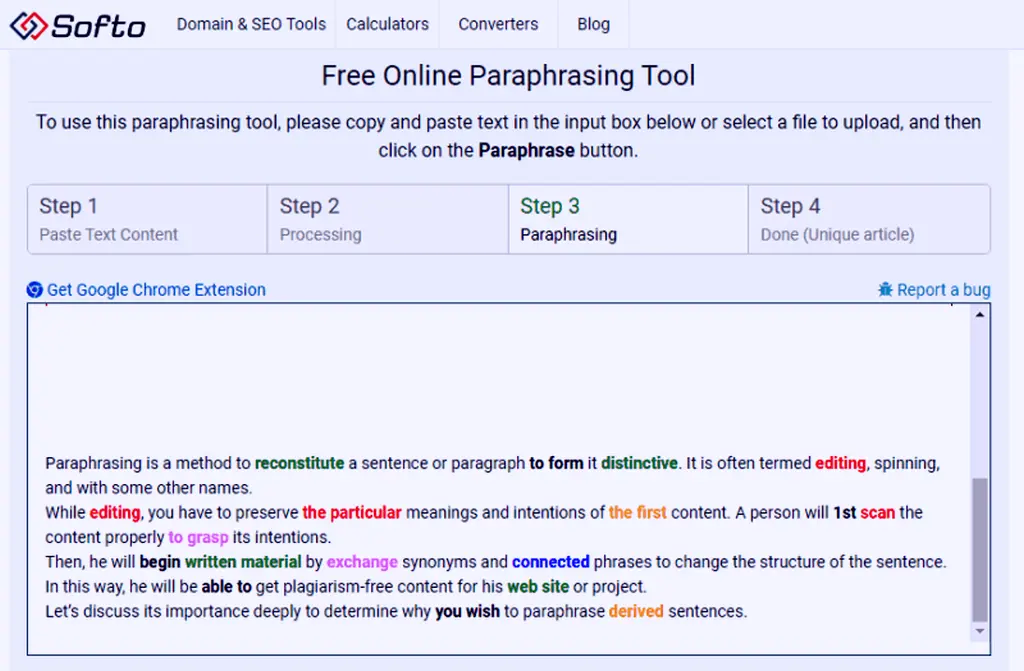 First of all, you can use this tool easily and quickly with simple clicks. You can input copied content in its text box using the direct upload option or paste it using keyboard keys.
After clicking on its call to action button, the tool will move towards the second step.
It will do processing and change all the words with synonyms to make a new sentence with the appropriate look.
Now, you will get the content with highlighted words. This is the most fantastic feature of this tool because you can see what the tool has changed.
In this way, you can proofread your document or lines before moving to the last step for a final copy. This feature allows students to rephrase sentences from research papers quickly.
You can check if the tool has changed subject-specific terms to edit them and make your document perfect to use.
In this final step, you will get content that you can copy or download on your device. In short, this is the ideal tool if you have no issue with advertisement.
The tool's screen will keep showing ads on your screen that may get your attention. In turn, you may get diverted and unable to work precisely.
3. Rewritertools.com
Rewritertools is offering multiple tools to deal with different writing sections. You can use it, one of the best online paraphrasing tools, at various points while writing an educational document.

The paraphrasing tools are the most effective tools by this platform. You don't have to invest a lot of time working with this tool, as it will allow you to complete the task quickly.
You only have to paste the data and start paraphrasing by clicking the given button. The tool will then start processing and show you the final document in a separate box.
The working method of this tool is similar to that of the Softo.org tool. But it has an extra feature while providing a final copy of the input data.
With this tool, you can instantly download the paraphrased content, copy it to your clipboard, and rephrase again if you need.
4. Greatseotools.net
Greatseotools is offering the best tool to get unique content even if it is 100% plagiarized. It is one of the perfect online paraphrasing tools to rewrite multiple lines without harming their meanings a little bit.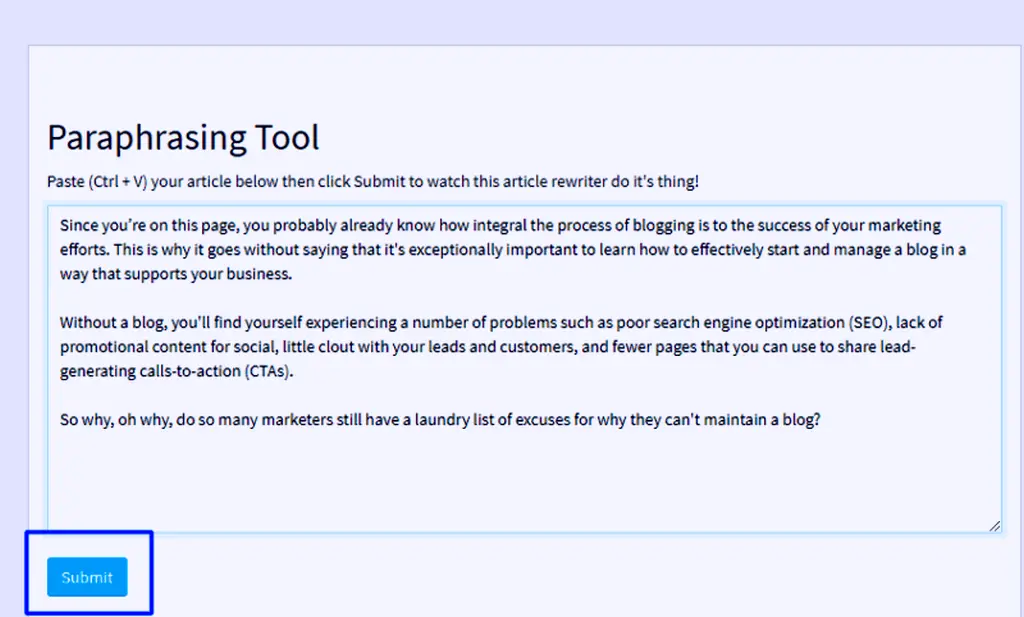 After pasting the content, the tool will start processing it. You will get plagiarized-free and 100% unique content in a new box.
The main problem with this tool is that you can't compare original and paraphrased content. In this way, you will not get an idea of what the tool exactly has changed in your writings.
Due to this, you have to invest a little bit of time proofreading the document and making changes if needed.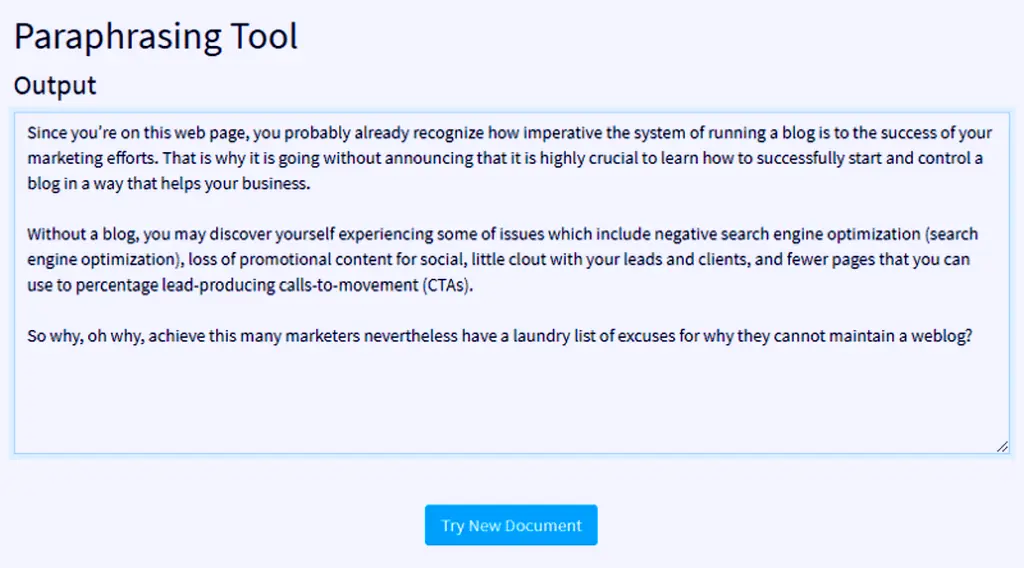 Further, you can't download the document for later use. So, you have to copy the content and adjust it instantly in your document.
5. Paraphrasingtool.com
Paraphrasingtool.com is a specific place from where you can complete this task precisely. It is pretty manageable to work with. Another one of the great online paraphrasing tools and you can rewrite mirrored sentences correctly.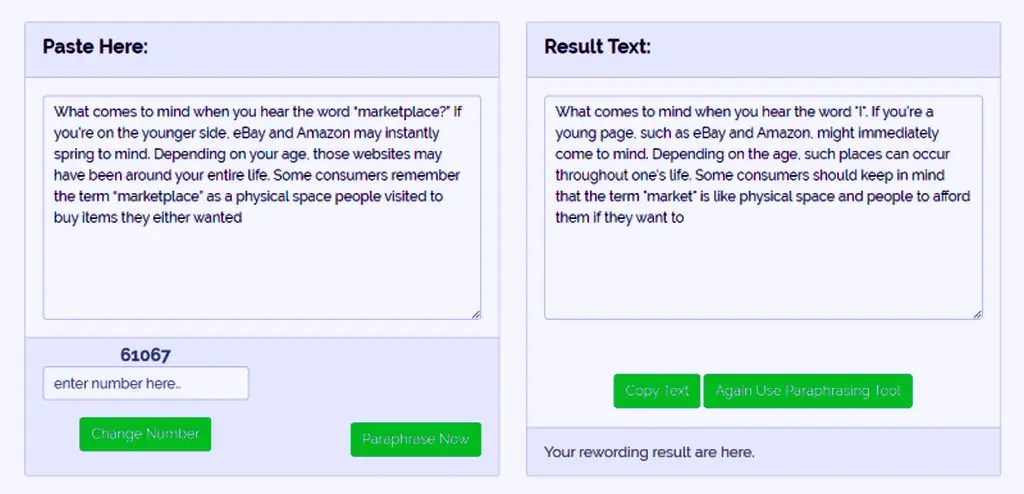 You only have to paste the content and start paraphrasing using the given "Paraphrase Now" button.
Also, you will have to fill the given box with a specific number to start working with this tool.
If you have not filled the box, the tool will not start working on your content. Once the tool has processed data, it will show the final document in a separate box.
You can also paraphrase again and again using a single button if you found any problem.
We recommend you proofread the document before sharing it with anyone. It is because this tool sometimes shows ridiculous results with inappropriate word replacement.
To avoid any problem, we suggest you invest a little time reading the final copy of your data.
Final Verdict
As you have now realized the meanings and importance of paraphrasing, you should keep your focus. Also, it would be best if you chose one of the online paraphrasing tools (Free/Paid) from the above list as all of these are perfect for this task.
Just follow the specific process as per the requirements of the tool and your writing. In turn, you will get a final document with 100% efficiency and perfection.
Featured Image by JESHOOTS.com from Pexels