This article covers the issue of a nearshore cooperation model, its pros and cons. Moreover, it describes successful and world-famous examples of nearshore outsourcing.
Nearshore Outsourcing Guide – Famous Examples, Strengths and Weaknesses
The in-house cooperation model competes more and more strongly with the outsourcing approach. More and more businesses start applying to outsource teams; becoming more productive through transferring their projects to other companies or separate specialists. It is explained by the fact that outsourcing is time-saving and cost-effective for businesses.
However, outsourcing may also cause some disadvantages like hourzone problems, language obstacles, or bad management. Problems can be solved with an exceptional solution of nearshore software development. This article will cover the benefits and drawbacks of such a cooperation model and ways to handle possible challenges.
The Essence of the Nearshore Outsourcing
If you've chosen nearshore outsourcing as a cooperation model; it means you can delegate several tasks (or the whole project) to contractors in neighboring countries. The time difference between you and your partner company would be about 1-3 hours. Therefore, it helps eliminate time-related issues and communication obstacles.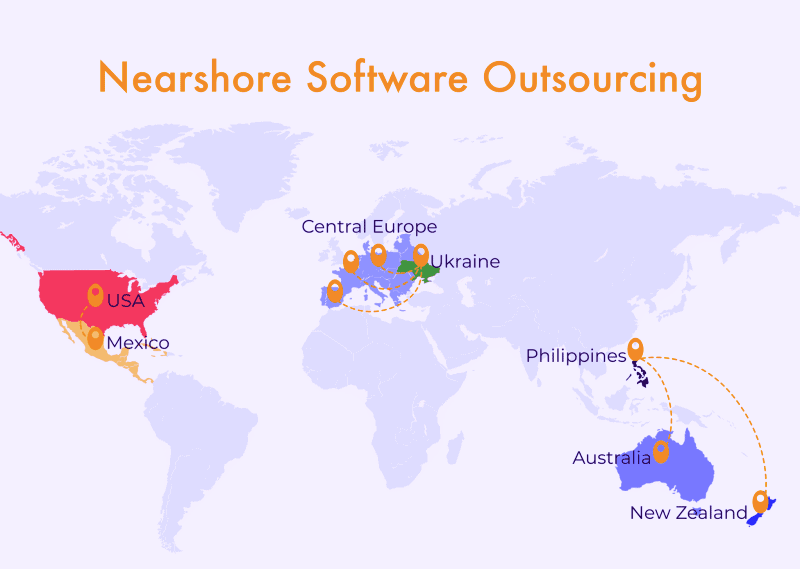 Today's communication in nearshore outsourcing is better than ever. You can arrange meetings with your team by video call and even come to them; if your physical presence is required there. For instance, in case you're employing an Eastern European team (let it be from Ukraine); it will take you about two days in total to fly to Ukraine, have a team meeting, and get back home.
Why Consider Nearshore Software Development
The nearshore cooperation model isn't proper for every company. Though, you can implement it if the statements below are appropriate for your business.
A Tight Budget. If you've got enough money, hiring new talents should broaden your in-house development team. But remember that nearshore software services would be a suitable option in case you are on a budget. Thus, it may cut your costs due to time- and money-saving solutions and lead to quick and cost-effective goal achievements.
Perspectives for Growth. If you're focused on continuous cooperation, you should deal with your corporate development team. Their skills obtained after the first project completion can be crucial during the further development workflow. However, if you need help with one project; the nearshore developers can help you build an app or a website and maintain it.
Location. Nearshore outsourcing depends on your placement; so you should pick the team with the smallest time difference to have seamless cooperation. Note that looking for a software development company nearby; look at the number of skillful specialists working there because it guarantees the successful completion of your project.
Easy scaling. If your project's rapidly increasing and you're feeling a lack of developers in your in-house team; nearshore outsourcing will suit you. Then, you can partly transfer your project to outsource specialists to reduce the load of your leading team.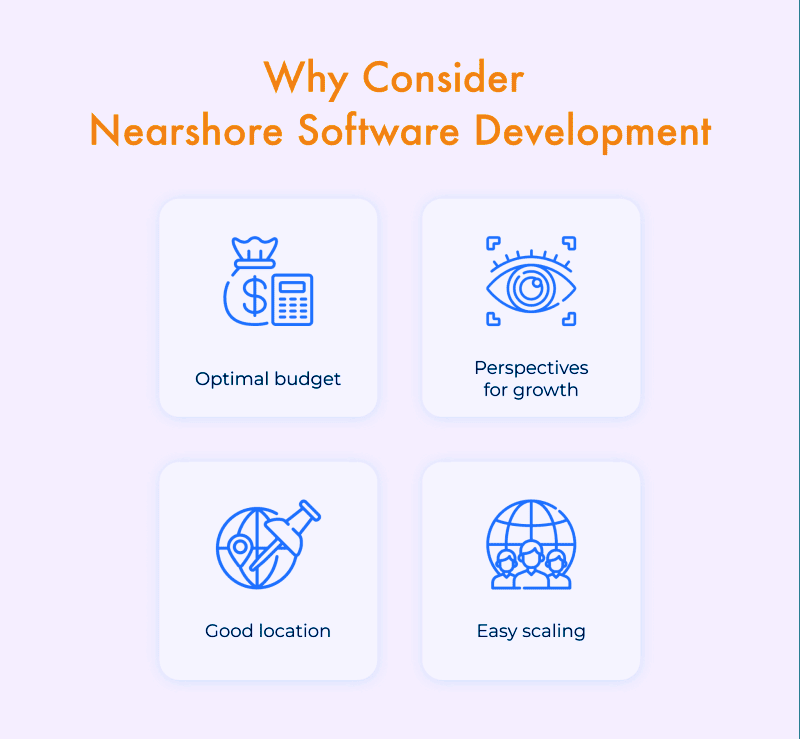 Benefits of Nearshore Software Outsourcing
Nearshore outsourcing is a future-oriented model of cooperation. So, let's understand why it is so, looking through its advantages.
Quick Hiring of Skillful Specialists
You don't need to spend your time looking through countless CVs. The nearshore vendor already has a team of well-cooperating and experienced talents; and they can provide you with more specialists as long as you scale.
Close collaboration
Technological development makes the world smaller, so you can solve most of your problems through your gadget, holding meetings. However, if you need to discuss the project face to face with your developers; you may take a plane to your partner's country. By the way, you need about 2-3 hours to go by plane from Western to Eastern Europe.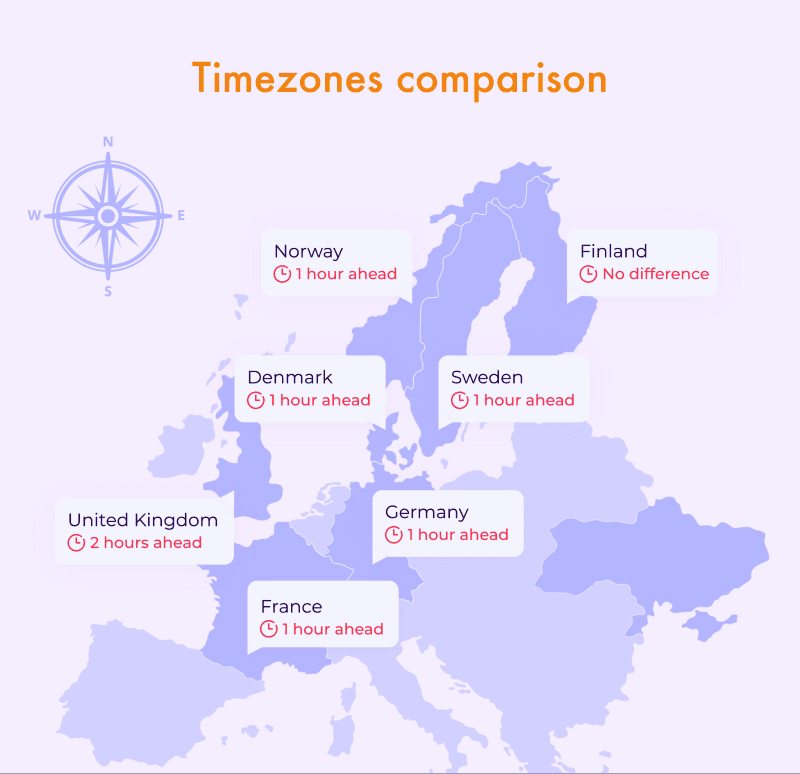 Minor Hourzone Differences
During the offshore software development process, a time lag may occur as a severe challenge. For instance, US clients cannot often stay in touch with Indian contractors due to the notable time gap. However, you can avoid such an issue with nearshore cooperation by obtaining services from the company nearby.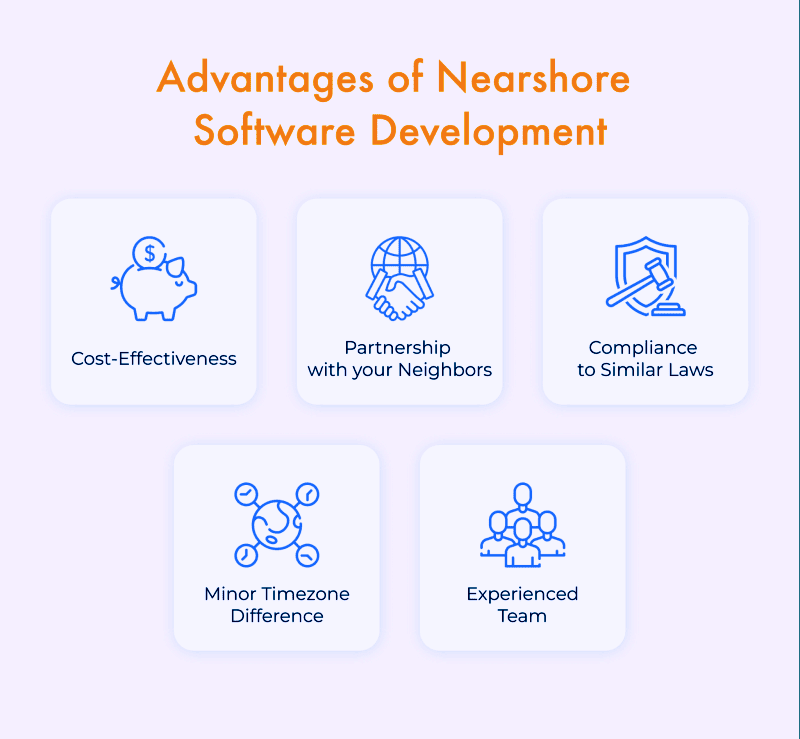 Nearshore Outsourcing Profitability
You don't have to invest your money in office rent, monthly salaries and so on. Instead of that, you can hire a dedicated development team at an essentially lower price for their services. This way, outsourcing reduces your expenses, and you don't need to overpay.
Compliance with partner's rules
You must comply with the General Data Protection Regulation (GDPR) if you're targeting the European market. Also, cooperating with California, you need to obey California Consumer Privacy Act (CCPA). So, take all the above seriously because violating country rules may cause heavy fines.
Nearshore Outsourcing Drawbacks
Nothing can be perfect. Among all the pros listed, there are several cons.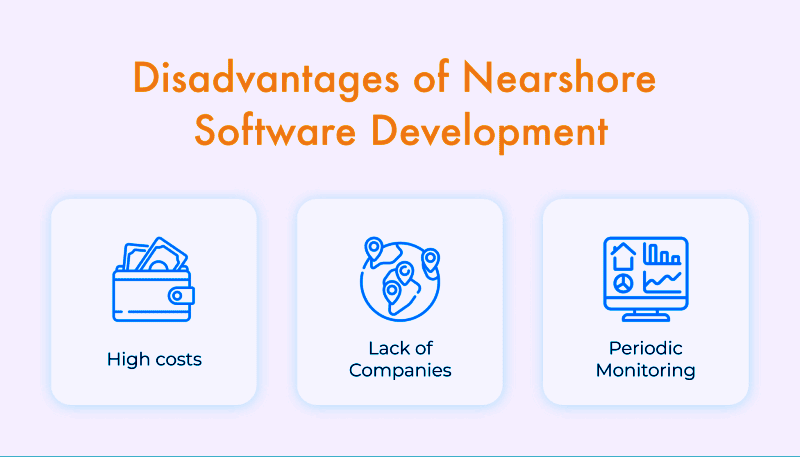 High costs in comparison with offshore. You can find vendors offering accessible costs according to your location, but it's not usual. So, if you haven't found companies with affordable prices; you should apply to an offshore IT company, and it will solve your problem.
Lack of IT-oriented businesses. Of course, there are many software development companies in every country; however, the quality of the services provided by nameless firms can significantly differ from well-known ones. If you've got such a choice, pick an offshore company with many customer reviews rather than a doubtful one.
Need for the periodic check. After employing a nearshore development team, you need to monitor their workflow once and again. Though, holding meetings with the neighboring regions is easy. All you need is to set up a comfortable meeting schedule. However, in case of direct communication necessity with your contractor, you have to book a tiring flight.
Also Read: How to Manage Offshore Development Team and Maximize Productivity?
TOP-3 Examples of the Outsourced Solutions
Even world-known companies draw on outsourcing for reducing their in-house devs' load or a cost cut. So, let's get acquainted with the software that appeared as a result of nearshore outsourcing cooperation.
This app, used as an internal company messenger, is an excellent illustration of nearshore outsourcing. When the developers found out that it lacked a compelling interface; they involved a design company from Canada to develop a mobile app and web design and the app logo.
Thus now Slack looks and feels completely different, having at once essential features and a nice-looking design. Such a combination has led to $401 million in revenue.
Such appreciated Skype features like messaging, video calls, and file uploading appeared; due to the company's nearshore outsourcing cooperation with an Estonian development team. This way, Skype became the No.1 communication tool worldwide.
Opera came into existence as a corporate project of the Norwegian Telenor. The point is that Opera was built by outsourcing programmers situated in 24 various places. Such involvement was done to prevent losses if something went wrong, though Opera is one of the best-selling browsers today.
Wrapping up
So, summing up the reason you can see that nearshore software services are popular in the IT-sphere; due to a set of essential advantages that you can't ignore. All you need is to find a trustworthy nearshore team that can give a proper embodiment for your project.
The qualified nearshore specialists will satisfy your expectations; offering you an on-time completed project that will be useful and profitable for your business.
Must Read: