No wonder, as even some of the most commonly repeated terms like cPanel and cPanel hosting; are not explained in detail by the hosting providers. Admittedly, describing everything cPanel can do is quite the challenge; as it is a versatile platform which covers practically all aspects of hosting.
Covering the basics from the end user's perspective is rather simple; though, as it is relatively free from confusing technical terminology. What is more, learning about the main features of cPanel hosting essentially means learning about web hosting as a whole.
The web hosting world is densely packed with technical terminology and unknown abbreviations. Often people, who are choosing a suitable hosting plan for the first time are left in the dark. The proverbial mountain of new knowledge stands in front of them, seemingly unsurmountable.
But let's take things one by one.
What Is cPanel Hosting?
cPanel hosting is one of the most popular and widely used web hosting solutions. Comprehensive and complete, this platform works on Linux servers. Used mostly for shared web hosting, it covers all grounds virtually:
Server Administration – setup and maintenance of the server, which is done by the hosting provider;
Features for Resellers – businesspeople, who re-brand and resell the products of the web hosting company; effectively running their hosting service;
Control panel for the end-users; a place where the site owners can manage all features of their hosting plan.
Hence, cPanel hosting refers to a Linux-based hosting plan, which utilizes the numerous features of cPanel.
How To Access cPanel?
Unless the hosting provider has created custom settings, the cPanel login screen can be accessed on port 2082.

To do this, type the domain name of your website, followed by: 2082, as in:

SampleDomain.com:2082

You will be to the cPanel login screen where you must insert your cPanel username and password.
Keep in mind that they might differ from the login credentials for your main hosting account; through which hosting fees are paid, and support tickets are raised.
In fact, for greater security, it is recommended to have two separate sets of credentials.
What Makes cPanel Hosting So Popular?
When it comes down to shared hosting solutions, cPanel is easily the first thing that springs to mind.
A control panel for both
end-users and
administrators;
It covers all aspects of web hosting with a remarkable legerity.
It is worth taking a more in-depth look at this powerful platform; for it would help you discover the tools website owners need to manage their hosting services.
The list is far from comprehensive, but it gives an excellent idea to what cPanel hosting owes its immense popularity in the hosting world.
Main Features Of cPanel Hosting
The cPanel end-user control panel comes with a Graphical User Interface (GUI).

It is accessible by typing without space either: 2082 or /cpanel after the end of your domain name.
Nothing flashy, but ordered and functional, the GUI is separated in several categories.
Upon login for the first time, you would be offered a tour to get to know the main features.
cPanel hosting include:
General preferences
Mail service management
File management
Databases
Domains
Various logs
Security
Software management
Advanced features
Preferences
cPanel hosting provides full control over your hosting services. They cover the basics:
Change of password,
Video tutorial,
Various themes for the GUI,
Language options and
A few other necessities.
Mail
Speaking of deletion and creation, in cPanel hosting, you can manage your email accounts too.
Create new email addresses or remove existing ones,
Update passwords,
Manage email filters,
Block unwanted senders,
Forward communication from one mailbox to another – the possibilities are numerous.
Do you want total control over your email service? Because this is how you get full control over your email service.
You can delete and create email addresses, change their passwords, and even access them directly through cPanel; with the click of a button. On top of this, you can
Manage mailing lists,
Adjust global and local spam settings,
Set autoresponders,
Define forwarding rules and
Change MX entries.
For the latter better consult with the support team of your hosting provider, though. Updating MX records the wrong way would incapacitate your email service.
File Management
You can submit changes directly to your website. Through the File Manager, you can upload new files to your site using an internet browser of your choice. It works quite similarly to the Windows Explorer, so be careful when dragging things around.
You can enjoy unlimited editing power over your website from the comfort of your web browser. cPanel hosting comes with the File Manager interface, through which you can upload changes to your site.
Better still, you can manage FTP accounts.
FTP stands for File Transfer Protocol, and it is the most common method for accessing your website files and for uploading changes.
Additionally, you can create FTP accounts. File Transfer Protocol is the most popular network protocol for file transfer; between your personal computer and the server of your web hosting provider.
It functions similarly to the File Manager, but usually,
FTP provides higher speed and more stable connection.
You would need an FTP client to use it, but there are many free and functional FTP applications out there.
While cPanel has an embedded feature for doing precisely that – the File Manager mentioned above; usually FTP is faster and more reliable.
There are many free FTP applications, which could be used for the purpose.
cPanel hosting allows you to
Delete existing FTP accounts,
Create new ones and
Change their privileges or areas of the site they have access to.
The real advantage of the FTP accounts is that you can restrict their access to certain areas of your website.
That could be useful for delegating editing rights to people within your organization or to web designers; They would be able to update only the parts of the site you want and nothing more.
Something you should not overlook is the possibility for manual backups.
With a few clicks, you can create a full backup of your site and its database; which is something highly recommended before any significant changes of the website.
Generally speaking, creating backups now and then is a good practice; because technical issues arise, pages get hacked, and databases get corrupted for no apparent reason. Having a recent backup in such unsavory circumstances can save you a lot of trouble.
Database Management
Another thing you can create and delete through cPanel are MySQL databases.
The hosting package determines the total number of databases you can have at any given time, but their management happens through cPanel.
Linux servers function by default with MySQL databases, which you can create and manage through cPanel.

You can add new databases, modify access accounts of existing ones, and navigate to the MySQL GUI called phpMyAdmin; with just a few clicks. There is a database wizard in place to help you learn the basic functionality.
PostgreSQL databases are also available.
Domain Names
Many Linux hosting plans can support multiple domain names. You can have either a few websites or several domain names redirecting toward the only page.
In cPanel hosting you can add domains or park them, create redirects and play with the DNS zone. Same as with the MX records, better consult with the support staff of host before editing the DNS records.
Logs and Statistics
Since virtually all shared hosting plans come with restrictions on disk space. It is a good idea to check how many bytes your website consumes.
cPanel has this covered too, as you can check
The disk usage of your website,
Databases and
Mailboxes through its statistics.
Other useful records are kept as well. Bandwidth logs, errors logs, and even some page analytics can be found within cPanel.
cPanel hosting keeps quite detailed statistics.
Disk space usage, bandwidth utilization, and raw access logs can be beneficial in proper site management.
If enabled and configured by the host, the error logs are very useful in troubleshooting; because they can pinpoint erroneous pieces of code.
There is page analytics, as well. While not the most comprehensive tool for traffic analysis out there; they have the basics well covered and do not require a complicated setup. If put to good use, they can facilitate traffic growth.
Security
To improve security, cPanel hosting provides the option for manual backups. Usually, the hosting provider would set automatic backups with a particular frequency, but sometimes manual copies are handy. Whenever you submit significant changes to your web page or update it's Content Management System CRM; it is a good idea to back the files up.
Other security features include password protection for specific areas of your website; and the manual blacklisting of IP addresses, which you might deem dangerous. Once added to the blacklist, the server firewall would block queries from these IPs.
cPanel allows you to restrict access to certain areas of your website by protecting them with passwords. You can also limit the number of logins per user to the protected areas.
Another powerful security feature is the possibility to blacklist IP addresses. If you suspect that a specific address is the source of malicious activity; you can add it to the blacklist. That would block any future queries coming from this IP address, effectively preventing it from reaching your web page.
Software and Services
There are a handful of services available in this section of cPanel. The hosting provider must enable some of them to be accessible.
Most notably, the software that could be installed on your site; but also some of the optimization features included there.
Other services like the CGI center; which allows the deployment of scripts, and the Perl modules are enabled by default.
Arguably, the most useful thing in this section is the PHP configuration. Through it, you can tailor the settings of the language according to your needs.
You can
Change the maximum file size for upload and download,
Set the memory limit for queries,

Determine where sessions will be saved and more.
If the host allows it, you could even change the PHP versions.
Advanced Features
Depending on the setup:
cPanel hosting can provide access to many services to improve the performance of your website.
Things like Perl modules,
Custom configuration of the php.ini file,

Optimization of the web page,

Quick installation of CRMs, etc., can be convenient.
Both the number of these features and the extent of their functionality differ from one web host to another.
Reserved for experienced webmasters, the advanced section of cPanel provides even greater control over your hosting environment.
Among other things, you can
Customize the appearance of your error pages,
Scan for viruses throughout cPanel,

Manage the Apache handlers and

Obtain network information.
One of the most commonly used features in this section is the possibility to set and edit cron jobs. These are executable commands, which run with a specific frequency.
Appropriately configured, the cron jobs can automate many functions of the site reducing, or eliminating the need for manual maintenance. Not only is this time saving, but it also removes the possibility for a human error to mess things up.
So could be cron jobs and Apache handlers, which also can be managed through cPanel.
In brief, these are most of the features included in a standard cPanel setup.
Most of the big hosting companies usually offer cPanel hosting and their own developed in-house control panel. Often, the latter is advertised stronger because the hosting companies have to pay for cPanel licenses.
Also Check: Undertake Managed Hosting Comparison And Choose The Best Service Option
Final Thought
Even though the choice sometimes may seem complicated, from the end user's point of view; using cPanel has two significant advantages.
The fact that many companies offer cPanel hosting means that changing hosts would be easy and straightforward.
There is a way to export an entire hosting package from one cPanel. Files, emails, databases and then import it to another. That ensures the integrity of your data and the functionality of your site.
On top of that, you would not have to waste precious time to know a new cpanel from scratch.
Also, a great many features cPanel supports could seem a bit daunting at first. But, its popularity means that there are plenty of resources available online.
It is easy to find out how to execute specific actions; how to utilize certain features to the fullest and how to troubleshoot; if so inclined. There are videos, articles, and official cPanel documentation.
The above list of feature is far from exhaustive, as cPanel provides an ever-expanding functionality. With each new iteration of the platform; its speed and overall performance tend to increase together with the degree of control webmasters have.
Despite being deployed mainly in shared hosting environment; cPanel comes with a staggering degree of control and many possibilities for customization.
Add to that its continuous development and the overall ease of use, and it becomes easy to understand why it is the most popular hosting control panel in existence.
Don't be afraid to try it out, as it gives a decent amount of control and proven functionality.
Also Check: MilesWeb Reseller Hosting Review: Why You Should Consider Them?
Introduction To Some Most Popular cPanel Hosting Providers
Bluehost cPanel Hosting
Bluehost cPanel was created using minimal design. Thus, it makes good use of whitespace. The minimalist design also makes it very convenient for users to navigate the system.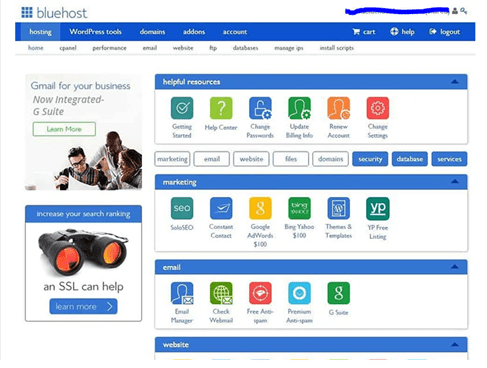 Bluehost cPanel Hosting Features
Bluehost cPanel has:
Simple user interaction and functionality;
Plenty of open space;
Simple color;
Uses one typeface
Simplified content.
In short, the Bluehost cPanel has a simple graphical interface and excellent performance.
Where To Find Bluehost cPanel?
To find the cPanel, first Log into your Bluehost account.
Click Advanced from the side navigation menu on the left.
How To Access Bluehost cPanel?
First Log in to your Bluehost account.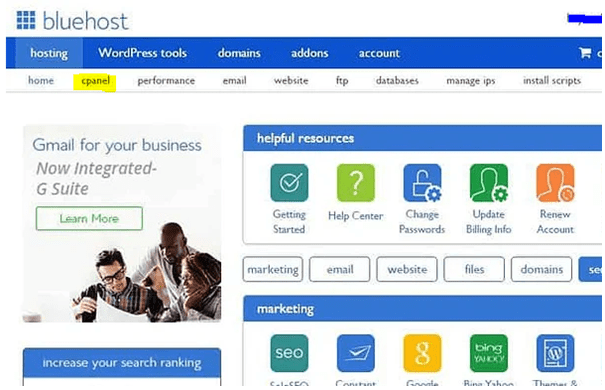 If you are not in the cPanel bar, select the cPanel tab at the top of the account.
How To Login To Bluehost cPanel?
To login to Bluehost, you can use a variety of methods.
Through the Bluehost website
Through your website
Secure login
You need a username and password to use any of the methods above to login. If you have forgotten your username, you can find it in the welcome email sent to you when you initially set up your account.
Logging In Through The Bluehost Website
Type the Bluehost website URL

Click on Login (upper right corner)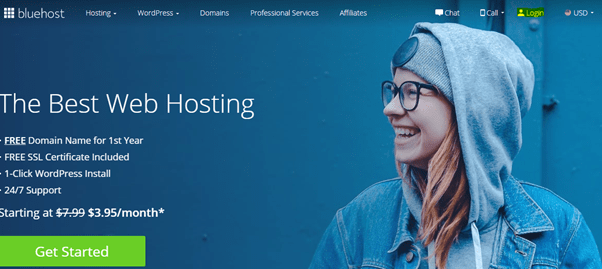 A text box will appear when you can enter your domain name and password. Alternatively, you can choose to log in via Webmail or using your Google account.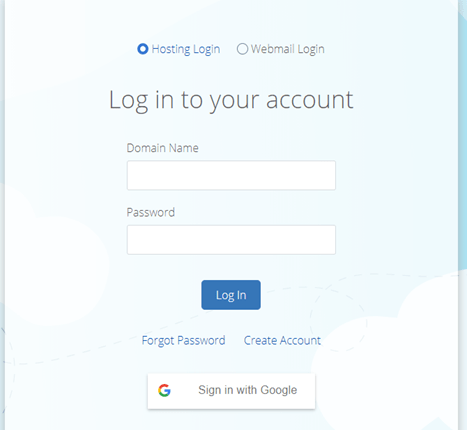 Logging In Through Your Website
If you have already registered a domain with Bluehost and it is live, you can use this method to login to your cPanel. To do this, use the following steps;
Type in the domain name in a browser and add forward slash and cPanel at the end (http://example.com/cpanel/). Replace example.com with your domain name.

However, if your domain is not yet live, you cannot be able to log in via this method.
Logging In Securely
For you to log in to cPanel using the secure method, you must know your Bluehost server number. The number can be found in the stats section of the cPanel. To logging securely;
Type in the following URL in your browser.
Secure Login:
https://box#.Bluehost.com:2083

You should replace the # with your Bluehost server number.
Also Check: 4 Best GoDaddy Alternatives
HostGator cPanel Hosting
HostGator shared hosting accounts come with a cPanel. It is straightforward to use and offers various support options for new users as well as advanced users.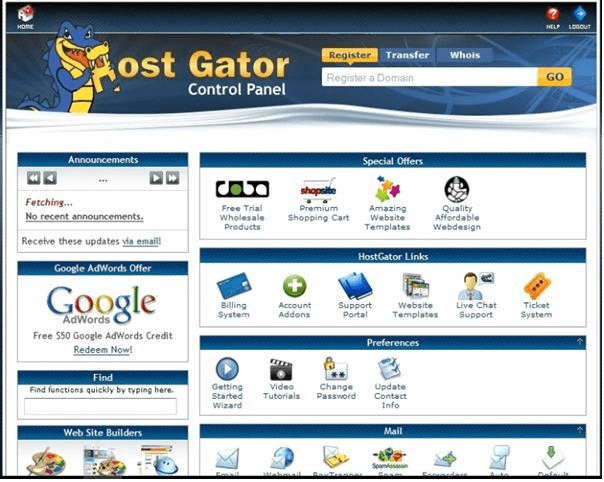 Where To Find HostGator cPanel?
To find the cPanel, login to your HostGator account once your login to cPanel you'll be taken to the dashboard.
At the upper right corner, you'll find a search bar you can use to find anything in your cPanel. Alternatively, you can use the CTRL+F command to find what you're looking for.

How To Access And Login To Your HostGator cPanel?
To access your cPanel, you can use the following methods;
The HostGator site
Your server name
And Your servers IP address
Your website
Let's get into more detail:
Using The HostGator Site
Head to the HostGator site and click on Customer Login.

Proceed to choose the HostGator Portal Login.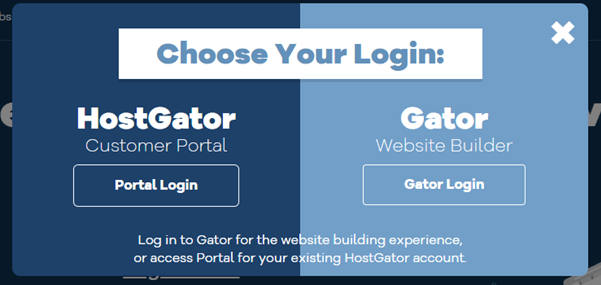 In the text box, enter your email address and, finally, your password to login to your HostGator account.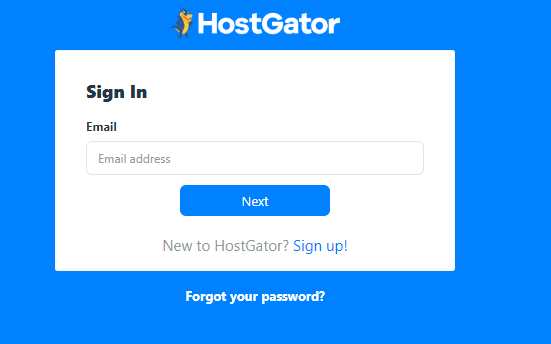 Using Your Server Name
Your server name and its IP address are provided once you register and buy hosting for your site. The information is usually found in the welcome email that you get. To login to cPanel using your server name, type your server name in the browser, followed by the secure port number.

Using Your Servers IP Address
As mentioned previously, your server IP address is provided in the welcome email. Thus, to use this method to log in, type your servers IP address followed by the secure port number.

Using Your Website
If your website is live and its domain is pointing to the server, you can type a domain name, followed by the secure port number.
For example;

Also Check: Bluehost Review – Best Web Hosting
GoDaddy cPanel Hosting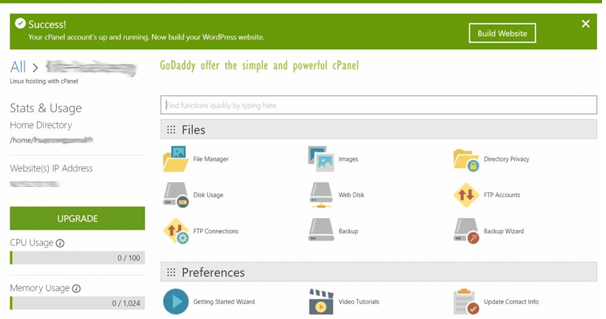 Where To Find GoDaddy cPanel?

To find the cPanel, head to the GoDaddy website and click on Sign In.
How To Access And Login To The GoDaddy cPanel?
You can log in to your cPanel using either of two methods;
GoDaddy website
Your website
Through GoDaddy Website
To use this method head to GoDaddy website and click on sign in the
Proceed to click on Sign In again Under Registered users.

Then enter your customer username or a number and your password. Alternatively, you can use your Facebook or Amazon account to log in.
Also Check: GoDaddy Web Hosting Review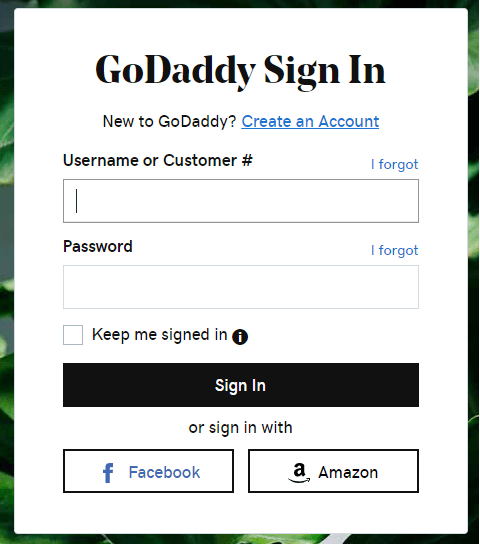 Through Your Website
To use this method, your website must have been registered, and your DNS must be pointing to GoDaddy's servers.
You should type your domain name, followed by a forward slash and cPanel.

Also Check: How To Choose The Best Web Hosting?
WordPress cPanel Hosting
Almost all hosting providers have a cPanel for their platforms. The cPanel may differ with each host, but they all have the essential ability to allow website owners to manage their websites from a web-based interface. cPanel is mostly accessed using https on port 2083 or by adding /cpanel to the end of the hostname. Most hosts provide an auto-installer dedicated to installing content management systems like WordPress.
All cPanel from various hosts have WordPress; a user can thus use cPanel to manage the features of their WordPress hosting plan.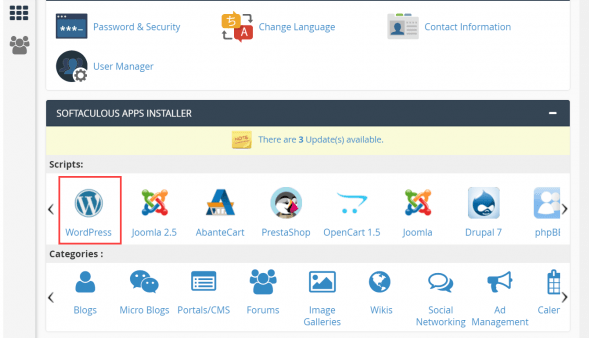 Alternatively, you can use the WordPress dashboard to manage your WordPress site features.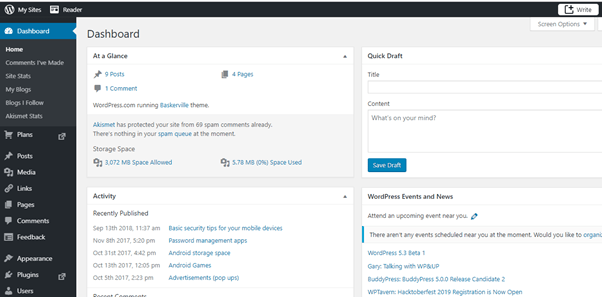 Where To Find WordPress cPanel?
WordPress cPanel (also called dashboard), is a world-class and easy to use cPanel. It is very straight forward.
To find your cPanel, you should type your WordPress sites name and add /wp-admin

How To Access And Login To WordPress cPanel?
Type your website URL and add a forward slash and wp-admin.

A small text box will appear, and you can enter your email address and password.
Note that if you had installed WordPress in a folder, you should include the name of the folder in the URL. For instance, if you had installed WordPress on a folder called a blog, the URL should be as follows.
A textbox should appear and prompt you to login using your email and password.
Also Check: How To Fix Ads.txt Warning Of AdSense – 100% Solution!