With the options available for web hosting increasing by the day, choosing the best types of hosting for your website can be a daunting task. Coupled with the nerdy language terms such as DNS, GB, and bandwidth, selecting a hosting type is bound to be frustrating.
The next frontier of business competitiveness is headed online. Therefore, it is imperative for businesses to look for a way to keep up. Technology will soon run entire companies.
Eventually, you will have to find a way of having an online presence. The first step of your journey is finding the type of hosting that suits you best.
As your online business needs grow, your web hosting needs will increase in both quantity and complexity. In the early days, inexpensive hosting type plans may be convenient, but as the website traffic increases, you may need to move to more advanced types of hosting.
With the options available for web hosting increasing by the day, choosing the best web hosting type can be a daunting task. Coupled with the nerdy language terms such as DNS, GB, and bandwidth, selecting a hosting type is bound to be frustrating.
You could even decide to create a web hosting plan at your home if you can keep up with the rigors that come up with it. It sounds like a fun challenge.
Let's now get down to it and be technologically enlightened. Here are some types of web hosting you can consider.
Shared Hosting
That is among the simplest and most commonly used type of hosting for startups and new websites. Moreover, in this setup, websites are hosted on a server shared by several other sites.
It is suitable for startup websites with little web traffic. The average cost for these types of hosting ranges from five to ten dollars every month.
What Are the Pros And Cons of this Type of Hosting?
The most significant advantage is that you pay a negligible amount for a super server since you are sharing the cost. Therefore, your operating cost is so low.
Besides, your website setup needs are completely taken care of. You only have to configure a few things and concentrate on building your website.
For a new website with little traffic, it offers the perfect server speeds.
On the other side, sharing has its problems.
When your web traffic starts to pick up, you will experience more downtime. When this starts, it time you consider upgrading.
Then there is the harmful neighbor effect. That is where the more massive website hogs the web resources since they receive more traffic.
That is among the main reason why these hosting types are problematic.
What Is cPanel Hosting and How to use it? Read Here.
Dedicated Webserver
In this type of hosting, you have a server only dedicated to your website. These types of hosting are most suitable for larger organizations due to data privacy and support control.
The average price ranges of these types of hosting are 100-200 dollars. However, the price can go as high as 400 dollars, depending on the specifications.
What are the pros and cons of these types of hosting?
Pros
Your bad neighbor issues are sorted for good; you have the server to yourself. Your downtime is also significantly negated.
You have absolute control over data privacy since you are the one with access to the server.
Also, you can customize and specialize your server need to suit your business perfectly without having to compromise.
Cons
However, the cost is the first major issue. Dedicated servers do come with a dedicate price, quite literally.
You also have to have technological expertise for this type of hosting. You need to know more about servers and computers.
It can also be quite risky since all your data is in a single place. If the server is to fail, everything on your website will go down with it. Even with backup, the restoration will take time.
Cloud-Based Hosting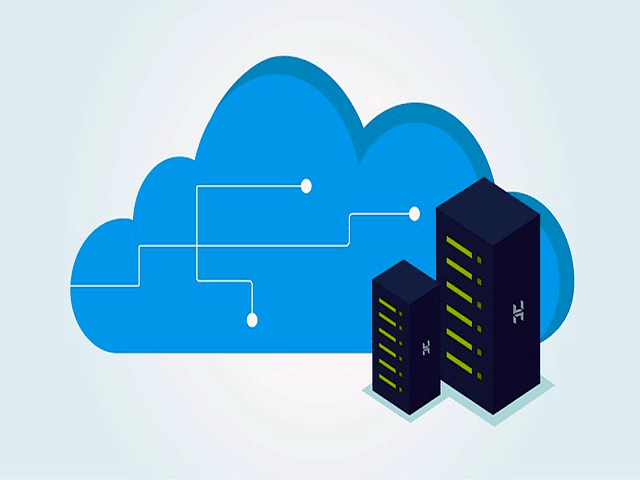 This is the current trending type of hosting in the technology industry. Cloud hosting entails connecting many computers via a network. They run applications and work together while sharing the computing resources required.
For these types of hosting, you get to pay for what you have used. It is suitable for sites with the potential to grow over time since it is scalable. You can use as many resources as you need without having to build your computing infrastructure.
What are its pros and cons of these types of Hosting?
The apparent advantage is its scalability. Cloud-based servers have the ability to scale up infinitely. This is because several computers combine to form a virtual super server.
You will only pay for the resources you will have used. This way, you can control your operating costs.
However, this can also be a problem since you cannot predict the costs associated with these hosting types.
This can lead to increased operating costs since increased web traffic may not necessarily mean increased earnings.
Virtual Private Server
It is the best middle ground between a dedicated server, and shared server. Each site is hosted on its portion on the server while the physical server has shared with other users. This hosting type is most suitable for sites that require more control, but where a dedicated server is not a necessity. The average costs range from 50 dollars to 200 dollars.
What are the pros and cons associated with this tepes of hosting?
Usually, this type of hosting is more stable and reliable as compared to other shared web hosting services. This is because there is a limit on the number of sites hence limits the strain on the server.
Besides, the resources are evenly split, so other sites cannot hog your resources. No bad neighbors allowed here.
Customization and specialization of your website are also possible. This enables you to suit your web environment to your needs. It can scale up when you need more resources.
The cons are less as compared to other types of hosting.
The first one is its relatively higher cost. Also, you need technological expertise for these hosting types.
Since you get a certain degree of freedom, if you do not know what you are doing, you may end up messing your server.
Lastly, web traffic increases suddenly, and you exceed the allocated resources, your site shuts down automatically.
Managed Web Hosting
This is a type of hosting where a company provides physical and technical support. From setups, all the way to hardware and software are adequately catered for by a provider.
This hosting type is best suited for a large organization that needs web hosting but initially does not have the required expertise to start.
The average price will depend on the individual provider, the specification needed, and the level of maintenance required.
The pros and cons of these types of hosting
The significant advantage is that you will always have technical support on-site.
Your servers are continually being monitored for any problems that may arise.
Your private data is secured since intruders regularly check your servers for viruses and access.
Besides, all your data will be backed up, so chances of loss of data in case of failures are negated.
Management of storage space needed for optimal web use is updated regularly.
This enables your website to work at its peak and avoids any downtime.
This type of hosting allows customization and specialization of your site. Even when your need for resources changes in the future.
Whether you want to scale up or down or change your site to fit differently, it is easier since your provider is at hand to assist.
This type of hosting also saves you time since you have a full IT support unit at your call. All you have to worry about is running your business.
The major drawback of managed web hosting is that in the end, it is costly to maintain.
You are better off if you get this type of hosting with a view of establishing an IT department as you progress.
To add on that, you have no control over your servers: You might end up calling for technical support when you could easily handle the issue yourself.
Self Service Web Hosting
In this hosting type, you do everything yourself. You buy the hardware and install all software, set them up, and maintain them by yourself. This type of hosting is best for tech-savvy people who understand everything about servers and computer technology.
You cannot put a price on it since you can suit the cost of what you can afford and what you need. If you decide to go for super servers, it would cost you an arm and a leg. Similarly, you could go for simple solutions, which can efficiently be run in the comfort of your home.
What are the pros and cons of this types of hosting?
To start with, the pros, the first is that you have absolute control over everything.
You have no limits, bad neighbors, and do not have to wait to get anything fixed. Because, you can do it yourself.
You can customize your site according to your current needs at the time.
Your data is entirely private since it is only you with access to it. You do not have your data at the mercy of any third parties.
It gives you a sense of pride and ownership since you are fully responsible for all the things that happen on your site.
Self-service web hosting is flexible. In case you run into any headwinds, you can jump to another option you deem convenient.
Later on, one can smoothly go back to your beloved server.changeover is easy.
However, it does have its downsides.
You must to have everything in pairs for spare purposes.
This creates redundancy and increased costs.
Besides, the initial cost of setting up and acquiring everything can be quite costly.
Maintaining the server is also another challenge.
Setting up will also require additional space for the servers and cooling equipment.
You must also to have constant power supply at all times; otherwise, you may lose data.
Lastly, pray that you do run into a problem that you cannot fix. This can potentially spell doom.
You can lose all your data in addition to your site being permanently down.
You need to outsource an expert to fix it and for data recovery. This translates to extra costs.
Conclusion:
Different types of hosting come with their own merits and demerits. Before you choose a hosting type, you must understand the pros and cons. I hope this article has enlightened you on the best option to consider. Consider the most convenient web hosting type for your website.
Image by WilliamsCreativity from Pixabay