Electronic or digital signatures can simplify a very tedious process. However, this process is necessary, and it is also a legally binding agreement. The days of faxes and emails are long gone, and these days; all a company needs to do to obtain a signature is get a digital signature. Most people do not have their own digital signature softwares and will often struggle to know how exactly you ought to sign PDFs and other documents. So, to avoid the risk of that happening to you; let us take a look at some of the best free electronic signature softwares available in the market.
Top 5 Best Electronic Or Digital Signature Softwares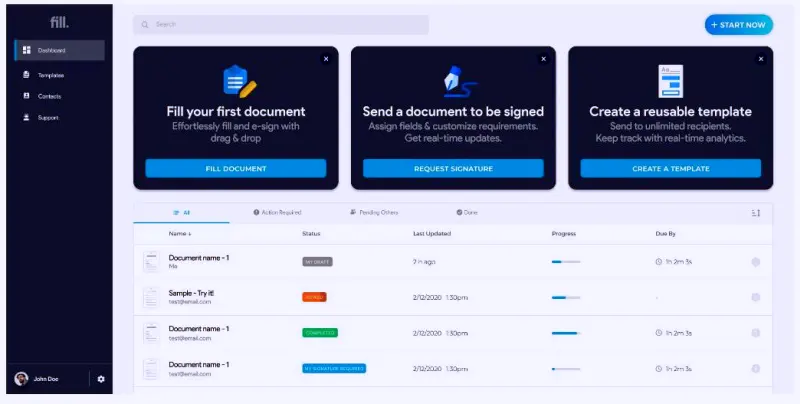 If we look at the score of this, one of the best digital signature software on the App Store; we can see that it has a very impressive rating of 4.4 out of 5. This speaks volumes about FillHQ and tells us that it is a very reliable software.
When you have the app, you can scan and capture any document. You will also be able to annotate different kinds of documents. You will be able to insert text, stamps, or icons. Sending and collecting signatures from different customers has never been easier; and Fill allows you to do this all in real-time via either text messaging or email. Fill also has very impressive security and privacy features. It also has to be mentioned here that these features are the absolute highest standards.
Features:
You can access the software via mobile applications
Provides you with instant notifications
Directly links documents
Powerful security features
Free trial
Excellent customer support
Platforms: Web, macOS, Windows, iOS, Android
Also Read: Best Mobile App Development Tools In 2022
PandaDoc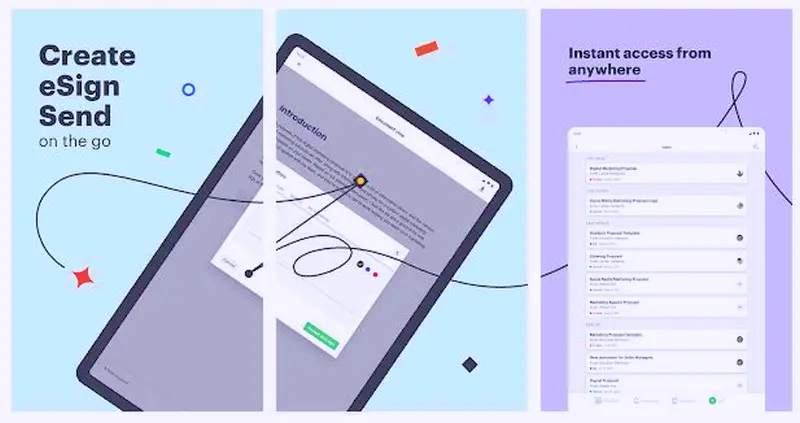 One of the best free electronic or digital signature softwares that is very heavy in terms of the number of features it offers. It is not just an e-signature platform; but rather, it is also able to handle a lot more advanced tasks related to management. This includes the workflow of documents and customer relationship management (CRM) functions. This particular software is better suited for large companies. However, it also offers an entirely free version and is hosted on the cloud. So, you ought to explore PandaDoc even if you are a small business.
It is worth noting that the free version of PandaDoc is also very feature-heavy. It lets users upload documents get e-signatures, and it also helps collect payments. The best thing about the free version is that; you can do this for an unlimited amount of documents and also for an unlimited number of users.
Features:
You can get signatures with just one click, and it also automates the processes of approval.
It helps your sales team be a lot more efficient as the process of getting documents signed is simplified.
It minimizes the risks associated with workflows and helps you stay compliant.
Platform: macOS, Windows, iOS, Android.
Also Check: 7 Best Ways To Extend The Life Of Your Electronic Devices
Eversign
Many people and companies want just simple softwares for getting their electronic or digital signature. For these people, in particular, Eversign is a perfect software solution. Also, it has many features if you ever decide to upgrade. The software has also been smartly integrated with many other third-party applications, including Google and Dropbox. Another fascinating specialty to note here is that Eversign has an excellent reputation for its customers.
The leading benefit of this software is that it is so simple to use; making the whole thing a lot more approachable for people who are not very tech-savvy. One of the disadvantages of this software is that it does not have phone support; lacks a lot of third-party software integrations, and has very low functionality on all smartphones.
As you may have expected, you can not get access to many features with the limited free version. This free version also goes by the name of Eversign Lite.
Features:
Includes data encryption with a 256-bit SSL
Seamless integration with your current applications or services.
Just about it can use any device to sign documents using Eversign.
It gets you your signature that is legally binding; and it also reduces the total time it takes for documents to turnarounds.
Platform: macOS, Windows, iOS, Android.
Also Read: 9 Predictions for Innovation in Commercial Real Estate Technology
HelloSign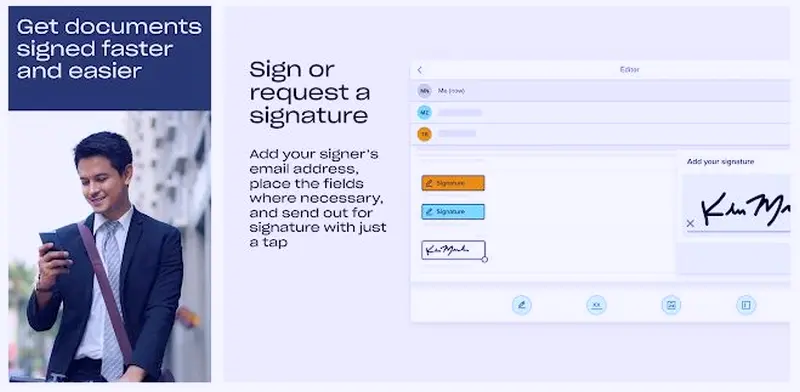 Getting signatures with HelloSign is a straightforward process due to its easy yet intuitive interface. It is one of the best electronic or digital signature softwares that can attend to all the basic requirements; people may have directly in their free version. Indeed, it does not have phone support, and it also has a very limited app; but it is ideal for any business that wants to get their digital signatures without incurring any costs.
The free version is relatively limited compared to other software in this category; and you will only be able to get three different requests for signatures every month. As you can probably imagine, it will not take long for businesses to exceed that amount. You will have to obtain the Pro paid package to have access to unlimited signatures.
Features:
It offers you the ability to do custom branding
HelloSign can be implemented into your existing applications
Extremely secure and it also complies with most major laws for e-Signatures
You will be able to use documents that will be auto-filled
You will be able to embed a type of contract with only a few lines of code
Platform: Web
Also Check: DIGITAL SIGNAGE IS THE NEW FUTURE
SignWell
SignWell is one of the best electronic or digital signature softwares. It is also a very versatile one that you can use on a wide variety of documents. One great thing about SignWell is that it can offer many great templates; that work well for creating different types of documents. This software does an excellent job of making sure the e-signature process is sped up.
SignWell can allow you to get many people to complete and then sign the documents. You can do this in any order that seems preferable; and SignWell will notify the respective person when they have to sign the document. Also, it gives you the ability to hold onto the documents you use most often and recreate them when necessary.
Features:
Allows multiple people to sign and complete documents in the order they prefer.
Allows you to keep track of legally binding documents.
Helps when sharing presentations.
Has a fast template and setup process.
Platform: Web
Also Check: Personalized Nursery Door Signs for Your Baby
Final Words
Getting signatures electronically has become a mandatory process of conducting business these days. Without digital signatures, it becomes a lot more challenging to conduct business. This is why it is so crucial that you have electronic signature softwares at your disposal. The software listed in this article can do that job for you; and it all relies on your unique needs and preferences when choosing one.
Also Check: Top 4 Benefits of Digital Signage Displays
Image by Tumisu