For a new iPhone or iPad user, it sometimes becomes difficult to perform everyday functions like screen recording. We know that screen recording on iPhone or iPad is merely an easy task. But if you have been struggling. And looking at various platforms for the answer to how to screen record on iPhone or iPad, you have come to the right place. For people with iOS 11 or a later version of iPhone or iPad, even in iPadOS 14 or later versions, it is much easier to screen record on their devices. That's because these mobiles come with a built-in screen recording function. But even this requires understanding and an easy way to use it.
Top Ways To Screen Record On iPhone And iPad
Please have a seat and start reading with me. You'll find this guide helpful in understanding an iPhone's screen recording process. You will also get a list of top iPhone screen recording apps. Have a look, please!
How To Turn On The Screen Recording Function In The Control Center?
Indeed, you can simply go into the settings. And look for the screen recording option to record your favorite clips.
But having that feature in the Control Center of your mobile will be a seamless process for screen recording.
It's excellent if you need to use it frequently and for future recordings. You will just drop down the Control Center and click the function, and then boom, you are good to go!
However, most people don't find the screen recording option in their control center. If you just bought your iPhone/iPad or performed a reset, you may also be unable to find it.
How to Check the Screen Recording Feature Active or Not?
To know whether you have a screen recording feature in your Control Center or not, you need to check it in the Control Center.
For this, Swipe Down if you are using iPhone X or later and Swipe up if you are using iPhone 8 or earlier. In iPad, Swipe Down from top-right corner of your iPad screen. The screen recording feature will look like a dot with a circle around it.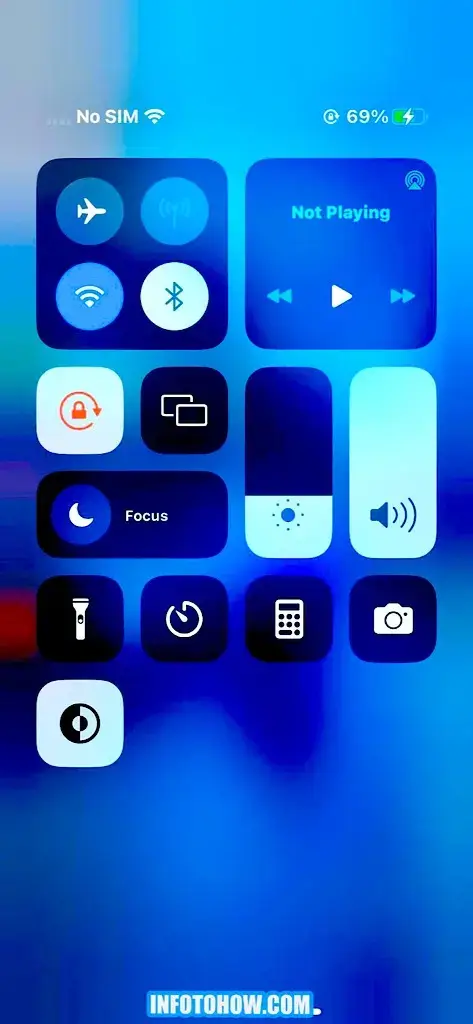 If it is not available on your mobile, then we'll need to bring it here.
But don't worry because unless we are here, you'll learn how to bring or activate the Screen Recording function into the Control Center of your iPhone or iPad.
How To Activate Screen Record Feature On Your iPhone Or iPad?
Please have a look at the following steps for more understanding!
First, look for Settings on your iPhone. Once found, click on Settings and open the application.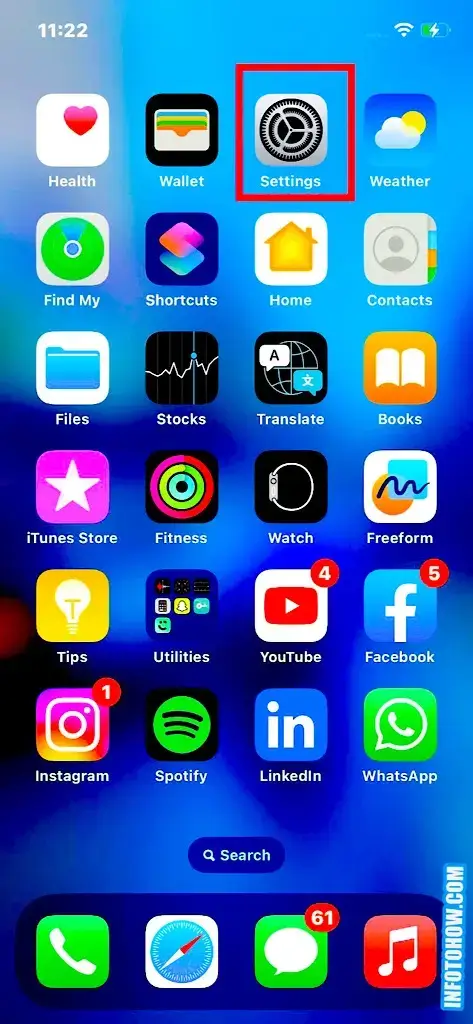 Now, navigate through the Settings Menu until you find the Control Center option. Or you can search it by typing Control Center in the Search Bar.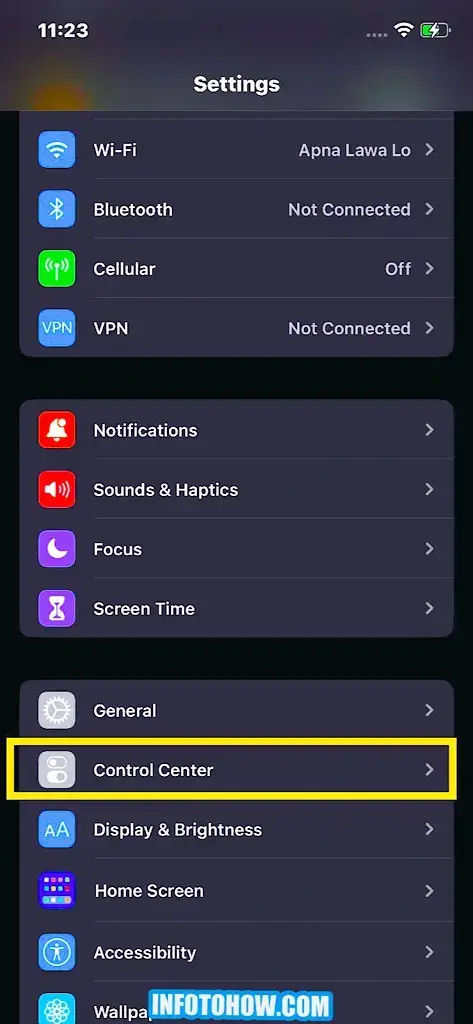 Similarly, you can find Control Center on your iPad and locate the Screen Recording option.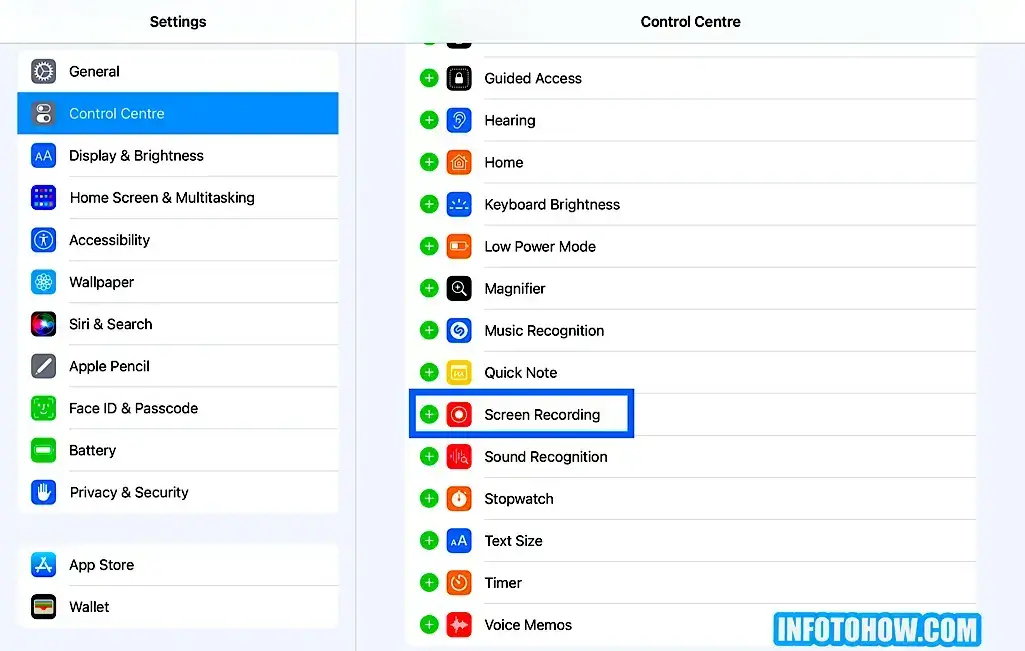 Enter the Control Center, and you'll find some features with red (-) signs and others with green (+) signs. The red ones are already available in your control center for easy accessibility. However, they can be brought to the control center.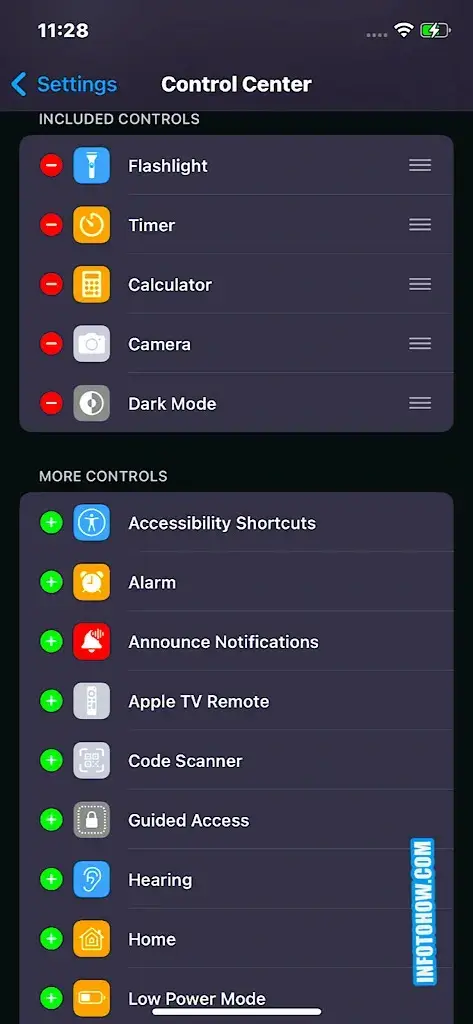 Here, go down the line and find the Screen Recording feature.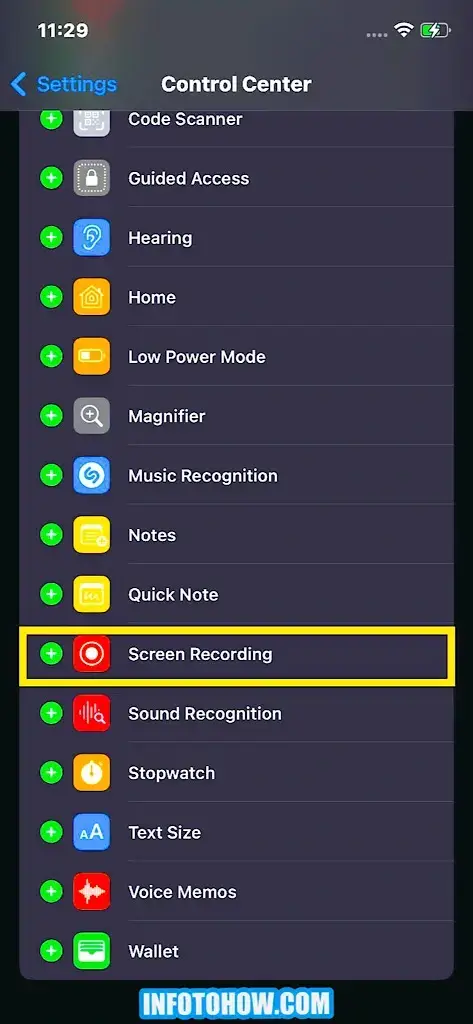 Once you've got it, click the green (+), and it will be shifted to your control center.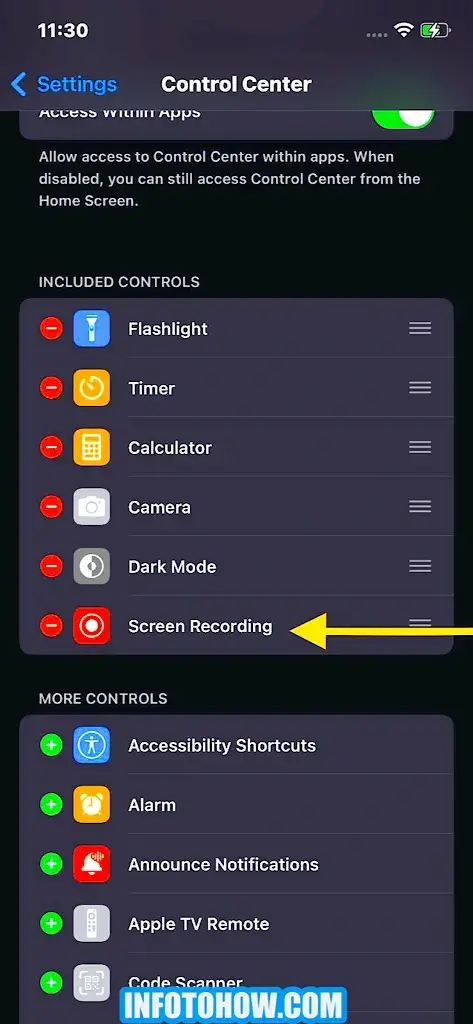 Now, again drop down the Control Center for iPhone X or later. Or drop up the Control Center for iPhone 8 and earlier to find the Screen Recording Feature in your control center.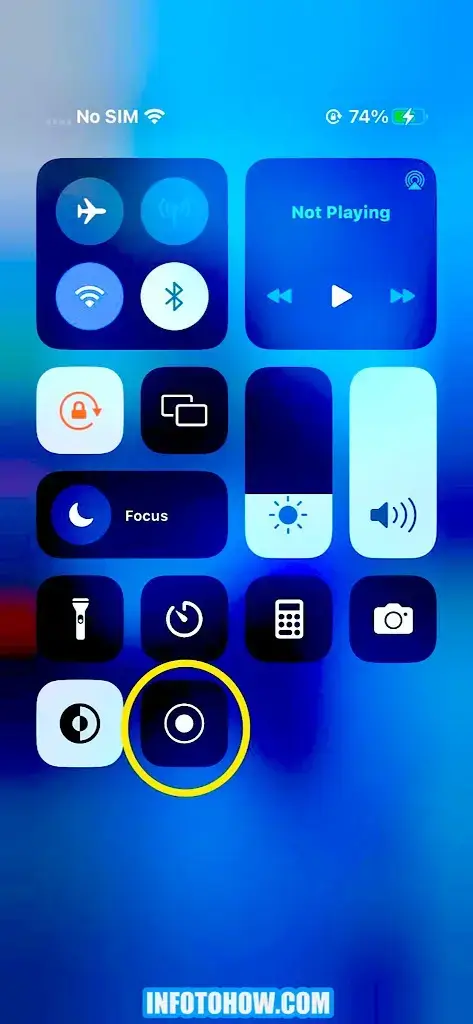 On your iPad, Swipe Down from top-right portion of your screen to open Screen Record button.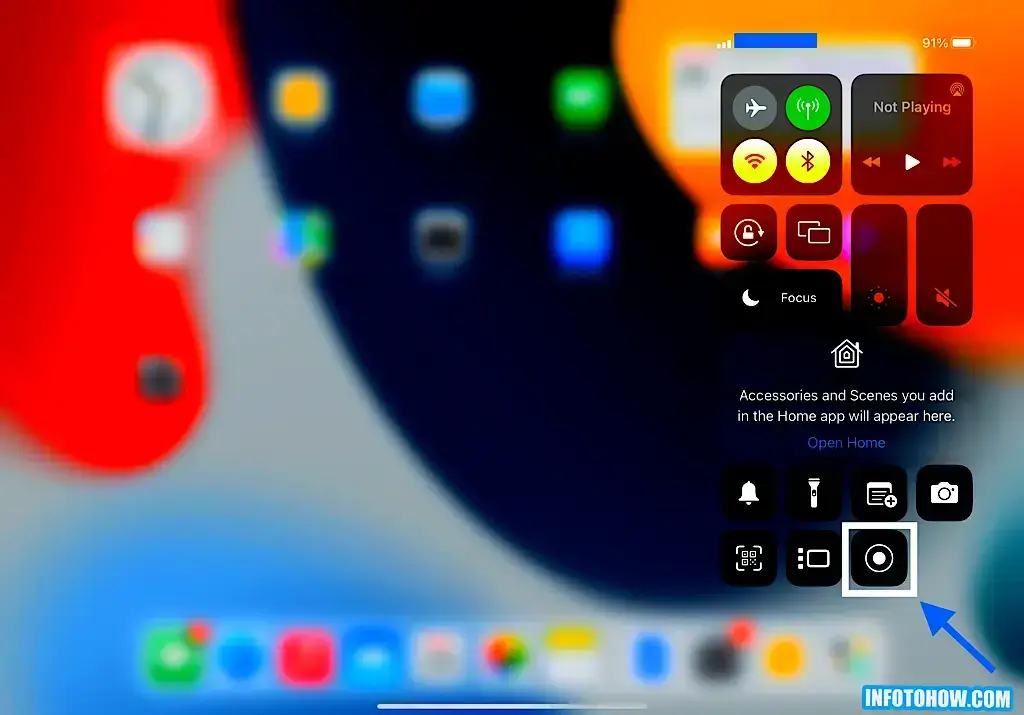 Congratulations, you have your Screen Recording option in the Control Center of your iPhone or iPad now.
Also Check: How to Screen Record on Mac?
How To Start Screen Record On iPad And iPhone?
Once you have the Screen Recording feature in the Control Center of your iPhone or iPad, screen recording will be a million times easier.
To record your desired snaps through the screen recording button, please follow the below-given steps!
Swipe Down the Control Center on iPhone X or later. Or Swipe Up to bring the Control Center on iPhone 8 or earlier to find the screen recording feature in the Control Center.
You can Swipe Down from the Top-Right on your iPad to find this option.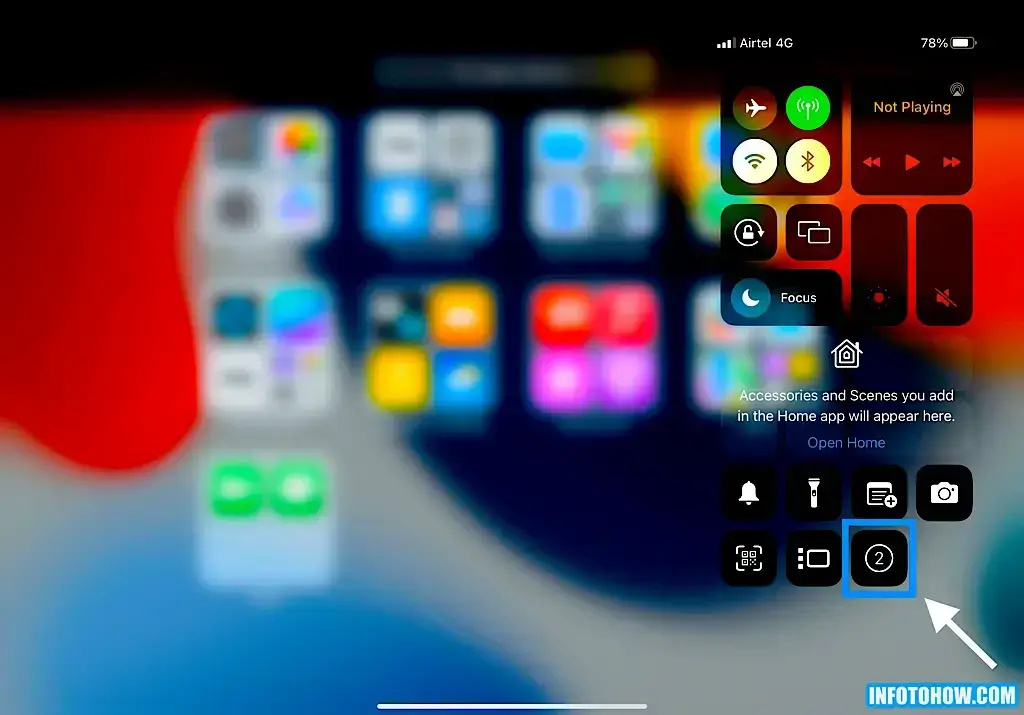 Tap on the Screen Recording feature, and after a 3 seconds interval, your mobile will start recording whatever is on your screen.
While the mobile is recording the screen, you can find the icon blinking red. It means you have started screen recording on your iPhone or iPad.
To cancel Recording, again click on the screen recording button, and your screen recording video will be saved in Photos.
Also Check: Things To Consider And Check when Buying A Used IPhone
How To Screen Record On iPhone With Audio Turned On?
The screen recording you just have learned above comes without including sound in it. But if you want to add Audio Recording as well into that screen recording video, you can do so by learning through the following steps.
Again, Swipe down or up to bring the Control Center as per your iPhone model requirement. In case iPad, use Swipe Down as we mentioned earlier.
This time, click and hold the Screen Recording Function. You will get the following screen after doing so.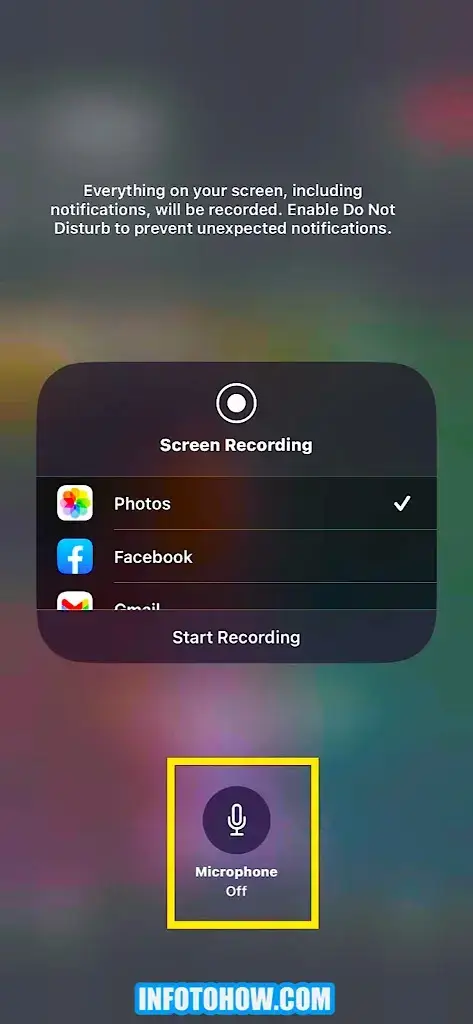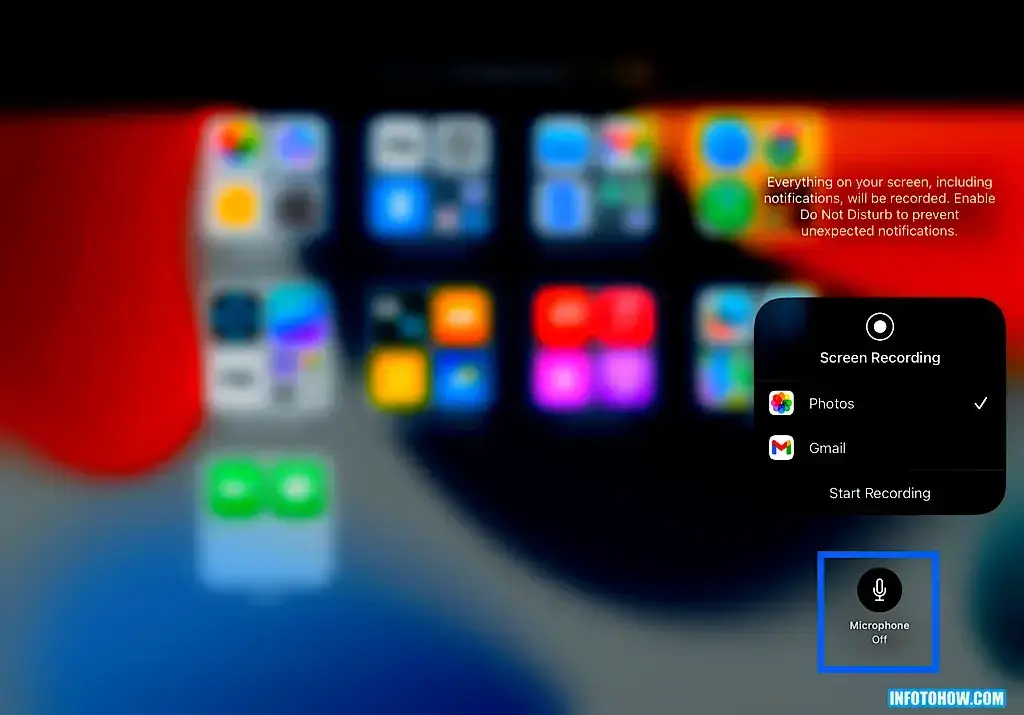 Here, you can see the Microphone option. Click on the Microphone icon to turn it On, then click the Start Recording option.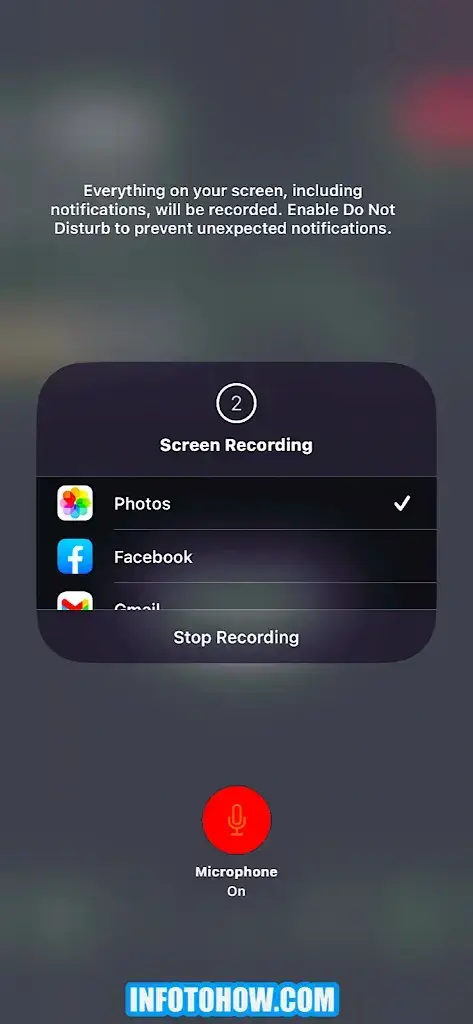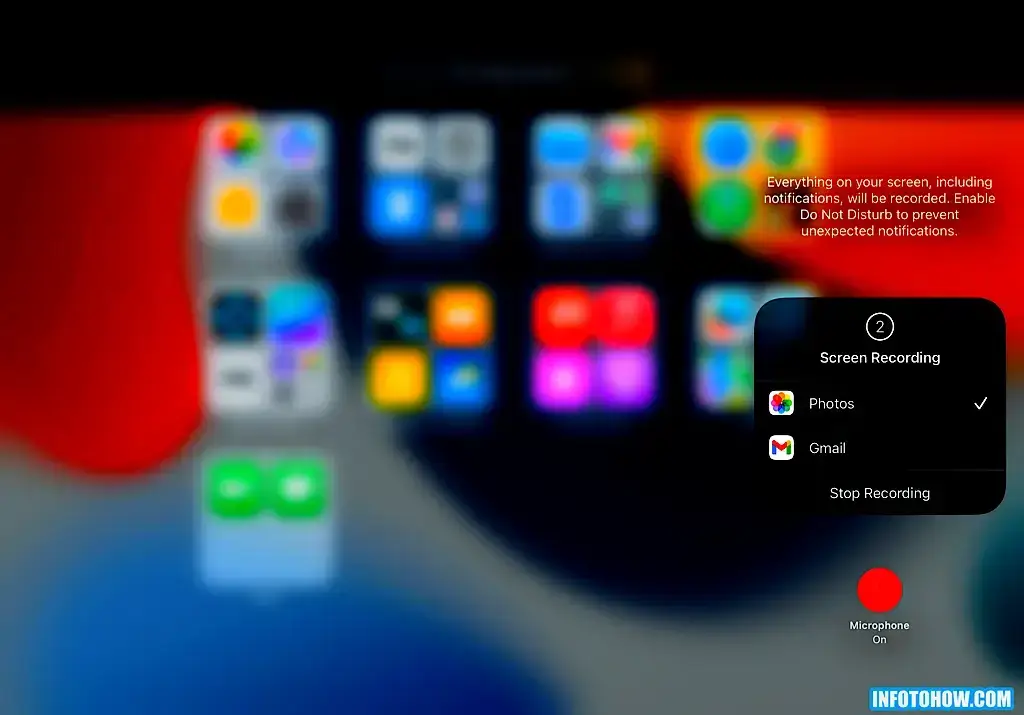 You'll see that your iPhone or iPad will start recording by including your audio into that video through that microphone option.
To cancel the Recording, click on the stop recording button, and you are good to go!
How To Find and Edit The Screen Recording on iPhone or iPad?
Once you have recorded that screen, it will be saved to your Photos gallery. You can find the screen recording, edit it, listen to its voice, and more.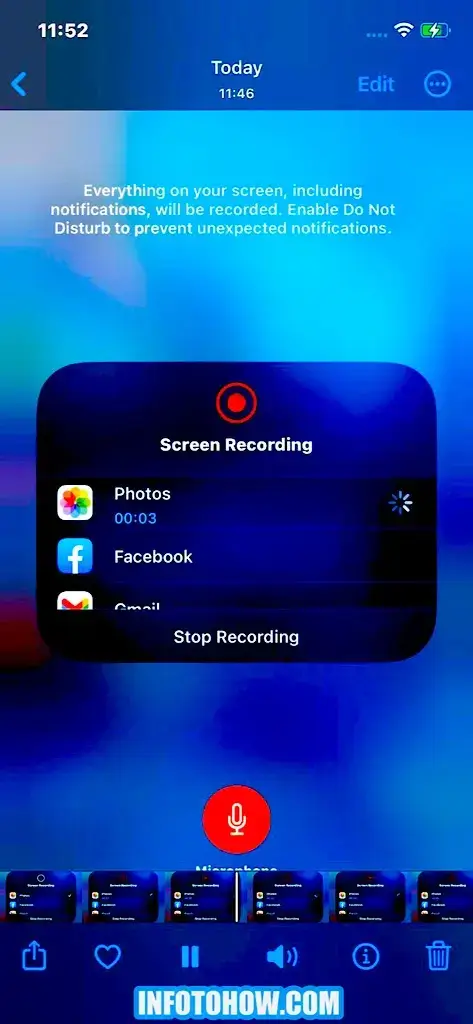 It will be pretty easy to find that video in the gallery of your iPhone or iPad.
I can be sure that the rest you can do on your own and there is no need to be worried about it. So, good luck with that!
Also Check: 9 Best iOS Apps That You Must-Have on Your iPhone
Top 10 Best Apps To Screen Record On iPhone Or iPad
As far as the recording screen on an iPhone or iPad is concerned, the company gives a built-in function to its users.
However, if you want more versatility and enjoy more functions with screen recording, you might want to install an additional screen recording app.
To make your choice easier, I've brought you the top 10 best screen recording apps that you can install and use on your iPhone or iPad only.
So, please have a look at the detailed description of these apps with their likes and dislikes.
One of the widely used screen recording apps designed for your iPhone and iPad screen recording needs. This app will also help you record your favorite games, tutorials, and more.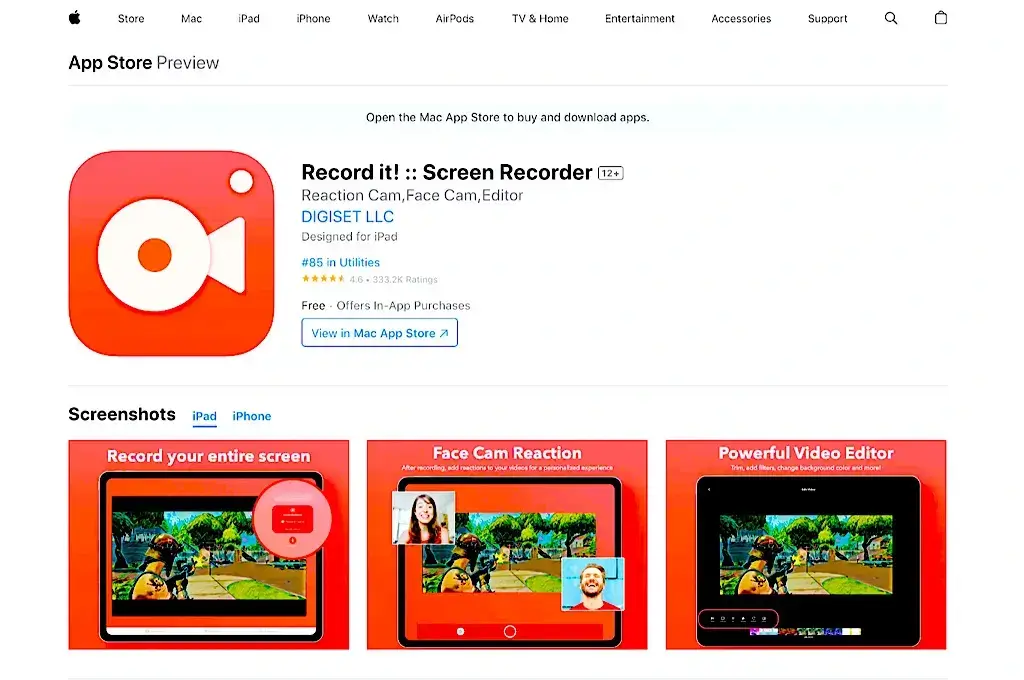 Whether using it on your iPhone or iPad, you can also record training videos and demos with this app.
Once the Recording has been done, you can add multiple video reactions. Also, the audio commentary can be added to enhance your recording session further!
Why Do You Like It?
An option to add commentary
Have a free app on your iPhone
Versatile
Doesn't cover much space on your device
Why Won't You Like It?
The free version is only limited to a 3-second video
The pro version comes at a cost of ($4.99)
You can use this app with a MacBook, iPad, or iPhone. It will help you to create stunning professional screen recordings.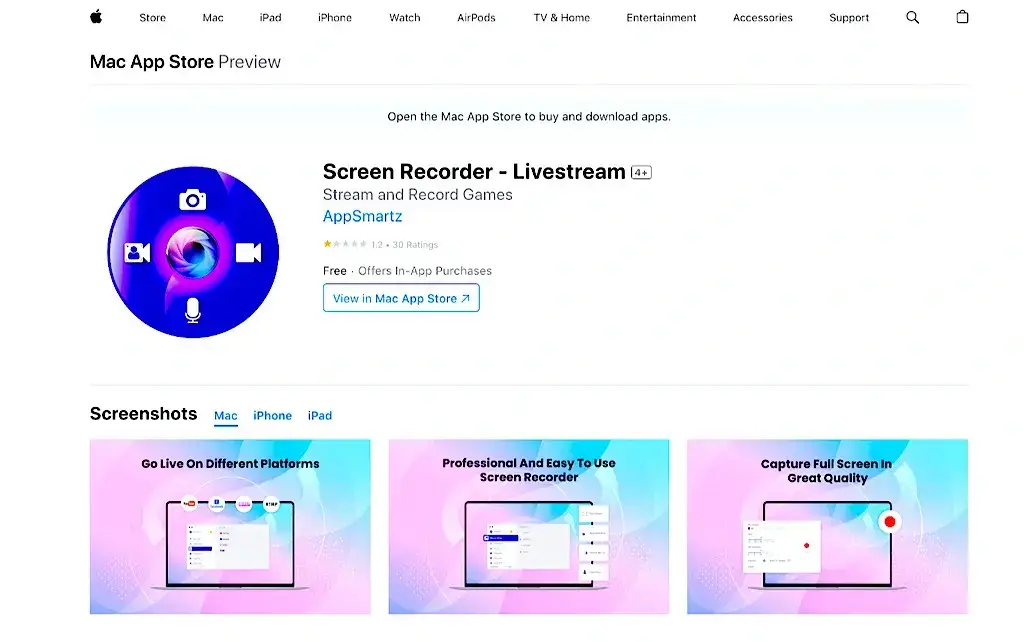 You can capture anything happening on your screen with a good-quality video. Like those famous screen recording apps, this Screen Recording app is also enriched with multiple features.
These include recording online videos, amazing game tricks or gameplays, presentations, online videos, and more. So, one can show himself a great tutor and unleash the artist to create stunning drawing videos and tutorials.
Why Do You Like It?
Easy useability to go live on multiple platforms
Use it as a recording app on Mac or iPad
You can create long-form screen videos with it
Why Won't You Like It?
You might experience some bugs
One of the most expensive screen recording apps to use
Did you ever want to record games while you are browsing them on a specific browser? Here is the Web Recorder that helps you screen record your video while gaming on web brewers.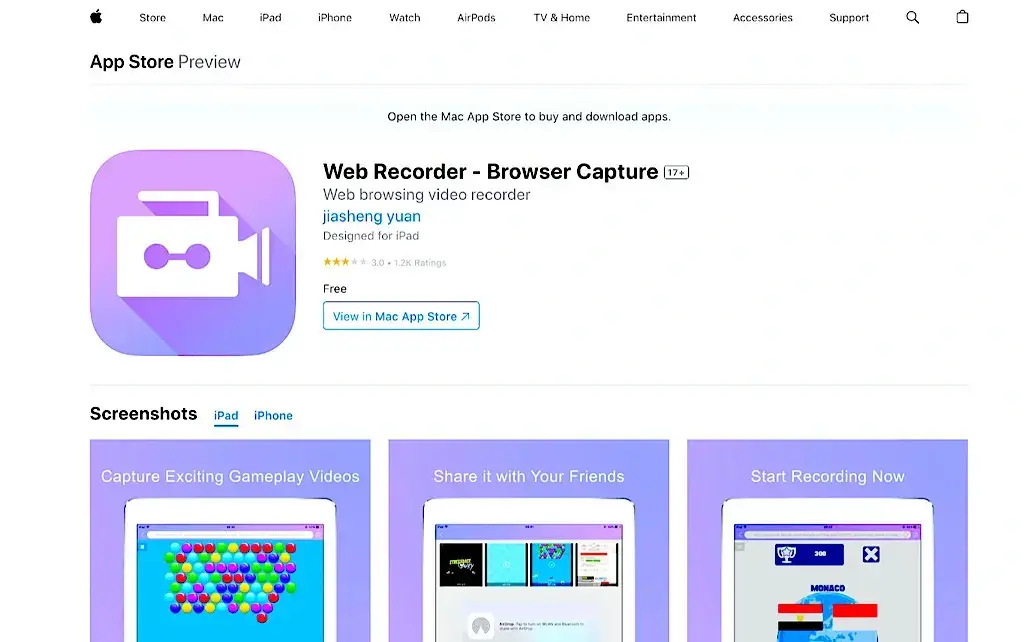 It helps you record, save, and share those videos with friends over various social media platforms. It can be YouTube, Twitter, Facebook, or any other application related to social media.
Why Do You Like It?
Easy Recording of games on web browsers
Sharing your videos over multiple platforms with your friends
More access to a variety of web browsers on the internet
Why Won't You Like It?
The app interaction does not look so appealing
Not suitable for recording audio
This DU Recorder is another reliable app to enrich your iPad or iPhone with perfect screen recordings. It is highly reliable and easy to use. So, most people use it for easy streaming video creation and screen recording purposes.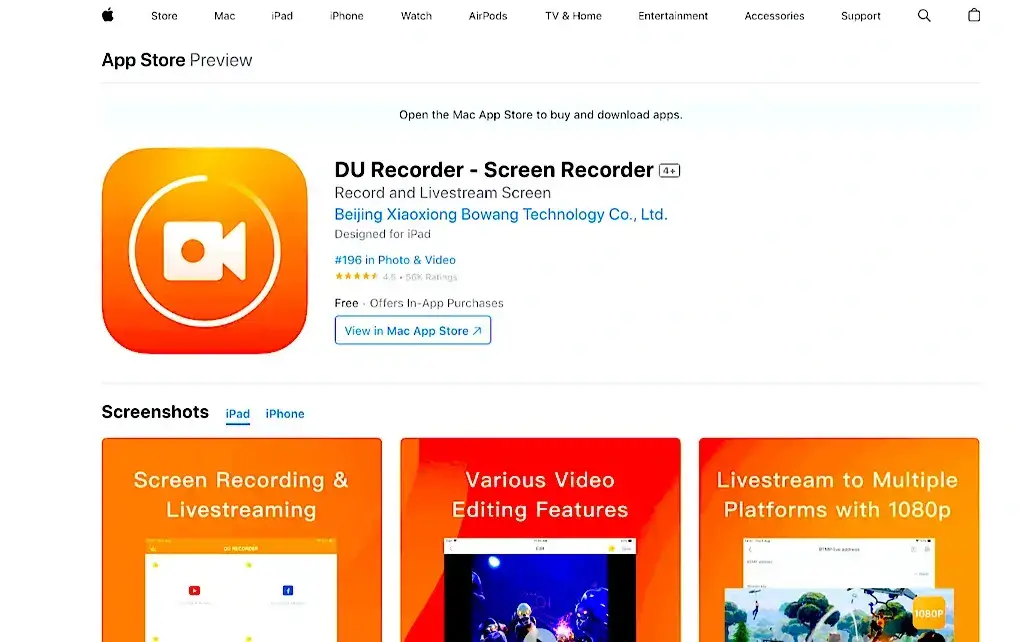 Using the DU recorder, you can always use the live stream option. It's there to make you live on social media platforms such as Facebook, Twitch, YouTube, etc.
With DU recorder, your life will be easier on Recording and live streaming content from your screen. Be happy while streaming games, live shows, sports, etc.
Why Do You Like It?
Versatile and easy to use
Supporting enhanced audio Recording
Live streaming at a quality setting
More powerful video editing features
Why Won't You Like It?
You might not find FPS at a high quality
Audio recording is also not that of high quality
Embark on a new experience of recording excellent screenshots or videos of your desired content with RecPro.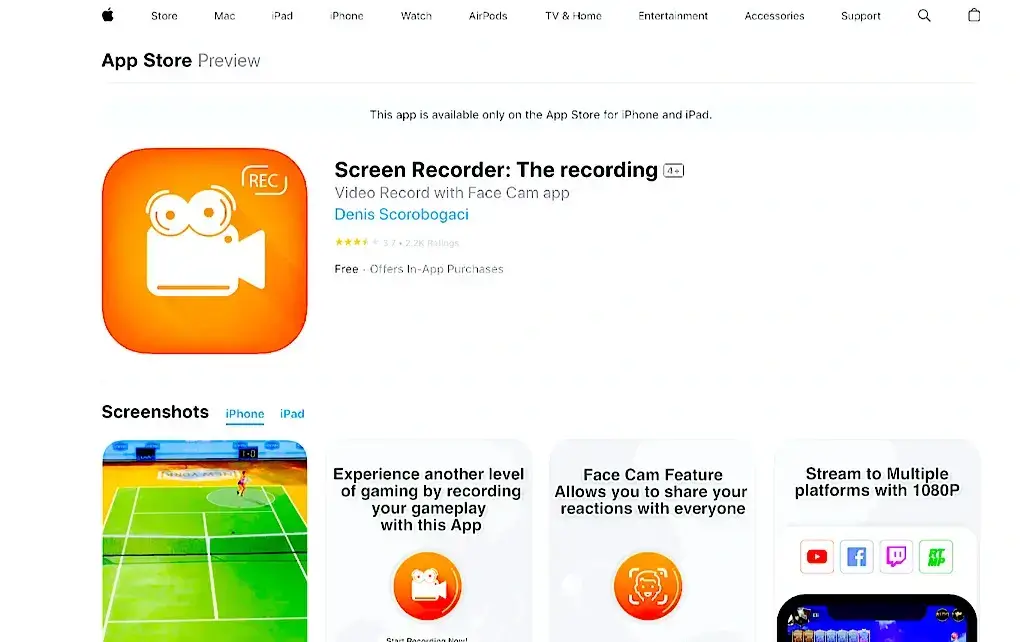 This is another best application with a feature allowing users to record Face Cam from their mobile.
Also, it gives them an additional feature of further editing and improving that Recording.
With this app, you can perfectly and quickly record the screen of your iPad or iPhone.
Moreover, it also allows you to insert a reaction with audio comments and provide more editing options for favorite games, tutorials, or applications!
Why Do You Like It?
Excellent control over editing the look of your video
Easy text editing and video editing
Multiple font options
Easy video size setting
Why Won't You Like It?
It looks frustrating to use the coin for buying upgrades
Highly expensive if you subscribe monthly
It is a screen recording app with multiple features for users to explore, not just the record function.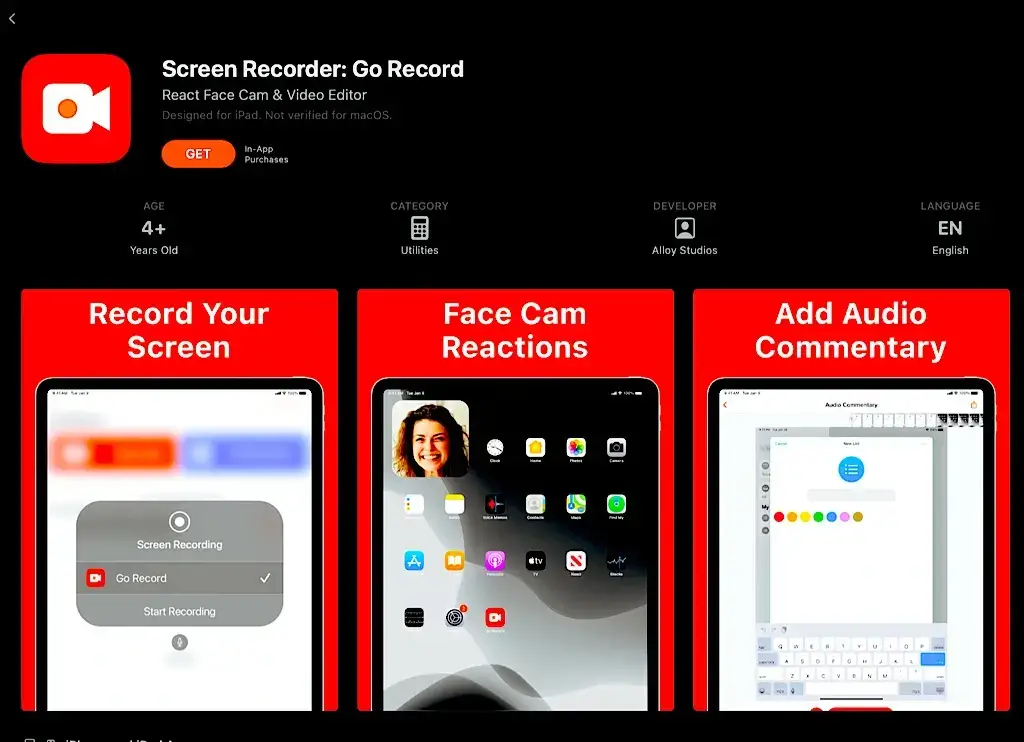 For iPhone users, the app brings Face Cam Recording, Commentary adding option, excellent editing tools to fine-tune you're recording, and much more.
You can download and install it on your Apple Device for future recording needs. The app is compatible with iOS version 11 or higher versions of your Apple mobile. It is also compatible for iPadOS 14 or later versions.
Why Do You Like It?
Very easy to use
Have multiple video editing tools
Come with additional commentary updating option
Why Won't You Like It?
The free version is not that reliable
You might face bugs sometimes
Do you want high-quality screen recordings on your iPad and iPhone? Installing a screen recording app that could bring much better results is straightforward.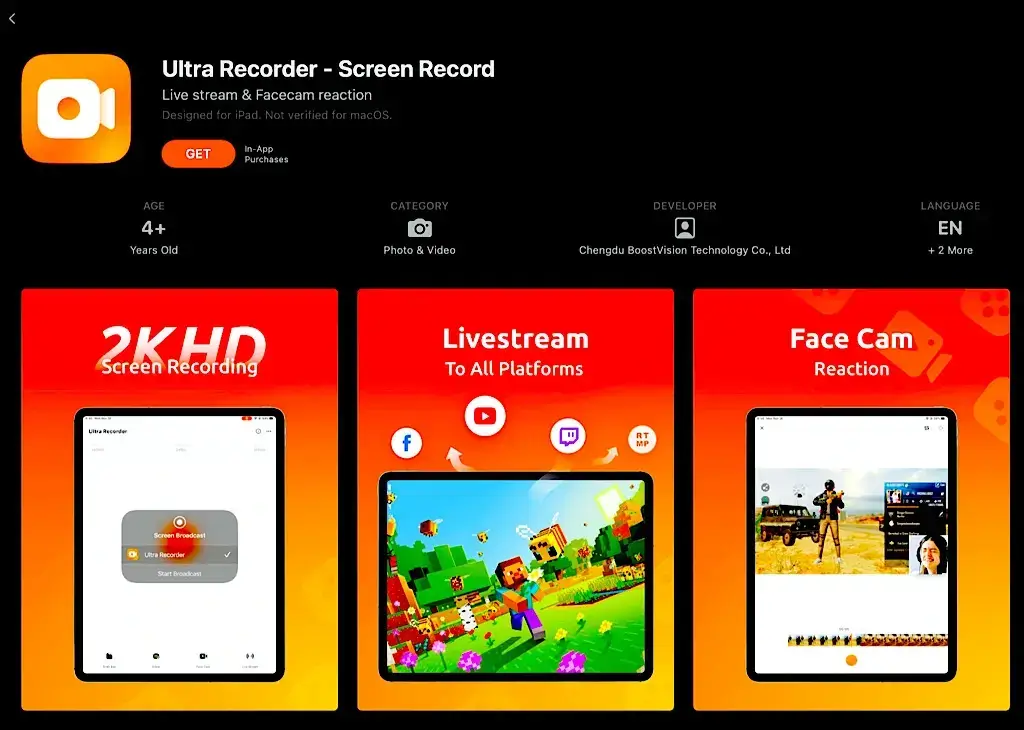 In that case, the Ultra Recorder because of your all-time favorite screen recorder. With this, you can record videos up to 2K HD and Livestream on various social media platforms.
It also gives you the FaceTime reaction feature, and there is a built-in Video editor function as well. All of this makes the app one of the favorite choices of users.
Why Do You Like It?
No disturbing ads
Seamless integration for social media platforms
More compelling editing tools
Why Won't You Like It?
The Premium Version is a little expensive
Takes up too much space on your iPhone device
Bring your visions to life with this premium Screen Recorder for iPhone HD. It has all the features needed to record stunning videos over the screen.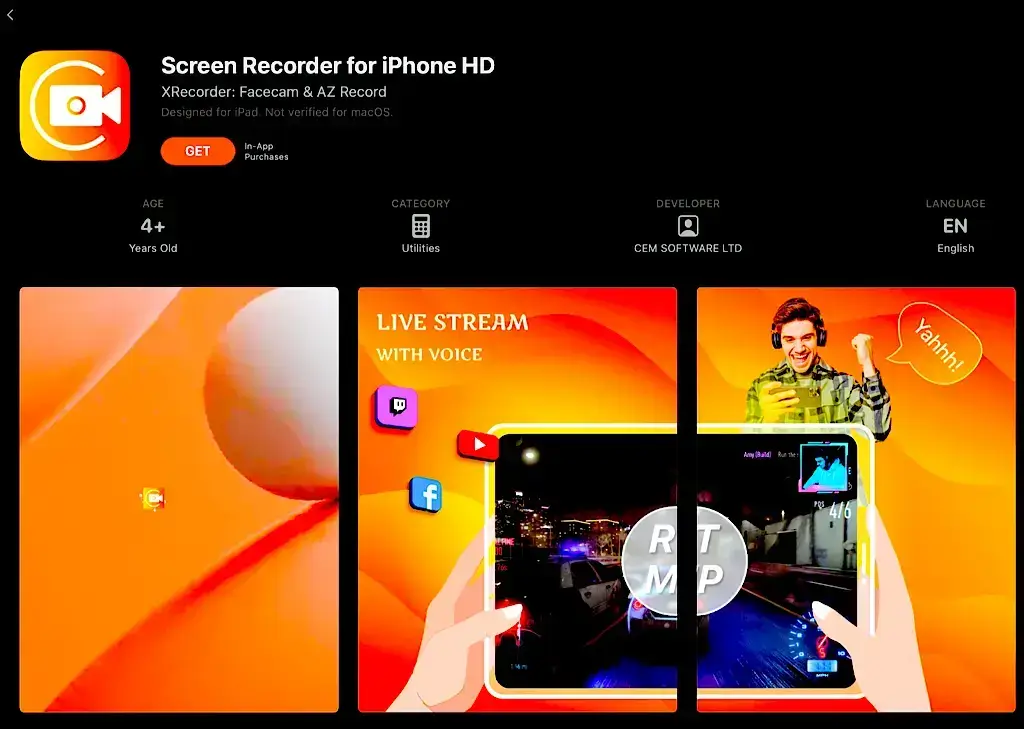 This app can help you record screens anywhere you are. Whether you use it on web browsers or over different gaming apps does not matter.
With outstanding screen recording, you can also share the live streaming with your friends.
This happens through the built-in social media integration with the application. So, download and install the app to find perfect shots on your iPhone or iPad device.
Why Do You Like It?
Countless Built-in Features
Easy to use
Live streaming with voice
Face cam reaction and more
Why Won't You Like It?
Covers more space in storage
Sometimes, social media integration seems difficult
If you want an excellent app that can help you record your desired games in a high-quality video and share them with your friends, this is your option.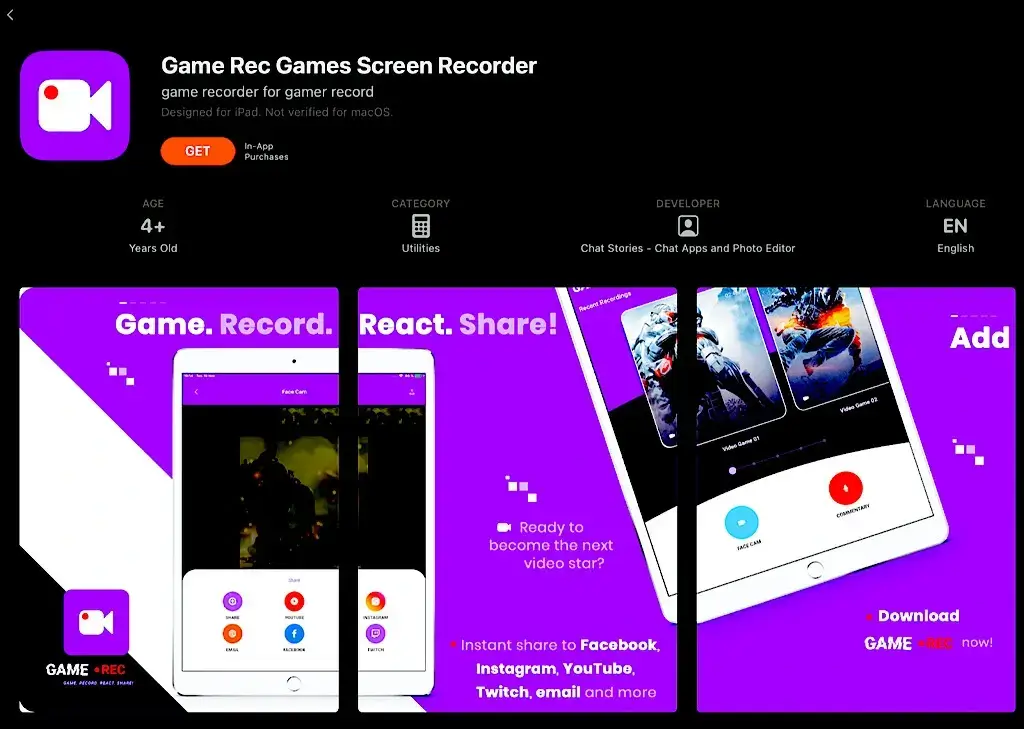 Choose the Game Rec with multiple built-in features.
These are all designed to make your game recording experience worthwhile. Now, you can record your favorite games and apps videos, add your reactions and then share them on social media platforms with this app. It will be easier to use and install on your Apple iPhone.
Why Do You Like It?
Dedication to recording favorite games
Easy editing and sharing
Multiple editing options
Why Won't You Like It?
Not rated much
Might need to subscribe to the premium version to enjoy all features
Have a look at, last but not least, one of the best screen recording apps for iPad and iPhone designed to meet a variety of needs of individual iPad or iPhone users.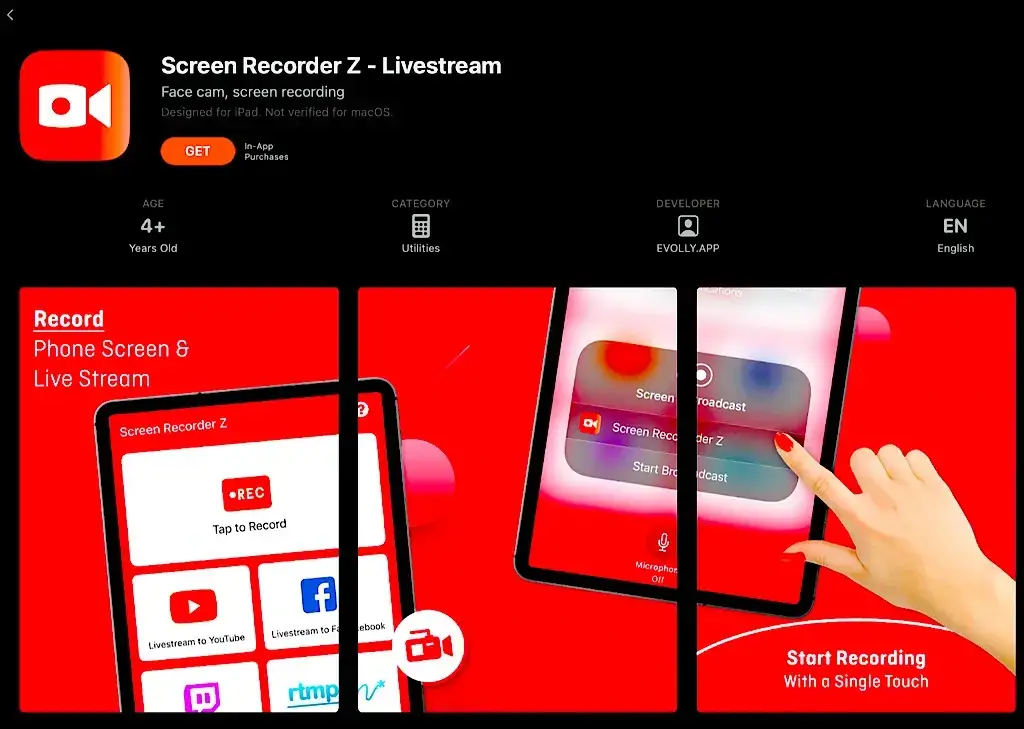 Use a single touch and start recording your favorite snaps or videos.
You can also go live streaming with this app and edit your videos later on. However, you may not find the fac came reaction feature with the app. Even if you find it could be a little troubling. Overall, it's also great to consider.
Why Do You Like It?
Very easy to use
Takes less space on the phone
Excellent one-click opening to social media platforms
Why Won't You Like It?
The face cam feature might be a little troubling sometimes
Not rated yet
Also Check: EaseUS RecExperts Review – Best Screen Recorder
Final Thoughts
Finally, I am glad you have made up to this point of the article. I hope you have learned screen recording on your iPhone and iPad with the steps I explained above. Also, if you want more features and blessings, choose any screen recording app from the above-described ones. This will make your Recording and sharing seamless. At last, I do hope that you enjoyed reading this piece of information. But, your queries and suggestions are welcome. Have a fantastic day!
Also Check: Fun Facts About iPhones That Might Interest You