There are numerous ios apps that we use daily. However, there are some apps that we frequently use that are an invaluable part of our lives. When it comes to the AppStore, there are over numerous apps available. So to make it easier for you to search for them, we have summed up some of the best iPhone Apps of all time that you can download on your iPhone.
iPhone Device
The iPhone is the most popular smartphone around. It has a great camera, a powerful processor, and a beautiful display. Apple has been making these phones for years, so it's no surprise that many apps are available for them.
But what happens if you need to buy an iPhone? Maybe it's time for an upgrade, or your current phone isn't working anymore. Either way, buying a used iPhone that someone else has already owned can be a great way to save money on your next phone purchase.
The iPhone has become a sophisticated tool for photographers, writers, graphic designers, and many other professionals. Apple's App Store is full of apps that can help you edit photos and videos and create works of art on your phone.
If you're looking to upgrade your iPhone experience with new apps, here's a list of the best ones in various categories.
9 Best iOS Apps For Your iPhone 2022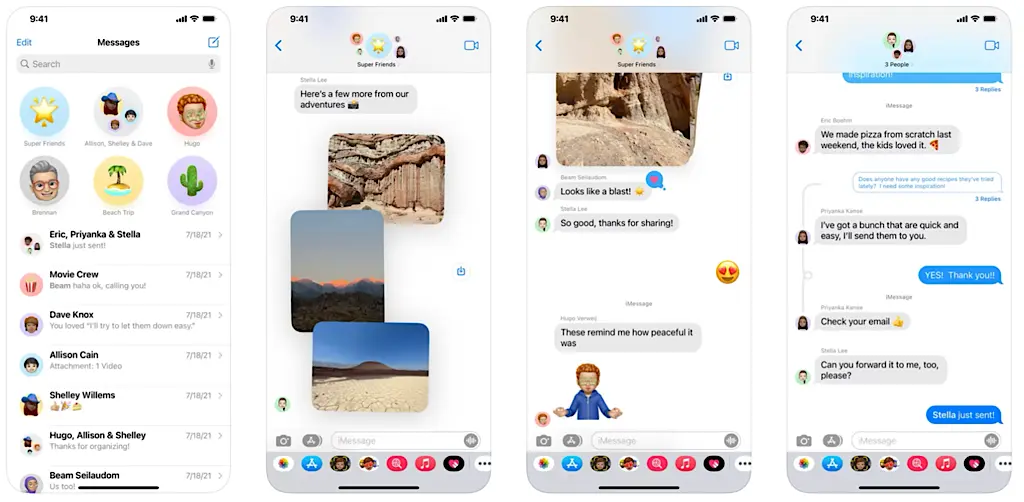 iMessage
Apple's messaging app is not only one of the best apps for iPhone but also one of the most useful. There are tons of features in iMessage that you can take advantage of. For example, you can send your friends animated emojis, stickers, and GIFs. You can also send short video clips or voice messages to your friends.
iMessage has a feature called Digital Touch, which allows users to send hand-drawn sketches or taps on their screen to their contacts. The app also supports group conversations, and it's straightforward to use. So, if you want to have fun with your friends and family on your iPhone, then iMessage is a must-have app.

Spotify Music
Spotify Music is the world's most famous music streaming service, with over 100 million subscribers. It has been around for over a decade, and it's easy to see why: Spotify offers an impressive music catalog and is free. The app allows you to listen to your favorite tracks, radio stations, and playlists that Spotify's editorial team curated.
If you're looking for a good music streaming service, you should try Spotify Music. It's available on iOS devices, including Apple Watch. If you want to listen to music offline, you'll have to pay for Spotify Premium, which gives you access to curated playlists that are updated regularly.
Download Spotify Music App for iOS
Also Check: Best Real Estate Apps 2022 – Buy And Sell Your Home

Evernote
Evernote is one of the best iOS apps you must- have on your iPhone. The app lets you capture notes and ideas and access them from any device. You can use this app to save grocery lists and reminders or simply save anything that you want to remember later.
The app allows you to organize notes using notebooks, tags, and other methods. It also allows you to add photos, audio recordings, and other media to your notes. Besides, Evernote will enable users to create checklists and reminders within their notes. You can also integrate the app with Google Drive and Dropbox to save or sync files from those services.
Download Evernote App for iOS
Also Check: Best Telemedicine Apps For Android And iOS In 2022
SwiftKey Keyboard
SwiftKey is another must-have app. It is an intelligent keyboard that predicts the words you want to type and learns from your writing style over time. Its adaptive technology means it can understand your writing style – for example, if you tend to use the word 'the' a lot, SwiftKey will start predicting it when you type. It also allows you to swipe rather than tap keys, making typing much faster and easier.
The app also has a personalized dictionary that uses user data to improve predictions based on what people commonly write. The app also has several different keyboards, including one specifically for social media or messaging platforms.
Download SwiftKey Keyboard App for iOS
Also Check: Best Educational Apps For Children 2022 – For Android And IOS

VSCO
If you're an Instagram user, you know VSCO as the go-to editing app for your photos. But VSCO Cam is so much more than just filters. It's a powerful photo editor with countless features for tweaking every aspect of your image.
From exposure to saturation and contrast, there are so many sliders and options that it can be overwhelming at first. Yet, with frequent use, you'll get accustomed to it. And if you're looking for a few examples of what can be done with VSCO Cam, check out some of our favorite Instagrammers who use the app regularly.
Download VSCO App for iOS
Also Check: 5 Best Rise of Kingdoms Social Companion Apps 2022

MyFitnessPal
MyFitnessPal is an easy-to-use nutrition tracking app that helps you stay on track with your diet goals. This app makes it very easy to track your calorie intake and exercise hours by using barcode scanning capabilities or manually entering data into its database of food items. This way, you know exactly how many calories each item contains so that you can make healthy decisions when eating out at restaurants or home.
The app also features a barcode scanner so that you don't have to manually enter everything into its database; just take a picture of something, and it will automatically add it to your list!
Download MyFitnessPal App for iOS
Also Check: 8 Best Anonymous Social Media Apps 2022
Google Translate
Google Translate is another excellent app that you can use for free. It is a handy app when you travel to different countries and want to communicate with the locals. It translates words, phrases, and entire phrases from one language to another. You can translate English to Hindi, English to Spanish, and French. The best thing about this app is that it speaks out loud whatever you type in the box. This helps you learn how to pronounce the word correctly while learning it in another language.
The app also supports reverse translation. If you type in the text box in any language and then hit the 'Translate' button, the original text written in English beside it will appear.
Download Google Translate App for iOS
Also Check: Top 30 Best Job Search Apps to Find You Dream Job in 2022

Pocket Casts
Pocket Casts is a great app that allows you to listen to podcasts on your iPhone. The app has an interface with a well-designed layout, making it easy to quickly find what you're looking for.
Pocket Casts also has Smart Speed, which speeds up your podcast's playback while keeping the voice's pitch and tone intact. This can be helpful if you're trying to get through multiple episodes in a row or just want to get through them faster.
Download Pocket Casts App for iOS
Also Check: What Are The Best Camera Apps for Android?

1Password
1Password enables you to keep all your passwords safe in one place. The app will enable you to create different vaults for different types of information, like banking accounts and social media profiles.
The app also includes Touch ID support, making it easier for users to access their information without remembering their passcodes every time they open the app.
Download 1Password App for iOS
Also Check: What Are The Best Android TV Apps In 2022
Conclusion
Whether you are a fresh new iPhone user or have had your device for more than a few months now. These applications will come in handy. Apps made the iPhone so famous, to begin with, and with an Apple device in every hand, it seems like we're always on the go. So why not keep these best iOS apps around for your convenience and enjoyment?
Also Check: Top 6 Best Apps of 2022
Featured Image by Photo Mix