If you think learning will need you to return to school, there are certainly better alternatives. There are great part-time graphic design courses available for graphic design online. You can hone your skills by applying them from the comfort of your living room. In the realm of visual technology, the most valued skill in graphic designing for creative purposes. Fashion photographers, for instance, must be familiar with Photoshop and the basic rules of graphic designing. Without it, the results will not end up looking so professional and unique. For artists and illustrators, graphic designing is fundamental to succeed in their profession. Thus, in most fields these days, this skill is considered a valued asset.
Top 15 Part-time Graphic Design Courses Online
To make a choice more accessible for you, we have provided a list of the best online part-time graphic design courses. They will help you develop or refine your skills in this field and become a professional. Or even purely for the sake of learning something new and exciting.
Udemy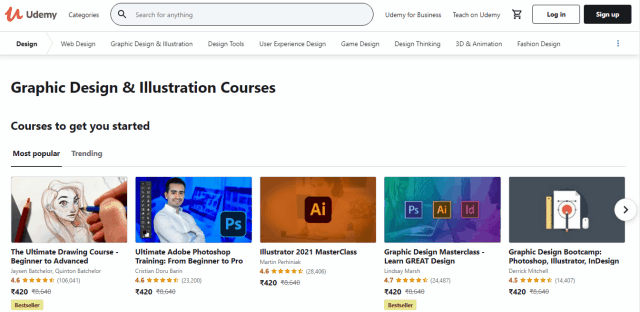 Udemy has videos taught by independent instructors. The costs of the part-time graphic design courses depend on the field, teacher, and how long the video is. On Udemy, each class is rated, and that is how the quality of the course can be judged. Introduction to Graphic Design is the right place where you can begin on Udemy. It is a free course that covers subjects like the fundamental aspects, five principles, and the design process. It allows the students to see the design from an entirely new perspective. The course aims to teach students to help them understand the work of professional designers. And wholly develop the idea about how a good design is created. You also do not need any prior knowledge of designing or any software to take this course.
Alison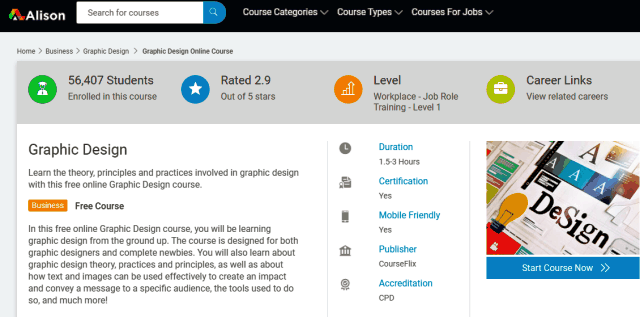 Alison offers a vast number of part-time graphic design courses which are free of cost. They are suited to users of every skill level. There are some which aim to define all the basic principles and terms. At the same time, others teach the application of these principles with exercises and case studies. Some courses teach the usage of particular software and tools in designing. The site is an excellent resource for free courses in the field of graphics.
Massachusetts Institute of Technology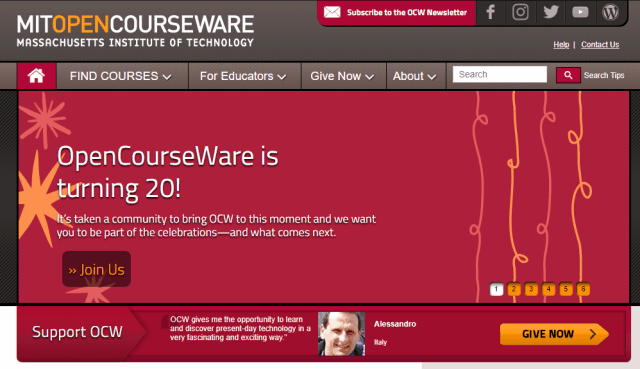 MIT provides online instruction by the name of OpenCourseWare. It is a database that is free and created by course writers and experts instructors of the field. Most graphic design lessons here are related to another topic of the same niche, like web coding. But they still come from a trusted and helpful resource. Also, instead of just covering the theory, they focus on practical implementation as well.
Teach yourself Graphic Design: A self-study course outline
The article contains the elements of creating a graphic design course that is self-taught. It is a replacement for the traditional mode of courses that are usually available. Sean Hodge, the author of the article, is currently a part of the Tuts+ educational network as a business editor. He has broken the subject matter into comprehensive subtopics like design history, principles, and creating portfolios.
New Horizons: Graphics Designing Course Trainings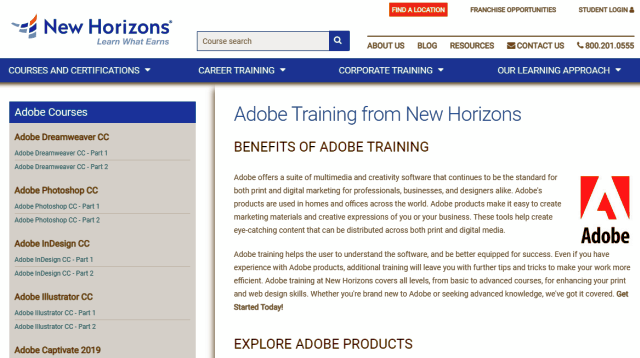 The certified institute is situated in UAE and offers multimedia and graphic design Adobe courses. Being of a brief length, these part-time graphic design courses are beneficial for users wanting to gain experience quickly. It also allows them time to work on other projects if they need to. The programs have two levels and are easy to understand. New Horizon courses are beneficial to choose a graphics-related career. At online brochure maker Dubai, we tend to select the most professional graphic designing skills for our team. This ensures that only the best services are provided to our clients.
Canva Design School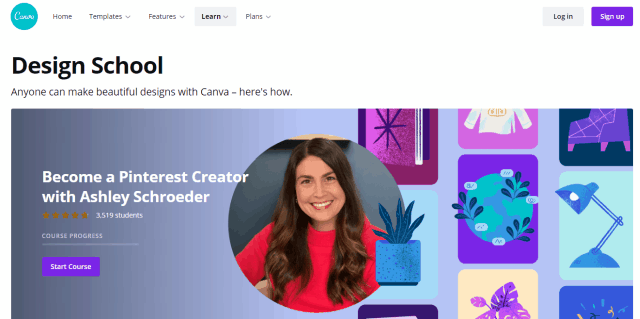 Canva has changed the game of graphic designing for beginners. It has one of the most comprehensive tutorials, lessons, articles, and resource material. Each of its lessons is in the form of articles with helpful information, samples, and resource links. Apart from the main courses, there are also various related articles in Canva's blog section.
Creative Pro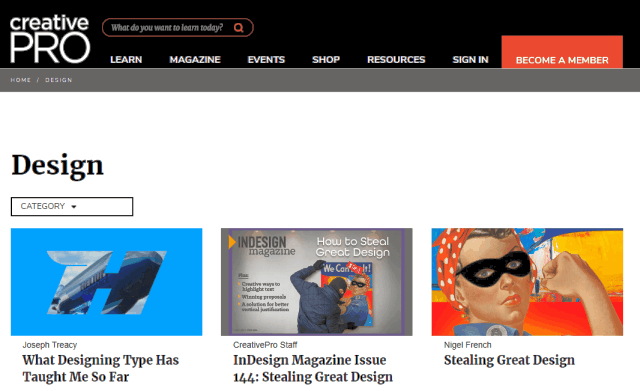 Creative Pro is technically not a course but equally helpful for graphic designing beginners. It is an excellent guide for helping in graphic design. Most articles and videos in the magazine are for resolving issues at a professional design level. They focus upon common problems faced by designers and have pro tips to overcome the challenges. One downside to it, though, is that the articles don't have right order as categories, so browsing is slightly tricky.
CreativeLive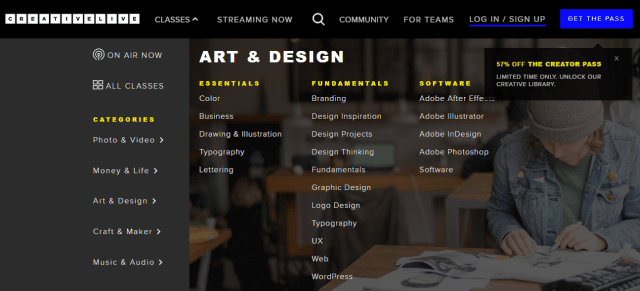 In CreativeLive, there is a wide range of online part-time graphic design courses directed towards artists and designers. The complete courses are not entirely free, though. But there are a lot of free videos that help you with learning design basics. But the course material is certainly worth paying for.
Also Read: 10 Essential Web Designing Tips for Improving your Website Design
Fundamentals of Creative Design from CalArts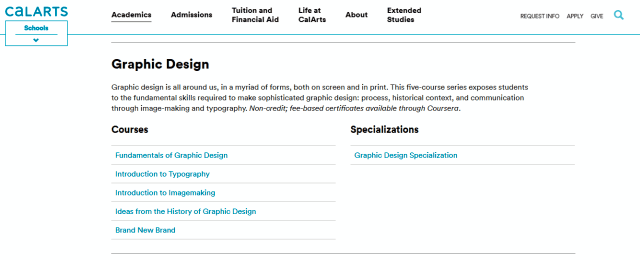 The California Institute of Arts provides these introductory design lessons on Coursera. The site has various part-time graphic design courses from many companies and universities. CalArts has five free courses on graphic designing available there. The Fundamentals of Creative Design is the best place to start as it covers all the main principles. It includes everything from image designing and typography to color, composition, and shape study.
Graphic designing from the University of Colorado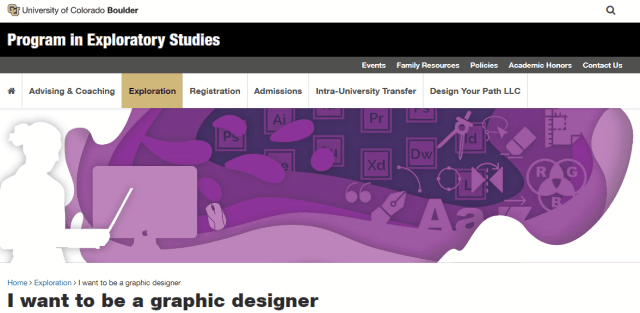 This course by University of Colorado is also offered via Coursera, which means the whole course is free of cost. This course is undoubtedly fantastic for designers who are starting fresh. It is mainly because it is primarily meant to provide knowledge of the field to everyone in the easiest way possible. The lessons are elementary to understand and teach you tricks that make designing less complex.
Graphic Design History: An Introduction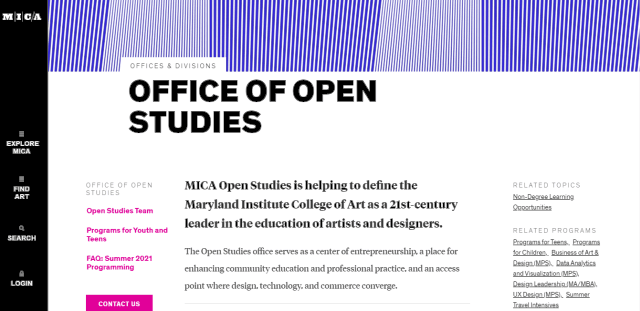 Offered by Maryland Institute College of Art via the online platform Kadenze, this is another treasure trove of knowledge. This specifically explains the history of graphic design and provides background details that would benefit any starter. The description indicates that modern trends cannot be studied without understanding what shaped design early. The elements covered include origins of graphic design and text, styles during the late eighteen hundred, photomontage, and mechanical abstractions. Apart from that, there are also many more topics to explore and learn. There is no end to the content that is available in this course.
Also Check: How To Do A Professional Company Logo Design With DesignEvo Logo Maker?
Introduction to graphic illustration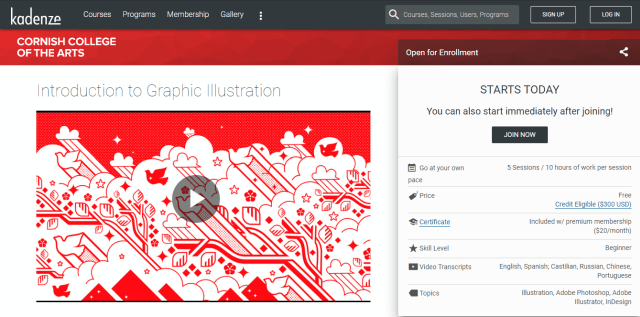 Introduction to graphic illustration is one of the part-time graphic design courses on Kadenze which is designed by Cornish College of the Arts. Its primary focus is on the integration of drawing skills and principles of design. But a word of advice, it is essential to have basic knowledge in this field when you take this course. In this course, you will learn about design theory, including illustration principles. You will also see demos of digital tools and advanced techniques. The course consists of visual lessons and assignments to test your learning. It is perfect for graphic designers who want to enhance their illustration skills.
Envato Tuts+ Illustration and Design Courses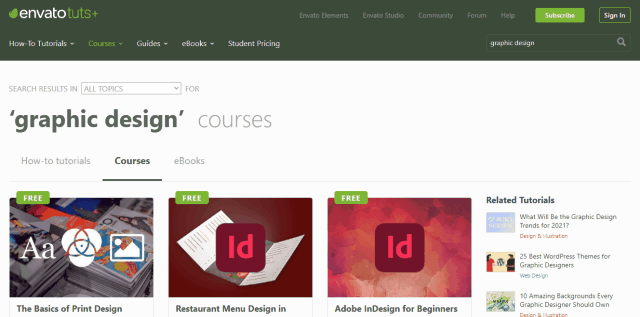 Offered by Envato is a selection of helpful and detailed tutorials about all software and processes in graphic design. It includes Photoshop, Illustrator, Rhino, Cinema 4D, to name a few. There are also more free part-time graphic design courses to help see the skills from the view of a professional and how it works in the corporate world. There are more than a thousand courses and tutorials on Envato's database. You can gain a lot of knowledge regarding corporate presentation design services and more within these archives.
Also Read: 8 Great Ways to Increase Income as a Graphic Designer?
Demystifying Graphic Design: How Posters Work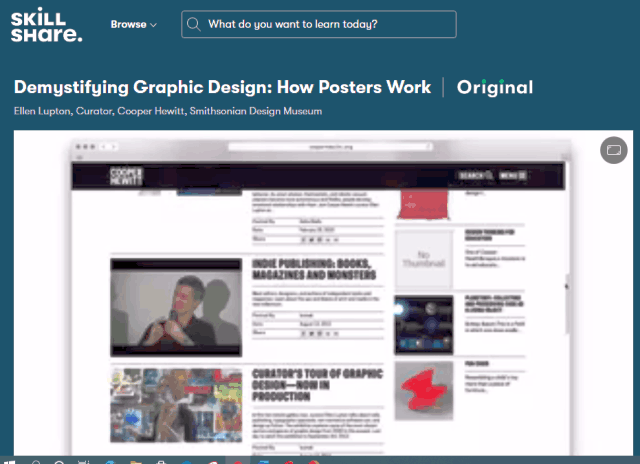 Skillshare is one of the most comprehensive and effective platforms with a great variety of part-time graphic design courses available. There are more than a thousand courses on this platform in practically every field. Some of the topics include branding, marketing, videography, and graphic designing. There are both premium and free plans on Skillshare, so anybody can begin to learn as they see fit. On the graphic design courses from Skillshare, users can interact with the educator and community. There are also assignments to complete and examine your knowledge. The instructors are not available frequently in person, but they will respond to messages sent on the board. The community, however, is highly engaging, and other learners provide great insight into the courses.
Also Check: 10 Best Tools For Logo Design To Try
SCAD Graphic Design Course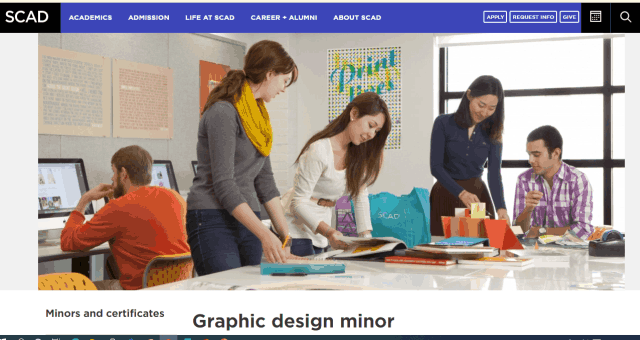 This is an excellent course offered by the Savannah College of Arts and Design. It has complete insight on designing skills related to vector graphics and raster. The course is divided into short part-time graphic design courses. Students can take them at their convenience. The course covers various aspects of graphic design, such as web design and typography. It offers additional subtopics to provide a comprehensive package for students to become expert designers.
Graphic Design Masterclass – Learn Great Design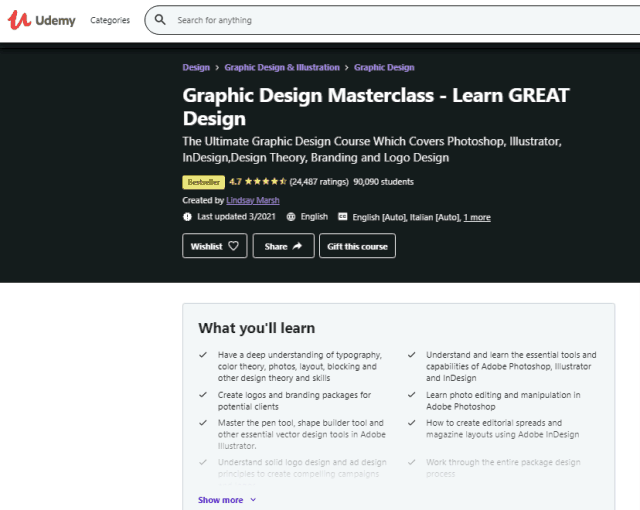 Offered on Udemy, this Graphic Design Masterclass is a bestseller taught by instructor Lindsay Marsh. This program is designed for beginners who want to become graphic designers. It covers the fundamentals of graphic design and teaches practical skills for real-world projects. You will learn about layout, color, typography, and balance, as well as topics like photo manipulation, branding, and logo design. The course also includes basic training on Adobe Photoshop, Illustrator, and InDesign.
Also Check: Top 7 Best Apps For Logo Designing
Become a Graphic Designer – LinkedIn Learning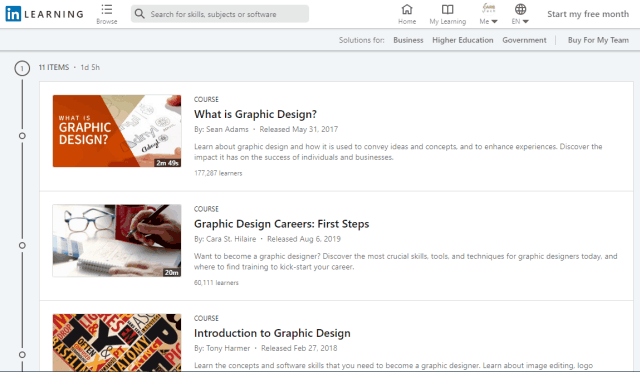 This is another fantastic program to learn graphic design from basics to advanced methods. The platform has created a learning path titled "Become a Graphic Designer". The different courses under this category will help in grasping the foundation and concepts of this field. They also provide knowledge on the latest software and tools for innovative designing. The path consists of eleven part-time graphic design courses taught by experts, which span more than twenty-two hours.
Google UX Design Professional Certificate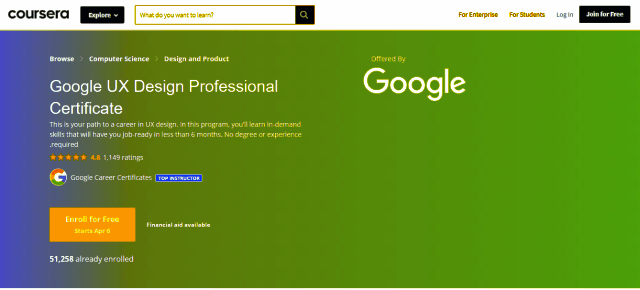 UX Design certificate course is launched by Google on Coursera. The course is a guide for learners preparing for employment as UX designers. It covers the basics of UX designing, conducting user research, and designing prototypes. The program consists of seven courses that cover the basics, terms, and tools of the industry. It guides you through the entire design process from start to finish.
Also Read: How Do Beginners Learn Graphic Design in Blue Sky Graphics?
Conclusion
We are sure this list of online part-time graphic design courses will help you to make a wise choice while opting for graphic design. Graphic designers will be the most profitable career for the future with the continued advancement of technology. This is an excellent time for honing your skills in this field and having a valued ability through these part-time graphic design courses.
Also Read: Sentimental Clutter: How to Organize Your Photos the KonMari Way
---
Featured Image by Josefa nDiaz