Online data entry jobs involve converting one form of data to another. These are the kind of jobs that you only need an internet connection, a computer, and some excellent keyboarding skills. You can work from home on a full-time basis, part-time, or as a freelancer. The following are top 10 best online data entry jobs sites that pay well.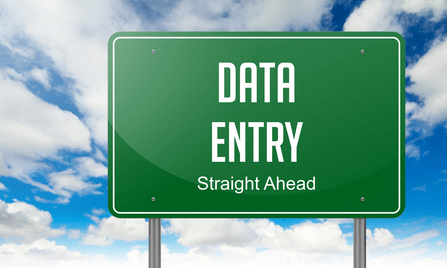 List of Top 10 Best Online Data Entry Sites That Pays Well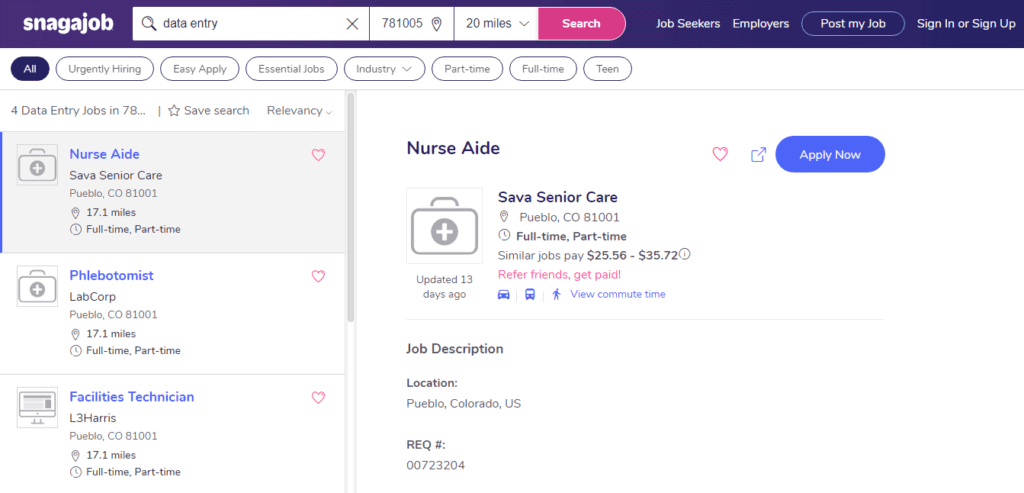 It is a legitimate data entry site based in the United States. Every month, it provides numerous jobs for interested job seekers. This site does not charge any registration fee, unlike many scammers who insist on paying before getting started.
Once you sign up, you utilize the filters on the site to search for jobs in your local area. There are both online data entry and offline data entry jobs. Your choice depends on your preference and availability of an internet connection. Click on a job and carefully read the terms and conditions. Apply if you qualify and wait for the client's response.
Also, it is worthy to note that there are numerous online scammers. Thus, before you trust any site and give them your details, read about their reviews extensively. Nonetheless, highlighted below are some of the merits and demerits of Snagajob.
Pros
No registration fee is required to get started.
Other than data entry, there are many more online jobs.
Low fee for employers
Cons
Large number of applicants may make it hard for job seekers to get hired.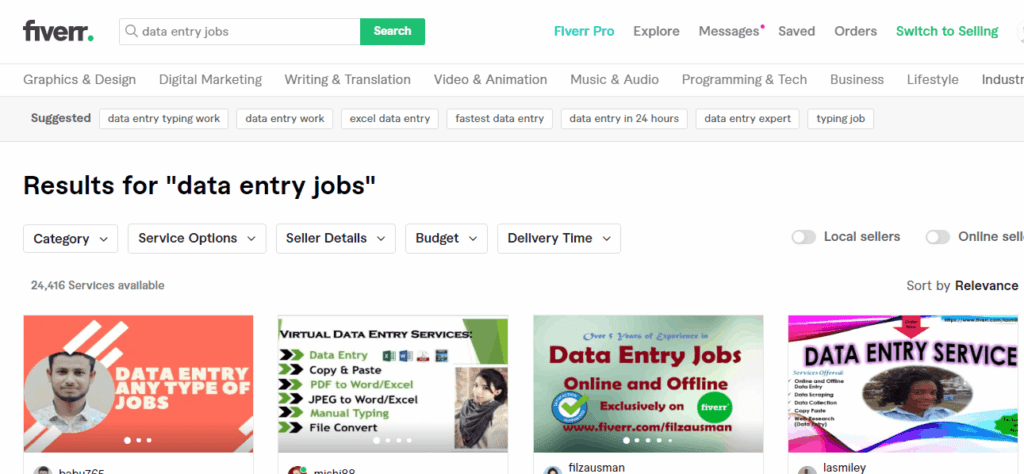 It is a good site but not suitable for newbies. Here, it would be best if you were a veteran in the job you are searching for. Clients will go through your profile, and only your prowess will get you hired. The lowest amount you can sell your services at is 5 dollars. However, this can increase depending on the complexity of the job.
On Fiverr, you need to create a gig using good quality animation videos or banner. A few negative reviews will get your account ruined; hence, you need to be good at data entry. To get good ratings, you need to be in constant communication with your client. It doesn't come easy on Fiverr.
Recently, they introduced an evaluation process to do at least every month. In case you do not meet the qualification of your current level, according to their ratings, your account will be demoted. Therefore, it is imperative for you to do a quality job and get good ratings.
Pros
No bidding is required. You place a gig and wait for buyers to look for you.
Fiverr encourages clients to give tips to sellers.
Creating an account is free.
You can make much money since the lowest pay is 5 dollars per gig.
Cons
Unskilled people cannot work on this site.
It is difficult to get a gig if your account is new unless you have exceptional skills.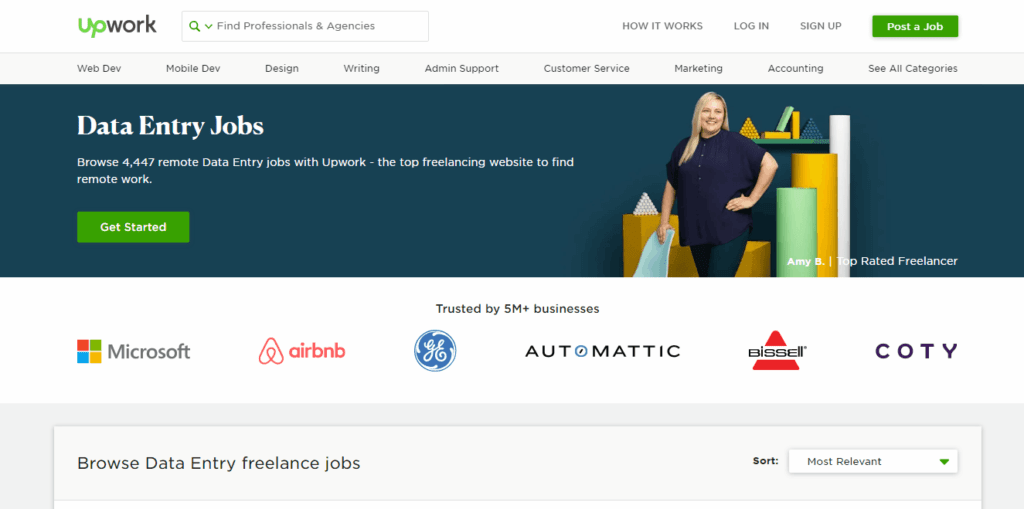 It is one of the biggest platforms where buyers and sellers of digital services meet. Here, clients can post jobs which freelancers can access with ease. Create an account and complete your profile before sending proposals for jobs posted. Upwork does not allow application of jobs with incomplete profiles.
A beautiful photo of yourself will help you market your services and skills too. Search data entry jobs using filters and submit a proposal if you qualify. Since there are lots of people applying for the same position, your profile must be exceptional for you to get hired.
Pros
Payment terms are highly secured.
You can find millions of jobs in different fields under one roof.
The search filter makes it easier to find a job in your field of interest.
No registration fee is required to create an account.
Cons
Bidding is required to get a job.
With many applicants sending proposals for one job, the chances of getting hired are minimal.
You may need to lower your price for you to land a job.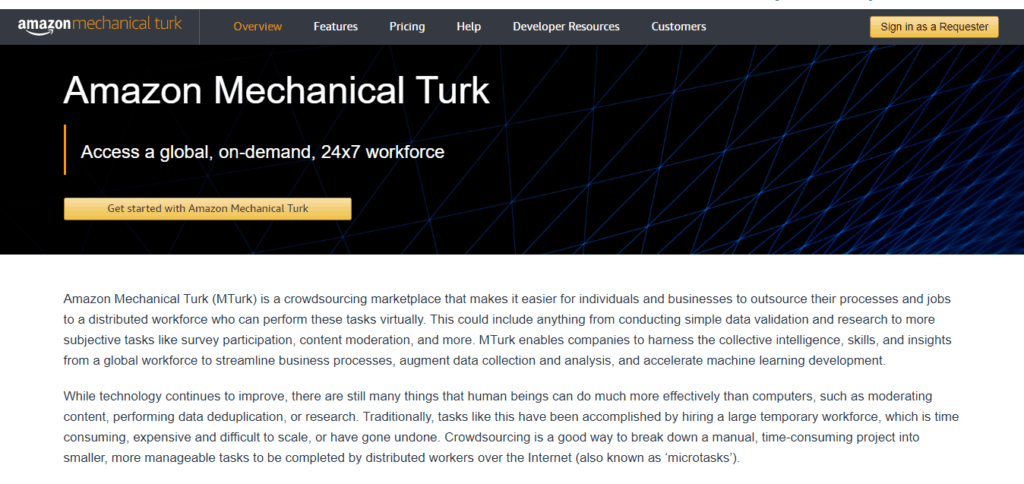 Amazon Mechanical Turk is one of the top sites where millions of data entry jobs are available. The tasks referred to as HITS, and only humans can do them. The HITS posted do not require any skills. Even an illiterate person can perform them efficiently. The Amazon gift card and bank account are the channels through which Amazon Turkers get paid.
Pros
There are limitless jobs posted every single day.
Some jobs found here do not need any skills.
No registration fee is required.
Cons
There is high competition, especially for jobs that do not require skills.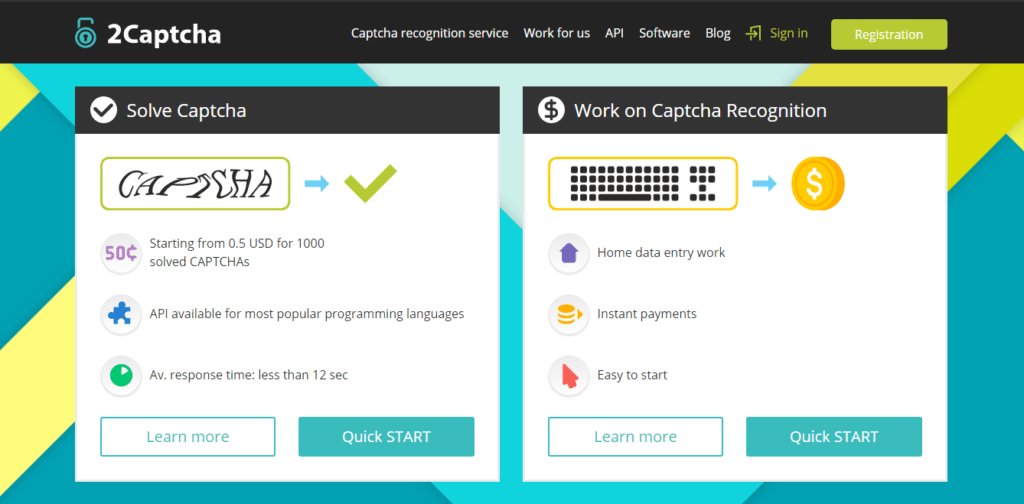 This site provides data entry jobs online which involve a conversion of images into text. Once you correctly convert, you get paid for the job. A CAPTCHA appears, and you will be required to turn it into text and submit. Once the submission is successful, another image will look. You can do this for any period you want until you feel exhausted.
To qualify for the job, you need to type a five-letter CAPTCHA within seconds. However, it would help if you had a perfect typing speed for you to earn decently. You can also withdraw as low as 0.5dollars and receive your payment through Bitcoin, WebMoney, Payza, and Perfect money.
Pros
High typing speed can enable you to earn much money.
Typing a captcha does not need skills
No commission is charged for withdrawal.
Cons
You need to convert lots of images into a text to earn decently.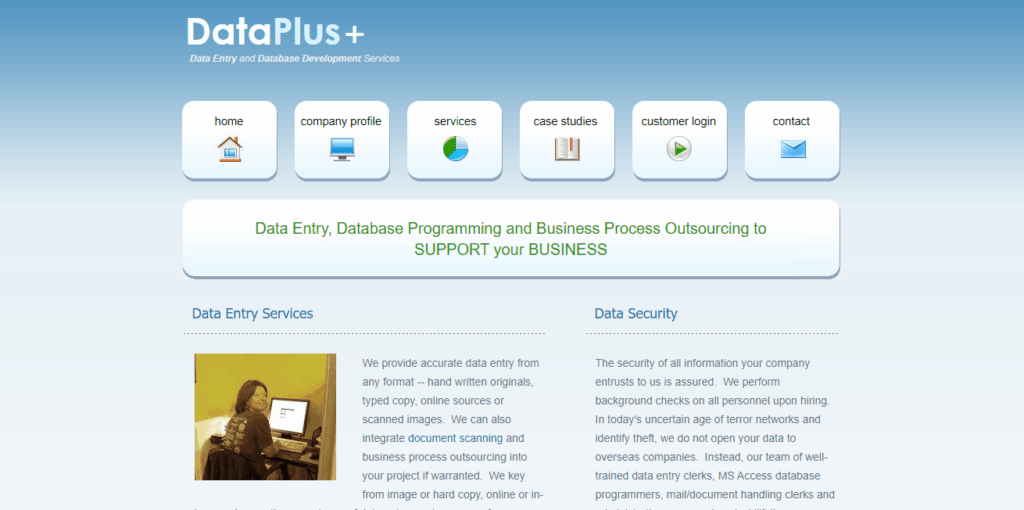 Based in Georgia, this is an outsourcing company that provides jobs to freelancers working from home. In this site, you can find many jobs for online data entry, programming, and writing an assignment. Operating for more hours will guarantee you a good pay.
Pros
Growth potential
Flexible working hours
You can work on a contract
Jobs are readily available
Cons
You need more working hours to earn well.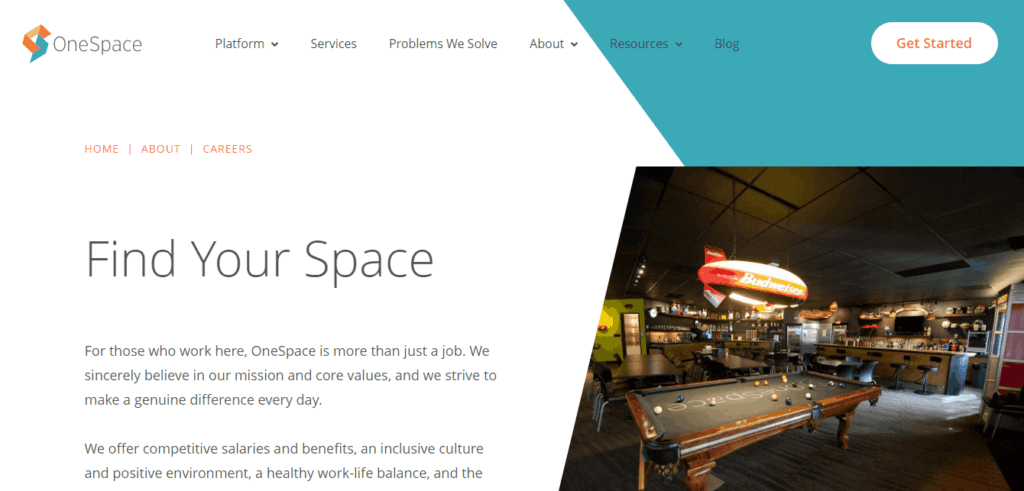 It is a platform where business-people get to post their jobs for freelancers to access and do them. Here, you can easily find data entry jobs as well as writing tasks and quality assurance jobs. The freelancers can choose the jobs they can do easily. OneSpace allows you to work for big global companies and earn handsomely. You can get paid through PayPal.
Pros
You can work from anywhere
Working for big companies can enhance your networking.
Also, there are more tasks other than just data entry.
Registration is free of charge.
Cons
You need more working hours to earn more money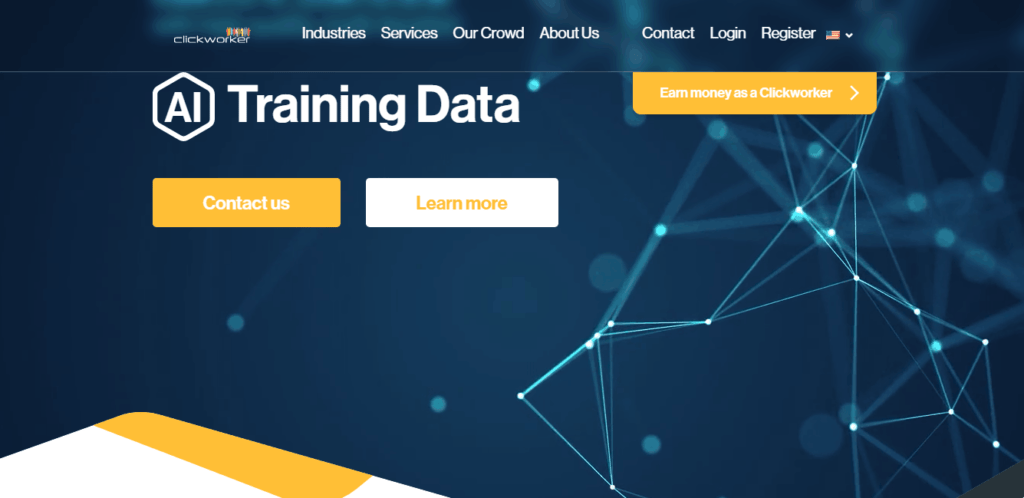 NASA launched an experimental project that involved hiring workers to perform some scientific task. Once the plan was over, it graduated into ClickWorker. It is now a big platform that provides simple online tasks to freelancers.
You need to create an account and set up your profile. Afterward, you can do some assessment tests which then will determine the kind of jobs you do. Your speed and accuracy also determine how much work you do. Therefore, you need to have a high typing speed and skill to earn decently. Also, your all payments will be through PayPal or SEPA Transfers.
Pros
No registration fee required.
It provides a simple way of earning passive income.
You can withdraw as low as 5dollars.
Cons
Many job seekers compete for few jobs.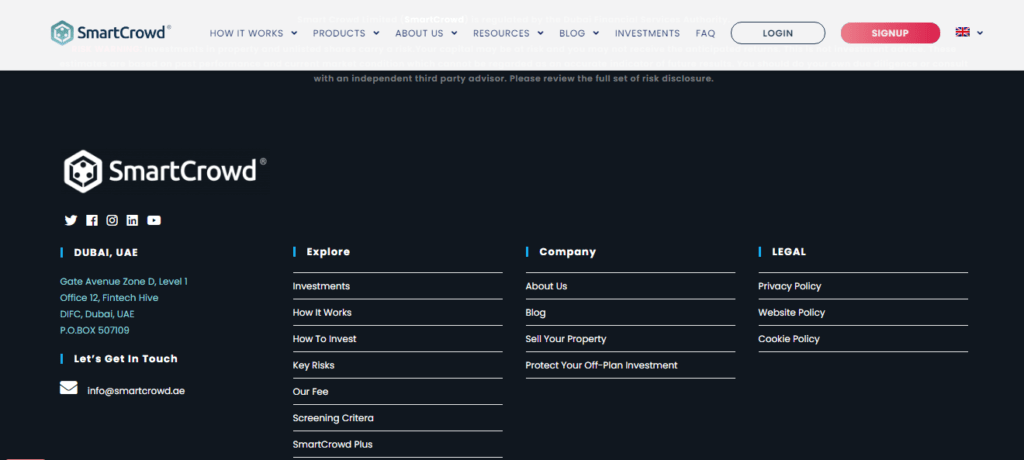 This site is a part of a company that deals with community management. Thousands of workers work for them remotely. SmartCrowd has several client companies that outsource their work through them. The tasks include data entry, research, translations, and transcription among many other jobs.
You need not to pay any fee for registration. You need to create an account and answer a few personal questions. It could be about your education, demographic details, and other information. Once you apply, you will have to do a placement evaluation; which will determine what kind of work you do. And, payment mode is once per month through directly depositing into your bank account.
Pros
No registration fee
No skills required
Cons
One must be fast and accurate to keep the earnings high.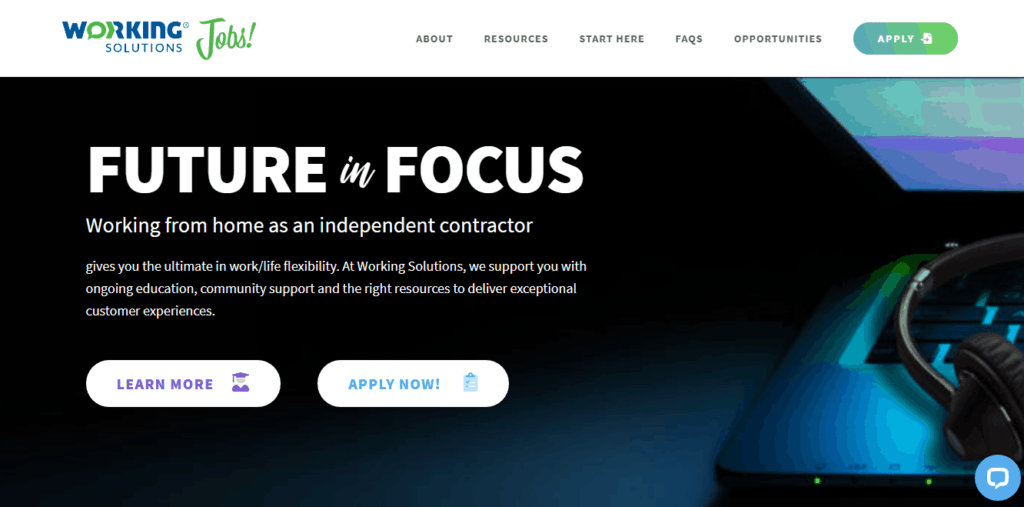 It is a worldwide company that provides data entry jobs and call center tasks. During natural calamities, they make sure work goes on as they outsource to people working from home. Working solutions pays very well depending on the type of task you do. You need to sign up and become a freelancer working at the company.
Pros
Free training
You can create your schedule
Cons
You need to work more hours to earn much.
Working from home is very convenient and comfortable. Also, It is good, especially when there is a calamity or bad weather and you cannot make it to the office. Armed with coffee, laptop, and an internet connection, you can earn enough money to pay your bills. Moreover, you need to also look out for scammers who pose as online data entry clients. Most of them will ask for the registration fee to give you work. A legit site won't ask for money to create an account. Out of the ones mentioned in this article, you can choose your best and get started.
Also Check: How To Make Money With WhatsApp – Most Effective Methods
How Can I Get Data Entry Job From Home?
Working from home is one of the best mechanisms that every individual is longing to do, as it is easier to work at the comfort of choice. There are various types of online jobs available in the market, the largest of all being data entry. It entails having your computer and doing little research on multiple platforms or just filling available data on the computer. Data entry jobs from home are readily available from numerous online sites. If you have been looking for a data entry job with no success, do not worry as I have highlighted for you some of how you can get a data entry job online from home.
Gain experience
To get a data entry job from home, you need first to ensure that you already have the necessary skills on the type of data entry that you long to get. I respect the job you wish to understand, and you need first to educate yourself on some aspect. Learn how to communicate with the employer easily. Take your time to research what is required of you on the data entry job and how frequently you will be doing it.
Get Fast typing skills
As the name suggests, you will be dealing with your computer and a large amount of data to enter. You need to ensure that you have high typing skills to finish the job on time and as required. Also, you will be tested for the skills before you can be employed. When working on typing skills, you need to work on the accuracy of the work as it is essential.
Apply for the job
Like in any other kind of job, there is an application process for those willing to work from home. Multiple jobs are advertised day in day out online and on personal business profiles. While applying for this job, you always have the skills to compete with many data experts. Have an outstanding resume that explains more about you to show that you have the essential skills. If you are looking for a data entry job but have no experience, use your papers to show that you are knowledgeable.
Become a freelancer
Another great way to get a data entry job from home is by becoming a freelancer. You will create an account online such as Fiverr, freelancer, Upwork, etc., and offer a data entry job. It is a vast way to get a job quickly. It is even better than applying for the job, as the company itself will look for you. What you need to ensure is that you are good at data entry so that you will be highly rated and get vast jobs from multiple clients.
Getting a data entry job from home is a straightforward task. You only need to have a computer and internet access. Apply to as many online data entry jobs sites as possible so that you will quickly get from one of them. The jobs are readily available, and you should always keep on updating your profile to increase the chance of getting more jobs in the future. You do not need vast experience to do the job; follow the instruction, and you will be successful in this sector.
Also Check: Part-Time Work For Women: Top 9 Money-Making Ideas
What is a trusted website for an online data entry job?
Most people have a vast knowledge of data entry jobs but have a problem identifying the best website to trust. There are multiple websites available in the industry which scam people, and there is always a need to know what site to trust. The following are some things to check on a data entry website to see if it is trustworthy.
Requires security or security fee
If you find a site requiring you to pay some registration fee or pay for security so that you get paid in one way or another, know that it is scum. I mean, why you would pay someone so that you get to do for them some data entry job. All data entry job website usually does not ask you for anything. And you just need to register or apply and start earning. Avoid any site that asks you to pay for the services as once you deposit the money, you get blocked or find there is no task available for you.
Do your research on google
Since you are looking for a way to earn, you need to invest your time doing research. Multiple people had used the service before hence left feedback. Once you research the website, Google will tell you if it's a scam or not. A legit site usually has several positive reviews and high rating, unlike a scum that only has web-generated few reviews. That is another vast way to know if the site is legit.
Offer you the job with no interview or asking for certification.
Like in any other kind of job, there is always going for an interview, or you take certificates for review. In a data entry job, you need to have some knowledge of the computer; hence a legit site will always want to know more about you. They will either have an online interview or ask for your school certification. The scum site will always guarantee you a direct job without checking on this requirement. Know that they are wasting your time and resources and look for another site.
Require you to input data
A legit website will always be requiring you to use your computer to enter data that is either in letters, symbols, or numbers. It will give you a vast of areas where to do research or a form of pdf to convert it to the word. You need to check the kind of work that the company is offering. A scum website will let you register with no prior concept of what you will do once you register.
The amount of work and pay
Another thing to consider to know if a website is to be trusted is the amount of work and the pay there are promising you. Currently, a vast number of people are looking for sites for data entry job online. Hence the demand for the job is high. As a result, a decrease in the amount of paying the websites to pay their workers for a considerable amount of data entry jobs. Some sites will promise you a significant amount of payment for a small task. Know that once you do the job, you will keep waiting and never get paid.
Finding the best sites to trust is always a critical decision in starting your online data entry jobs. Before you can do any data entry job, always consider the above, and it will determine your carrier's failure or disappointment. The good thing is that there are a vast number of online data entry jobs available, and you are guaranteed payment. You only need to be patient once you send your certification for approval.
Also Check: Top 30 Best Job Search Apps to Find You Dream Job
Do Online data entry jobs really pay?
Online data entry jobs do really pay and involve entering information into electronic formats by using Microsoft Word, Access, Excel, PowerPoint, and other software on a desktop computer or laptop. The employer can also offer software of their choice to the data entry operator, which can be downloaded online. Online data entry jobs really pay and are advertised online, mostly in social media services like Facebook, WhatsApp, and you can also use the search engine to search for them.
The requirements for a data entry expert to earn good cash are stipulated below:
Typing experience
To ensure your online data entry jobs really pay, you need excellent and high typing speed, which contributes to fast and accurate online data entry. You can complete your task on time and send it to your client and get your cash immediately. What matters a lot is the accuracy of your work and meeting the client's deadline.
High-Speed Internet
Online data entry jobs sites really pay good cash, and high internet speed will contribute, especially if your tasks involve a lot of online research. It's worthwhile to have high-speed internet to ensure you're always connected to avoid any delay so that you can complete your tasks both on time and accurately. However, some jobs you may do offline and deliver them later online. It can save a lot of cash spent on your data.
Laptop or Smartphone with large memory
You will need a laptop and or a smartphone with high memory and storage to facilitate high output on tasks. When you have this in order, your data entry will be improved. Because, you can deliver your tasks well on time without delay. Also, your online data entry jobs really pay well.
Consistent
Being consistent in your data entry job will help improve your expertise. Hence this will contribute to getting more clients, and your online data entry jobs really pay. More clients mean increased data entry job pay.
Genuine and Legit Companies
Legit sites with online data entry jobs really pay. It's imperative that before you sign up for any online data entry job, do enough research to make sure this online data entry job really pays. Please note, according to the Bureau of Labor Statistics (BLS), online data entry operators are paid an estimated hourly rate of $15.64. For newbies, you receive a low of $10.37 and for expert operators up to $22.24.
Also Check: Is Excel Mandatory for Online Jobs?
Conclusion
You can pursue passive income as online data entry jobs really pay and work on active income. Online earning will give one immediate results like income to meet their necessities like groceries, rent, and utilities. In contrast, others have the potential to change one's financial life in the long term. One needs discipline in saving and spending the money well. Time spent on earning this is more valuable and cannot be recovered. Therefore, one should make good use of their time and money and make sure you work for companies that pay.
Also Check: Who Is A Business Data Analyst?