Like any other business industry, law firms are undoubtedly striving to stay on top of the latest technological advancements. There is no denying the fact that everything is digital in this highly technological age. It is a simple and necessary strategy for your company to showcase its products and services on digital media. If you are part of a law firm, you may also want to consider maintaining an online presence with a responsive law firm website. Your website must be easy to read, informative, and persuasive, regardless of whether it is a brand-new website or a redesign of an old one. Therefore, this guide will tell you what you need to know to ensure that your website is appealing and helps you convert your leads into prospects. How can you can design a law firm website using responsive HTML templates?
Here Is How To Design A Law Firm Website Using A Responsive HTML Template: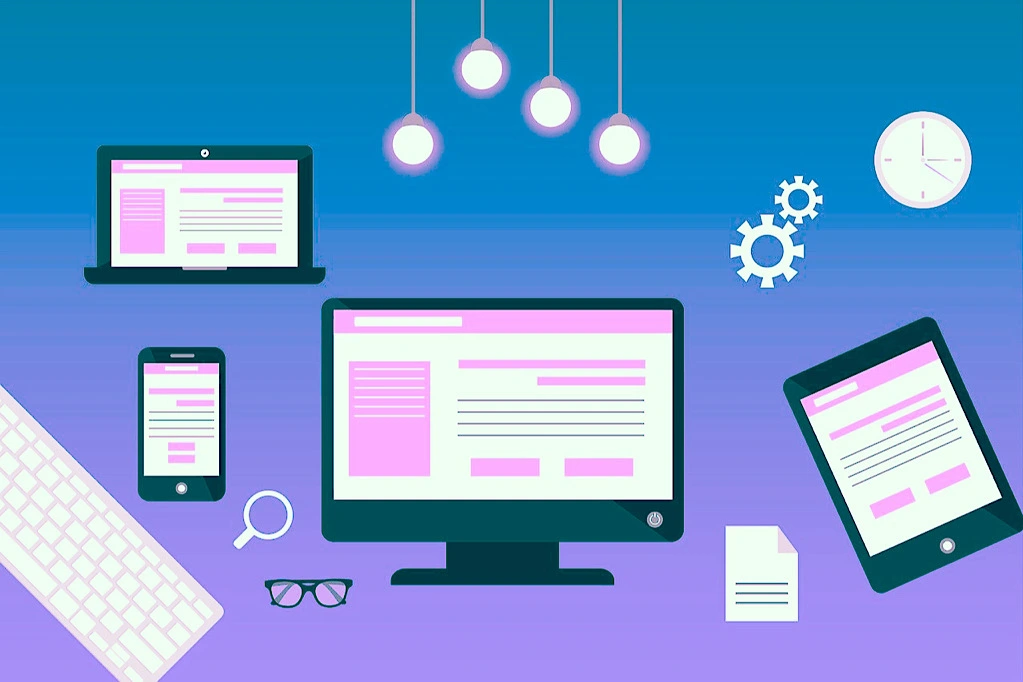 Designing A Law Website
Before proceeding any further, I want to begin by discussing what a law firm website should consist of.
A home page
Service page
About us page
Case studies or a bio page
And finally, a contact us page
In the next step, we need to keep the following in mind:
Choose your domain name
Keep it simple and easy to read
Create easy navigation
Creating a design that alters the layout according to each screen size
Creating a website with all these key points seems complicated for a newbie. Having a website for your law firm can enhance your credibility, make you more appealing, and establish your expertise in an area you are specialized in. This will help build your client base.
It is imperative to realize that if you want to avoid any law firm website design mistakes made by your law firm, opting for a responsive HTML website template is an intelligent way to accomplish your goal. When using an HTML template for your law firm website, you'll be able to quickly design a responsive website and make it a pleasant experience for your visitors.
Also Check: Top Reasons to Convert Website from HTML to WordPress
6 Responsive HTML Templates To Make Your Law Firm Website
Below you will find six responsive website templates that you can use for your website:
Juristic
New on the block and want a modern look? There is no doubt that Juristic is the right choice for you. With Juristic, you get a professional website with a visually appealing design that highlights your teams' achievements, services, who they are, and who they work with.
The template has an easy drag-and-drop page builder, so you won't need any prior experience to create the perfect lawyer website with this template. Moreover, it also allows you to create custom pages and a contact form using the tool.
Besides all of this, Juristic also provides you with slideshows, animations, Google maps, detailed documentation, and eye-catching typography to provide you with a rich visual experience.
With Juristic, you can follow your brand precisely as you want without having to be a tech expert. Juristic's website design flexibility allows you to have an up-to-date, professional online presence with no problem.
Law Firm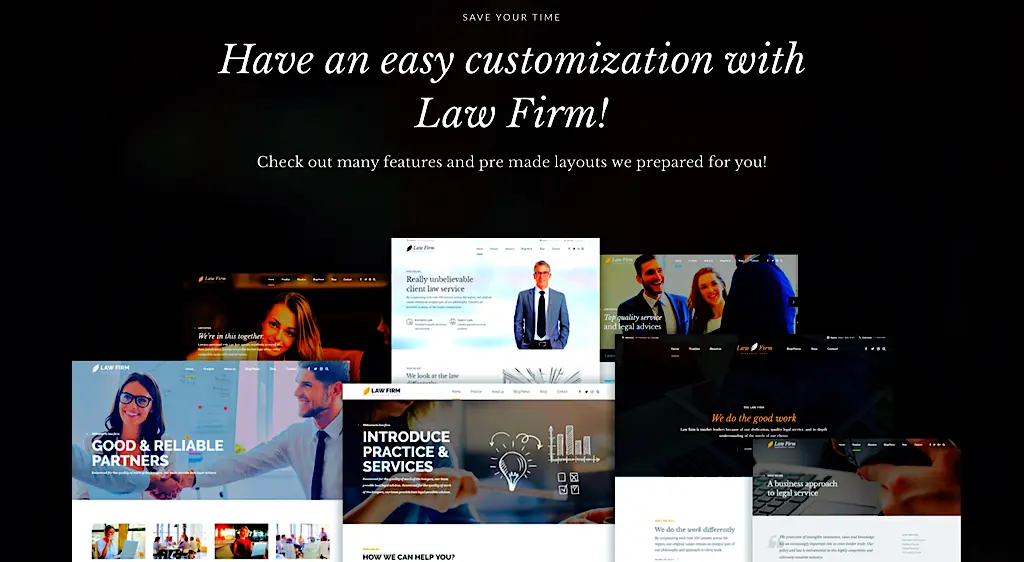 With the Law firm HTML website template, you can design a clean and attractive website that will look gorgeous on any device. In addition, it offers a complete and responsive design.
With it, you will be able to create the online presence that you have always dreamed of. The page consists of a header slider to highlight your area of expertise. It is also compatible with all screen resolutions and can be viewed on any device.
Several features you can add to the Lawyer Website will allow you to have a flat and modern lawyer website that will allow you to change things around quickly and set up a widget-rich footer, client testimonials, and Google font integration. Let the audience know about your trendy informative website and let them dive into it.
Also Check: 8 Ways To Boost Your Online Presence As A Lawyer
Barrister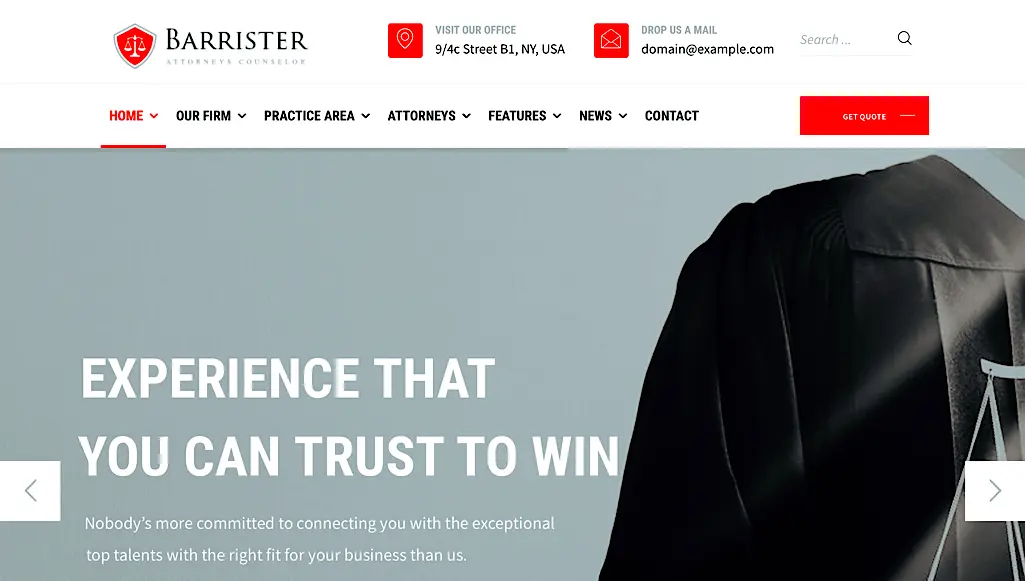 This unique HTML website template was specially designed for Lawyers and Law firms. In this highly responsive template, we have taken a new level of customization when it comes to page customization.
Various custom layouts are available for the pages, including the practice page, the case page, the testimonials page, and so forth. There is a page where you can write all the crucial information about your law firm for people to remember.
Barrister template has three homepage layouts, SEO optimization, and uses different fonts to make it visually appealing to the visitor. Whether you want an attractive website that accurately represents your brand doesn't matter; the barrister can deliver it.
Counsel Law Firm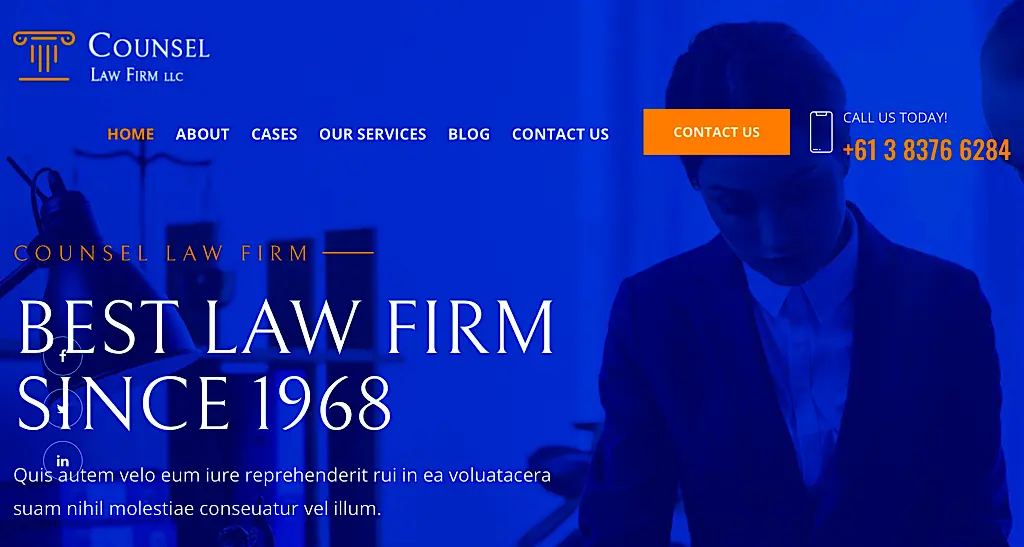 In this responsive HTML template, several features make it suitable to designing lawyers and other law-related websites. In this template, you can display your law firm's details in one place.
With Counsel, you can easily manage all of the details about your projects, your services, and the details regarding them. This includes your contact information and Google maps, ensuring your online clients have a pleasant online experience.
You can easily customize and edit the look of your Counsel Law Firm website so that you can manage and update it without any assistance. Counsel is a responsive template tested to work on various devices. With this HTML template, you can design a modern law firm website that is clean, professional, and SEO friendly. It also offers animations, smooth transitions, and SEO optimization.
Also Check: Choosing The Best CSS Units For A Responsive Web Layout
Law Master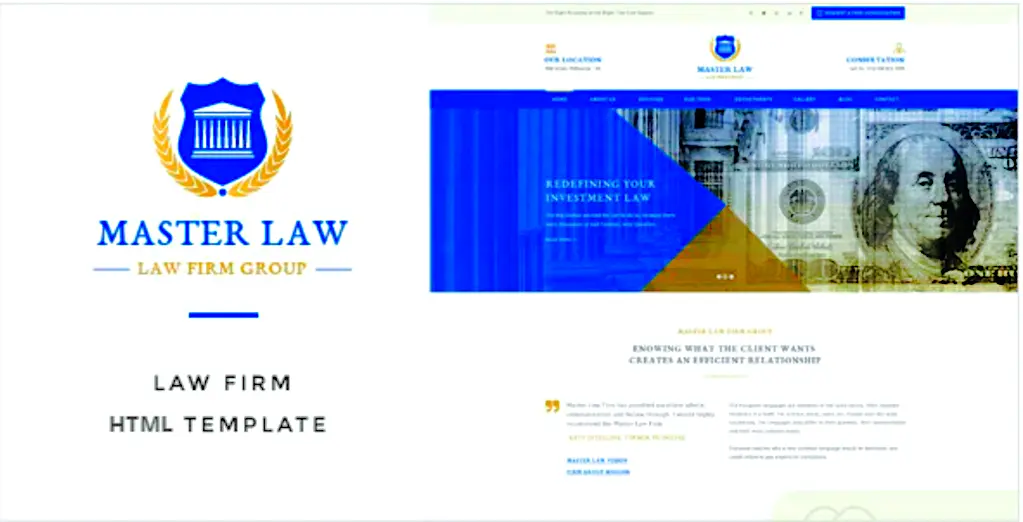 It is time to move away from the modern look and try something more elegant. Drag-and-drop page design makes the Law Master website template simple and elegant. This template is easy to customize and is fully customizable.
It is a responsive HTML website template with a simple one-click demo installation that makes it very easy to design your law firm website. With a revolution slider, animation, extensive documentation, extensive SEO optimization, and, most importantly, an appealing design, you can demonstrate all parts of your services to potential clients.
With Law Master, you can make your website your brand voice, creating an inviting and attractive visual representation of your law firm.
Zelwn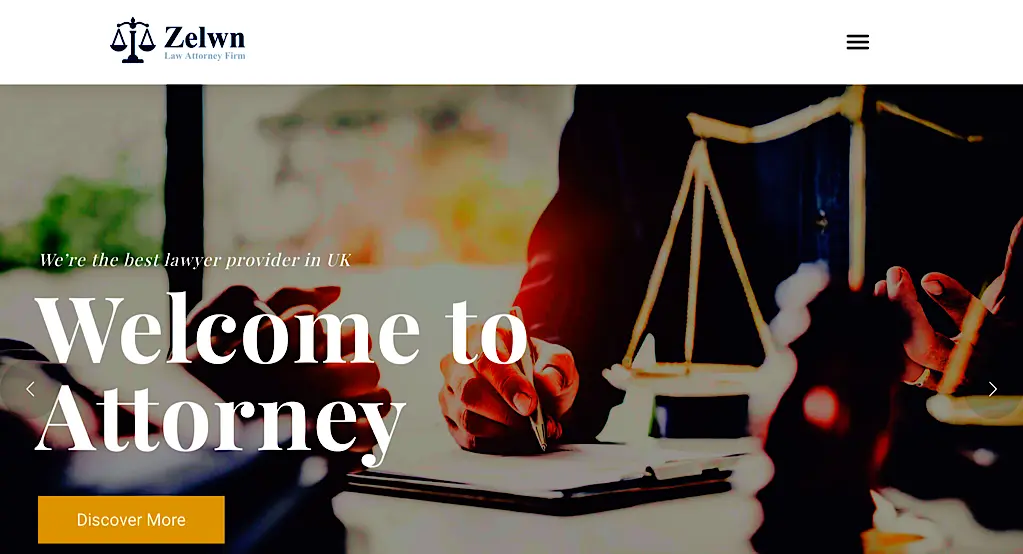 As a final recommendation on our list of advocate websites, we have Zelwn, a mix of modern looks and creative content. A non-programmer learning to design a website will find the customization and editing of the site to be a delightful experience for the eyes and the mind.
A user-friendly, clean, and responsive layout makes the website easy for users to navigate. In terms of screen size, it perfectly fits from a desktop screen to a small mobile screen on a smartphone. You can create your website with Zelwn in just a few minutes, with predefined elements to help you.
There are ten different types of pages to choose from, a clean look, Google fonts, animations, well-documented, and much more to discover.
Also Check: How To Make Dynamic Web Apps Using ReactJS
Why Is It Helpful To Have A Law Firm Website?

The purpose of a website is an essential factor to consider before you get started on its design. This website initially had only one objective, and that was to market the business. Nowadays, however, the website has a lot more functions to offer than just marketing functions.
By having a website, you can showcase the highlights of what you have to offer. This will increase your brand exposure and display your services and achievements worldwide.
You should have a website that shares information and demonstrates why you are unique and what makes your business stand out. The importance of your website cannot be underestimated when it comes to bringing in your ideal clients. This is because it is there to communicate with them instead of merely using it as a marketing strategy or a separate company.
Also Check: How To Optimize An eCommerce Store For Mobile Devices?
Benefits Of Websites That Are Designed With Responsive HTML Templates:
It is straightforward to design and manage HTML websites. If you want to make your HTML website, you can easily do it yourself without spending a lot of money hiring someone. The following are a few more reasons why responsive design using HTML templates make an intelligent choice for your website.
Easy to use: You can easily edit and customize your website in HTML, even if you are not a professional.
Better user experience: Unlike a content management system that may lag, an HTML template has many files yet loads faster; thus, you can use it efficiently.
No constant updates: HTML, unlike WordPress, does not require you to update your website unless you want to change or add some new content.
Cost-effective: Compared to templates for a Content Management System or a custom-built website, HTML is much more cost-effective.
Looking at all these benefits, it is not surprising that you don't have to worry about codes and updates. This will enable you to focus more on your law firm's services and client needs.
Also Check: 10 Essential Web Designing Tips for Improving Your Website Design
Wrapping It Up
Whether you are an experienced business lawyer or just starting in law, a website is one of the most helpful things you can have. Creating your template to show your expertise and credibility with these easy and valuable templates is easy and convenient.
As a result, you will be able to drive more traffic toward your law firm's website. This will address inquiries and keep the audience up to date on all of their legal matters.
Having a website is crucial to your business's growth and attracting more customers, among countless other benefits that come with it.
As we mentioned, six HTML templates for a law firm websites are attractive, functional, and responsive. It is imperative that your website meets all the official needs of a law firm, lawyer, or attorney so that you can remain competitive in the market.
Also Check: Promising UI or UX Design Trends for Excellent Mobile Experience
Images by Mudassar Iqbal and Oberholster Venita