The necessity to upgrade to Magento 2 is important as on June 30, 2020, and Adobe officially ended support for the Magento 1 release line for Magento Enterprise (Commerce) and Magento Community (Open Source). This makes Magento 1 to Magento 2 migration not only desirable but also essential.
There are many posts on Magento 2 migration and among numerous guides floating over the web, keep reading this piece to know why you should move to Magento 2? What are the benefits, processes, and critical challenges?
Moving from one platform version to another is not going that much easy. Since, there is no single button that will help you make it work quickly. It would be best to consider many factors such as theme, data migration, customization, database import, plugin, and extension issues.
Magento 1 to Magento 2 Migration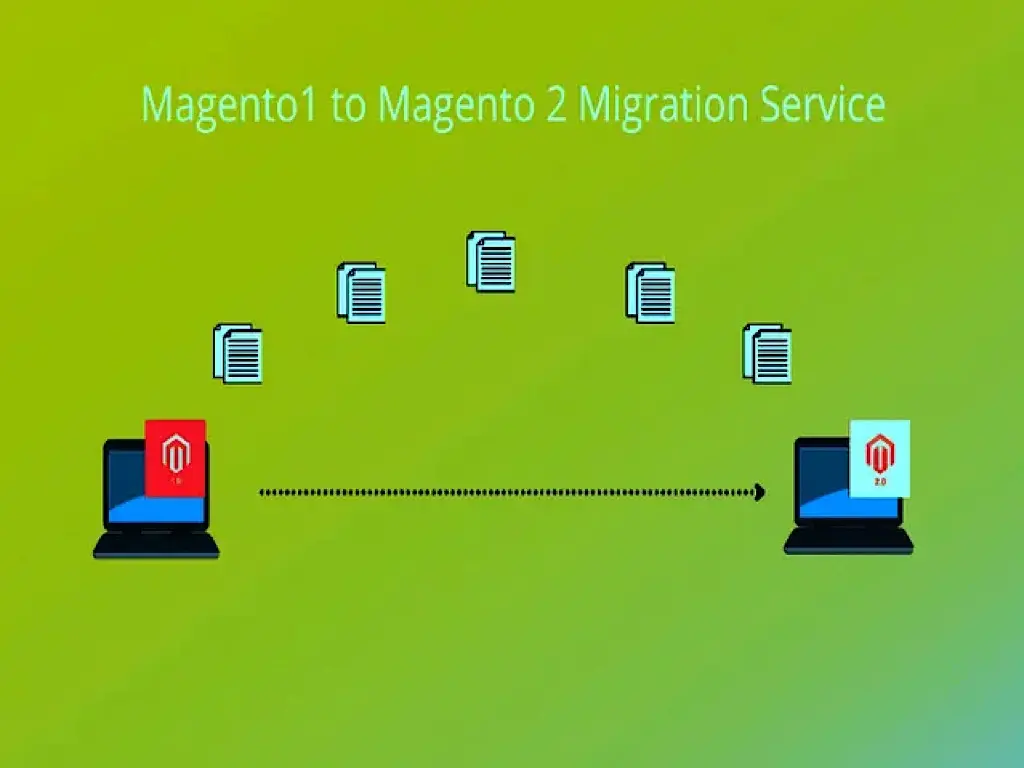 Let's jump-start your Magento 1 to Magento 2 migration process!
Need of Magento 1 to Magento 2 Migration
There are lots of Magento store owners who are not in favor of migrating their store to Magento 2. Here we have listed the top 6 essential reasons why Magento 1 to Magento 2 migration is necessary for your eCommerce store. Also, how Magento 2 Migration Service company can help you do the needful.
No longer support available
Magento's official announcement will not provide any technical support to the Magento 1 store owners. In addition to this, Magento 1 users will not get any further updates regarding plugins and updates.
Security
Every eCommerce store owner wants a safe and secure website. So, they always try to protect their website and content from cyberattacks, malware, cyber threats, phishing, and so on. After finishing technical support and updates for Magento 1, store owners may face security-related concerns or issues.
Mobile-friendly
Most of the eCommerce business comes from mobile devices as compared to desktop devices. So, mobile-friendliness is an important factor for your store's success, and Magento 2 is better optimized for mobile devices.
Performance
As we know, better performance leads to better business. So, to get higher conversions, sales, and increased revenue, the performance of your store is one of the mandatory factors. Magento 2 allows up to 66% faster add-to-cart server response time as compared to Magento 1.
User Interface
The previous interface of Magento, i.e., Magento 1, was not always user-friendly. By leveraging this, Magento has explored deeper to find the exact issues and develop a new interface that is more user-friendly than Magento 1.
Marketing Automation
Internet marketing is one of the proven solutions to promote and bolster your eCommerce business. Magento 2 is come up with lots of automated marketing tools that can help you run effective campaigns and accelerate conversions.
By considering these main reasons, you can quickly realize the necessity of migrating your eCommerce store to Magento 2. For this Magento 2, an upgrade service company can efficiently help you.
Also Read: Reasons Why Having An Excellent Magento 2 Store Pickup For Your E-commerce Store
Top 3 Methods For Your Store From Magento 1 to Magento 2 Migration
Manual Upgradation
If you want to upgrade your store, then the first method is manual up-gradation. You can upgrade your store manually by using Magento Migration Tool. Manual upgrade through migration tool requires professional and technical skills, including code fixing, database backup, repairing, and corrupted databases. So, in this case, you should contact to Magento 2 upgrade services company.
Hire Magento Developer
Another method to upgrade Magento 1 to Magento 2 is by hiring a Magento developer or a Magento specialist team to perform required tasks efficiently. There are lots of Magento 1 to Magento 2 migration services companies that can help you migrate your store accurately and securely.
Use Automated Migration Service
This is a famous method for migrating data from Magento 1 to Magento 2. Here you need to migrate data with an automated tool like LitExtension. It helps you to transfer products, customers, orders, multistore, CMS pages, and so on. In addition to this, automated migration tools provide additional options that allow you to enhance the migration possibility, such as customer password and SEO URL migration.
Also Read: Magento 2 Development Services – A Brief Introduction
Key Challenges in Magento 1 to Magento 2 Migration
Here is a list of few predictable challenges that come along with the migration process.
Data Migration
Magento 1 to Magento 2 migration means transferring the entire database can be a tricky and challenging process. However, if you handled it carefully, there is no risk of data loss, including products, consumer, or order data. To make the migration procedure convenient and easy, Magento has officially presented the Magento 2 Data Migration Tool, which helps you transfer your data from Magento 1 to Magento 2 with the help of CLI commands.
Ranking on Google or other on other Search Engines
To get a high ranking and traffic on search engines like Google, your store and website's content needs to be SEO-friendly. You may face a dip in website traffic due to the following reasons:
Changes to the URL structure can be responsible for the crawling.
Less SEO friendly URLs and website content
Changes or modification in the design of the website
Website Performance
There are some common drawbacks of Magento 2 migration concerning website speed and performance, including:
Low store performance
Slow loading speed
No-cache configuration
Less store reliability
To solve this problem, you can improve media delivery, work on JavaScript code, and upgrade the varnish and Redis cache.
Theme Extension
It is not possible to transfer Magento 1 theme to Magento 2. So, every store owners need to develop a new one, which should look like the previous one. Also, this can be achieved with the help of the Magento 2 migration services provider. This is an excellent chance for store owners to use and get the maximum benefits of the advanced and improved Magento 2 theme templates.
Integrations and Plugin Compatibility
Plugin compatibility is the most common challenge when you do Magento 1 to Magento 2 migration as your Magento 1 extensions will not support Magento 2. You always need to ensure your current plugin is compatible with Magento 2 and to help Magento provide a code migration tool to simplify the migration process.
Also Read: Woo-commerce Vs Magento, Which One To Choose?
Conclusion
Nowadays, demand for Magento 2 migration is flourishing, and this is a fact which no one can deny. With Magento 2 migration services in the software marker, business owners may face challenges to know the best way to perform Magento 1 to Magento 2 migration with smooth costing budgets and actual business requirements.
We hope that the information mentioned above will help you make careful decisions to choose the best way to perform Magento 1 to Magento 2 migration. If you are new to Magento or merely looking for a faster migration process, hire a Magento migration expert or Magento development company. Rock Technolabs ensures the best eCommerce Magento development services, and we love to assist you with your every need and concern.
If you are looking to perform Magento 1 to Magento 2 migration, connect with us today to see how we can help you get the benefit for your business.
Also Check: Top 5 Magento Development Trends To Consider