A PDF editor is a software application that allows you to create, edit, or modify PDF documents. With a PDF editor, you can add or remove text, images, or other content, rearrange pages, highlight text, annotate, fill out forms, and more. If you are looking for a good PDF editor for your Windows PC, you should be happy to know that there are so many options to choose from. For example, iTop PDF editor for Windows PC allows you to merge multiple PDF files, compress and encrypt PDF files, and is also compatible with Internet Explorer. In this iTop PDF review post, we will know best features and how to use iTop PDF editor.
iTop PDF Review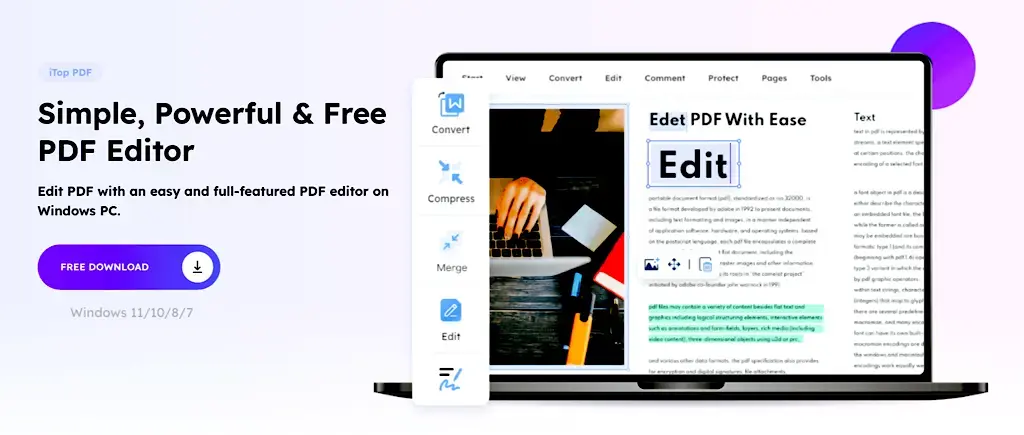 What Can iTop PDF Do For You?
Multiple Editing Functions
There is a broad range of editing solutions to satisfy your editing needs. You can easily edit the original text, images, and links, annotate, draw, highlight, and add or move any objects you want. With this intuitive PDF Editor tool, you can modify any content much easier and faster.
Compression
Compression on the iTop PDF editor for Windows PC is an excellent feature that enables you to reduce the size of your PDF document without compromising the quality. When you open your PDF file, it will be compressed within seconds. Besides, iTop PDF editor for Windows PC offers many other features to make your work with PDF files more convenient.
Merging Multiple PDF Files
If you're looking to combine a large amount of PDF files into a single document, iTop PDF is one of the best options out there. This free PDF editor has different features to make the task a breeze. You can add text, images, watermarks, links, and even stamps.
Merging PDF files is a great way to save space, improve navigation, and increase efficiency. When used in conjunction with other PC tools, it can simplify workflows. For example, combining several PDFs on a single screen allows you to access multiple files simultaneously. Also, merging your PDFs into one file can help prevent you from losing important files.
Encryption
You can use encryption if you want to ensure no one can access your PDF file. The iTop PDF editor is an excellent tool to do this, which offers several security features that you can use to safeguard your files. These features include encryption, password protection, and redaction. This makes it simpler for you to keep sensitive information safe and help you protect your files.
Pros
Easy to use as all tools are handy
Totally Free
Extensive PDF editing tools to create and alter PDFs
Convert PDFs to Microsoft Word, Excel sheet, or PPT formats in high quality
Flexibility to combine, add, delete, rearrange, and extract PDF pages
Compress PDF files to reduce the size for faster and easier sharing
Allow adding a watermark
Encrypt PDFs for protection
Cons
Only available for the Windows version
No OCR capability
How To Edit A PDF Easily With iTop PDF?
Step 1. Download this easy-to-use iTop Editor on your Windows computer.
Step 2. Install and launch it. You can click the 'Create an Account' to create an iTop PDF account or 'Login via email or Facebook' to sign in.

Step 3. Now you can open a PDF file by clicking the 'Open File' button on the left side of the interface. And select the PDF file you like to edit its content. Choose a tool in the 'Quick Access' or toolbar on the top of the document to make comments, highlight, fill in a form, create an e-signature, or manage the pages as you like.
Also Check: Best Free PDF Merge Tool Online: Merge Multiple PDF Files
Summary
Due to the features of the PDF file provided, it's hard to edit like a word file. But luckily, there are also plenty of PDF editing tools in the market. You can use iTop PDF to edit a PDF by viewing, commenting, and modifying texts on Windows quickly. More than a PDF editor, iTop PDF also offers functions as a converter to convert PDF to Word, Excel, PowerPoint, Image and a wide variety of file types. Don't look around. iTop PDF will be your best choice to complete all PDF tasks in a minute. Hope you like our iTop PDF review!
Also Check: The 6 Features Every PDF Format Converter Should Offer