Sarees are the face of Indian culture and traditions and act as one of the landmarks of being Indian. The elegance and grace of sarees are unbeatable, making them well-known among every age group of women in the country and the whole world. This ancient clothing apparel comes in many different forms and styles. This saree comes in different lengths and widths and can be draped in many ways. India is home to many traditions, foods, and cultures. Also, India is home to different types of sarees. The materials used, the draping style of sarees, and how each fold of pleats has a story.
Sarees are readily available in stores and online, and you can choose from different options available in Sarees. Single-piece and wholesale sarees are sold in the country. Here is a list of all the essential types of sarees from every corner of the country.
10+ Different Types Of Sarees In India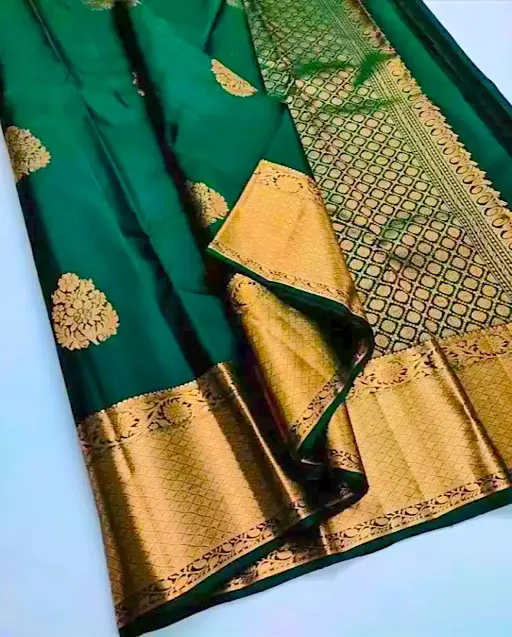 Kanjeevaram Sarees From Tamil Nadu
Beautiful vibrant colors, luxurious silk, and royal borders. Kanjeevaram sarees were invented in the state of Tamil Nadu. This traditional bridal saree is famous all across the country. The grace and elegance of this saree come from pure mulberry silk thread, and a gold touch to this saree brings grace and a sophisticated appearance to this saree. So, you'll find these types of sarees with mythological motifs from ancient tales 
Nauvari Saree From Maharashtra
A Marathi-style saree, this Nauvari saree is styled perfectly for weddings. These nauvari sarees come in great vibrant colors and, when paired with a shawl draped around the arms, make them stand out from other sarees. You can easily differentiate this style of saree from far. This saree originated from the west coast. The name of the saree shows the length of this saree. The draping style of this saree is known as "Kashta" which means that the broad border of this saree is tucked into the back of the saree. This form originated from Maratha women warriors. They used to wear saree in dhoti style to make riding horses easier.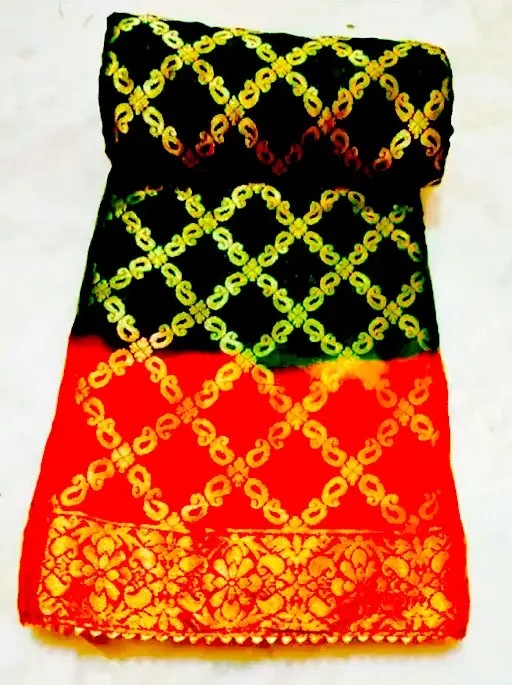 Bandhani Saree From Gujarat
The very famous bandhani saree, which comes in tie and dye forms and many beautiful patterns and colors, is loved widely in our country. Bandhani or lehriya sarees are fantastic types of sarees that show the tradition of Gujarat and Rajasthan. Also, these sarees are very soft and need to be preserved with great care.
Also Check: Wedding Dress Fabric Guide – Top 9 Wedding Dress Materials
Tant Saree From West Bengal
One of the most distinguishable sarees is the Tant saree, of Bengal origin, which comes in red and white elegance and is a gem of our country. You'll find this saree in every single wardrobe of Bengal women. This saree is made of breathable fabric, making it a good outfit during humid weather. The pallu of this saree is made with heavy zari work making it standard for festivals like Durga Pooja, Diwali, and such events.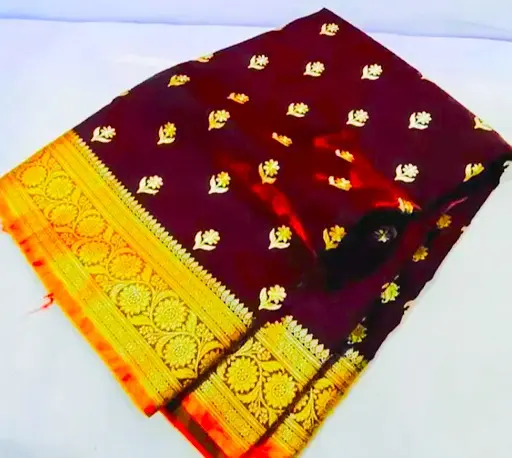 Banarsi Saree From Varanasi
Every woman has heard about Banarasi sarees. Banarasi sarees are one of the country's most popular types of sarees, and these banarasi sarees are known for their motifs and designs. Earlier, Banarasi sarees were made only for royalty and were knitted with real threads of gold and silver. These sarees now come in nanny types, making them affordable to many without losing their royal elegance.
Chikankari Saree From Lucknow
The city of rich tradition and Nawab culture brings this beautiful Chikankari embroidery. These sarees are made of many different fabrics and what makes them attractive is their intricate designs. You'll find these Chikankari sarees in many pastels and subtle colors. These colors are also soothing and eye-pleasing, making these sarees look more elegant and beautiful. You'll find many Persian motifs on Chikankari sarees.
Also Check: How To Choose Your Saree for Engagement?
Bomkai Saree From Odisha
The handloom saree from Odisha is called Bomkai all over the world. The saree may look modern, but each intricate design depicts Indian tradition and culture. These types of sarees are threaded on a cotton base for everyday wear and a festive look. Also, these sarees can be found on a silk base. You'll find this saree in the country's traditional motifs and hidden mythological pasts.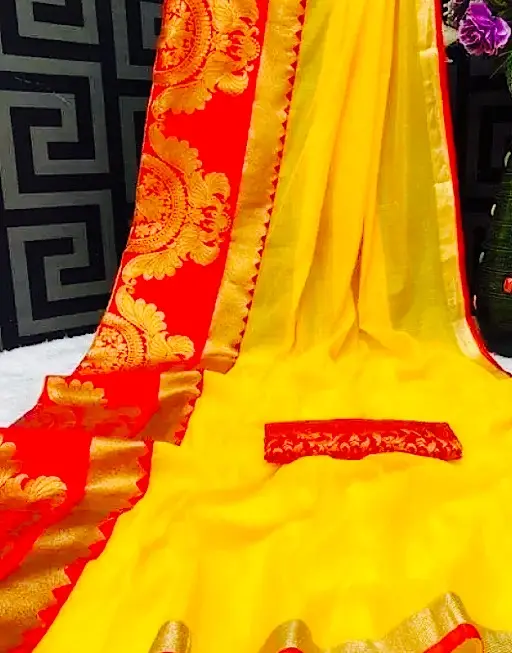 Chanderi Saree From Madhya Pradesh
The ever-shiny shine of this Chanderi saree from Madhya Pradesh is terrific. Cotton is a light textile woven with silk zari work, making this saree look luxurious and bringing a unique luster. This saree is also worn in many different styles making gloss look amazing in each class. The weave of this saree is of handloom, creating a coarse structure and making it a show-stealing saree.
Kasavu Saree From Kerala
Kerala is known for its beautiful traditions and radiance. The traditional saree is Kasavu. It was initially a Dhoti style paired with a blouse and a stole which can be styled the way you want. This type of conventional saree has a modern touch and is very popular during Onam.
Also Check: 10 Latest Kurti Neck Designs for Your Gorgeous Look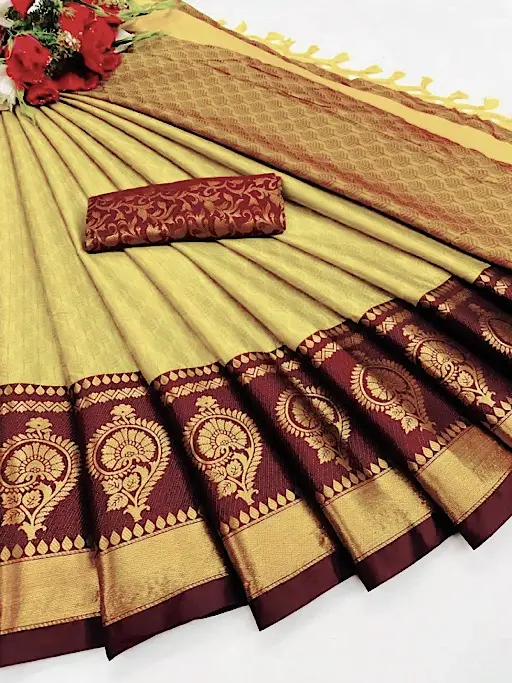 Muga Sarees From Assam
These sarees are found only in Assam and have unique features. They have a very glossy look in the form of pure, durable silk. These sarees are available in the market in a great variety. Each saree will also have a golden touch to it. You'll see this saree at many weddings and events. Muga sarees are made of the costliest silk and shine more with each wash. The zari embellishment on these sarees will also add more charm to your beauty.
Phulkari Saree From Punjab
Folk embroidery of Punjab is Phulkari, a beautiful pattern that comes in motifs, floral and geometric designs. The intricate detailing of this phulkari is done on the coarse side of the cotton fabric. Also, this Phulkari comes in many beautiful vivid colors.
Pochampally Saree From Telangana
Right from the looms of Telangana, the Pochampally saree is designed with geometric patterns, and motifs with the Ikat style of dyeing are used to make the pattern called "Chowra". Also, that looks like diffused squares and diamonds, which are weaved on cotton or silk fabric. With exciting patterns and motifs, these Pochampally sarees keep evolving with trends and popularity.
Also Check: Top 10 Latest Kurti Designs For Printed Cotton Kurtis
Images from Flipkart