Here, we have listed 10 latest Kurti designs for any cotton printed Kurtis. No other fabric is as comfortable as cotton. You can wear Kurtis made of this fabric on special occasions and festivals. They are the best ones for summers. It is a breathable fabric that controls sweat and moisture in hot and humid weather. The material is a natural fiber made from cotton plants. It is one of the oldest fabrics cultivated in India for centuries. It is one of the most admired fabrics by both women and men.
10 Latest Kurti Designs For Printed Cotton Kurtis
There is a wide range of printed cotton Kurti designs available in alluring patterns and designs. The thing is that these Kurtis are suitable for every occasion whether you want to attend a party or any event they are a perfect match for it, the heavily embroidered also works for pre-wedding functions or reception.
They are elegant and simple ones that can be worn on a casual basis, as the office wears for small gatherings and kitty parties, or any other function. It would help if you paired it with fitting pants or leggings, and you are ready for the event.
1. Mint Green with Yellow Latest Kurti Designs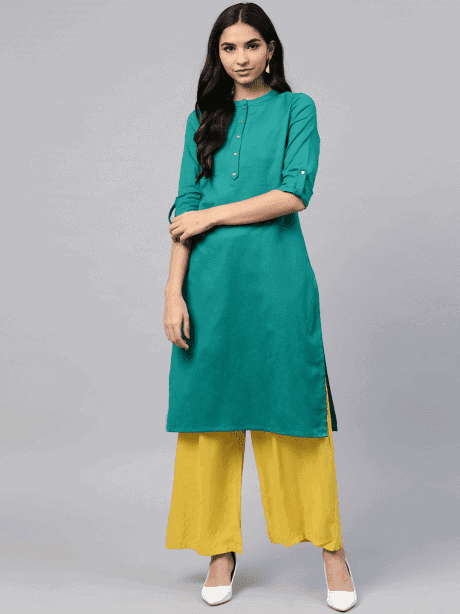 Mint Green with Yellow is in our list for latest Kurti designs. A simple yet gorgeous mint green color kurta with three fourth sleeves and a simple neck is perfect for any day. The thin yellow borders on sleeves and a matching yellow pant at the bottom complete the entire look of the attire. Pair limited accessories, and you will look elegant in this attire.
2. A Bright Yellow Attire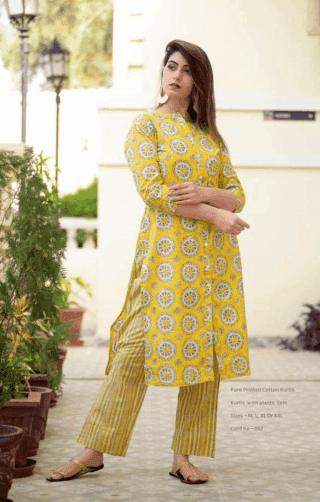 A perfect lemon yellow for a bright and sunny day. The round intricate designs and a lining pant is making a unique and attractive pair. Light makeup and limited accessories with this outfit will make you look stylish and stunning. Open hair is a better option.
3. Blue and White Latest Kurti Designs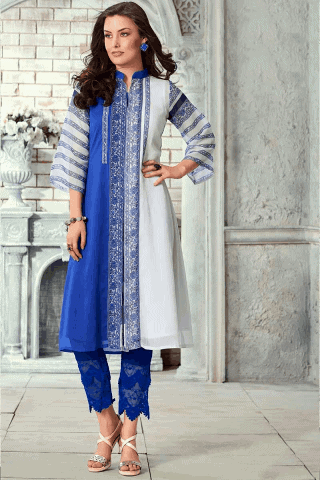 This white and blue A-line Kurti with a white legging is giving positive vibes. A high neck Chinese collar with two-fourth of the sleeves is making the attire look more attractive. It is best for small gatherings and casual wear. Get an adoring look by pairing heels and small earrings with this one. You can also go through Printed Cotton Dress Material to get a better idea.
4. Blue and Blue Everywhere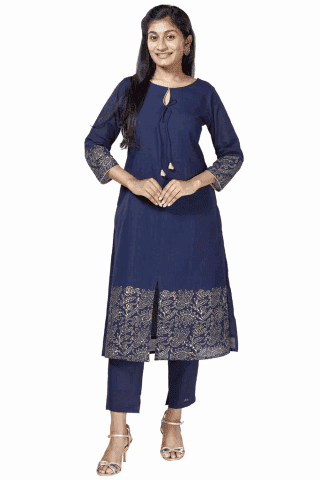 Want to wear something different and classy at festivals or any other occasion? This can be a great pick. This Anarkali style Kurti with printed flower and leaves design and red teasels make the outfit look more stunning. A high neck is the complementing part of this attire.
5. Something Light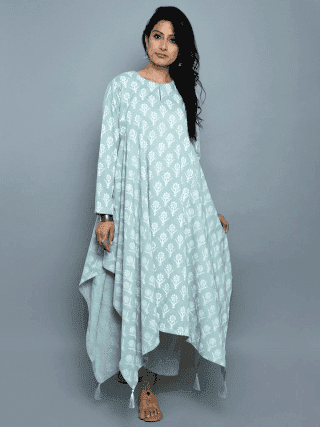 An asymmetrical printed cotton Kurti with teasels at the end of each corner will make you look like a stunner. Full sleeves and intricate white designs are making the attire look more beautiful. A plain matching palazzo is matching perfectly with the Kurti.
6. Alluring Flowers and Leaves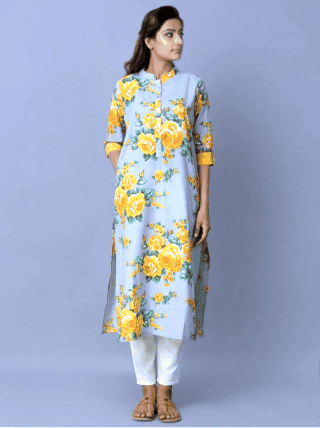 This can make anyone speechless. Floral patterns need no introduction. Just pair it with a contrast pant or a matching legging and enlighten your inner beauty. It is an elegant looking Kurti that is best for bright days.
7. Multi-Colored Checks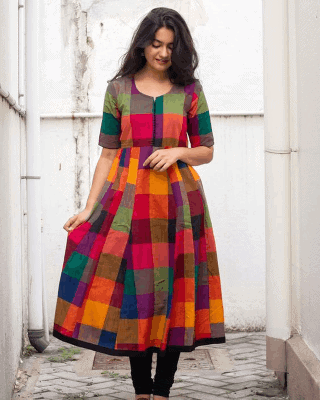 Going through the list of printed cotton Kurtis and not talking about check prints is not fair. Checked and lining ones are one of the most popular styles in printed Kurtis. Black and white or red and black thisboth combinations that are a weak point of any lady.
8. Attractive Pink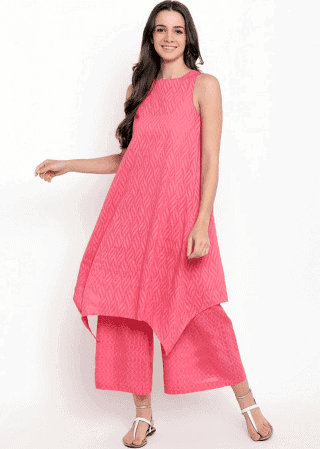 Beautiful pink with intricate lining is an eye-catcher. A closed boat neck with a sleeveless pattern is stylish to wear for any occasion or party. Paired with an exclusive palazzo pant is enough to steal anyone's heart. Wear flat footwear with the outfit and get a stylish look.
9. Some intricate Designs
A short Kurti paired with narrow pants having full sleeves with a pink border at the end of both the sleeves and the Kurti is highly impactful. Fully printed Kurti with straight matching pants is taking the beauty of this attire to another level.
10. Whites for Everyone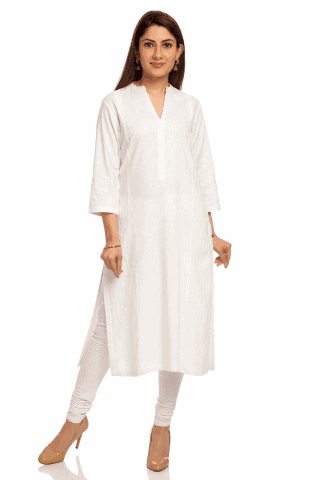 Whites are never denied by any lady. The color gives you a calm and happy feel. It can be paired with any dark color like red, black, yellow, orange, etc. The color is fit for any skin tone and can be a perfect match for any occasion. Selfie Kurtis detailed with pretty floral prints, geometric prints, or block prints made from lightweight fabrics such as cotton, linen, or muslin will give you an extraordinarily comfortable feel and a graceful appeal.
If you love to wear colorful clothes, you can choose a wholesale selfie Kurti and pair it with stylish pants to get a fashionable look. Hope you liked our collection of top 10 latest Kurti designs!
Must Read: 10 Latest Kurti Neck Designs for Your Gorgeous Look