Origami paper roses are beautiful flowers made by folding paper. They come from a Japanese art form called "origami", which involves folding paper to create different shapes. Each rose is made from only one piece of paper and is folded in a way that makes it look three-dimensional. These roses are special because they are both simple and complex. They are beautiful to look at, and one can use them for enhancing the décor of a home or a party, or they can also be given as gifts. In this tutorial, you will learn how to make a beautiful origami paper rose. So let's get started.
Making An Origami Paper Rose Flower
Materials Needed:
Paper
Wooden Skewer
Scissor
14 Steps To Make An Origami Paper Rose
Step 1:
First, take a square sheet of paper measuring approximately 4 inches on each side. This size will provide an ideal foundation for your origami rose. The bigger the size of the paper, the larger the origami rose will be.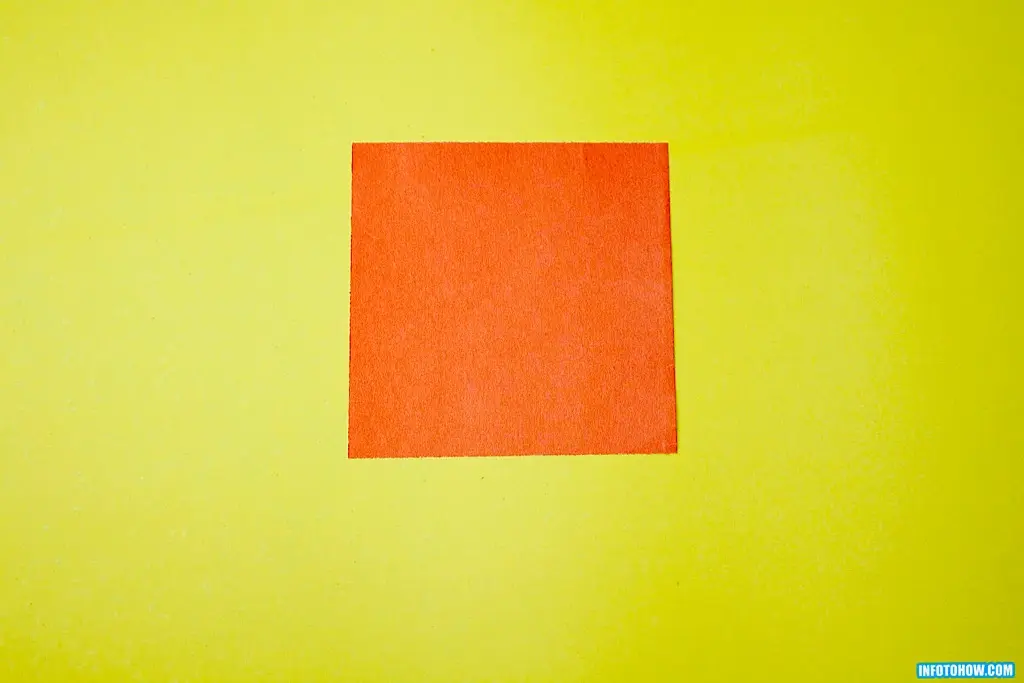 Next, unfold the paper, and fold it in half once again, but this time from the opposite direction. This series of folds will help establish the necessary guidelines for the next steps.
Step 2:
Please fold the paper in half, creasing it neatly along the center.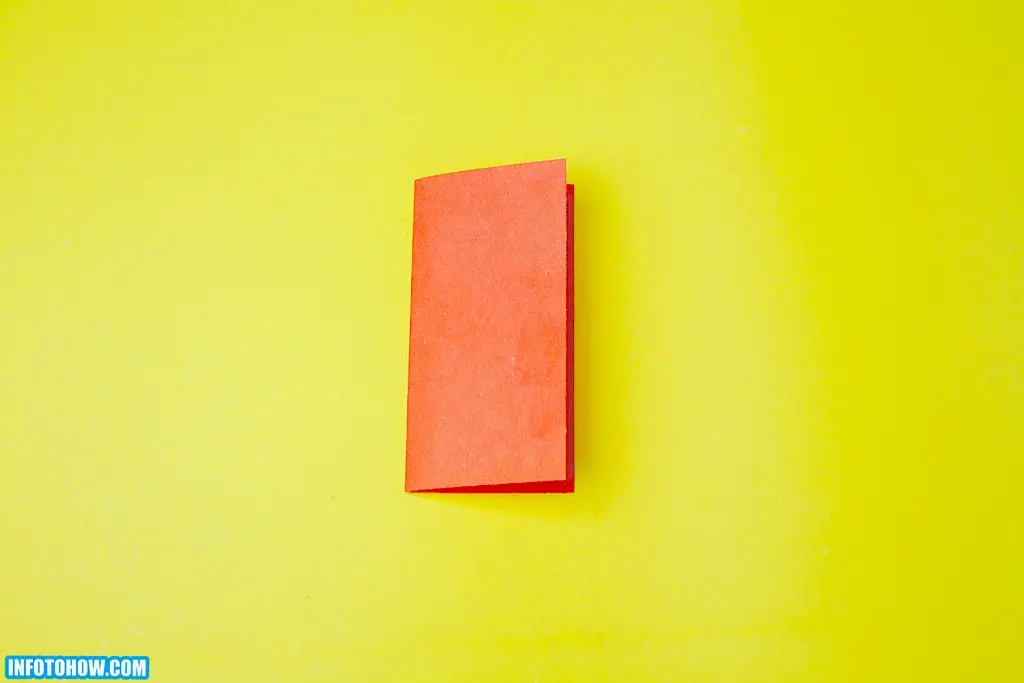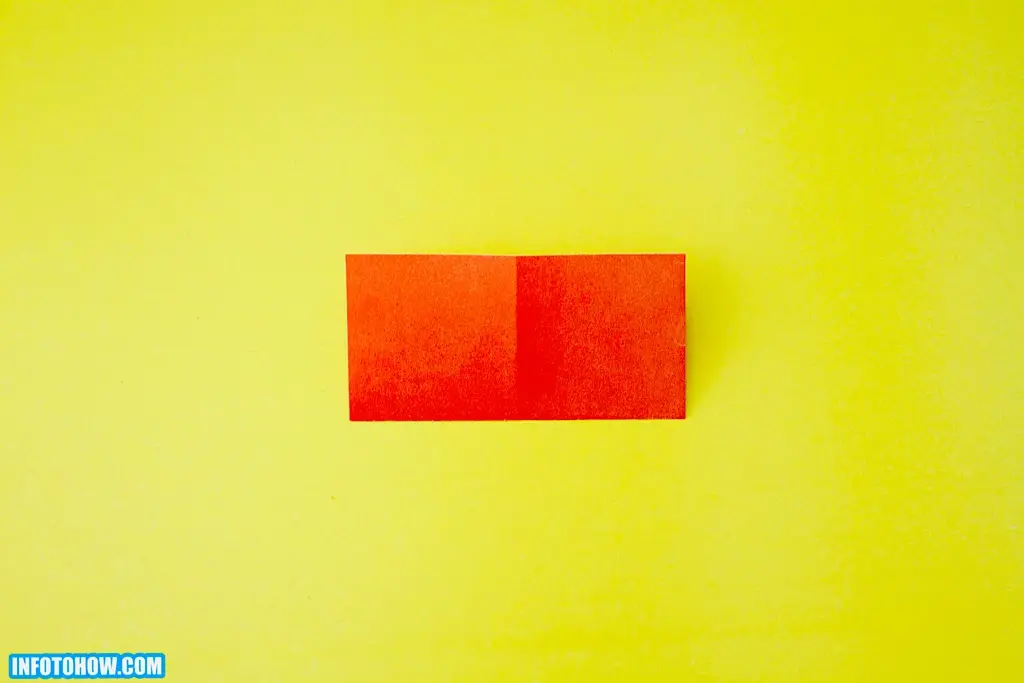 Step 3:
Open the paper, and now you can see creases on the paper.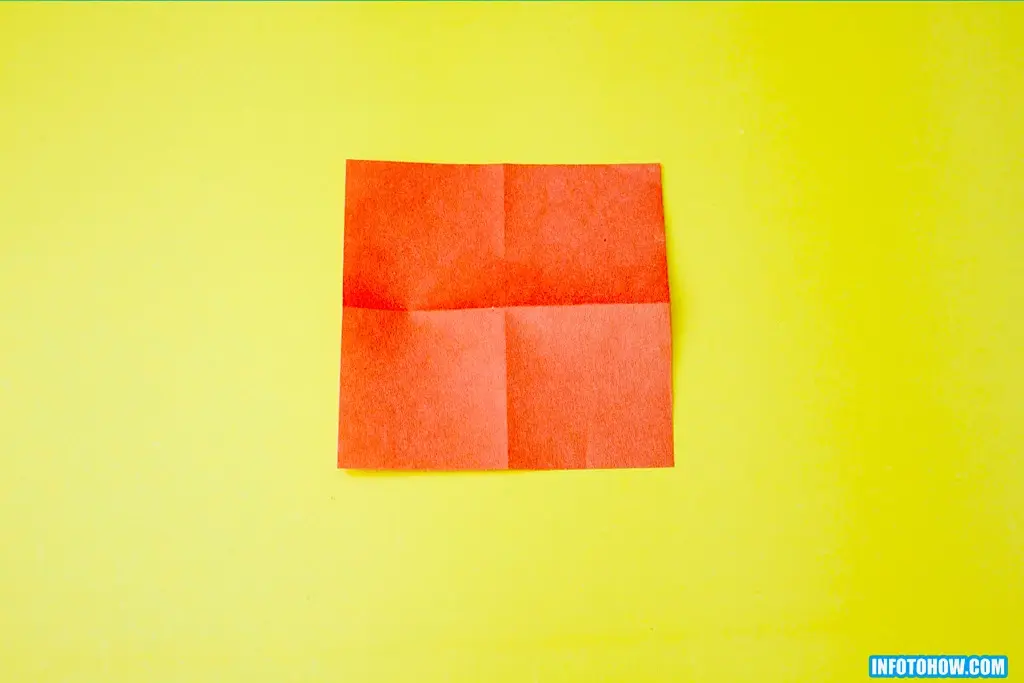 Step 4:
Fold the paper diagonally, aligning one corner with the opposite corner. This diagonal fold will create a triangular shape.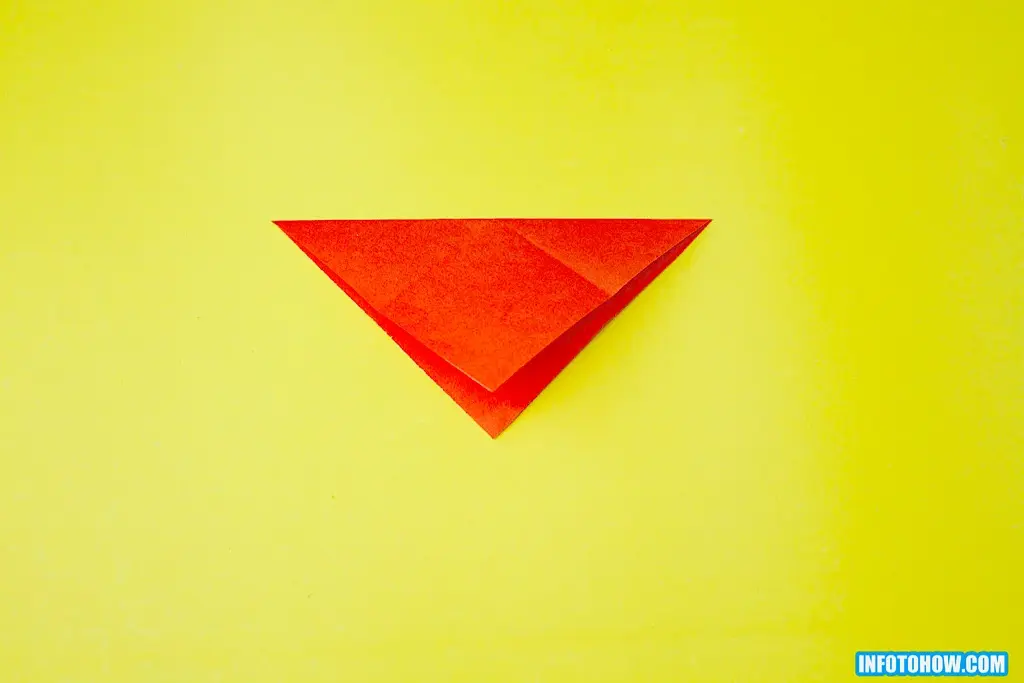 Step 5:
Unfold the paper, and then proceed to fold it diagonally from the other side.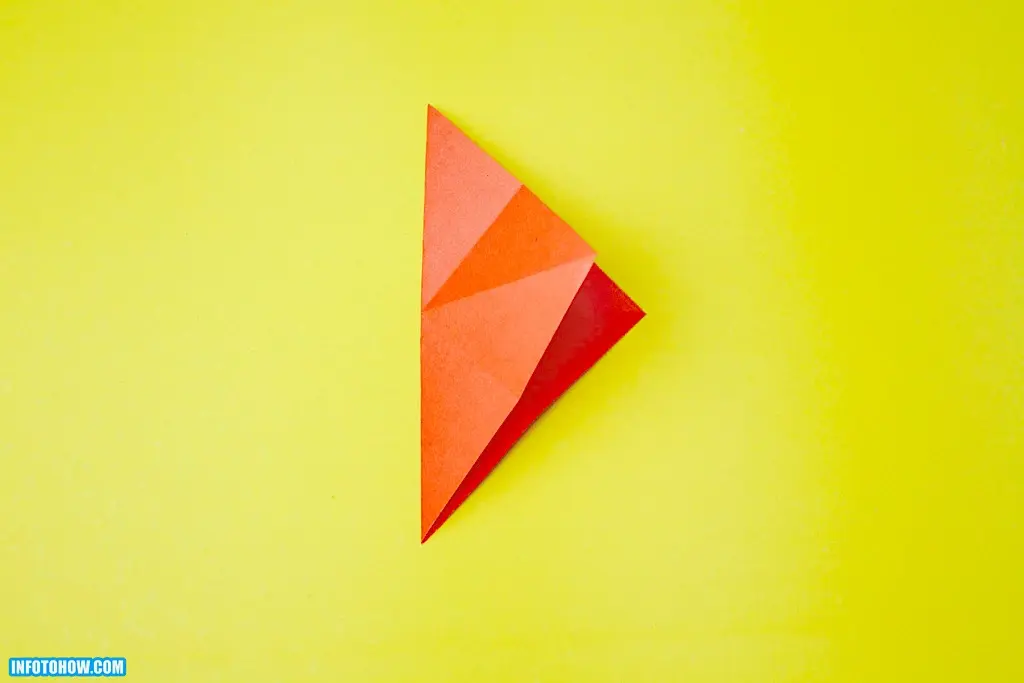 After completing this fold, unfold the paper once more.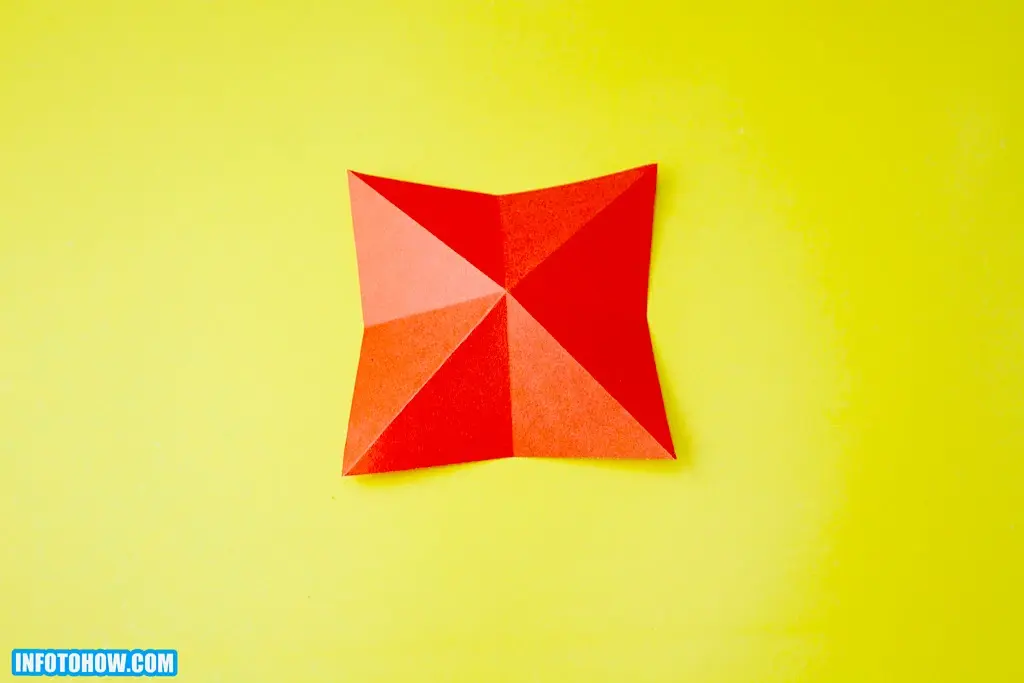 These diagonal folds are crucial for shaping the paper rose petals.
Step 6:
With the paper still open, gently manipulate it by pushing from both sides.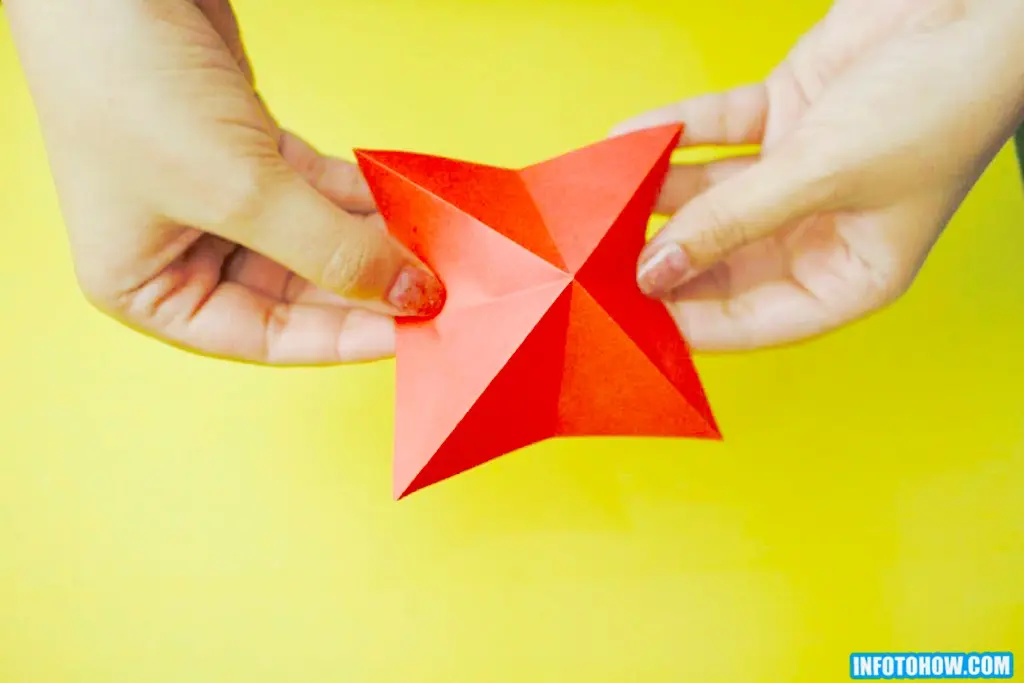 This technique will result in a star-like shape. Take two flaps to one side and two on the other side, forming a triangle.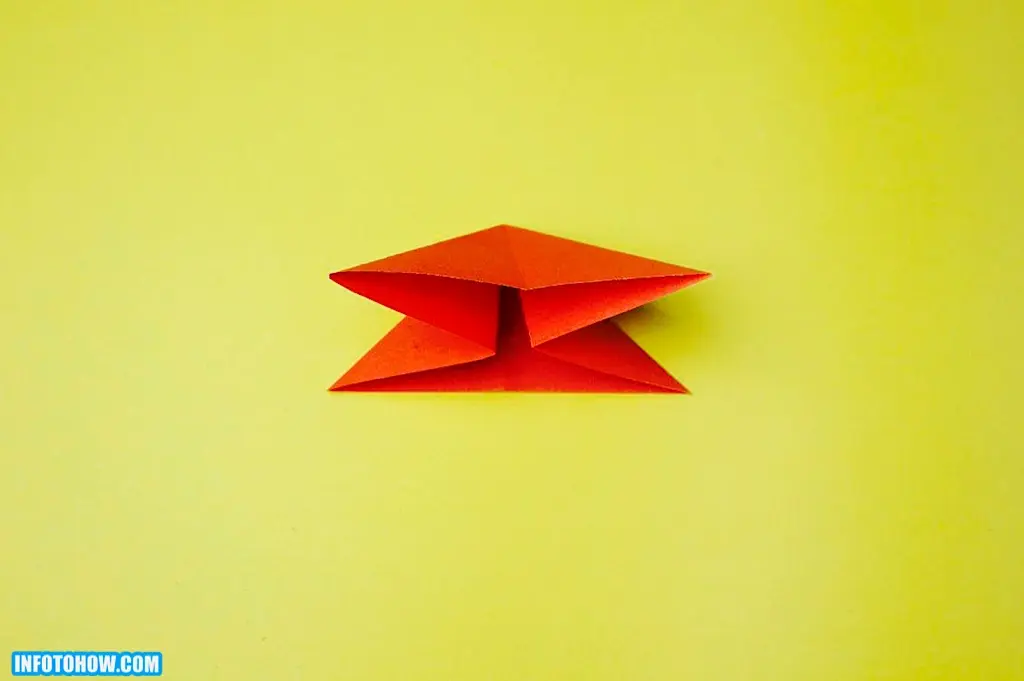 Step 7:
Taking one side of the triangular shape, fold it up to meet the top of the triangle.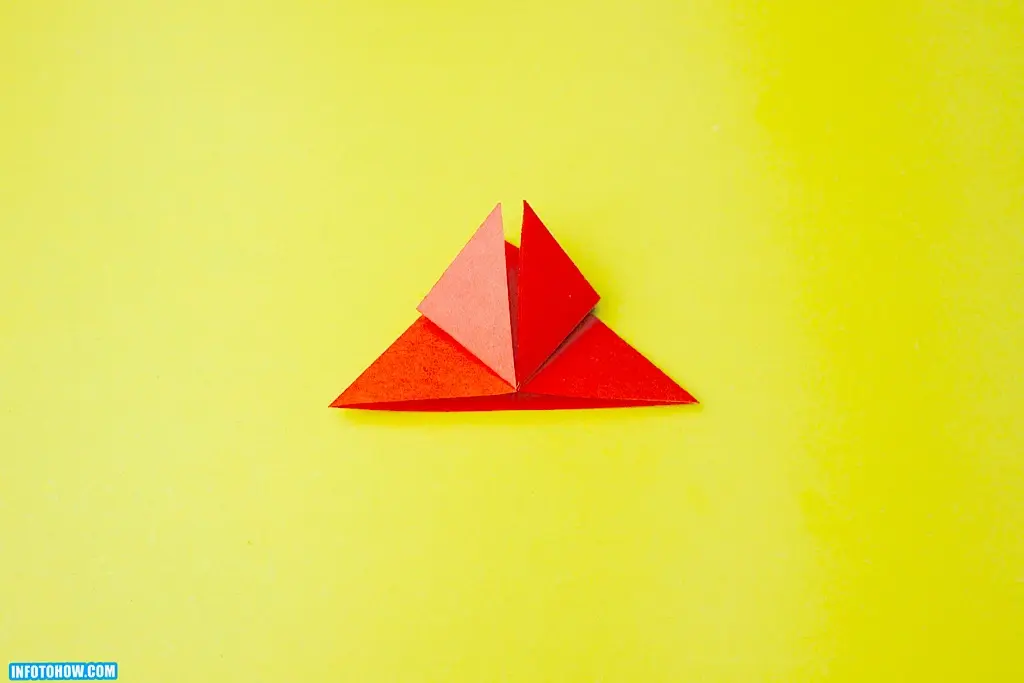 Repeat this fold on the opposite side as well.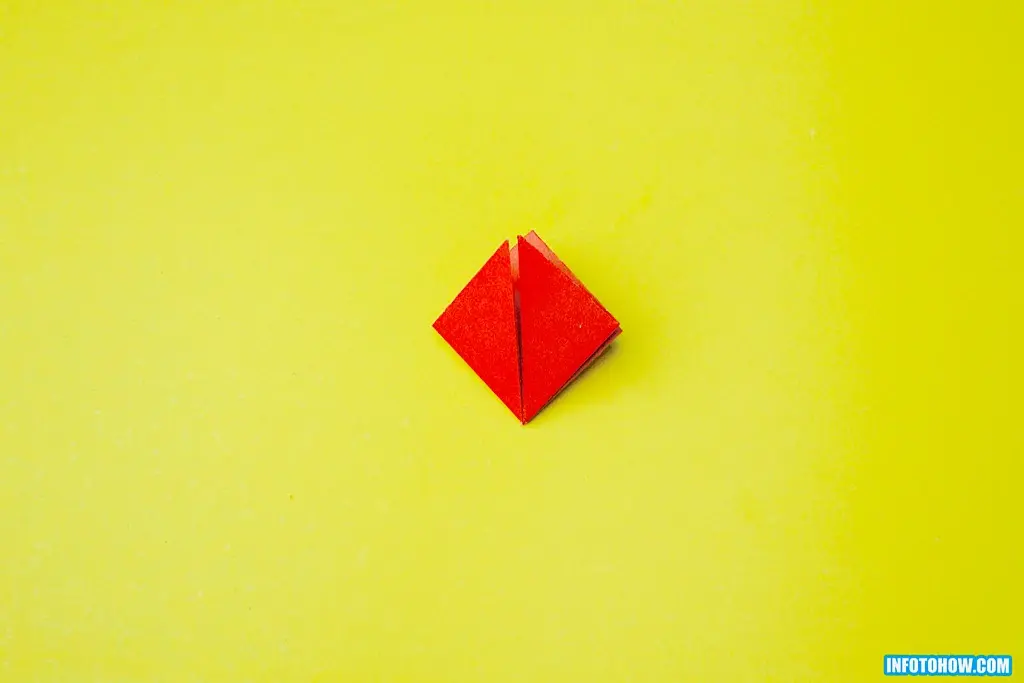 Step 8:
Now, proceed to fold each point of the triangle down towards the bottom triangle.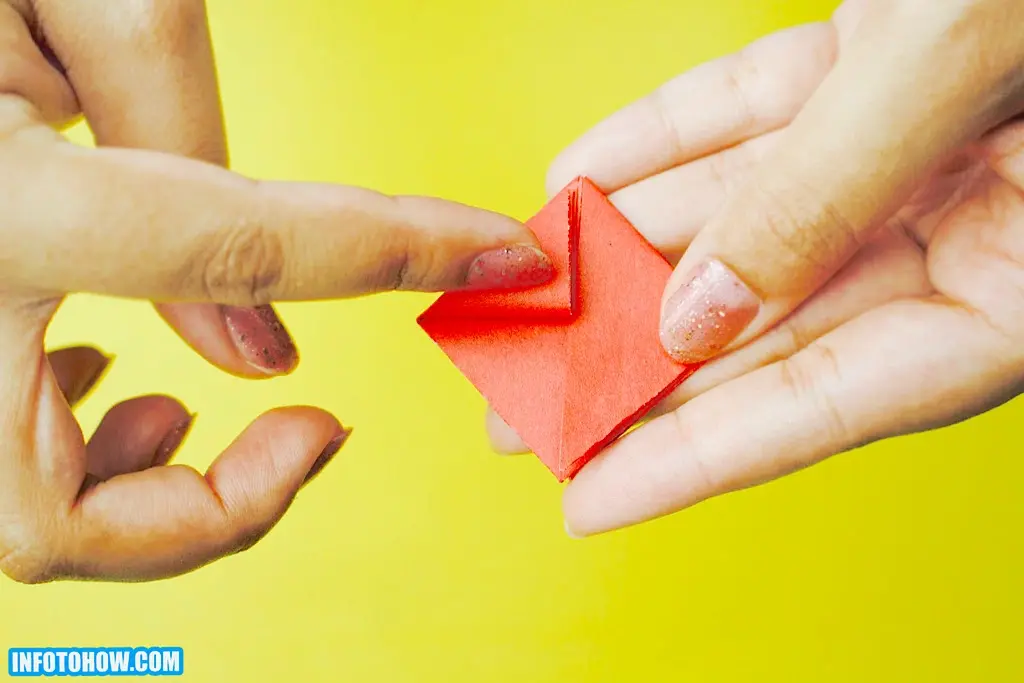 Step 9:
Now you can see two small pockets. Open them up by inserting your finger in them, as demonstrated below. Then flatten each pocket, and shape them into squares.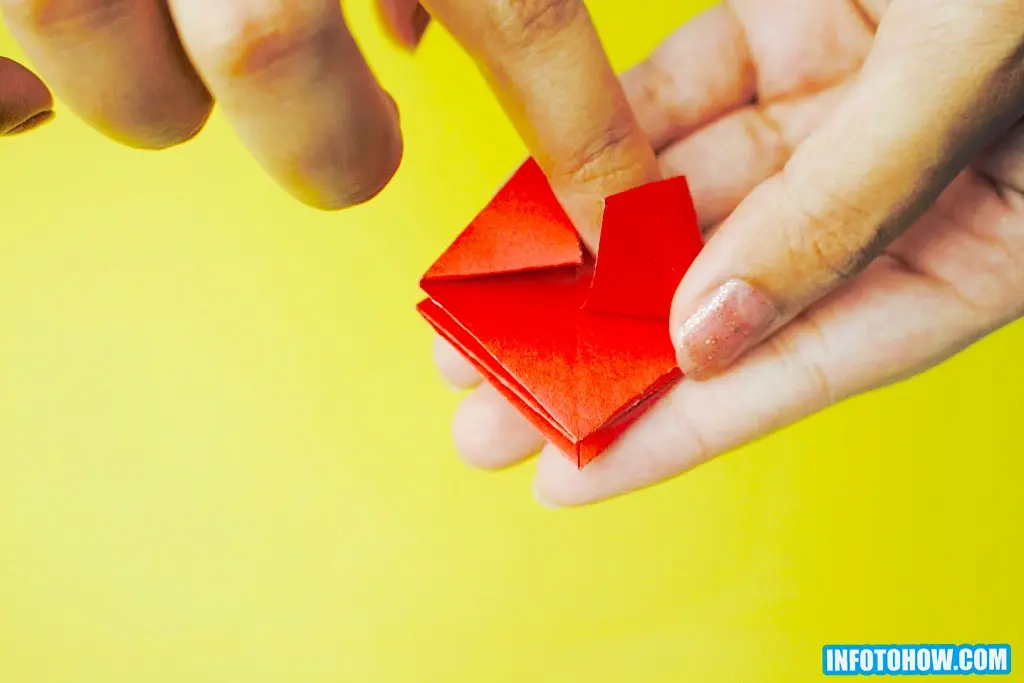 Repeat this process on both sides.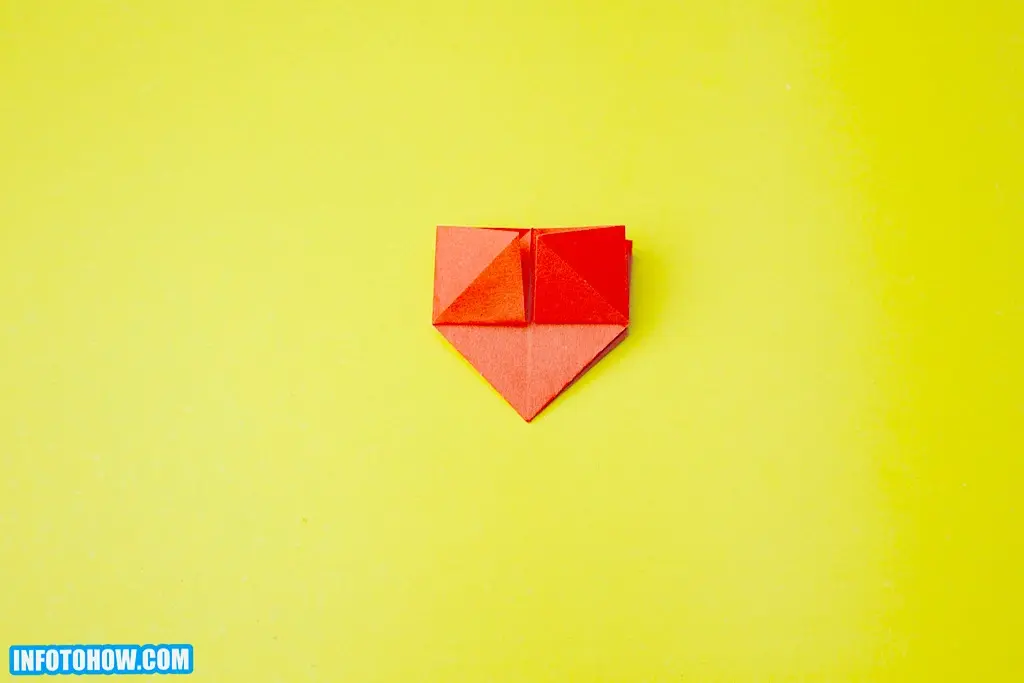 Fold down the top section of the triangle, directing it towards the bottom part. This fold refines the overall appearance of the paper rose.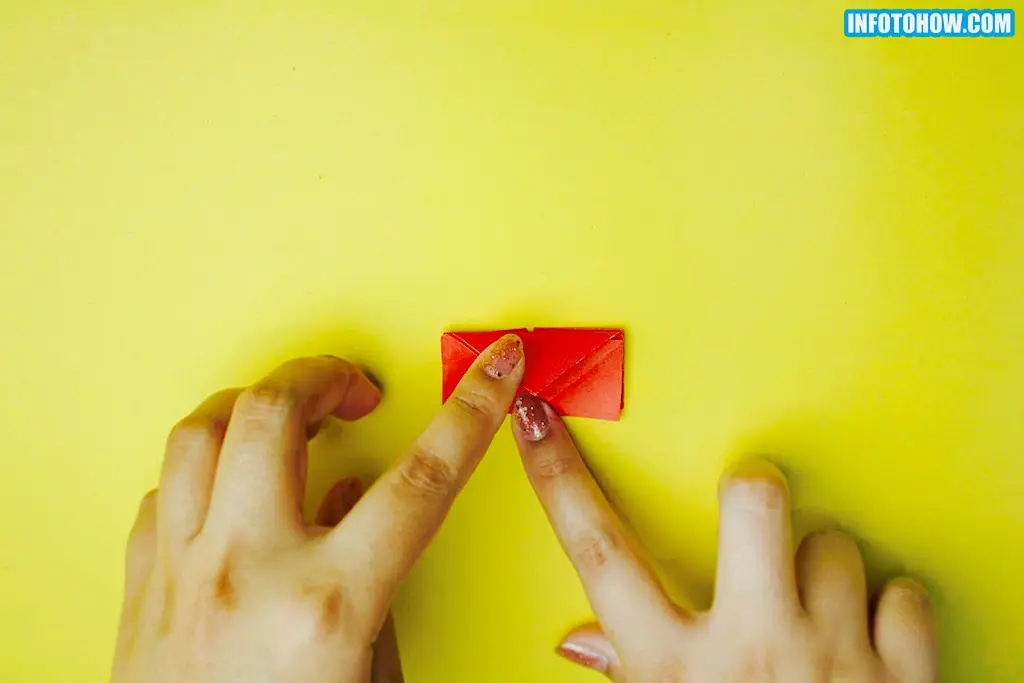 Step 10:
Open up the bottom part of the paper and push each triangle using your finger.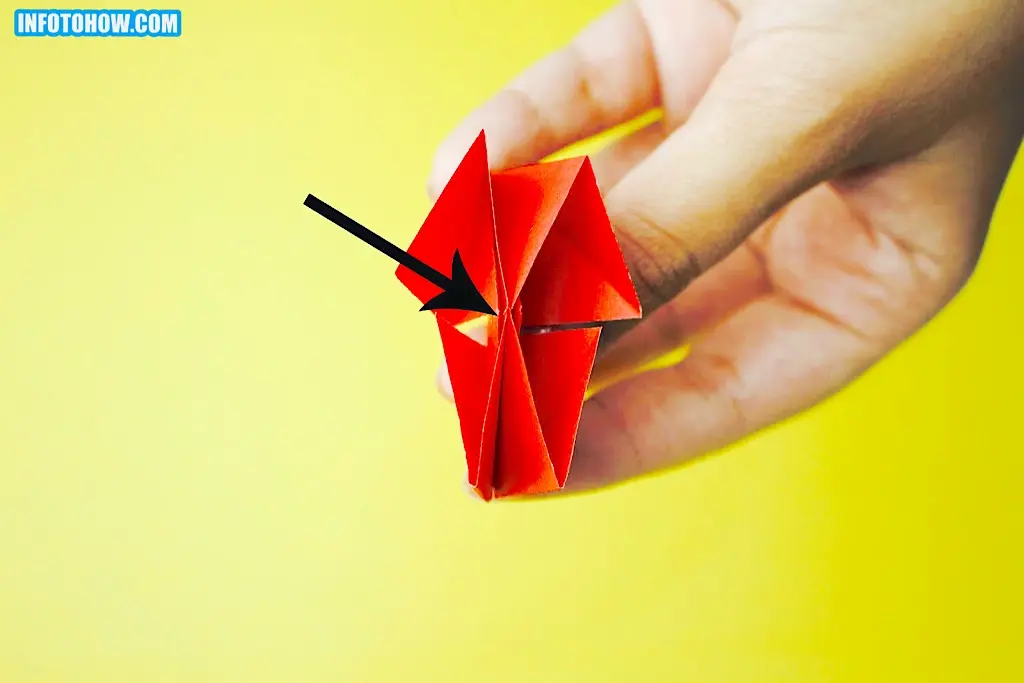 Press down to flatten them and create a neat, crisp finish.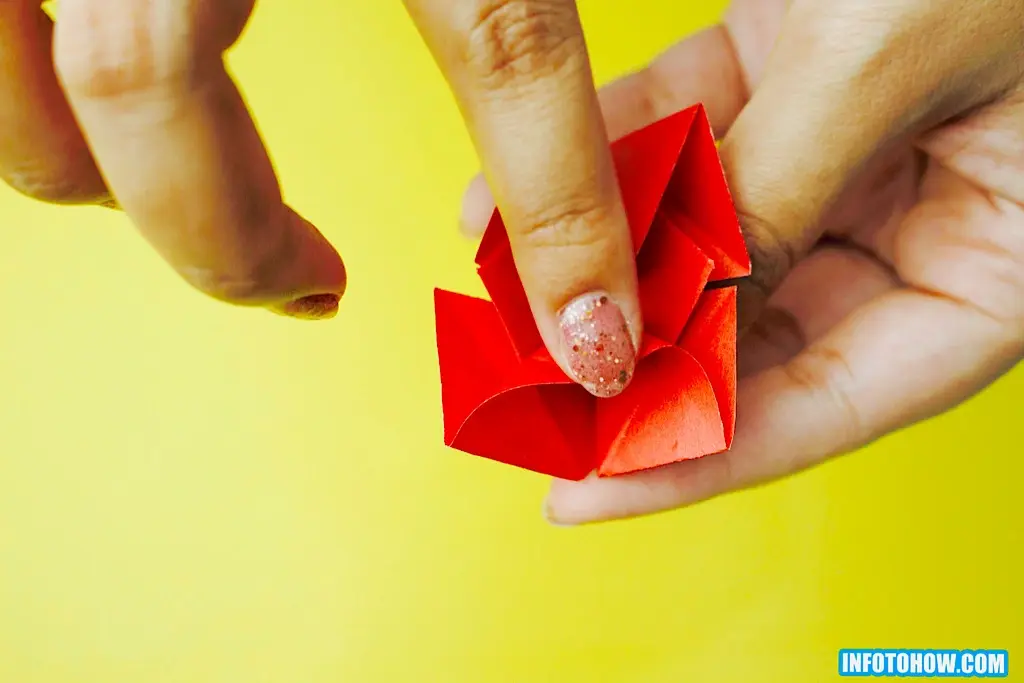 You will end up with a square shape, as shown below.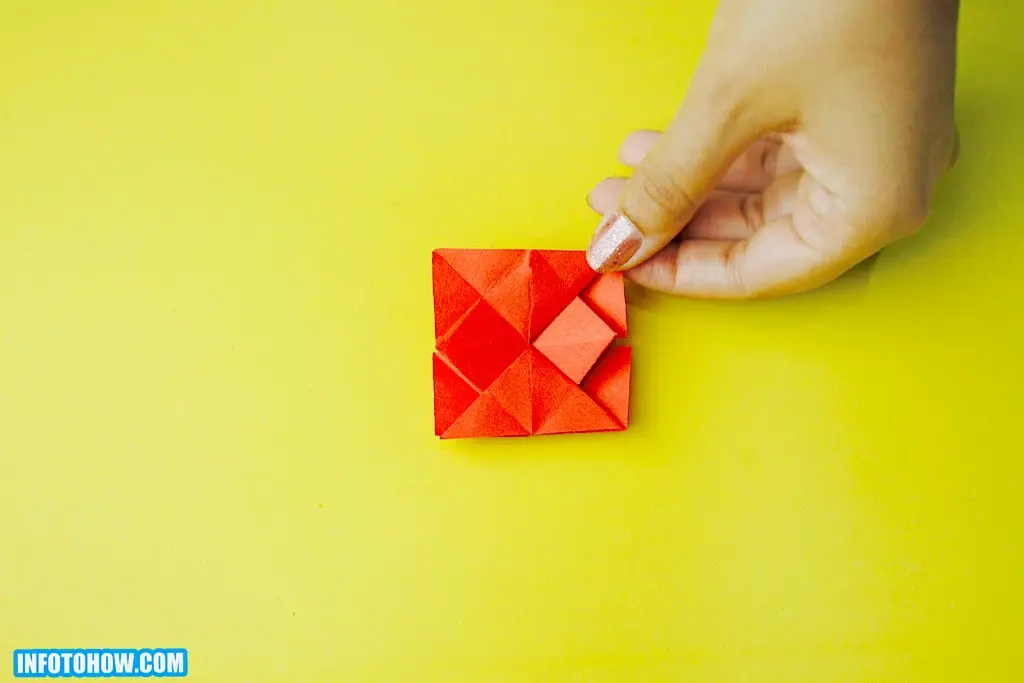 Step 11:
Flip the paper square over and position it as illustrated below.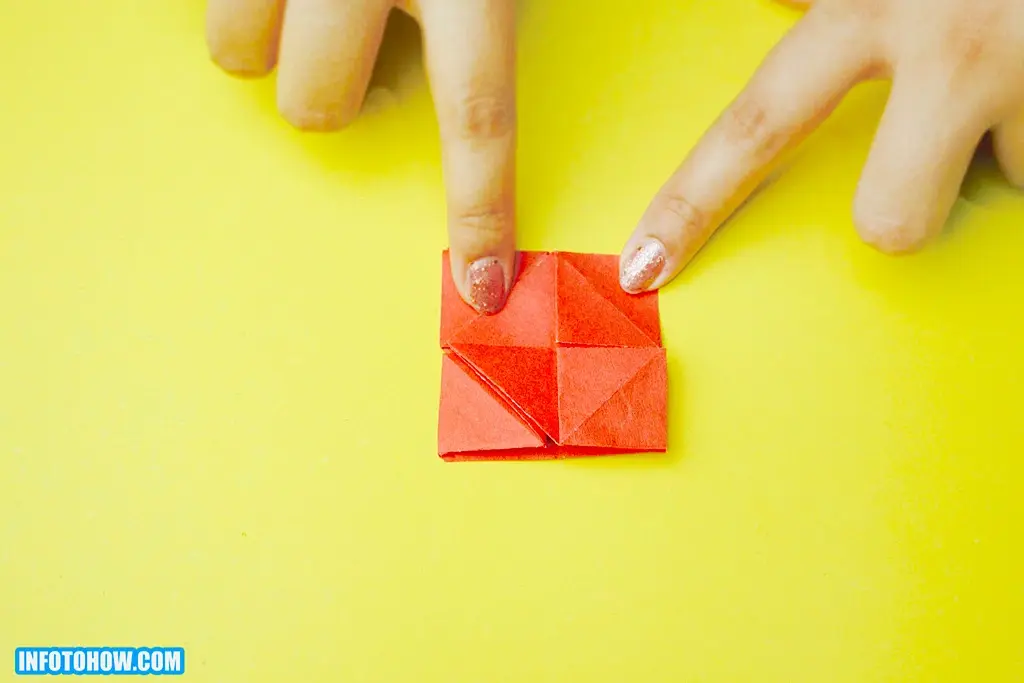 Lift one of the triangles and bring it towards the center, aligning it accordingly.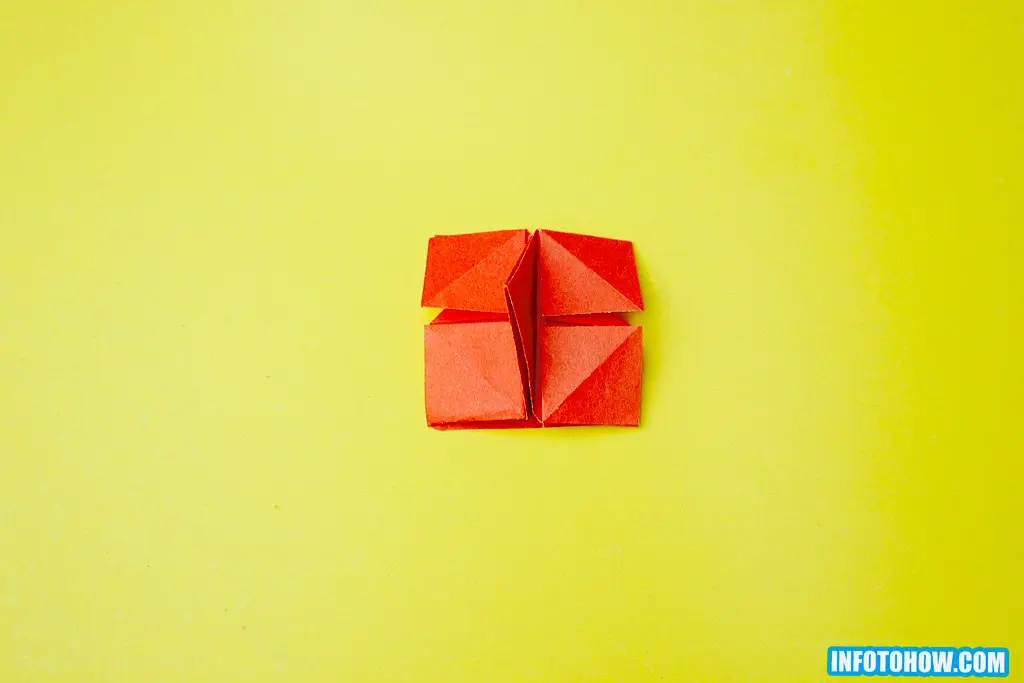 Step 12:
Carefully unfold one side of the triangle, revealing one of the squares.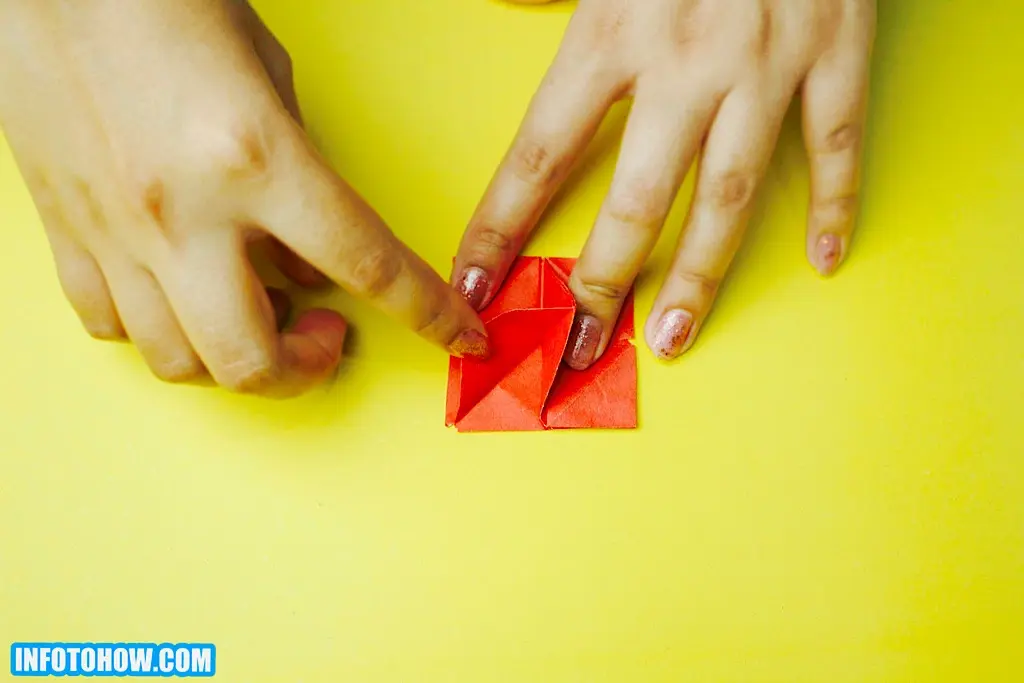 Proceed to fold it, forming a new triangle that stands perpendicular to the first one and the square.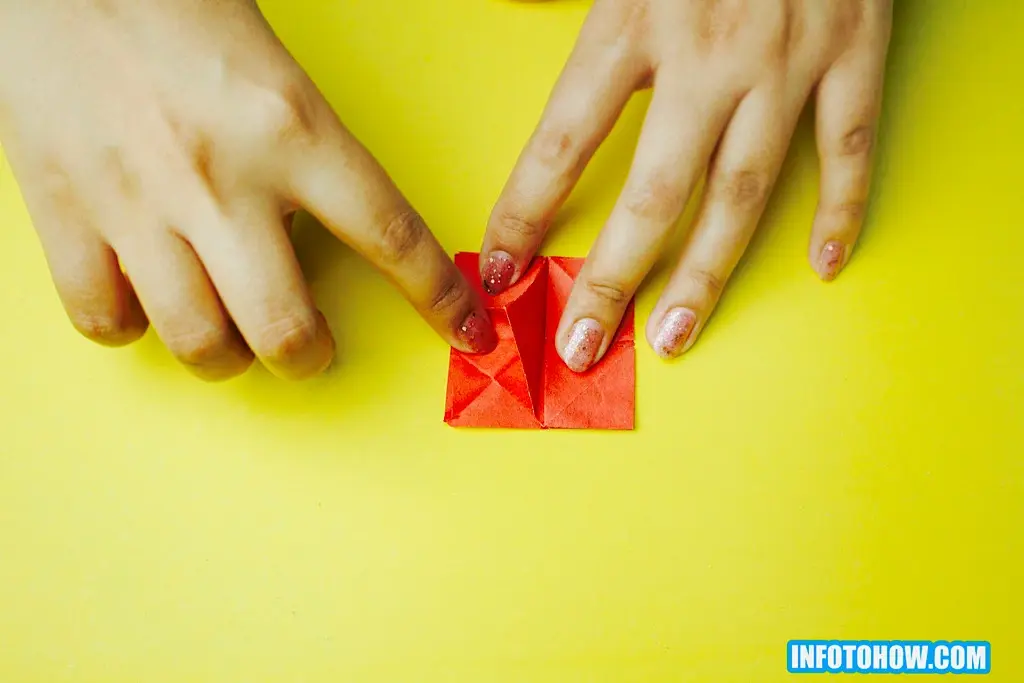 Then, repeat the same process on the opposite side as well.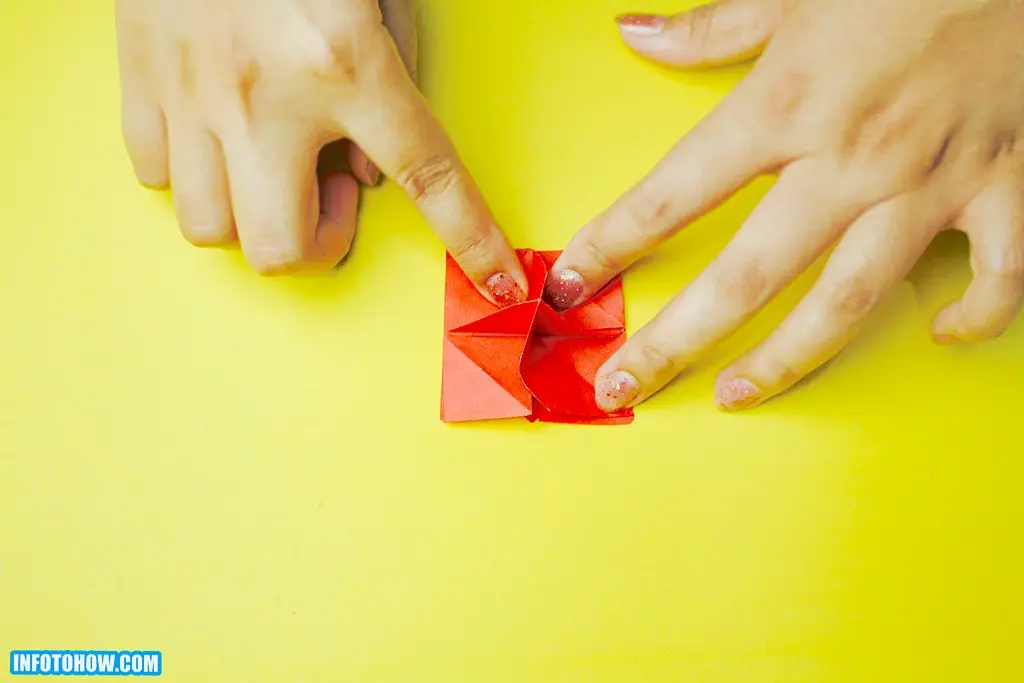 Step 13:
While holding the paper in your hand, twist it from the center point.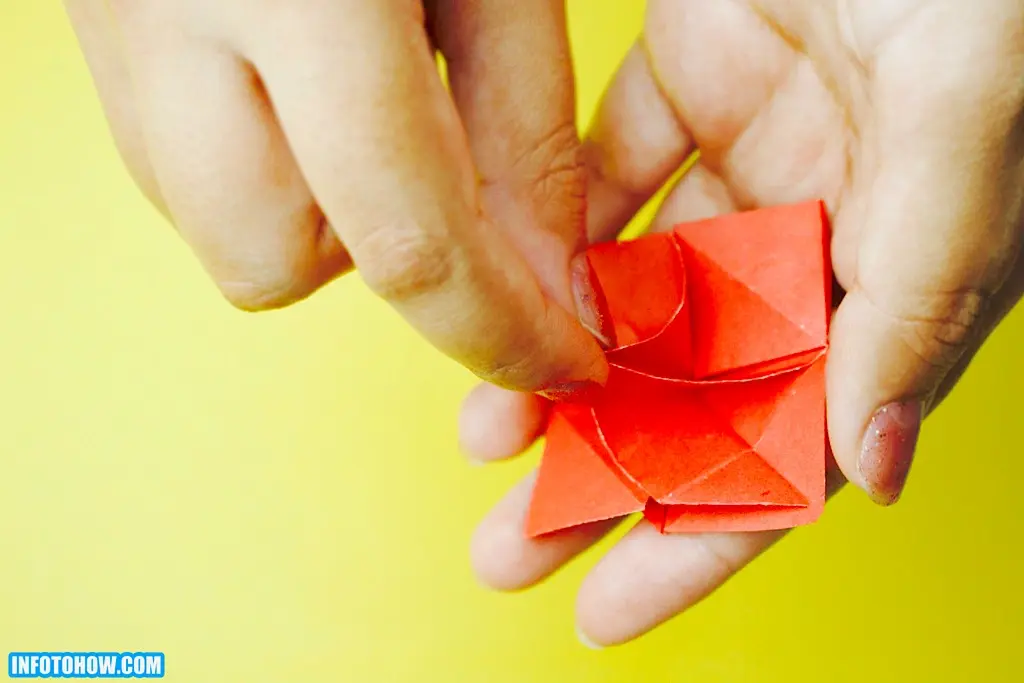 This twisting motion enhances the details of the rose.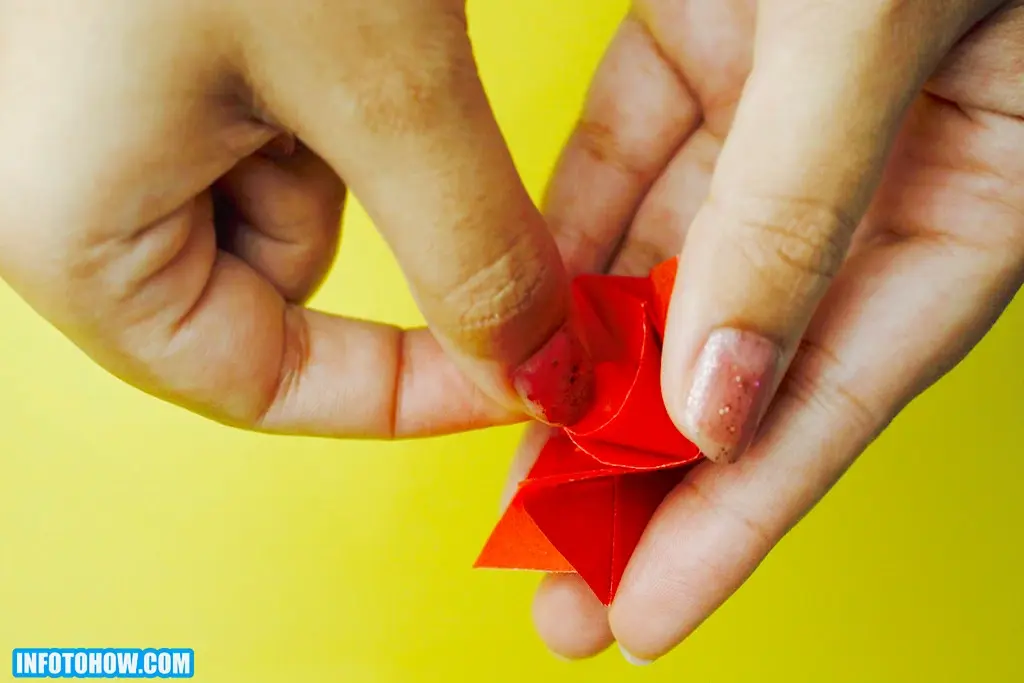 Step 14:
Take a wooden skewer and carefully curl the edges of the petals, making sure not to tear the paper.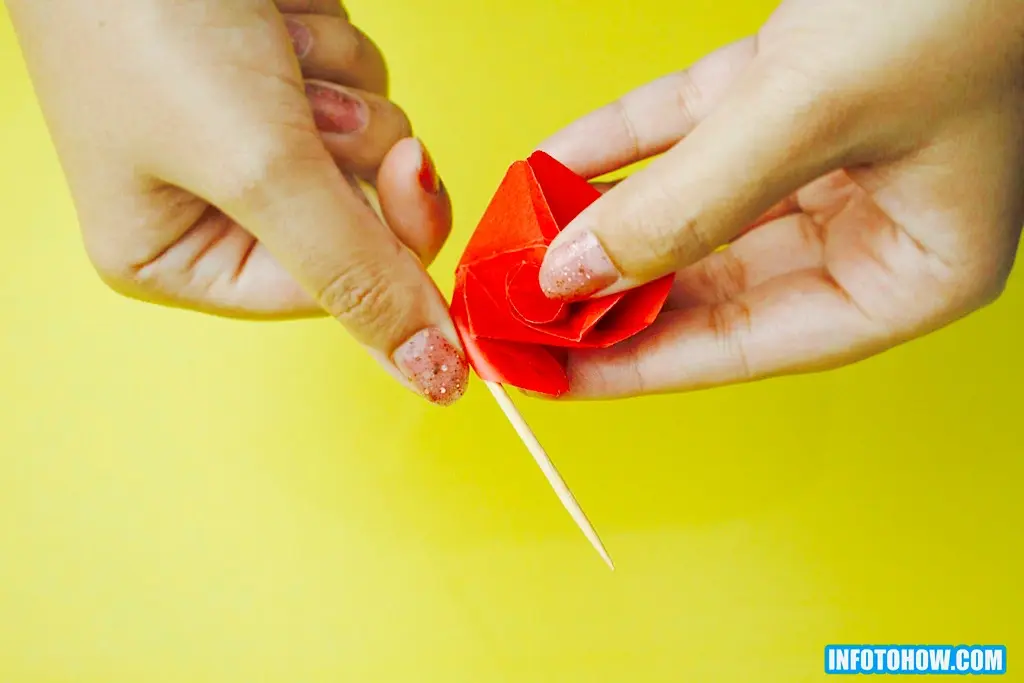 Slide the skewer across the paper to create beautiful curves that resemble the natural shape of rose petals.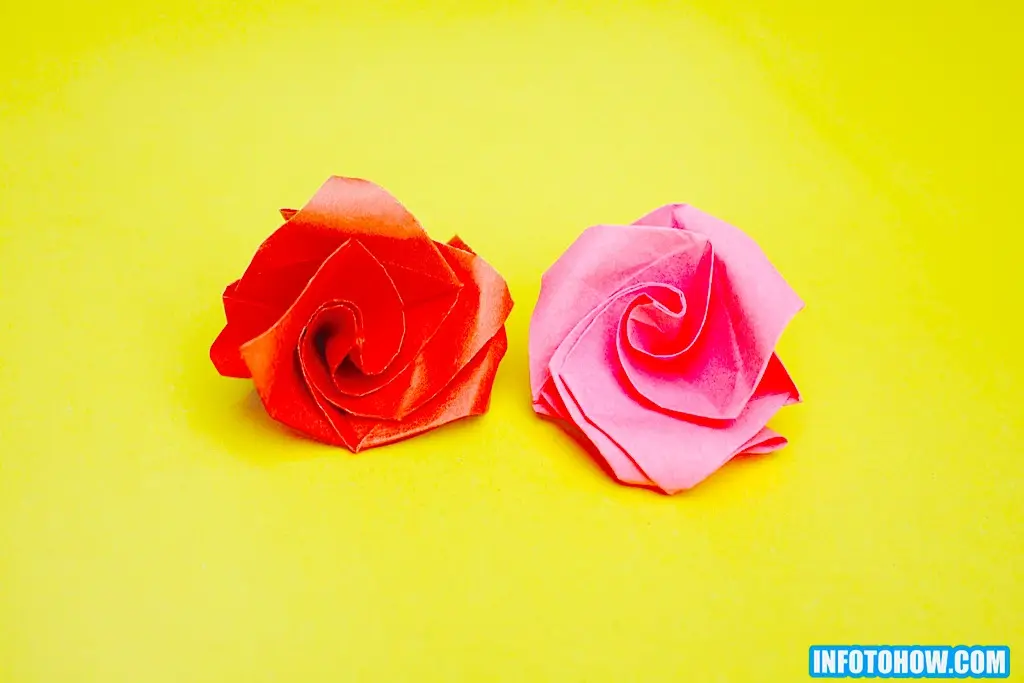 Great job! You've finished making a lovely origami rose. You can try using different colors and types of paper to make your roses even more beautiful. Enjoy the beauty of your creations!
Also Check: How To Draw A Rose In Easy & Simple Steps?
Ideas to Explore: Crafting with Origami Roses
Once you have mastered the art of origami roses, you can use them in many different craft activities. This lets you add your own special touch to each project. Here, we have some fun ideas to explore and inspire your imagination and creativity!
Home Decor:
You can use origami paper roses to improve the ambiance of your living area. Use these roses to decorate picture frames or create a garland with them, or you can also create a bouquet of paper roses. Do experiment with different colors and sizes to match your desired aesthetic.
Jewellery and Accessories:
Origami roses can be used as beautiful wearable jewelry. Experiment with different techniques to create origami rose earrings, necklaces, or brooches. Also, use these roses with beads or chains to create unique, eye-catching accessories.
Festive Ornaments:
Celebrate the holiday season or a special occasion by adding origami paper roses to your decorations. Make origami rose wreaths to hang on doors or walls or string them together to create a unique garland.
Handmade Cards and Gift Toppers:
Add a heartfelt touch to your greeting cards and gifts with origami roses. Glue the origami roses on greeting cards or use them as gift toppers to make your presents truly stand out.
Scrapbooking Embellishments:
Enhance your scrapbooking projects with delicate origami roses. These paper roses are perfect for decorating your journals, scrapbooks, and photo albums. So, decorate your scrapbook pages with origami roses to make them more beautiful.
Party Decorations:
Host a memorable celebration by adding origami roses to your party décor. Create paper rose napkin rings, or you can also place them as table centerpieces. Let your creativity flow and transform any event into a visually appealing experience.
Wall Art and Framed Displays:
You can use these rose to create beautiful wall art. Frame the individual origami roses or arrange them in a captivating pattern. Use different color papers and sizes to create a variety of beautiful origami roses.
Also Read: Fantastic Drawing Tricks That May Change Your Perspective
Final Thoughts
These beautiful paper roses have the power to enhance any project. Whether you are decorating your home or adding a personal touch to the gifts, origami paper roses can bring a touch of beauty and creativity. So, grab your paper, follow the process, and let your imagination flourish with these lovely paper roses.