Buying a home or a property is likely the most expensive purchase if we compare it with other purchases we do. If you plan to buy a home spending six figures or even more on a single transaction; the best idea to go into it with the best knowledge and information. So that you can successfully get the best deal possible. Real estate apps can help you with that knowledge you need. Here, we've listed the best real estate apps to make it easy for you to start. So, let's check them out …
Best Real Estate Apps To Buy and Sell Your Home And Other Properties
Zillow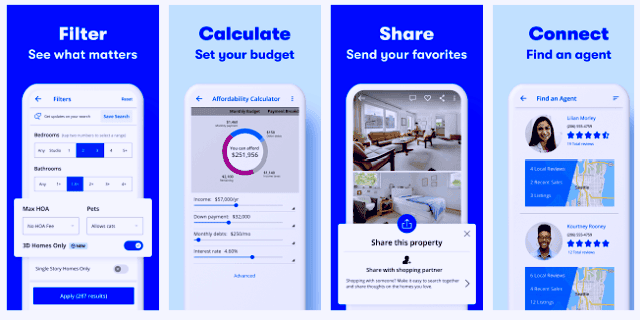 Zillow is a well-known and one of the best real estate apps, for truth which is a pioneer in online home value estimates. It provides estimated present home values, past sale prices, and much more information; for virtually every home in the United States.
As a homeowner, if you think about selling your home; you can track your estimated home value and clear insights into a potential sale price, merely creating an account on it.
As well as, if you are also looking to buy a home, bookmarking the Zillow website and downloading the app; to your smartphone is a must-have, in my opinion.
The app shows you home prices by location on the go and allows you to filters; and search options to zero in on your next home.
Also Check: Netflix Mod APK – Features, Advantages And Using Details
RedFin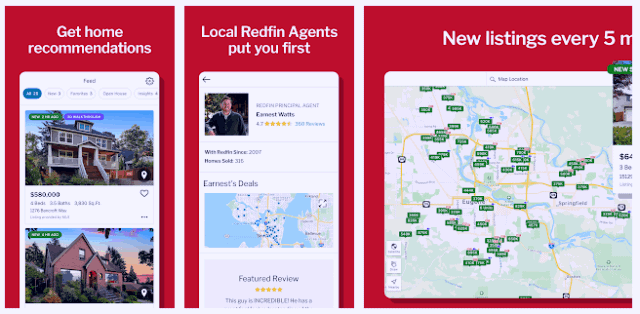 RedFin is an app and a brokerage firm at the same time. It provides estimated home values that are sometimes more accurate than others.
The most exciting feature of it is that; anyone in an active home search will get the ability to filter on upcoming open houses. This will also help you get an idea of the upcoming homes and their condition in the area; and what you really can expect to get for your money.
The standard real estate fees for RedFin are pretty much lower. If you are looking for the best-discounted home buying fees, this is the app you should try first.
Also Read: How Can Android Phone Spying Apps Help Parents?
LoopNet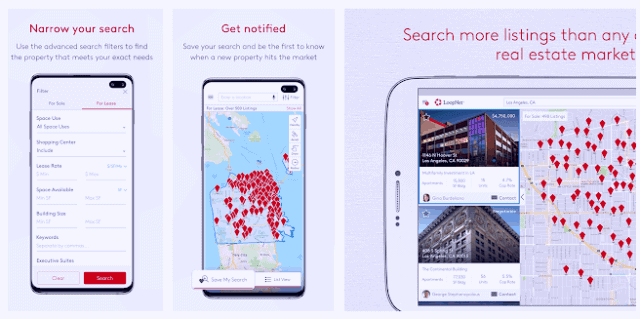 Like the RealEstateCake, LoopNet is a great app for real estate investors, primarily commercial real estate investors. This is another one of the best real estate apps is like Zillow for more significant properties.
It also helps investors and tenants find the most suitable property or space for their next investment or business. Whether it's a high-traffic location for a new restaurant, an office with a beautiful view, a turn-key multifamily property for investment portfolios; or land for new development, everything it has covered.
Its intuitive search helps you get to the information that matters most and provides an in-depth look at available properties; including price, photos, satellite images, street view, property and neighborhood videos, financials, and available space.
Also Check; 6 Steps to Understand the Mobile App Development Lifecycle
Realtor.com Real Estate App
Realtor is one of the most popular and best real estate apps with most up-to-date listings on homes for sale; in the US than any other real estate app. It's most useful for home selling or rent, helps you find houses, condos, and townhomes for sale; and more with its brilliant search tools.
With the mortgage calculator, you can know how much you need to pay; so here it's easy to find a home within your budget. Simply filter homes by price to see what you can afford. If you don't have a real estate agent yet; Realtor.com makes it easy to connect with a local agent as well.
Also Check: How to Increase iOS App Performance – 5 Quick Tips
Trulia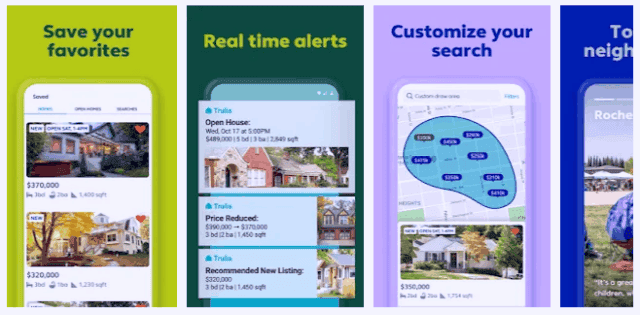 Trulia is another excellent source to find a new home quickly and efficiently. This company was started as an independent company, but now it's owned by Zillow.
Generally, Zillow is best for the overall homeownership lifecycle, especially for tracking your current home's value. On the other hand, Trulia is better for those in an active home search.
The main aim of Trulia is that help you find a new home to buy; and its tools are carefully designed to do so. Some of the great features include custom keyword search and access map in normal, satellite, or terrain mode.
Besides that, it has abilities to filter your search by specific home features; such as hardwood floors, so you will be shown only the homes that could meet your needs.
Also Check: Top Android Photo Editing Apps
BiggerPockets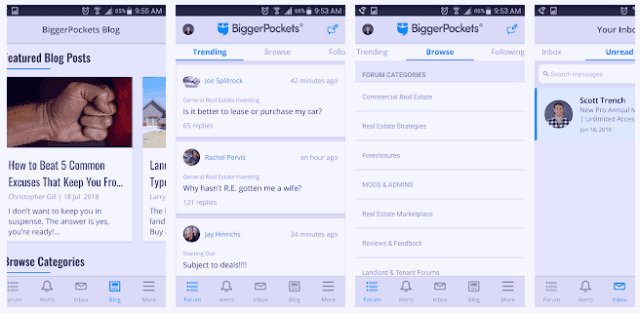 Now it comes to BiggerPockets – another exciting app that offers a vast range of free resources about real estate; including blog posts, ebooks, guides, podcasts, and forums. Useful for real estate professionals, homeowners, investors, and other aficionados.
Using it, it's easy to learn a ton about buying a home that will increase in value. Also, how to do work on a property to get the best return on your investment.
When you are serious about real estate game and want to get deep into real estate investing; you should use it for sure.
Also Check: Factors Influencing The "For You" Feed and Methodology of TikTok Algorithm
Xome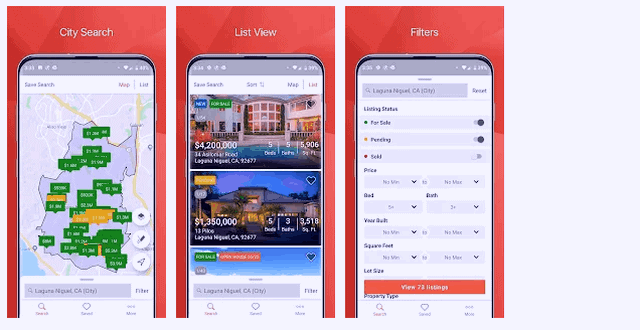 Xome is our last pick on this list of best real estate apps that is nearly the same as RealEstateCake and Trulia. With over 100 million properties in the US; including MLS real estate listings, this is another better way to buy or sell a home. With search and discovery through title and closing, it gives users a seamless buying and selling experience.
No matter whether you are listing your old hone or searching for a perfect new home; they'll assist you from start to finish. You'll have Xome Concierge and the Xome Agents always with you every step on the way; to ensure your experience exceeds your expectations.
Also Check: 8 Best Anonymous Social Media Apps
RealEstateCake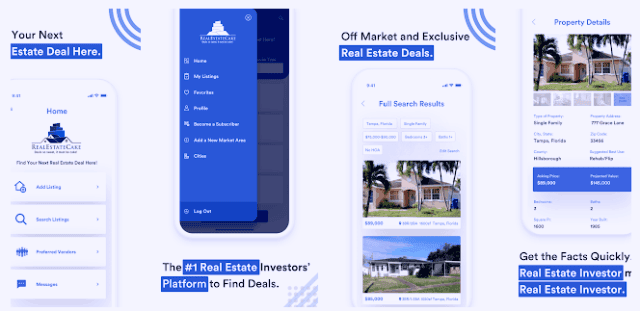 RealEstateCake is the new and trending app for real estate investors and real estate agents to find off-market; and exclusive real estate deals in more than 100 cities in the US. It specializes in foreclosures, pre-foreclosures, homes, tax liens, and short sales; that cannot pass a real estate inspection with equity in them.
The goal of it is to connect real sellers with real buyers, while benefited both. With advanced search tools and powerful features, RealEstateCake; helps you get the facts quickly to determine if it is a deal for you or not.
As a seller, the user can list his properties for totally FREE! But to search for deals, the user has to become a subscriber for $299.99 annual per market area.
Regarding the real estate business, it's not much, less than $1 per day. Overall, a suitable platform for both real estate investors and agents to grow their business effectively and efficiently.
Also Check: Best Job Search Apps to Find You Dream Job