Taking care of the relationships in our life is so important because our life goes with them. Whether it's the relationship with your friends and family or with your co-workers or whatever, you should take care of the relationships to get things run efficiently in your life. So, if you really care about your relationships and want to keep them as strong as time goes. Here below is the best personal CRM app for Android that may help you.
6 Best Personal CRM Apps For Android
So, let's check the list before starting any of them.
Intact – Personal CRM App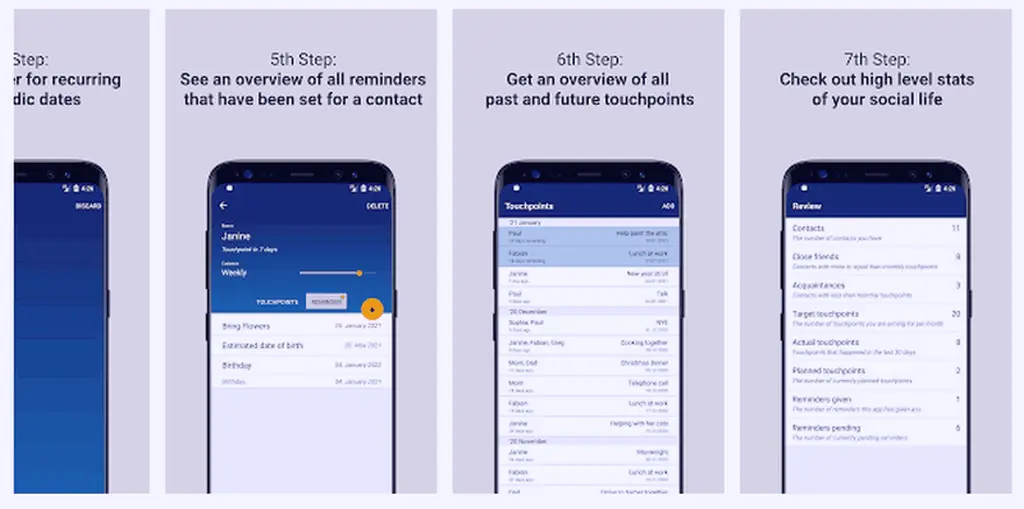 Intact is our first pick on this list of best personal CRM app for Android offered by Niklas Hilmer. This app is designed specially to help you be the kind of friends and family you want to be. Like an assistant, it'll reintroduce a social schedule into your life.
So, you'll be able to keep up distant friendships with ease, stay in touch with friends and family members, follow up on important dates and show genuine interest, and track any history of your touchpoints with your friends.
Besides that, you can also set up reminders for things you want to do regularly. Maybe it would be a good idea to bring your girlfriend or wife flowers every other month or going on a trip every month?
Intact is so easy to use, and most importantly, it's free! No data is stored in the cloud; it will store everything on your device. Also, no mobile data service is necessary to use it.
So, if you really care about your friendships and relationships with family members, check this application out; you will never drift apart socially!
Also Read: 5 Great Benefits Of CRM Salesforce In Your Company
Cloze Relationship Management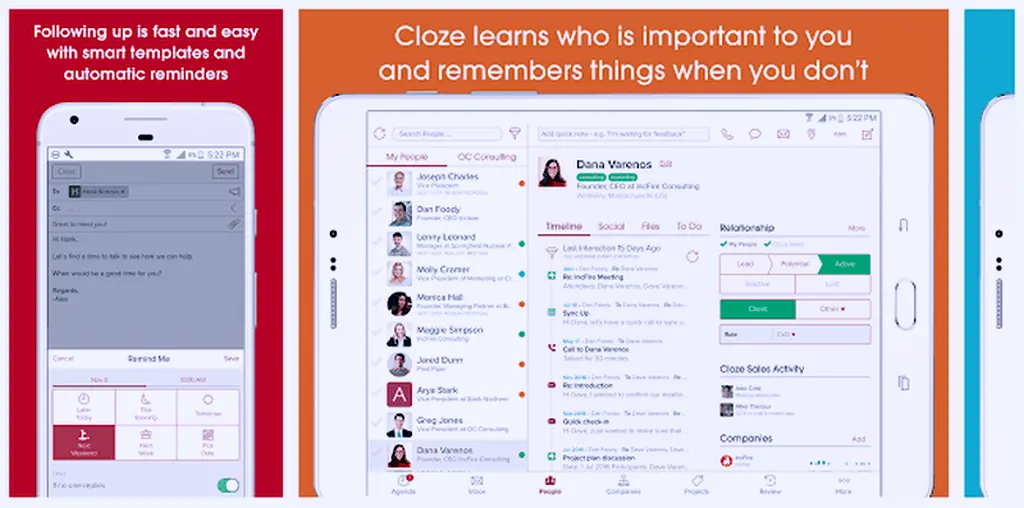 Cloze is a fantastic and best personal CRM app for Android that's great for professional relationships. It always helps you at the right moment and remembering what you don't.
It works nicely – it pulls from your apps to automatically create one view of every person and company. Moreover, where you can see all their contact details and your complete history.
Also, you can see your phone calls, text messages, every email back and forth, notes, meetings, files, social, and messages.
Its' Smart AI makes sure you never miss a necessary follow-up. There are other important things you can enjoy using Cloze, such as
Email open tracking,
Templates,
Mail merge and scheduled send,
Automatic reminders,
Next steps and to-dos, and
Team collaboration plus analytics.
Also Read: Focus 9, Centra CRM and Centra HCM Review
Airtable – Best Personal CRM App For Android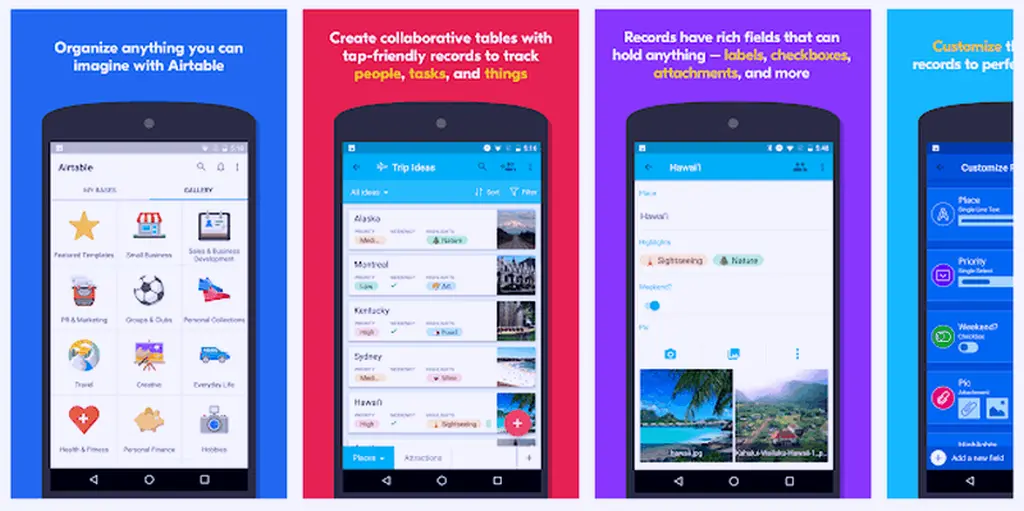 Airtable is a fast, flexible, and easy-to-use way to create tables to keep track of anything. With this best personal CRM app for Android, you can organize anything you can imagine, a modern database created for everyone for free.
The app is available for both mobile and web — on your mobile device, your records will be presented as tap-friendly cards, and on the web, it's a simple spreadsheet interface, and you can edit your records quickly.
Moreover, it has a robust data model underneath that's more sophisticated than a spreadsheet. It collaborates to the core. That's why it's so easy to share data with others and then watch as updates and comments are updated in real-time.
So, whether you're trying to create a list of sales leads, a product catalog, an employee directory, your friends and family list, it has covered everything.
Project management, Event management, Vacation planning, To-Do lists, Task management, CRM for personal and small businesses, Wedding planning, Team coordination, and more. Here are some Airtable alternatives you can check out
Also Check: How To Use CRM Software For Marketing Purposes?
UpHabit – The Personal CRM App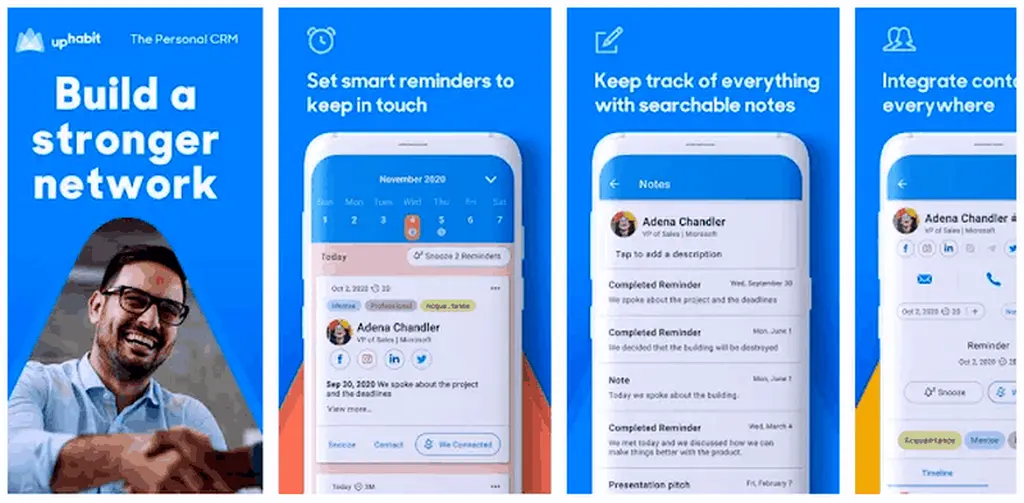 UpHabit is the another best personal CRM app for Android that's being used by lots of users worldwide. This Professional Network Manager helps you manage and organize your contacts and business relations with ease.
Easily connect and message everyone, and don't forget any of your friends' milestones ever; from a birthday reminder to personal notes about business prospects, UpHabit helps you manage everything on your timeline.
UpHabit is a kind of tool that you need to connect with everyone at any moment. From creating personalized notes to syncing your address book to receiving a birthday reminder and chasing a business email, it's all are now easier than ever. Just get started with Up Habit.
Also Check: Understanding CRM as a Key in Nurturing a Business
Dex – Relationship Manager And Personal CRM App
Now it comes to Dex — another the best personal CRM app for Android that reminds you to stay in touch with those you like and care about. It helps you in many ways, and amongst, visualizing, managing, and staying on top of all your relationships is the main.
You can configure Dex to send regular reminders to maintain relationships and stay warm with your network, and see people you haven't seen in a while. It also helps you remember the necessary details and be more thoughtful, like:
Remembering the name of your co-worker's daughter,
Going on a trip with your friend from college, and more.
With the Dex Dashboard, you can easily organize all your relationships with custom tags and views. Also, you can effortlessly search through notes you've taken in one place.
Moreover, you can also use the Dex with the Dex Chrome Extension to manage relationships from Facebook, Twitter, Gmail, LinkedIn, Messenger, and more! No data entry or separate website logins are needed.
Also Check: How To Choose The Best CRM Software For Small Businesses
Covve – Stay In Touch With Your Contacts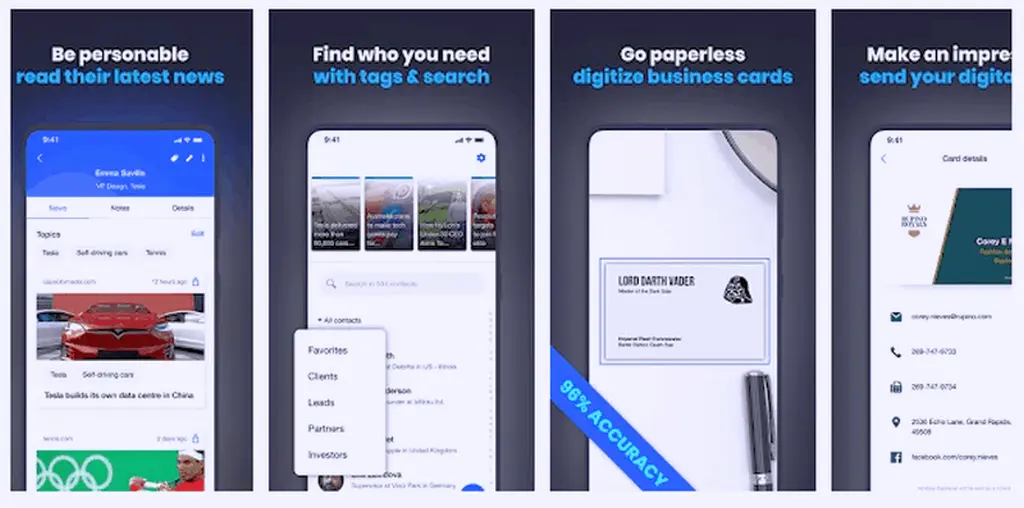 Covve is our last pick on this list that will help you build your personal network, which is one of the most significant assets you can have in your career on the go. Its' powerful InTouch Engine helps you know when is the best time to reach out and suggests you when you are losing touch with your contacts.
As a result, no relationship ever goes cold. Scanning more than 100+ news sources, this app notifies you of the news that is affecting your contacts, their company, industry, and country.
Overall, a robust relationship manager, contact log, and personal mobile CRM, all in one easy-to-use personal CRM app for Android.
Also Check: Top 8 Best CRM Implementation Strategies For Your Business