When it comes to reading books on smartphones, the first thing we need is the best free eBook reader app for android, which allows you to read on your smartphone with ease and comfort.
You can find a friendly eBook reader app for android easily from the internet, but if you are new and don't know much, it might be difficult for you to choose the right one that suits you.
Considering this, here below, we have listed the best and free eBook reader app for Android. I hope you'll find a nice one for yourself.
6 Best eBook Reader App for Android Free
1. eBook Reader Plus – Your Free and Best eBook Reader App for Android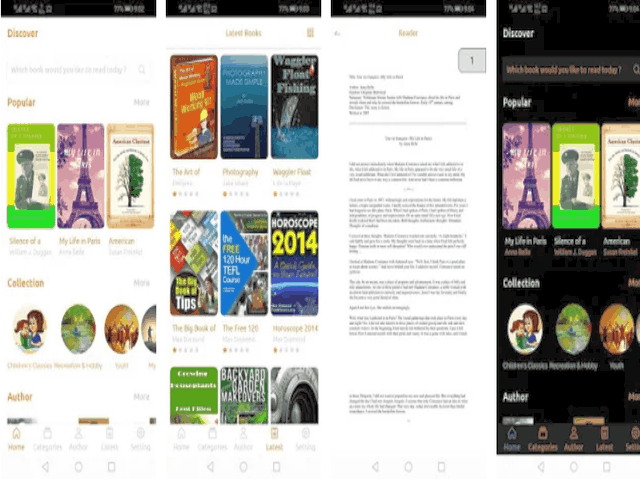 Let's kick the list with eBook Reader Plus — the latest eBook reader app for Android. It's free, simple, easy to use, and lets you do many customizations to make your reading experience the way you want.
Customizations like changing the font type, font size, highlight texts, look up new words and unknown phrases in its dictionary, creating favorite books list, reading lists for later, sharing books with friends, etc.
It has a wide of free eBooks in different categories and genres from all around the world to choose from. Just do a search by the book name or by the author name to find that.
You can decide to read the books online, or you can download the books for reading later. It mainly supports PDF and EPUB format. To find a book, it allows you to search by the name of the book or author. Overall, eBook Reader Plus is an ideal choice for free and the best eBook reader app for android.
Also Read: Best Job Search Apps to Find You Dream Job
2. Amazon Kindle – eBooks & More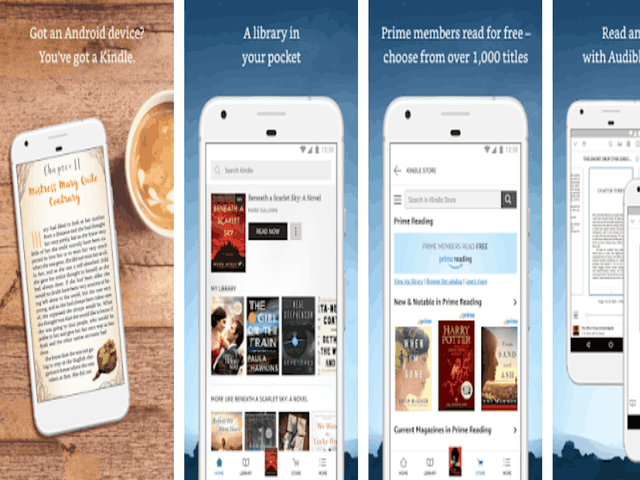 Most of them who knows about eBook or eReader, obviously know the name "Amazon Kindle." Kindle is a great eBook reader app with a collection of millions of eBooks, including books, magazines, audiobooks, comics, and newspapers.
It was developed especially for Kindle devices, but now it's available for both Android and IOS. So, you can use this on your smartphone. The app is free to use though you have to pay for the books. Either you need to subscribe ($9.99 a month) or buy the book you want from it. But you can try any book before you buy with a free sample.
Kindle also includes some coolest customization features. It allows you to see what percent of the book you've read, the number of real pages, and how much time you need to finish the chapter or the book based on your actual reading speed.
You can also bookmark sites you want to revisit, hop, skip, jump with Page Flip, highlight texts, take notes, and sync your books across devices.
Also Read: Facebook Account Hacking Software For Windows
3. Aldiko – Best & Free eBook Reader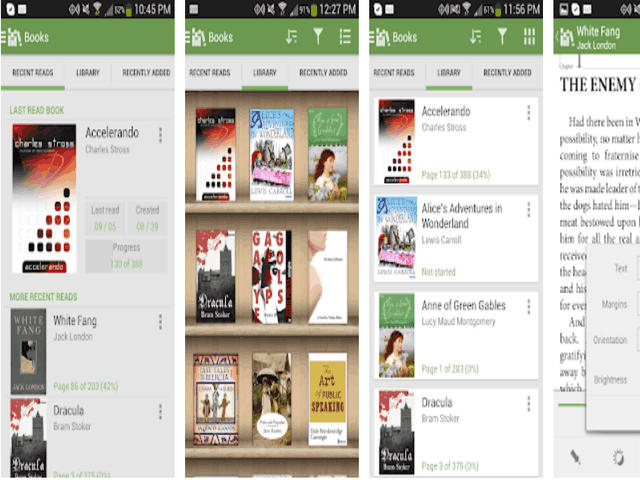 Aldiko is probably the best eBook reader app for Android among the olds. It's old yet still popular due to its quality. It's suitable for reading books in PDF and ePub but also supports Adobe DRM encrypted eBooks. The app has a vast catalog of eBooks, including new releases, best-sellers, and classics. However, some of them you can read for free.
Using it, you can enjoy a fabulous reading experience because of its fantastic customization features such as:
Adjust font type and size, font and background colors, margin, line spacing, alignment, etc.
You can even import your PDF and ePub files from your phone storage.
Also Read: Best Thai Translator App For Android
4. ReadEra – Book Reader Pdf Epub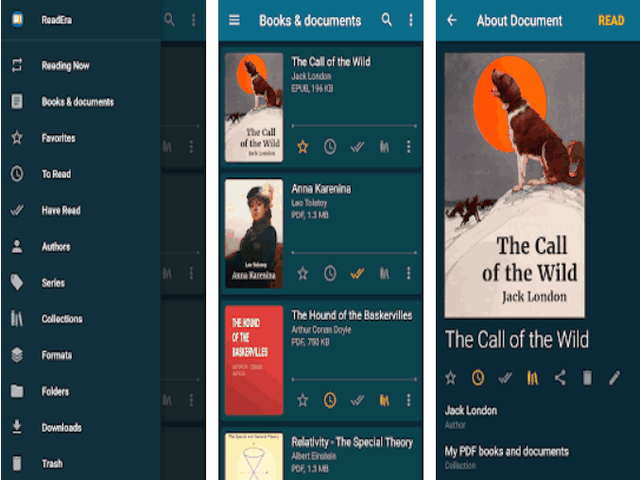 This is another popular free and another best eBook reader app for android, being used by millions of users worldwide. ReadEra is not just one app; and it's more than that.
It's a set of reading apps in one app which allows you to read books in various formats such as:
Epub,
Business PDF,
Kindle (MOBI, AZW3),
Office Microsoft Word (DOC, DOCX, RTF),
ODT,
Djvu,
Fb2,
Text TXT, and others.
On the other hand, with other features like auto-detection, book library manager, quick & smart navigation, convenient reading settings, multi-document mode, etc.
It lets you enjoy your reading-time the most. Overall, ReadEra is an excellent app for book lovers.
Also Read: 8 Best Anonymous Social Media Apps
5. Moon+ Reader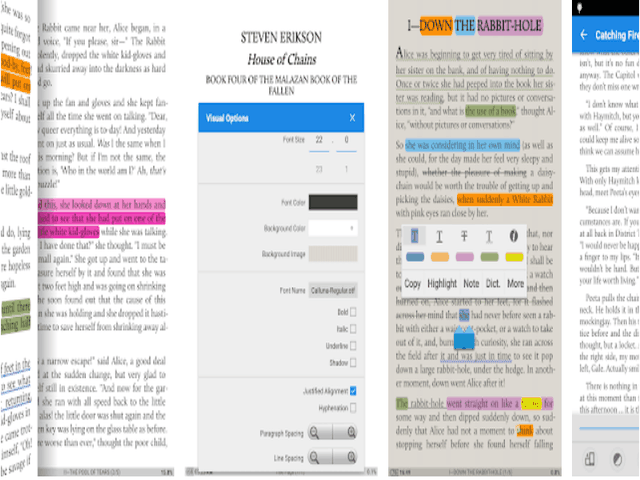 Moon+ Reader is the most customizable and another best eBook reader app for Android. Because it offers a unique and smooth reading experience by providing excellent controls over its display settings and tons of other essential features, it has thousands of free eBooks to read and support online ebook libraries.
It includes a total of 24 special customized operations, including:
Screen click,
Sswipe gesture,
Hardware keys, etc.,
That you can apply to 15 customized events such as search, bookmark, themes, navigation, font size, and more.
It also includes five auto-scroll modes, intelligent paragraph, highlight, Annotation, Dictionary, and more. It's available for free, but it has a premium version too, which provides additional statistics that you may like the number of books on your shelf, turned-pages, and reading hours.
Also Read: Best Location Sharing Apps (Paid & Free)
6. PocketBook Reader – Any Books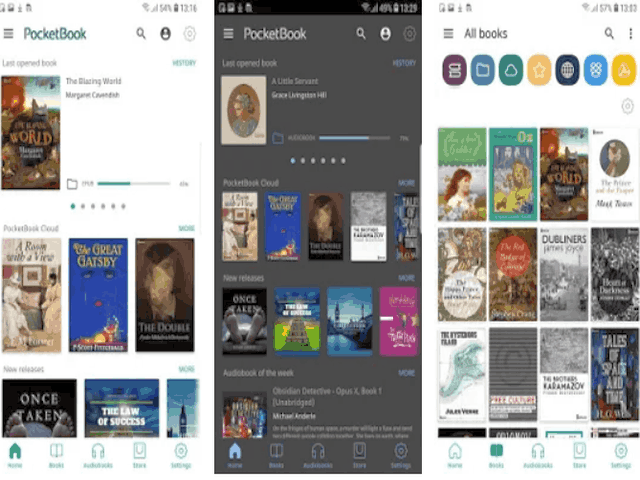 Now it's PocketBook Reader — our last pick on this list, thebest eBook reader app for Android. It's free to use, suitable for reading various e-content including books, magazines, comic books, textbooks, etc., and for listening to audiobooks. You can choose any eBook format. It supports a total of 26 book and audio formats, including:
PDF,
EPUB,
FB2,
MOBI,
DJVU,
TEXT,
HTML, and more.
PocketBook Reader has a built-in bookstore with an extensive and regularly updated e-content that you can purchase online in a few clicks. You can even synchronize all your books.
That includes audiobooks, as well as reading positions, notes, and bookmarks on all your devices with its free PocketBook Cloud service.
In terms of customizations, it has a lot, including:
Color themes,
Reassigns the buttons and display areas,
Two night-reading modes,
Home Screen widgets,
Adjusts the font style and size,
Line spacing and margin,
Bookmarks,
Takes notes,
Adds comments, and more.
If you are looking for a heavily featured and best eBook reader app for Android, PocketBook reader could be a great choice.
Also Read: What Are The Best Camera Apps for Android?
Conclusion
So, try the best android eBook reader app above for free. I hope you'll find your favorite reading apps for sure so you can enjoy a seamless and pleasant reading experience whenever you want.
If you have anything to tell about the apps or any suggestions, let us know via comments. We would be glad to hear from you.
Also Check: Best Driving Apps: Enjoy Safer, Easier & Comfortable Driving