Preparing your home for an HVAC system is very important for ensuring it's comfortable, efficient, and lasts as long as possible. Whether you're getting a brand-new system or an old one, this guide will walk you through all the steps for installing HVAC system you need to know. From figuring out what you need, picking a contractor, making sure you meet all the rules, getting your home ready, making sure the electrical and plumbing systems are up to code, making sure the ductwork and insulation are all in place, and what to do after the installation. 
6 Things To Know When For First-time Homeowners Installing HVAC System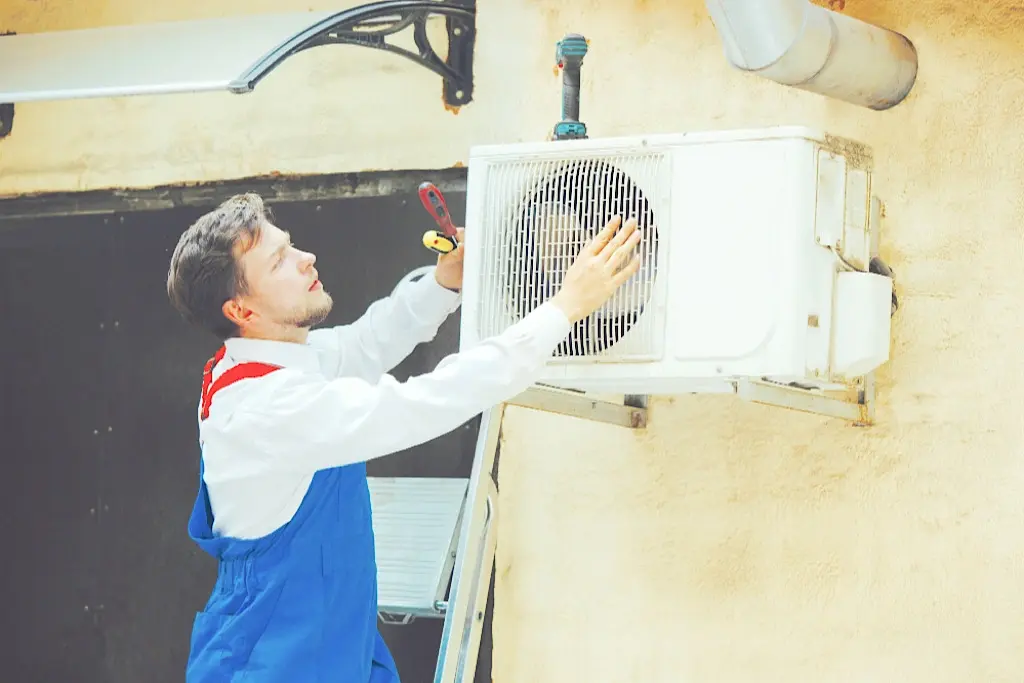 Evaluating Your HVAC Requirements
Before you begin your HVAC installation, it's important to understand your individual heating and cooling needs. The first step is determining the best type of HVAC system for you, considering factors like your area's climate and budget.
When it comes to HVAC systems, it's important to make sure they're the right size to make sure they have the right amount of capacity. That way, you won't have to worry about anything going wrong or not working well. Plus, you should consider how your system will affect the environment and how much energy it will use. So, you can choose what's good for you and the planet.
There are a variety of LG air conditioners available to choose from. These state-of-the-art ductless systems automatically adjust the temperature for each room or zone. So, it increases comfort and energy efficiency.
Also Check: How to Choose The Right HVAC System For Your House?
Selecting The Appropriate HVAC Contractor
Choosing the best HVAC contractor is essential for installing HVAC system successfully. A thorough due diligence process should include extensive research and screening of brands. Make sure to check their licenses, certificates, and insurance coverage. Ask for feedback from previously used customers and read online reviews to better know their reputation and dependability.
Don't just accept the first cost estimate; ask for several quotes to compare pricing and services. Choosing a reliable contractor is vital. It will help to get the correct installation and receive dedicated post-installation support.
Also Check: Most Essential And Best Tools For HVAC Technicians
Compliance With Permits And Regulations
Many legal requirements for installing HVAC system can be overwhelming. Start by understanding the local building codes and laws that apply to your area. Obtaining a mandatory permit is essential to avoid potential legal issues in the future. Sticking to environmental guidelines is also important to reduce any negative environmental impact.
If you feel overwhelmed by the compliance process, the best thing to do is hire a professional. They can help you solve complex legal obligations and make the process easier.
Also Check: How To Choose The Best AC Unit For Your Home?
Electrical And Plumbing Preparations
Your heating, ventilation, and air conditioning (HVAC) system is powered by electricity. Also, it often requires plumbing connections. Look at your home's electrical capacity and consider making any necessary changes to meet the needs for installing the new HVAC system. Prudent wiring is important to make sure your system runs safely.
Inspecting and replacing plumbing connections as needed is important to avoid any leaks or other plumbing issues. You and your family must know how your system works and the maintenance basics.
Also Check: How To Fix Plumbing Issues In Your Apartment?
Ductwork And Insulation
Good airflow is essential for your air conditioning system to work well. Look at your existing ductwork to see if any leaks could cause you to lose energy. Better insulation can help you save more money on your heating and cooling bills. It's your responsibility to check the insulation in the attic and walls. You will see if you need to make changes to keep your home comfortable and energy efficient.
Considerations After Installing HVAC System
Once the HVAC installation is complete, it's essential to test the system to confirm it works properly. It's important to familiarize yourself and your family members with the system and maintenance basics.
A consistent maintenance routine will help extend the life of your system and keep it running smoothly. If you have any questions or concerns to ask, don't hesitate to contact your local HVAC company for help after installation.
Also Check: How To Best Prepare Your Home For Summer Heat Waves?
Conclusion
Preparing your home for installing HVAC system properly takes a lot of planning and effort. But it's worth it regarding comfort, energy savings, and overall peace of mind. So, follow the steps in the step-by-step guide to ensure a successful HVAC installation. It will keep your home comfortable and running efficiently for many years.
Take the time to find your needs, select the right HVAC contractor, and adhere to HVAC installation regulations. It will prepare your home for the future – your comfort is at stake.
Also Read: Maintain Your Truck's HVAC System The Right Way With These Tips
---
Image by master1305 on Freepik