Looking for the best sentence rephraser tool to rewrite your content in a simpler and better way and came across Rephraser.co? If yes, you have landed in the right place because here in this post, we have given a very detailed and honest review of the Rephraser.co! It is best to read the review of an online sentence rephrasing tool before you use it, as after reading the review, you can agree on whether the tool is worth your time or not.
Here in the review post of Rephraser.co, we will discuss what this tool is, how you can use it, its pros and cons, and its unique features.
First, you should understand that the purpose of online paraphrasing tools is to improve the quality of already written content, make it more digestible, and also lower the percentage of plagiarism from a draft.
There are hundreds of different paraphraser tools that you can find on the internet today. : But not all of these tools are worth your time or money.
Here in this post, we have reviewed one of the most recommended tools in 2023.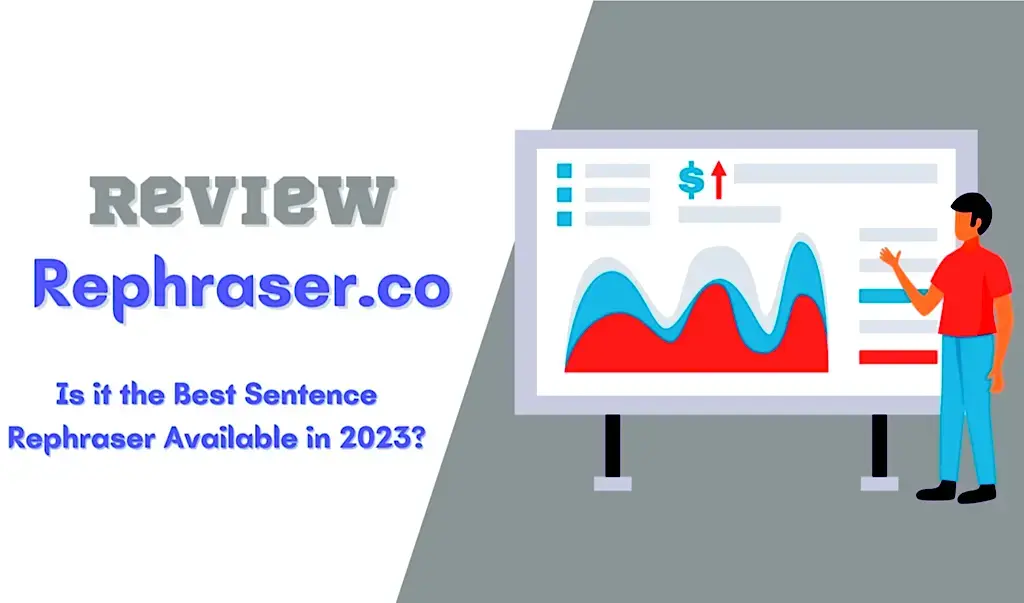 What is Rephraser.co?
The Rephraser.co is one of the most famous sentence rephraser tools.
This paraphraser is also one of the top recommendations of top search engines.
This rephrasing is not just a tool that changes words with synonyms; it is a complete content rewriting tool that transforms an input text's whole format without altering its intent.
This online sentence rephrasing tool comes with three different versions, which are tailored according to the requirements of other users.
The three popular rewriting modes of the Rephraser.co include:

General Mode: This rewriting mode helps any users who want to paraphrase their text. In this mode, this sentence rephraser tool would change essential phrases with the best possible synonyms and amend the construction of sentences to give them a new look.
Academic Mode: This rewriting mode is specially designed for students who want to rewrite their academic drafts. Students can use this mode to present their work better or reduce the other ratio of duplication. During academic rephrasing, the tool detects all citations in the input text and leaves them unchanged.
Blog Mode: This paraphrasing mode is created for bloggers and SEO experts. When you rephrase content with this mode, the tool rewrites the text without changing the highlighted keywords.
Also Check: 10 Facts That Prove Students Need Academic Assignment Writing Help
How to Use Rephraser.co?
If you have never tried this tool, then you must know that the working process of this sentence rephrasing tool is quite simple.
Even a new user without prior knowledge can use this tool like a professional!
To use the rephraser.co you need to follow some simple steps discussed below:
Step 1
First, you must open your device's internet browser and search for rephrase my sentence.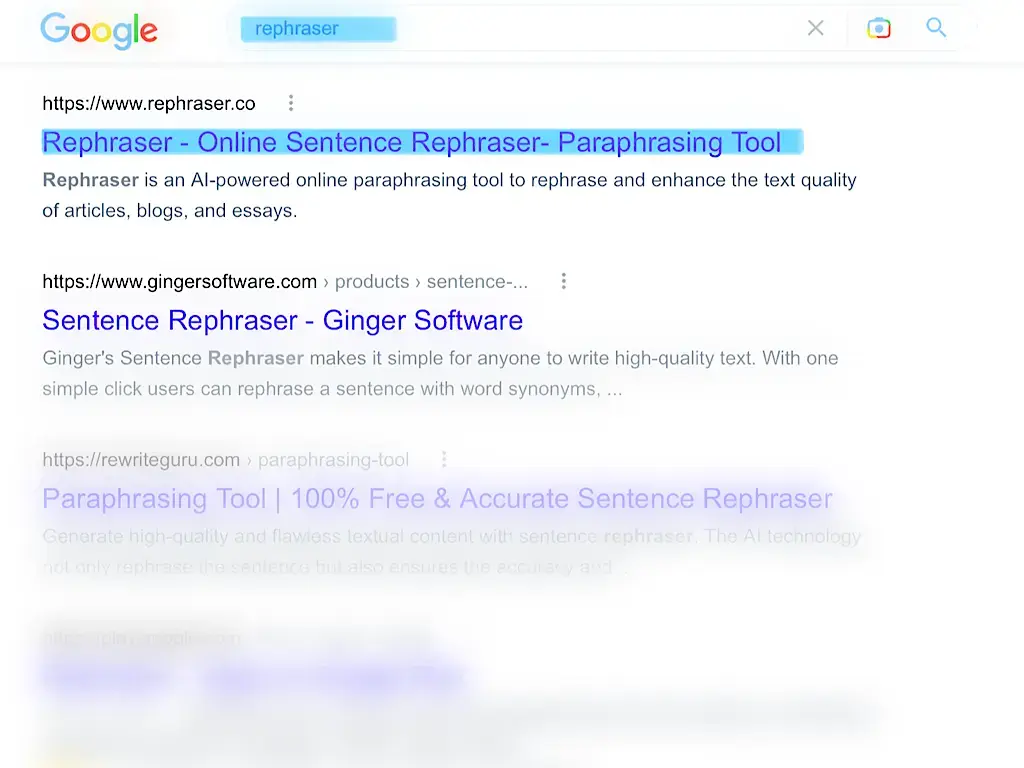 Open the tool from the search results. This tool is based online, so you can only use it with a browser.
Step 2
Once you open the best sentence rephraser tool on your browser, you will see a big text box on it.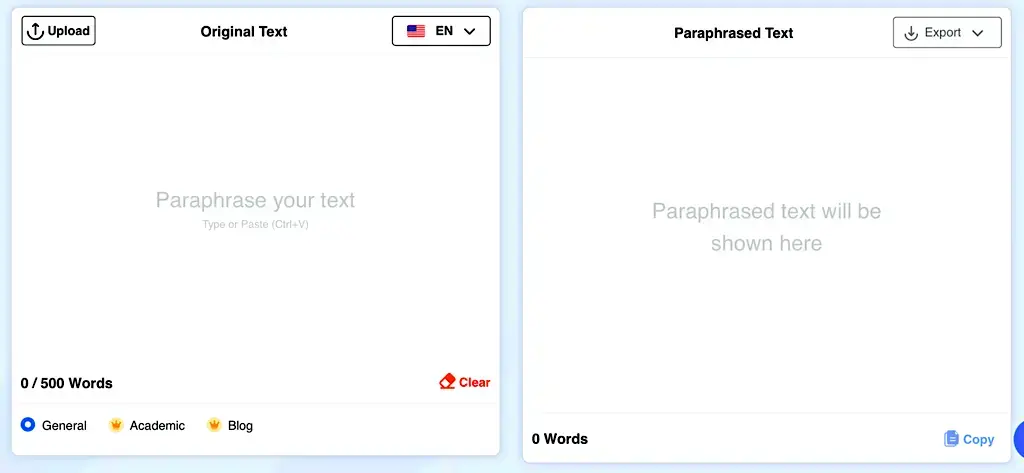 In the box, you must write or paste the text you want to rephrase.
You can also use the upload icon to enter text files in the tool.
Step 3
Once you have provided input data to the tool, you must select the rephrasing mode.
The tool offers three different modes discussed in the section above.
Step 4
After selecting the mode of rephrasing, you have to click on the "Paraphrase" button right under the input box.
As soon as you click on this button, the sentence rephrasing tool creates a new version of the input text, which will appear in the output box.
Step 5
Once the new content appears on your screen, you can copy it to your clipboard or use the 'export' options to download the text in your desired format.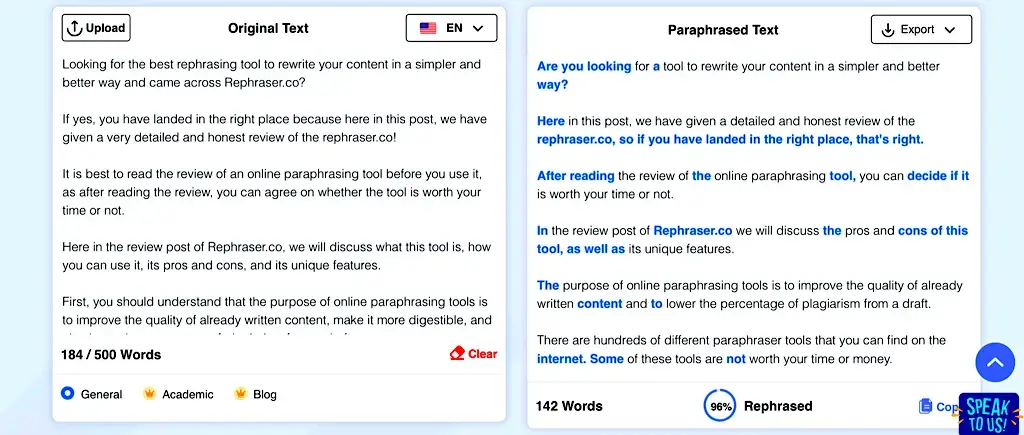 This is how easy it is to use Rephraser.co on your browser!
Also Check: How to Write Guest Blog Posts – Best Editorial Guidelines To Follow
Top Features of Rephraser.co
Until now, we have discussed this tool and how you can use it on your device.
Now it is time to discuss some of the features that make it a popular choice in 2023.
Upgrades Content Quality
One of the top features of this sentence rephraser tool is that it optimizes the quality of your content.
When you rephrase content with this tool, you don't have to worry about human errors or quality issues.
This tool removes all errors in the original input draft and makes the text more readable.
Doesn't Compromise Intent
The thing that we like about the rephraser.co is that it doesn't change the actual meaning of the input text while rewriting it.
The rephrased version would express the same message.
Supports Multiple Languages
You can use this online sentence rephrasing tool in different languages.
The tool works in many languages, including English, Spanish, Italian, Dutch, etc.
This means you can select the language of the tool before using it.
Multiple Modes Available
Another feature of the rephraser.co is that it offers three different and meaningful rewriting modes.
You can create different versions of the exact text if you use all three modes of this tool.
The modes available on this tool are general, blog, and academic.
Pocket-Friendly Packages
The tool has a free version, but it expires after a specific limit.
However, the premium packages of this tool are cheaper than its competitors, making it a good choice.
The paid package of the rephraser.co starts from $8.9 per month!
Simple Interface/Design
Another thing that we liked about this sentence rephraser tool is that it has a very decent interface.
The specific design of this tool makes it easier to use.
You don't have to go through any tutorials to use this tool.
Private and Secure
One of the most critical features of this sentence rephrasing tool is that it is pretty secure in its working.
You don't have to worry about your privacy while using this tool.
This tool doesn't share any data with third parties.
Moreover, your input and output content is not saved or shared with anyone except you!
Also Check: Content Writing Services For Your Business – 6 Reasons To Invest
Pros and Cons of the Rephraser.co
Now that you know some of the salient features of this paraphrasing tool, let us throw some light on its advantages and disadvantages.
Pros
Nice interface and simple design
Up to three paraphrasing modes are available
Free text summarizer available
Free grammar Checker available
Free version available for beginners
Affordable packages for students and newbie bloggers
Human-like rephrased content
Cons
The word limit per single paraphrase is 500 words in the free version
The free version allows you to paraphrase up to 1500 words
No plagiarism checker is available for authenticating originality
Only three paraphrasing modes are available
Outputs can sometimes be vague depending on the nature of the text
These are some of the notable pros and cons of this tool!
What Does the Rephraser.co Costs?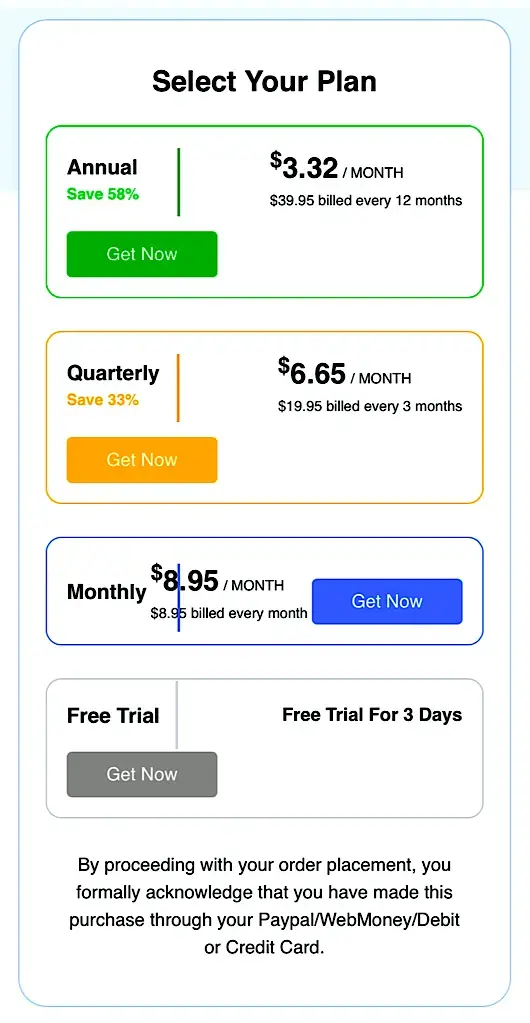 If we compare this tool with its competitors, it is cheaper than its pro packages.
First, you can try and enjoy the free version of this sentence rephraser tool. You don't have to pay a single penny to enjoy the free version.
Once the free version expires, you must sign up and register your account with the tool.
Registered users can enjoy the tool for three days, after which they would have to buy a paid package.
The packages offered by this rephraser are pretty versatile. Details of the premium version include:
The annual package starts from $3.32 per month.
Quarterly packages start from $6.65 per month.
The monthly package starts from $8.95 per month.
You can also get custom packages for you or your institutions by contacting the customer support team of Rephraser.co!
Also Check: Content Writing Agencies, Freelance Writers And DFY Platforms: Which Model Is Right for You?
Additional Utilities by Rephraser.co
Other than the paraphrasing tool, you can enjoy the following uses with Rephraser.co
Text Summarizer
On the rephraser.co, you would find the summarizing tool.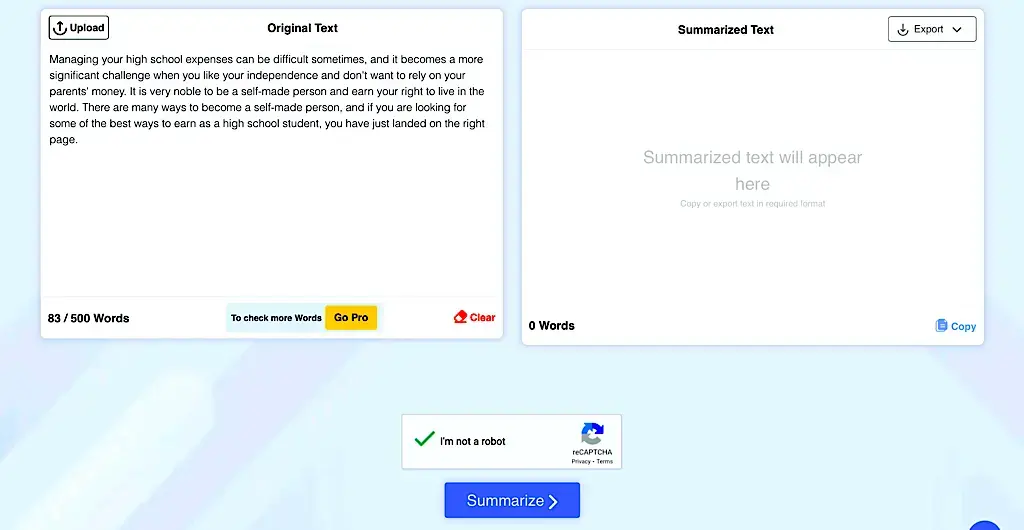 The purpose of the summarizing tool is to shrink large chunks of text without damaging its primary intent.
The tool can reduce the length of the text by three times.
Grammar Checker
If you are unsure about the quality of your written content, you can also use the online grammar checker tool.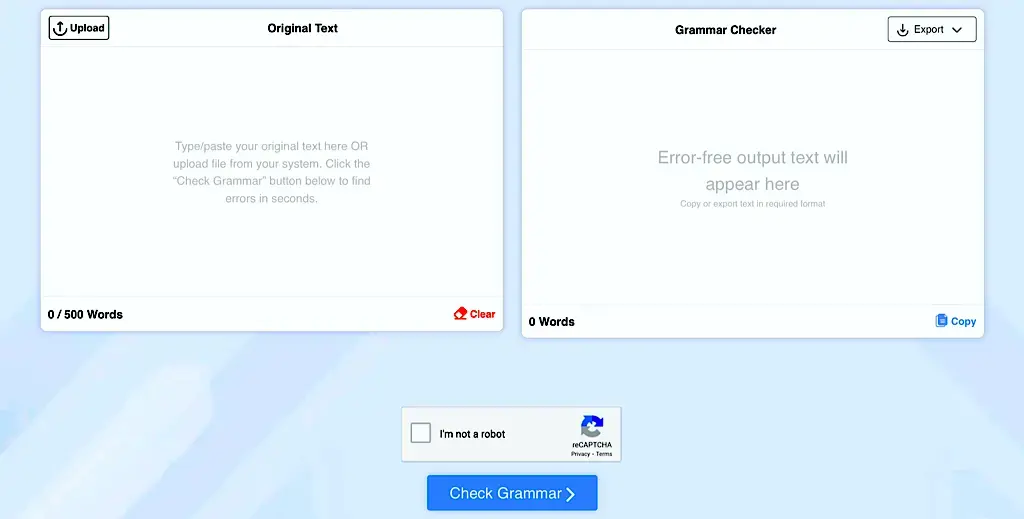 The grammar checker can scan your text and remove all human errors.
Also Check: Grammarly Vs ProWritingAid – Best Proofreading Tools
Android/iOS Apps
The Rephraser.co is an online sentence rephrasing tool you can use on your browser.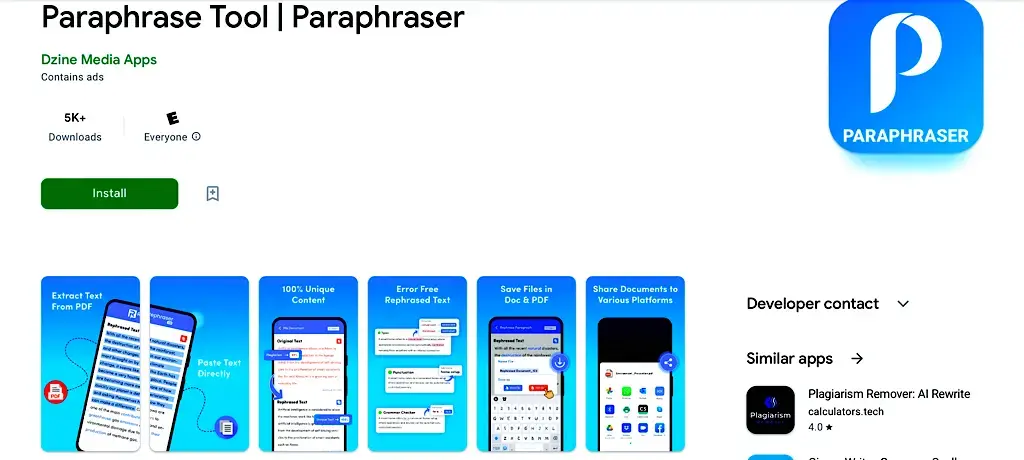 But if you want, you can install the Android or iOS application for your mobiles or other small-screen devices.
The apps are available for free in their respective stores.
Our Feedback on Rephraser.co
After reading this post, you have learned some of the most important details about this tool.
There is no doubt that this tool is a valuable utility for students, bloggers, SEO experts, and all others related to the content writing fraternity.
If you want a paid paraphrasing tool, you should try this one.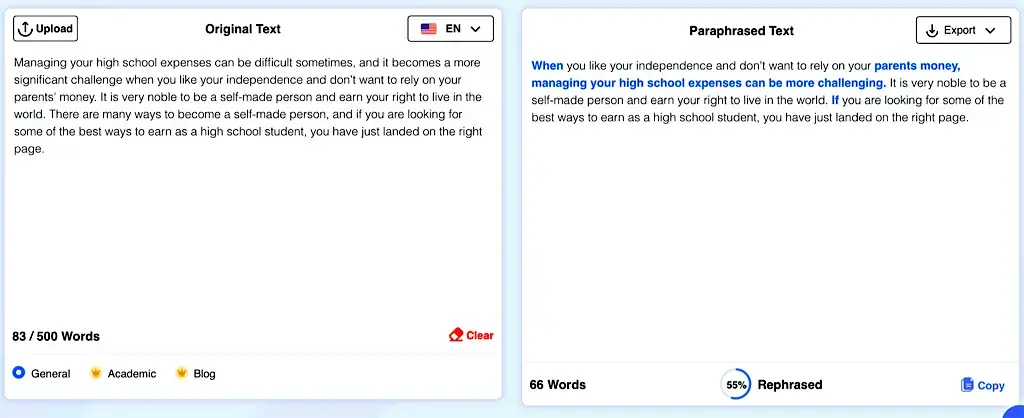 But if you are looking for free online paraphrasing tools, you have to look for alternatives like ParaphraseTool.ai!
Overall the rephraser.co is the best sentence rephraser tool and worth your time and money!
Also Check: Top 6 Types of Content Writing Services for Your Business
Featured Image by StartupStockPhotos