SpySERP is a good solution for beginners and professional SEO specialists. You don't need to have any specific knowledge and skills to use this SEO rank tracker. Just enter the domain address in the necessary field and search for the necessary keyword in the chosen search engine online. It takes little time and effort. The big news is that you don't need to download the tool.
A rank tracker is an absolute gift for SEO specialists. Before, it took hours to check the site position manually. Now, you can get all the necessary pieces of data in just one click. Are you looking for the rank tracker tool that will help you to know where your web project is? SpySERP is for you!
Best Rank Tracker Tool SpySERP – Improve Your Performance
You can find numerous positive testimonials about the rank tracking tool from SpySERP. It has many pros that are worth your attention.
Analyze Google rankings using the SERP ranking tool. You can choose multiple keywords and conduct careful research and analysis of their effectiveness in your local area and other countries. Choose any location, language, and other parameters.
Compare results in different search engines and website versions. Take into account that you'll see specific differences when getting results of the site position. Those sites that have a version for mobile will have a higher position than those that haven't been optimized for mobile use.
Find your competitors and track their activities. Be aware of the progress your rivals make and keep track of them regularly.
Get accurate data about your web project position and export it. You can adjust the settings so that you'll get regular reports about the site ranking. Choose the most convenient format and export results in the table format or any other format you find the best one for you.
Share the data with your colleagues. You can discuss the data with your partners or colleagues by sharing the report with the new information you get daily.
Check how SpySERP software works for free. There is a free trial period that lasts for seven days. During this period, you'll be able to check the site's position for free. Check the performance of your web project.
Make sure you have picked the best keyword strategy. Use grouping and clustering features. Check whether your keyword phrases work well for the chosen website niche or specific improvements are needed.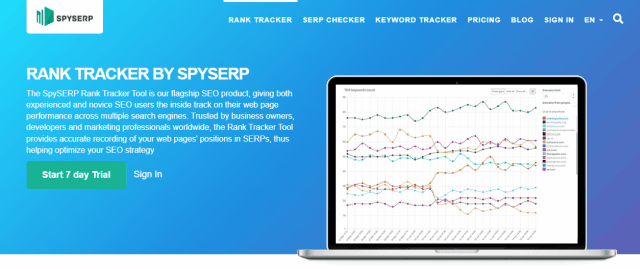 Also Check: SEMrush Position Tracking Tool – Is The Higher Price Of SEMrush Worth It?
Why Choose This?
Here are just excellent reasons why it is a good idea to use SpySERP to promote your site.
More and more web owners recommend this rank tracker tool for its accurate data, high speed, and flawless work for any search engine and location.
You can try it for free and then choose a pricing plan that fits your business needs and budget best.
Learn how your site performs compared to your rivals and improve your content strategy, if necessary.
SpySERP will give you access to the statistics of your site and all the details that matter when you want to see your site among the 10 top search results.
Also Read: Top Keyword Position Checker Tools To Check Your Ranking
---
Featured Image by Photo Mix