This article will teach you about the key components of a high-converting landing page to help you build effective landing pages.
Are you looking to learn how to create high-converting landing pages, but you aren't sure where to begin? You have come to the right page.
The landing page is the first spot of contact a customer has with your brand. It's your digital door to your online store. Albeit being used widely by digital marketers, only a few understand how to build effective landing pages that convert.
It's understandable. Because learning how to design effective landing pages is no easy task.
Effective landing pages are founded on specific building blocks that you need to know to create the most convincing pages to prevent you from having leaky sales funnels.
Even though many guides talk about how to create high-converting landing pages, it's a good idea to understand the basics so you can experiment with the building blocks.
In this article, we'll talk about the main elements of an effective landing page to help you build landing pages like Hootsuite:
This article will help to answer the questions below:
What does a landing page consist of?
How do you structure a product landing page?
What is the best way to create a landing page?
Also, what is the most common landing page structure?
What makes a good landing page?
What should a good landing page have?
Read on as we lay out the main components of a powerful landing page for you.
What Is A Landing Page?
A landing page is a unique page created to inform the visitor, increase conversion rates, or connect other pages of your website. A landing page can denote the homepage of a website or another page created for a specific campaign, product, or sale.
Unbounce has prepared a list of high-converting landing page examples to inspire your creativity.
Unlike the homepages, landing pages are found organically. In other words, these are pages that people land on when they enter high-ranking keywords into their browsers.
A landing page can have multiple micro-conversions like signing up for a free trial, subscribing to a newsletter, joining a training course, etc.
Often traffic landing into the landing pages comes from pay-per-click advertising, through an email list, etc.
Even though there is no ideal landing page conversion rate that fits all industries, a study by EduGeeksClub has shown that the average landing page conversion rate across all industries at 9.7%.
That said, let's take a look at whatever makes a high-converting landing page structure.
The Key Components Of A Landing Page That Converts
A killer headline
A hooking subheadline
Body copy
Images, animation, or video
Benefits
Social proof
Methods of contact
CTA button
Let's explain each component in detail.
Key Components Of A Landing Page: A Killer Headline
Studies have shown that, on average, only eight will read the headline copy out of the ten website visitors you attract. Even worse, only 2 out of 10 visitors will read past the headline. The headline determines the effectiveness of the content on your landing page; hence it's the first and essential component of a high-converting landing page.
Since it's the first thing visitors see your website, you need to make it as compelling as possible to keep them interested in learning more about your offers.
In a nutshell, your landing page headline should achieve the following:
Grab the visitors' attention right away.
Tell the reader more about what you're offering.
It should be short and to the point.
Take a look at the headline from Picture Marketing below.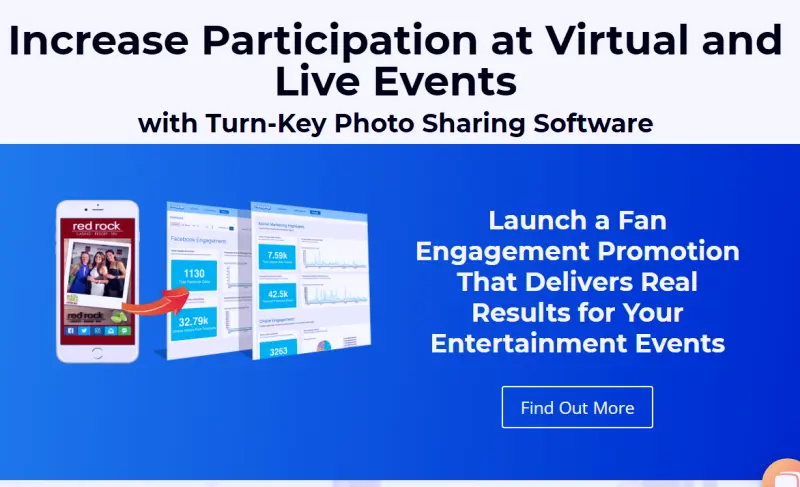 As you can see, the headline tells you precisely what the photo-sharing software can help you with. It's not only clear, but it's also straightforward.
Key Components Of an Effective Landing Page: A Hooking Subheadline
The next component of an effective landing page is the subheadline.
Your subheadline should complement and elaborate on the headline to keep the visitor reading or taking the desired action.
When the headline grabs the reader's attention, the subheadline should keep them interested to read more of your piece. Make it as persuasive as possible.
Here are a few excellent tips to help you create hooking subheadlines for your landing page:
Make it persuasive and position it directly underneath the main headline.
Make it longer- up to two or three times longer than your main headline.
Include your unique selling point.
You can make it slightly more in-depth than the main headline if appropriate.
Use terms that encourage action. You can use the subheadline as a complimentary call to action.
Keep the subheadline concise and focused.
Take a look at Slack's headline and subheadlines.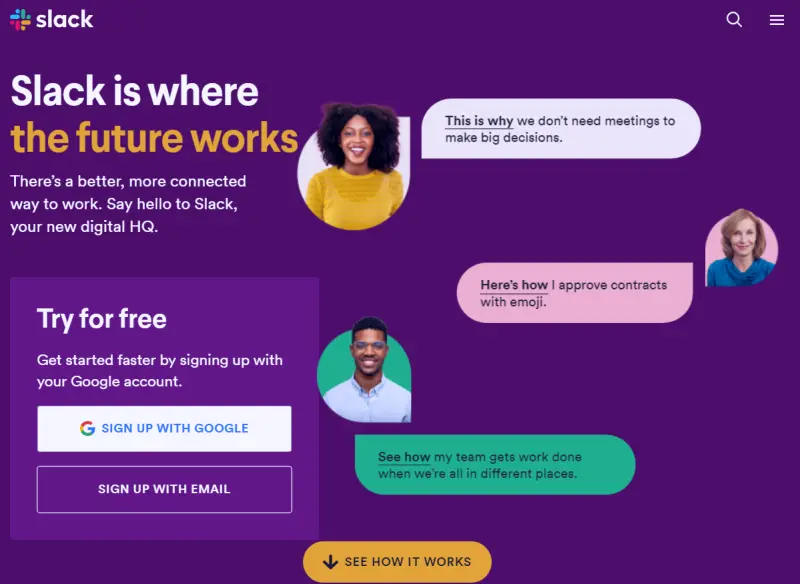 Slack's main headline on their landing page is "Slack is where the future works." It's concise and attention-grabbing.
Underneath the main headline is a hooking subheadline. By reading the headline and the subheadline, a visitor will know what precisely the product is all about.
The idea is to organize your content to explain what you're offering efficiently to connect your visitors.
Although there is no one-size-fits-all formula for creating a persuasive headline for your landing page, running an A/B test will help to tweak your main headline and subheadline to improve your conversion rate.
Also Check: How To Design A Compelling Checkout Page For High Conversion?
Essential Components of a Successful Landing Page: Body Copy
This is the section of your landing page where you talk about what you're offering clear in the language your audience can understand.
Keep it two or three sentences long or a short paragraph so straightforward to avoid losing potential customers.
If you offer an easy product or service, you can use your headline and subheadline as the only copy on your landing page.
Instead of making a paragraph, you can use numbered or bulleted list to improve the readability of your body copy.
The main idea is to avoid making your potential customers feel bored and click away. Focus your body copy on the benefits of your product or service.
How is your product going to simplify someone's life? How is your service special or unique? Summarize the benefits of what you're offering in two or three sentences.
Take a look at Asana's product page below: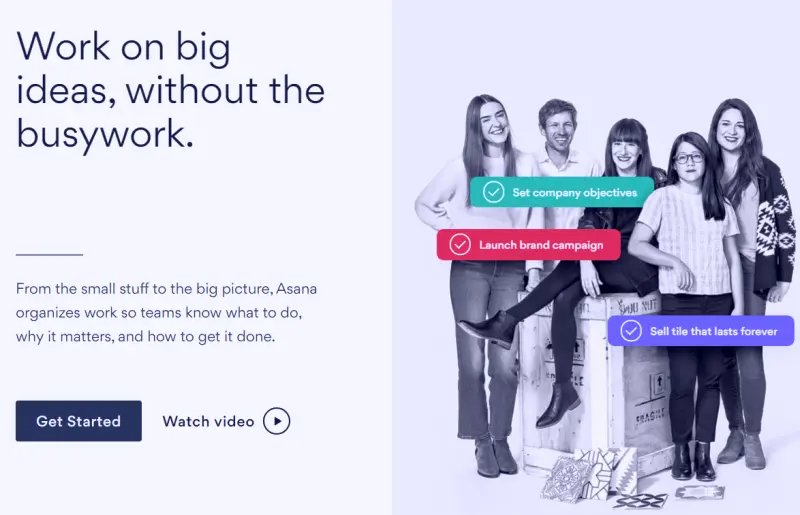 Asana's product page eliminates the subheadlines from the above-the-content but includes them in a visual walkthrough of their platform.
Essential Elements of a Winning Landing Page: Images, Animation, or Video
The brain processes image 60,000 times faster than plain text. Besides, statistics have shown that 72% of customers would instead learn about a product by watching a video. Even more, 84% of customers say they are easily convinced to buy a product or service from a brand after watching its video.
This makes images, animations, and videos essential components of an effective landing page.
Keep your images large and your videos high-quality.
Use images that are appropriate to your product or service. You can use the actual image of the product you're selling on the landing page.
Use high-quality images and animations as well.
Please take a look at Mixpanel's landing page to see how the brand uses fun and attention-grabbing images to demonstrate the functionality of their product while explaining it.
Also Check: How to Optimize Shopify Store Landing Pages for Sales Lead Generation
Critical Design Elements of a Landing Page that Converts: Benefits For Customers
In this section, talk about the impact your product or service creates. Remember that before a customer purchases something, they want to know the benefits they can get.
Given how limited time and space is on the landing page, you need to stop wasting time talking about the goodness of your product or service and focus on the positive change it brings to someone using it.
For instance, if you want to attract more subscribers to join your fitness and weight loss newsletter, tell them that you will be sending them excellent content and tips that will benefit them to reach their fitness and weight loss goals.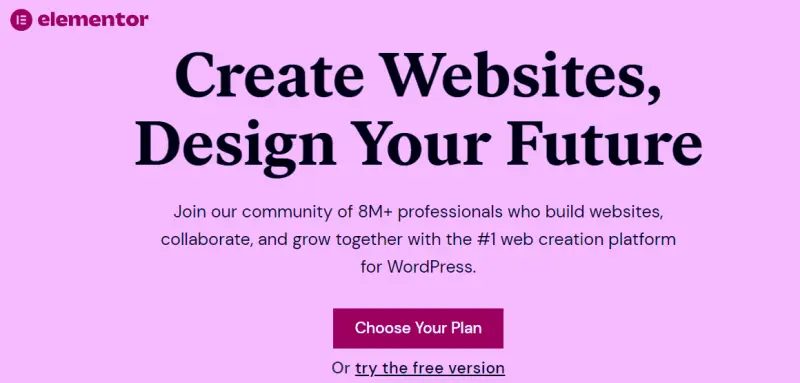 Elementor is one of the best website builder software that allows WordPress users to create and manage their websites using a drag and drop feature.
As you will see from their landing page, Elementor talks about the benefits of the tool right away without beating around the bush.
You can use short and simple paragraphs of bullet points to list the benefits in a catchy and readable way.
Critical Elements Of An Effective Landing Page: Social Proof
A HubSpot study suggests that 71% of millennials are more likely to purchase based on social media recommendations.
That implies that recommendations play a significant role in convincing customers to purchase something.
Unless you're promoting a new product or service, customers want to know whether other people have used your product and the experience they have. This is where you need to display social proof on your landing page.
You can use social proof like videos of customers using your products, direct quotes from your previous customers, reviews, case studies, testimonials, etc.
When using human proof on your landing pages, use pictures or specific testimonials from real people.
Also Check: Promising UI Or UX Design Trends 2021 For Excellent Mobile Experience
Key Components of a High-Converting Landing Page: Methods of Contact
To demonstrate the legitimacy of your business, you should provide methods of contact on your landing page.
Most of the high-converting landing pages out there have multiple contact methods such as a physical address, a contact form, phone number, etc. Some have the popup Live Chat feature where you can chat with a customer representative live.
This helps to win and strengthen your trust with customers.
ThirdLove, an American lingerie company that sells bras and underwear for everybody, has a Live Chat button at the bottom-left of their landing page that remains visible as you scroll down through the page.
You can use the Live Chat tool, text them or send an email in case of any concerns. There is also a FAQs section where you can get your questions answered.
Key Components of a Landing Page: A Powerful, Clear Call to Action
To create a high-converting landing page, the most crucial component is the CTA button. It's what gets the reader to take the desired action.
You can include the call to action button in the above-the-content and the footer of your landing page.
Here are a few tips for creating a powerful call to action:
Make it visible. The bigger, the better.
Make it compelling. Being the most crucial element of a landing page, you need to make it as compelling as possible.
Include a button. Every online customer knows that the CTA is a button. Using something other than that will do more harm than good to your landing page.
Use a contrasting color. Your CTA button should have a different color from the rest of your landing page content. Using a contrasting color helps to draw the attention of the customer to the button.
Avoid using bland button text like "submit," "click here," and use conversational language.
So, take a look at how conversational Crazy Egg's CTA button is in the image below: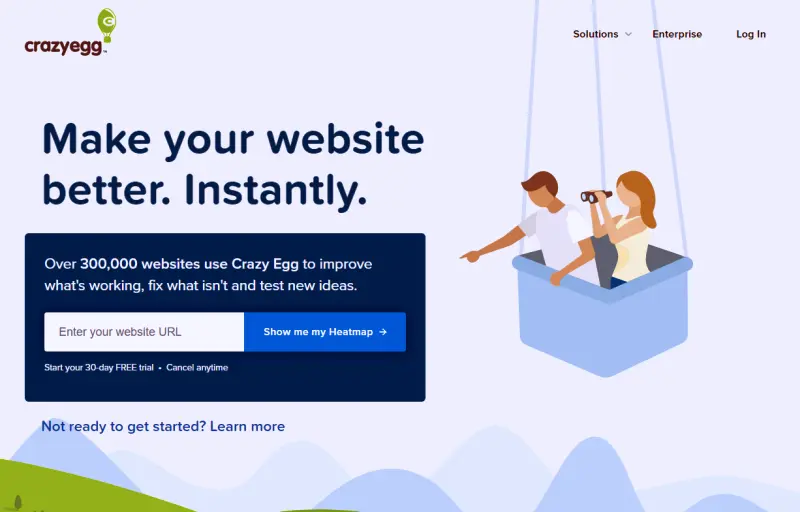 Build a High-Converting Landing Page Now!
What are the key components of a high-converting landing page? So, there you have it.
These components are purposely meant to introduce your offer and guide customers through the page until they take the desired action.
Given how vital the landing page is, please don't mess it up.
Also Check: What You Need to Understand About High Converting Landing Page Design
---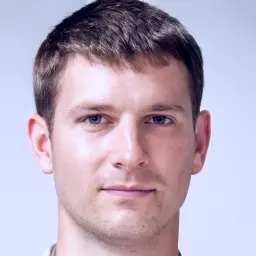 Author Bio: Charles Normandin is a website designer and content creator with over ten years of experience. He has also been working with companies for over six years where essay writers help students write dissertations. Charles also loves researching the latest trends and news in website design, including landing pages and more. You can follow him on Twitter @Charles60104524.
Featured Image by mohamed Hassan from Pixabay