Best Instagram schedulers are scheduling tools that helps you create posts, and plan images or stories to be automatically posted later. Apart from scheduling, it provides hashtag suggestions that make your posts more engaging. It also helps with analytical reports on the performance of your accounts. Some schedulers even allow you to edit the size of an image or post multiple stories simultaneously.
Top 7 Best Instagram Schedulers To Schedule Instagram Posts
We have listed down some of the best Instagram schedulers below to save you from trouble. You can look at the features they have and pick the one that would work best for you.
Tailwind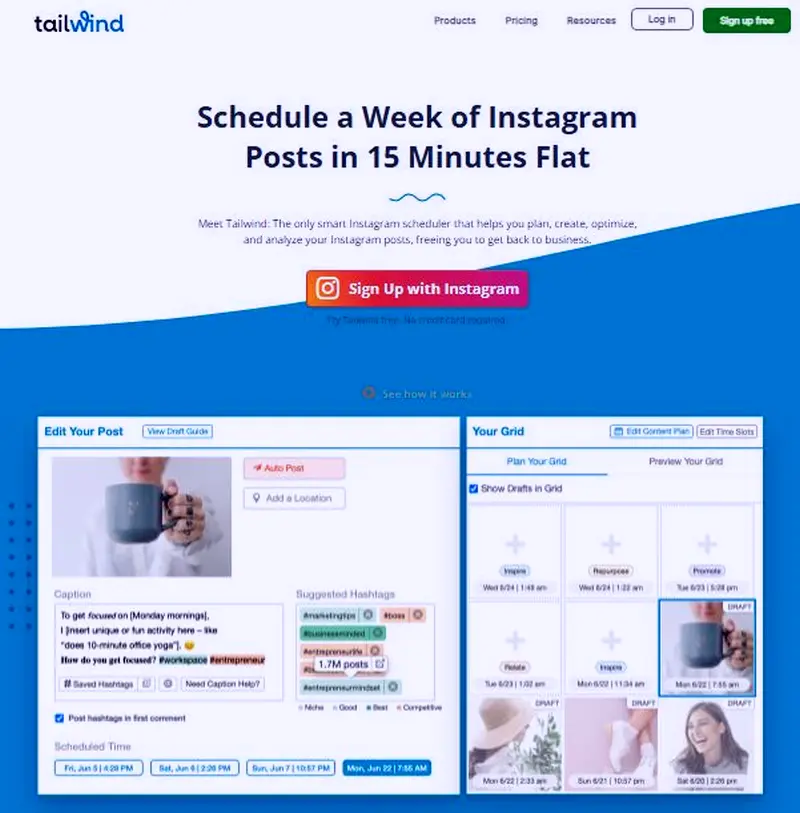 Tailwind has made Instagram scheduling simpler as it offers to post of single image or video either directly or scheduled. What makes it one of the best Instagram schedulers is its feature to schedule stories and carousel posts via push notifications. This helps make the account engaging and will increase your follower count. You can buy Instagram followers (UK) to get a small headstart.
With a free forever plan, you will have all the essential tools to get started. Higher packages are also available depending upon need.
Features
Automatically publishes your images, videos, and stories when your audience is most engaged.
Keeps captions clean by adding Hashtags on the first comment to allure as much audience as possible.
Analytic features to analyze trends, track progress, and save results.
Compare images, layouts, and colors to help visualize the content perfectly.
Allows you to add pre-saved Hashtags for your posts without hassle in seconds.
Also Read: How to Schedule Instagram Posts for Business Growth?
Smarter Queue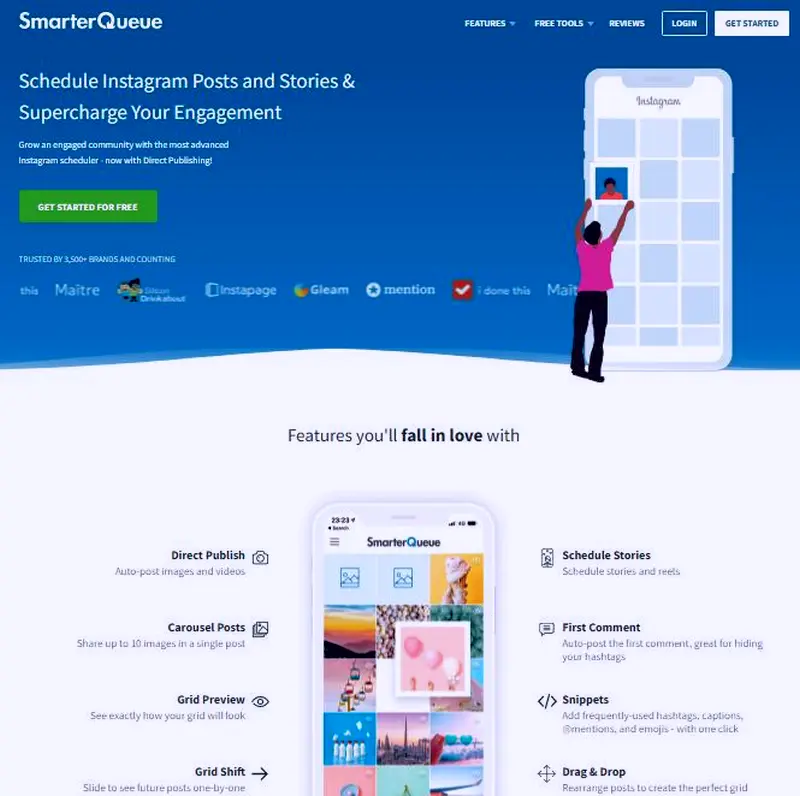 Smarter Queue is another one of the best Instagram schedulers that is user-friendly and helps you plan your reels, stories, and posts. It offers some of the best features for your Instagram posting, and it is entirely free to try. It comes with three pricing plans and offers a custom-made package to provide flexibility.
Features
It offers a media library that saves your posts or marketing strategies for later use.
Schedule stories, posts, or reels to be posted automatically at the set time.
The grid view feature allows you to learn what impression your profile has on viewers.
Snippets add hashtags, first comments, and mentions with just one click.
Detailed information on which post is doing better and engaging more audience.
Also Read: How To Craft Strong Instagram Growth Strategy In 2022?
Semrush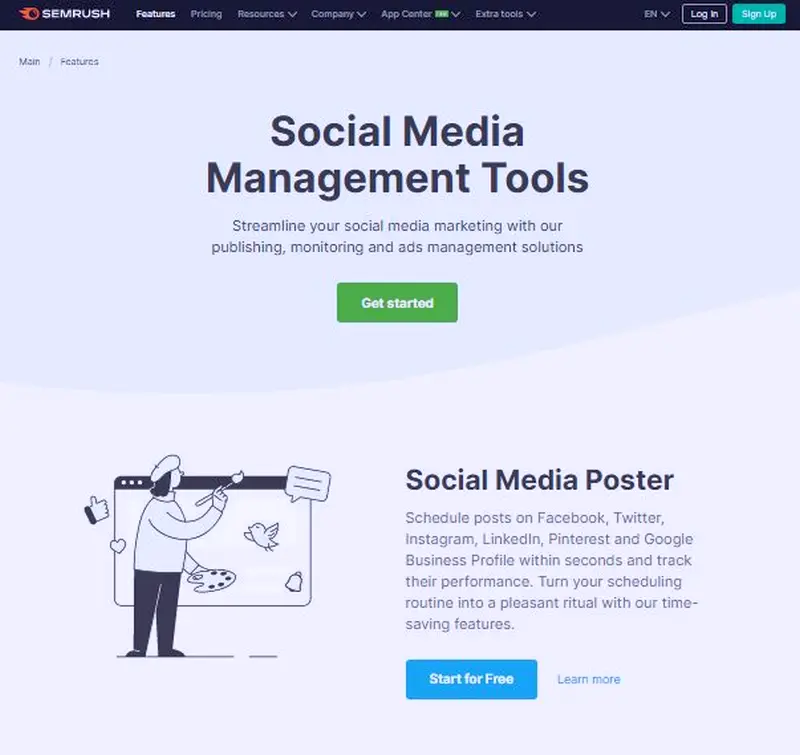 Semrush is one of the best schedulers that will help you create, manage, draft, schedule, and post on Instagram. It will also help you understand how impacting your posts are and help connect you with your audience. You can try Semrush for free, or it also has three pricing plans, Pro starting at $119.95/mo; Guru starting at $229.95/mo, and Business starting at $449.95/mo.
Features
Semrush suggests the perfect time to plan your posts, as it shows you when most of your followers are active. It encourages a person to schedule a post with confidence.
The in-app Image editor helps your posts stand out in terms of visualization.
The content calendar enables you to plan and schedule posts for the entire month and view previously posted content.
Excellent analytics tab to graphically show how the audience interacts with your posts.
Post preview shows you beforehand how the post would look on a phone and desktop. You can take it back to the image editor for cropping if you do not like it.
Also Check: How To Craft Strong Instagram Growth Strategy In 2022?
Combin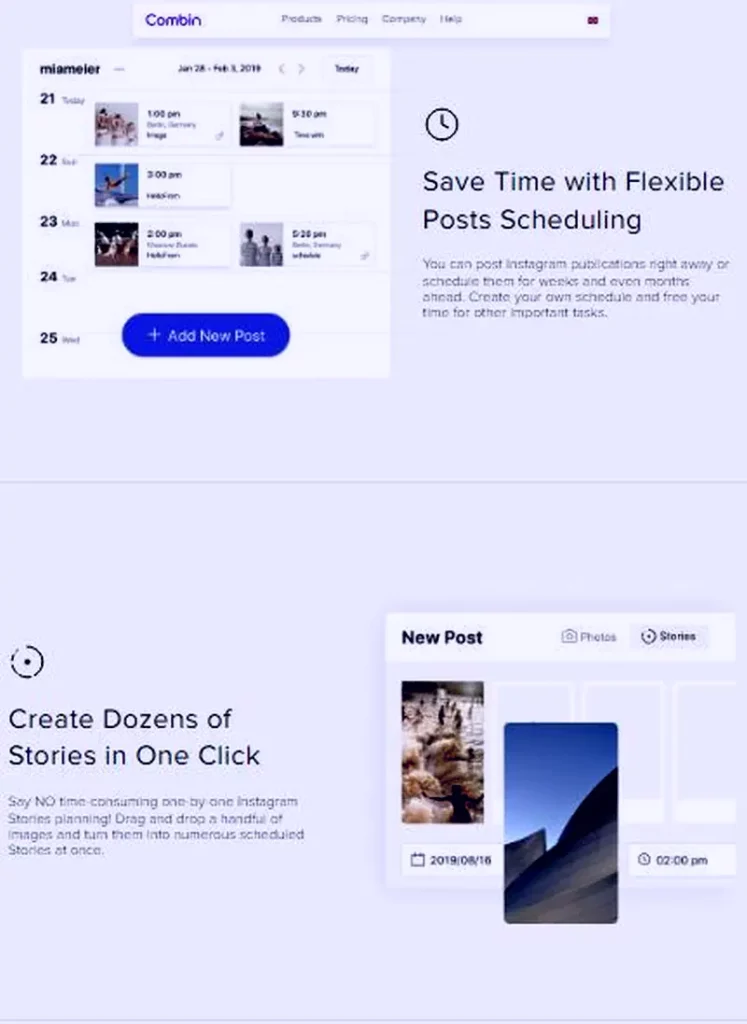 Combin is one of the best Instagram schedulers that assists you with planning your posts; and helps you grow your Instagram account through analytics aids in keeping track of followers. So, as followers are a great asset on Instagram, as mentioned above; for a slight boost, you can buy Instagram followers in the UK. It is free for starters and comes with Personal and Business packages starting at $25/mo and $50/mo, respectively.
Features
Offers bulk uploading of images, plan stories; and posts to be auto-published.
Manage multiple accounts on the same device. Incredibly effective when managing personal and Business accounts simultaneously.
Provides analytics on audience interaction and effectively aids in your accounts' growth, i.e.; how many people started following you, follower activity, etc.
Image sizing tool, hashtags recommendations, viewing multiple stories, links in bio to maximize interaction and your visibility.
Also Read: Top 10 Tips for Increasing Instagram Followers
Buffer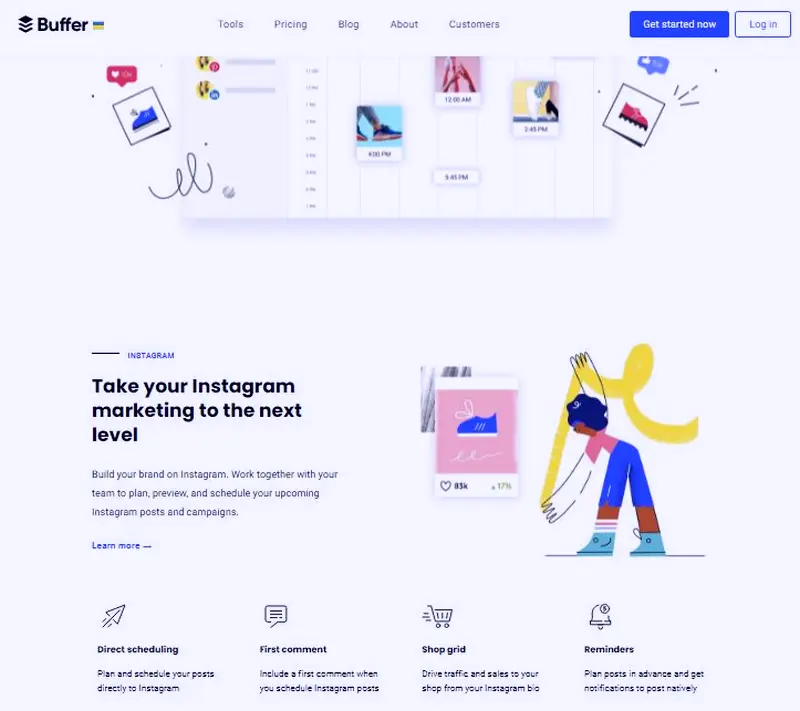 A buffer is another one of the best schedulers that helps in effectively planning your content on Instagram. You can plan stories, create reports, and make strategic recommendations. It has also a free package for starters and higher tier packages, including essential, team, and agency packages.
Features
Allows you to share posts, stories, and carousels as per your schedule and will notify you.
It helps you draft your post to be edited later or review it before publishing.
Shows detailed metrics of audience engagement and account growth.
Manages recommended Hashtags for your stories and posts.
Also Read: How To Get 1000 Likes For Instagram Organically?
HootSuite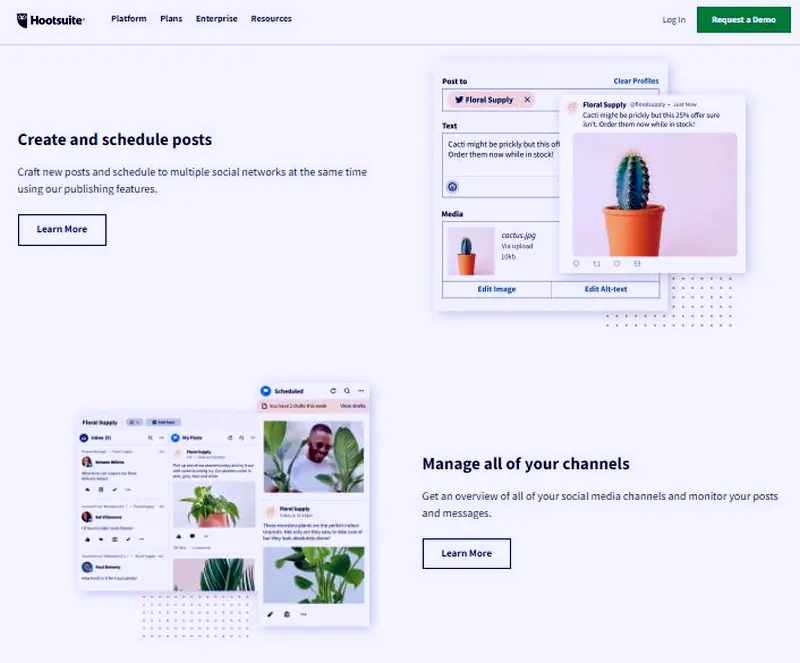 Hootsuite dramatically helps keep your Instagram profile active throughout the day through scheduled posts and stories. On top of that, it provides advertising, analytics, and monitoring. It has free and paid custom plans as per your requirements. So, other pricing plans are Professional, Team, and Business, starting at $49/mo.
Features
Hootsuite lets you schedule bulk posts and stories to be posted at the best time.
It has its own Instagram app for analytics, ads, and performance to be viewed with ease.
It helps you monitor your competitors and customers for better strategy building.
Moreover, it allows you to save your Hashtags from being added to posts instantly.
Also Read: Top 100 Best Instagram Event Hashtags for Event Planners
Sendible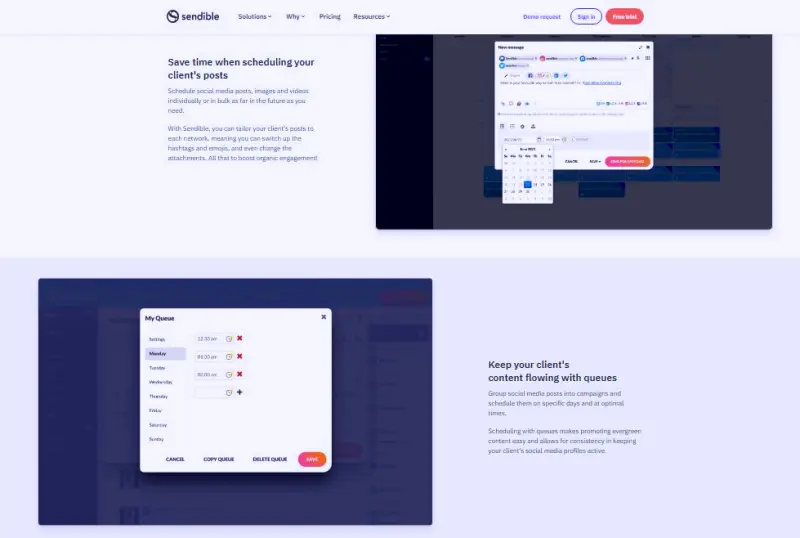 Last but not least, Sendible is a complete management app for your pre-planned post, stories; and carousels to be posted at the right time. It also lets you collaborate and improve social media posts. You can try it for free or purchase any of their brilliant packages. Overall, one of the best Instagram schedulers in 2022.
Features
Automatic report sending helps team members know about progress without you bothering about it.
Its custom reporting feature will help plan posts when your fans are most active to maximize impact.
Allows you to preview posts before publishing. It enables you to determine how your audience would be viewing it.
A scheduler shows you all the drafts you save while recommending relevant content.
Suggests topics so that you can come up with new ideas and content.
Also Read: How to Use Instagram Metrics to Measure a Brand Performance and Fuel Business Growth
Conclusion
That was the list of some of the best free Instagram schedulers. Which ones to buy depends on your needs and usage. Schedulers are very handy in keeping accounts engaging and making sure you are making daily progress. It would also save you a lot of time thinking about the right Hashtags and; how your post would look after being published. These tactics also help get your account popular and attract more followers towards it. However, for early start-ups, you can also buy some Instagram Followers in the UK.
Also Check: What Makes Your Instagram Feed More Interesting?
Photo by Lisa Fotios