If you choose something for a wedding, you definitely go for something smooth, shimmery, and glossy. Many brides opt for readymade dresses, and many choose to get them customized by their favorite wedding dress fabric.
As the wedding dress is the most voguish and essential dress in a woman's life, she cherishes getting the best dress to look like the best bride. A wedding dress fabric is playful and voluminous and prove to be the best one for making a wedding dress.
Wedding Dress Fabric Guide With Pictures
Here you will come across some to pick the best wedding dress fabric that is perfect for customizing a beautiful wedding dress. Each one has its characteristics and can be chosen depending upon the climate you will wear. Now let's check out some of the gorgeous fabrics that will help you get a perfect wedding dress for your special day.
Net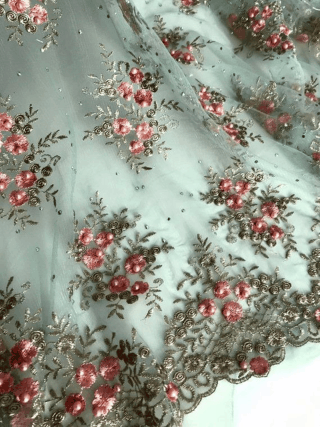 The modern brides choose the transparent and lightweight net to get a perfect dress for her wedding day. Different varieties of the net are available, having different sizes of spaces and some intricate thread embroideries that make it look super attractive.
You can choose an appropriate color and convert it into a graceful gown or get it tailored in a beautiful lehenga choli that will make you look like a perfect Indian bride. Just some accessories added to it, and you will get a complete bridal look.    
Organza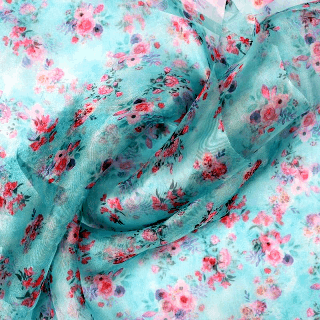 A plain weave thin and sheer fabric that is traditionally made from silk and is light in weight is the pretty organza. It is woven with synthetic filament fibers such as nylon or polyester. This wedding dress fabric is popularly used to make bridalwear and evening wear, giving an excellent look to the wearer. Not only dresses but the fabric is even chosen to decorate the interiors of the house, including curtains and other furnishings. Brides choose this wedding dress fabric as it has a glamorous shimmer and a deluxe appeal to the wearer. Even wholesale cotton dress materials are an ideal pick for brides.
Satin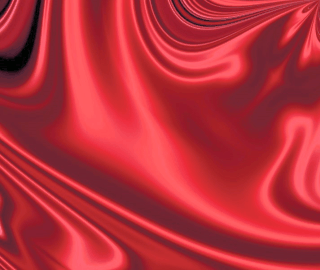 Satin is a weave of fabric rather than a fabric. The weave of satin is characterized by four or more weft or fill yarns floating over a warp yarn and four warp yarns floating over a single weft yarn. It is a glossy and smooth wedding dress fabric that makes an alluring dress. It is used to make modern dresses and some beautiful traditional dresses as well. For making sterling bridal wear, satins are the prior choice of dressmakers and the brides as well. As satin is a blend of silk, cotton, polyester, and some other fabrics, it has a unique appeal.
Also Read: Should you Opt for a Loan for Wedding Against Property to Cover Wedding Expenses?
Chiffon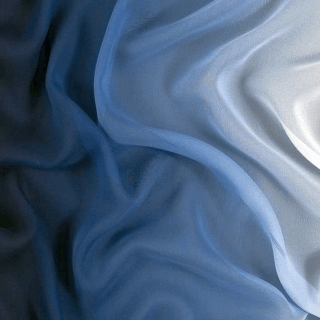 The lightweight fabric that is well-known for its gauze-like shimmery appeal is chiffon. It is used to make some fantastic bridal outfits that are perfect for your wedding day. It is purely made from silk and now even from synthetic fibers such as nylon and polyester. So, it has a playful appeal, and it is used to make a variety of fabulous dresses that gives the wearer a spontaneous look. A pretty white gown made of chiffon, having a straight silhouette at the upper body and a beautiful flare at the bottom, is the perfect pick for the engagement ceremony.  
Also Read: 5 Reasons To Appoint Projector And Screen Rental For Event Designing
Dupion
It is a type of silk fabric that is plain-weave and crisped produced, practicing fine thread in the warp and uneven thread in the weft technique. The fabric is often woven with different colored threads to give a dazzling look to the attire. It has a highly lustrous surface that makes it a perfect pick for a wedding dress. In India, Banaras is known as the significant manufacturer of dupion. A massive amount of wedding attires are made from dupion. This wedding dress fabric is found in various color options and can be paired with a contrast-colored fabric that gives it a pleasing look.
Brocade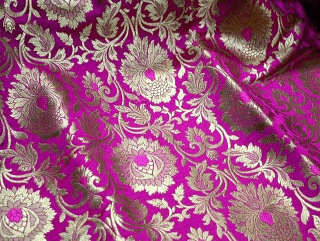 Brocade is a decorative shuttle-woven fabric that is often made in colored silk with the help of gold and silver threads. Also, brocade is typically woven on a draw loom that makes it a heavy wedding dress fabric and perfect for the wedding dress. It is widely used to make spontaneous lehenga with spectacular choli and a gorgeous dupatta that makes a pretty lehenga. The golden and silver shimmer of this fabric makes it the best one to choose from by brides. This wedding dress fabric is also used to make dazzling gowns and even other outfits.  
Also Read: 5 Necessary Cosmetic Products for Men
Crepe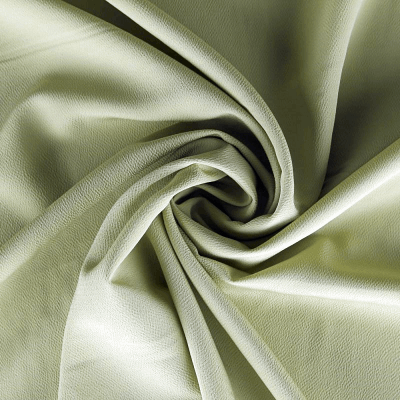 The crisp and crimped fabric made of wool, silk, and synthetic fiber fabric is crepe. The fabric differs in weight depending upon the material from which it is made. It can be light in weight or can be heavy, and you can choose it depending upon the climate in which you are going to wear it. Crepe has also a wrinkled and bumpy appearance that gives an ultimate appeal to the wearer. You can choose crepe and convert it into a beautiful wedding dress that can be a flared and long gown or a shimmery lehenga. 
Also Read: 10 Latest Kurti Neck Designs for Your Gorgeous Look
Tulle
Another lightweight wedding dress fabric that is used to make a brilliant wedding dress is tulle. It is available in various colors, and you can choose the one that suits your skin tone the most. Usually, white and red tulle is used to make the wedding dress. You can pick a bright color such as red, orange, pink, or blue for a hot dress, and for an elegant dress, you can choose white or other pastel colors such as baby pink, mint green, or aqua blue. Tulle is made using different fibers such as nylon, polyester, rayon, and silk, giving it a perfect shine.  
Lace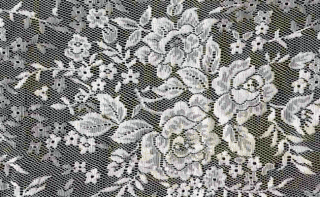 Similar to the net and other transparent fabric, lace is a lightweight and delicate fabric lace. It is decorated with intricate embroidery using threads and colorful diamonds or crystals. So, this one gives the dress a fantastic look. There are two main categories of lace, including needle lace and ribbon lace. Furthermore, it can be divided into knitted and crocheted. As it is eligible to make a sophisticated dress, brides prefer it on a high notch. You can choose a wholesale dress material and get it stitched in a lovely dress. 
Also Check: Top 10 Latest Kurti Designs For Printed Cotton Kurtis