The neck and sleeves of the attire are the most important part of the outfit that is effective to give it a dignified look. There are many types of kurti neck designs that are latest give the outfit an admiring look. Trying some different and latest neck designs gives the outfit a more interesting and attractive look.
10 Latest Kurti Neck Designs:
Here are some latest kurti neck designs that will give the wearer a pretty and attractive look. Let's check out some of them
1. Round Neck – Kurti Neck Designs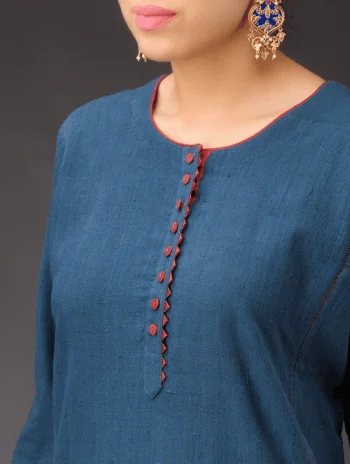 The simple and most elegant one is a classical round neck design. Whether it's a Kurti or a shalwar suit's kameez, this neck suits every pattern. Anarkali Kurtis and some other heavy Kurtis usually have this neck.
This common neckline can be flaunted anytime. Detailed with some piping or tiny crystals gives it a clean and dignified look. Simple neck sleeves or bell sleeves make a perfect combination.
2. Angrakha – Latest Kurti Neck Designs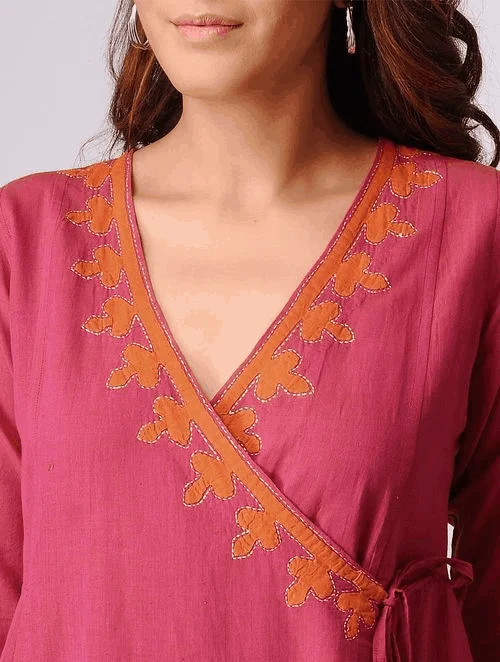 Choosing an angrakha neck pattern gives you a pretty and sophisticated look. This overlapping pattern is an older one that was immensely popular at the Mughal era. It overlaps the design, making a V-neck, and has a tie-up in the front that includes some pretty tassels and hangings.
Some thin laces and attractive borders are also used to decorate the attire. An angrakha Kurti having block prints and traditional motifs is perfect for a gorgeous look.
3. High Neck – Latest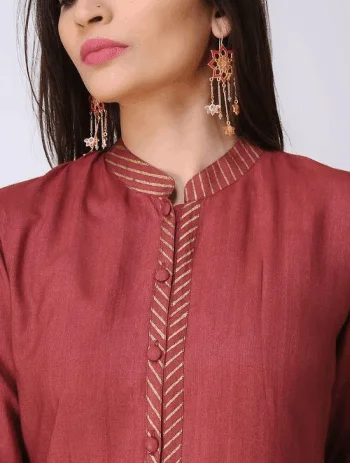 High necks and closed necks make a sober outfit. A high collared neck Kurti having some sheer details and laces makes a beautiful party wear Kurti. The closed necks are also detailed with colorful buttons and tassels that gives it an exemplary look.
A straight cut Kurti that is properly fitted to the body makes a perfect pair with these necks and long sleeves. Pairing them with different styles of pants or shalwar will be mandatory.
4. Butterfly – Kurti Neck Designs Latest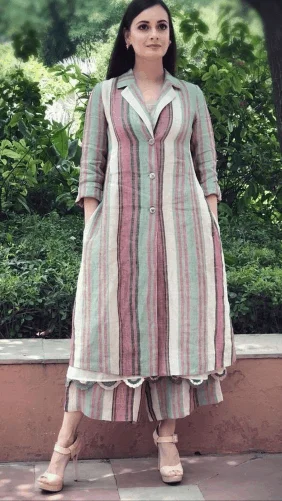 Trying something unique makes you look different from everyone. A lovely buttery collar neck on a straight cut Kurti gives the wearer an exclusive look. You may have seen many divas and models wearing these neck designs at parties and events.
This collared neck with a v-notch gives you a fancy and stylish look. Wearing a beautiful choker necklace with the outfit will glorify your look to a high extent. Pair some oxidized jewelry for a complete look.
5. V-neck Design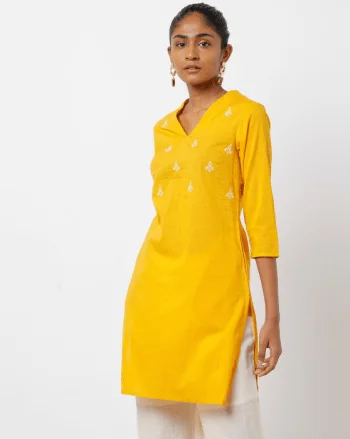 Another one in the list is a simple and classical V-neck design. It is one of the most admired neck designs among girls. For those who have rectangular shaped bodies and broad shoulders, this pattern proves to be the best.
If you are getting the attire stitched and are confused regarding the neck, then this one will be favorable. For simple and casual wear Kurtis v-neckline is a perfect choice. Pair them with leggings and pants to get a fashionista look.
Also Check: Top 10 Latest Kurti Designs For Printed Cotton Kurtis
6. Sweetheart – Kurti Neck Designs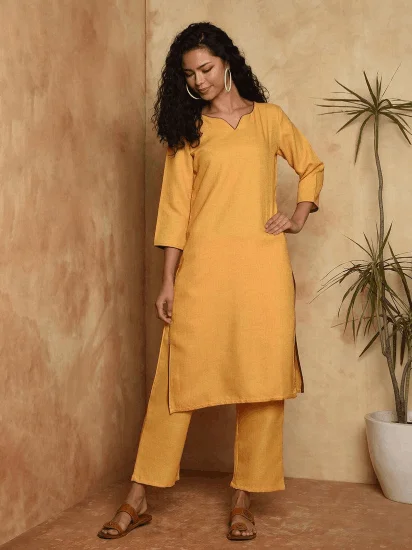 Outfits or Kurtis that are made for special occasions and events such as wedding functions or festivals look outstanding in sweetheart neck design. We also know it as pan shape that points from the end and broad from above.
It details this neckline with piping and stones so it can look more beautiful and attractive while worn. Kurtis with this neck are also perfect for gatherings and kitty parties. A georgette Kurti with sweetheart neck and full sleeves is an eye-catchy outfit.
7. Stand Collar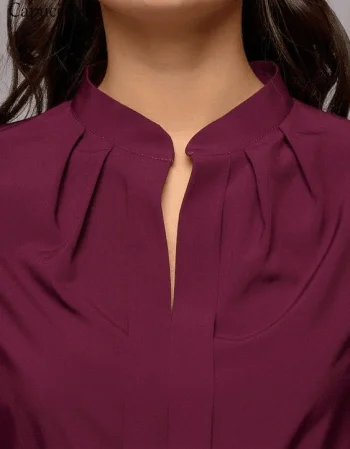 We also know the stand collar neck as Chinese collar. It has a tin round collar with no corners and endings. The neck looks perfect with a straight Kurti or a slit Kurti. Some pleated pattern below the collar and a v-notch below it makes a pretty combination.
Bishop sleeves comprising three-fourth length looks alluring with this pattern. Also, the collar may be plain or have some embroidery work makes it an extraordinary outfit.
8. Halter Neck – Latest Kurti Neck Designs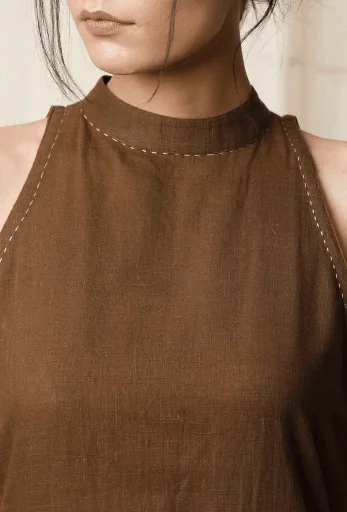 This one is in high trend. It is a closed neck with a sleeveless pattern that gives a modish and attractive look to the wearer. Because, a straight halter neck Kurti or a slit and flared halter neck Kurti paired with denim jeans makes a perfect casual wear outfit.
It is the best one for summers that gives a cool and fresh vibe and if prepared from lightweight fabric like cotton and linen, then no girl can reject it.
9. Keyhole Neck Design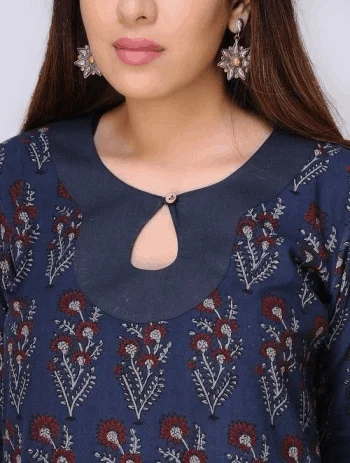 To give your Kurti an effective look, you can add a keyhole to it that makes it look super ravishing. They can design the keyholes in many patterns that may include oval shape, triangle shape, or round shape.
The keyhole at the front of the Kurti makes it look more stylish and adoring. The keyholes are also found at the back of the outfit that makes it look more dignified. If you are getting it stitched then choose a pretty keyhole pattern for yourself.
10. Boat Neck – Kurti Neck Designs Latest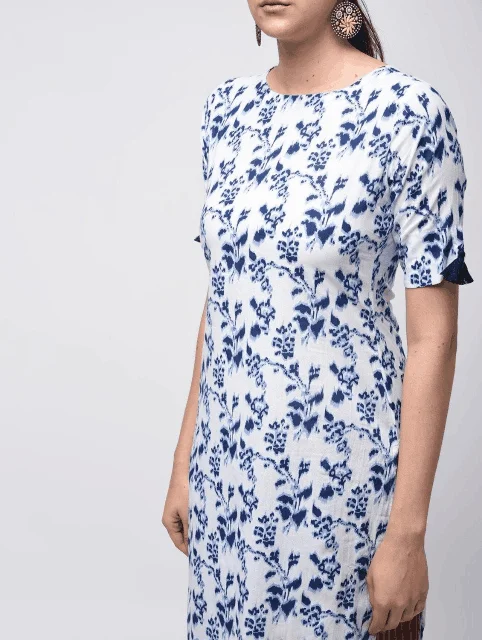 A printed boat neck Kurti paired with a fitted pant or legging will be a great pick for family gatherings. This pattern is like the round neck, but it is broader than the round and higher that makes it a close neck pattern. It best suits printed Kurtis and salwar suit patterns.
According to the name, it makes a boat shape that is curvy and simple. So, a Kurti having beautiful details and a classy boat neck will give you a fabulous look.
Also Check: Top 10 Trending Designs in Pakistani Salwar Kameez
Final Words:
If you are searching for some lovely Wholesale Kurtis with alluring neck designs and sleeves, then you can easily get them from web stores. It will save your time and you will get them at a reasonable price. So, this festive season try something stylish and fancy by choosing the latest patterns online.
We can purchase the patterns that you cannot find in the markets with the help of online shopping. You will also get thousands of color options and prints, so you can choose the most desired one in just a few clicks.
Also Check: Wedding Dress Fabric Guide – Top 9 Wedding Dress Materials