In this article, we will explain the distinct ways to maximize your bathroom space. We will give you some tips on using slim bathroom storage ideas to make your essentials.
If you are decorating the interiors of your home, you might probably discover that the bathroom is one of the trickiest spaces to manage. Well, if you are lucky to have a huge bathroom, this may not be your problem. However, most homeowners don't have a lot of space in their toilets, which makes it harder to manage.
One might think that since we don't spend too much time in the bathroom, you won't need to do so much organization. It's wrong. The bathroom is often the smallest part of the house, but it stores many essential personal items. As a result, your small bathroom can be much smaller because of all the storage cabinets and shelves you need to use.
How do I maximize bathroom storage?
Just like any part of your house, the bathroom needs a little bit of style and creativity to make sure that it will look good and highly functional at the same time. Let's begin!
1. Use over-the-toilet storage
One of the most innovative ways to design your bathroom is by using an over the toilet storage shelf. Usually, the space on top of your toilet is an open area where most people tend to overlook. But instead of just hanging a wall painting there, why not make the space more functional and use it as a storage space.
There are many types of over the toilet storage to choose from. If you like it to be easily accessible, you can choose a tall open shelf. However, if you want it to look a little more stylish, there are medium-sized cabinets that can be stored on top of your toilet.
These bathroom storage shelves and cabinets can store your essentials such as shampoos, soaps, tissues, towels, etc.
2. Consider hanging bathroom shelves
Another effective way to save floor space is by using hanging shelves. Most people don't consider using it because hanging shelves are sometimes hard to reach, especially if you need to get something urgent. However, you can use hanging shelves and cabinets to store bathroom product stocks instead.
For instance, if you happen to buy many soap and shampoo stocks, you can use the hanging shelves to store them until you need to replace the one in use. This is also perfect to use for bathroom storage towels that you keep for unexpected visitors. Hanging shelves and cabinets will give you additional space and make your bathroom items more organized.
3. Use a wall-mounted rack
For products that you need to access quickly, you can use a wall-mounted rack. This is also an effective way to store ready-to-use towels and tissues. Since you can mount these racks on your wall, you can also save floor space and maximize the open wall spaces in your bathroom.
Moreover, using a wall-mounted rack makes it a lot easier to look for towels and other products around the bathroom. This is not only suitable for you but also your visitors.
4. Hooks can be handy
Another simple yet effective way to organize your bathroom is by using hooks. You can install some hooks in the shower to hang your loofahs and other bathroom items. It can also be helpful to hang hairdryers, mirrors, and other beauty items.
Hooks can be very useful more than you can imagine. It's one of your best friends when it comes to organizing your belongings. Just like how these magical hooks can keep your kitchen and bedroom closet organized, they can also be a reliable addition to your bathroom organization.
Also Read: How To Use Clip Strip Display To Organize and Improve Your Retail Shop?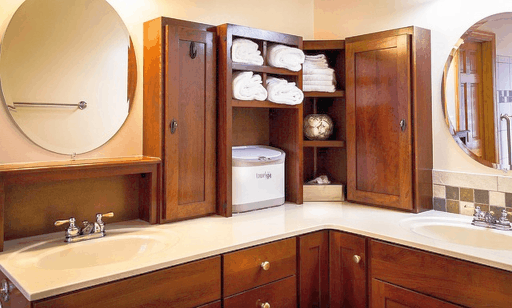 5. Maximize wall spaces with hanging baskets
If you want something more creative and clever, you can hang baskets on your bathroom wall. These baskets can store your bathroom essentials, such as beauty and hair products.
You can hang different baskets for different types of products to make them more organized. These products are very efficient to use and add to your bathroom's aesthetic appeal.
6. Use the bathroom storage under the sink
For bathroom cleaning products, the best bathroom storage space to use is the cabinet under the sink. If you happen not to have a cabinet there, you may want to consider installing one. Like over the toilet storage idea, the bottom part of the sink is usually left unused.
Thus, it's a waste of space unless you make it worthwhile. Cleaning products, as much as possible, should be kept away from sight because not only does it look tacky and messy to stick them around, some of their contents are harmful as well.
7. Add bathroom storage space on the shelf and cabinet doors
Another creative way to add bathroom storage space in the bathroom is by using hooks and organizers behind your cabinet doors. These spaces are often unused because, well, it's a door.
However, if you happen to have a medicine cabinet, you can add more space to it by installing magnetic organizers behind the door and hang smaller items there. In that way, it will not be cluttered inside the cabinet.
8. Repurpose your furniture
One of the best ways to save space and money at the same time is by repurposing your furniture at home. If you happen to have an old shelf in the garage, you might want to use it in the bathroom as well.
Another creative way to add bathroom storage is by using one of your old bar carts. Since these carts have shelves and cabinets, it's ideal for storing different types of bathroom products.
Also Read: Choosing the Best Vanity Unit for Your Bathroom
Get more inspiration to organize your bathroom
Interior decorating is both fun and exhausting at the same time. As much as possible, you want to have the most efficient way to organize the rooms in your home, but you want it to look aesthetically pleasing as well.
Here are some of the most effective ways to refuel your creative juices in terms of organizing your bathroom:
Research home decor magazine – Nothing beats getting more inspiration by flipping through magazine pages. You will see many inspiring photos of how these world-class interior designers make each space look beautiful and organized.
Check your peers' interior design – Another effective way is by checking out how your friends decorate their homes. You can also request them for advice on how to maximize your bathroom space based on their experiences. Since they have done it already, it is most likely effective and cost-efficient at the same time.
Browse through an online store – Knowing what you can buy can give you some inspiration to start organizing your bathroom. You can check out online stores such as Storables.com, so you'll know which products are available in the market. In that way, you can visualize what it will look like in your bathroom.
Also Read: How To Purchase a lean-to shed for additional storage needs
Key Takeaway!
Even if you are only spending about 1 to 2 hours max in your bathroom, or sometimes less, it is still one of the essential parts of your home. It's the place where you can relax and recharge after a long day at work.
Make sure that you organize and maximize all bathroom storage spaces to have a more homey and relaxing ambiance all the time.
---
Photo by Sanibell BV and JamesDeMers