These days, lounge chairs are necessity for relaxing and taking naps. Generally, these are armless and available in a permanently reclined shape that the user cannot adjust. This is the main point of differentiation between lounge chairs types and recliners.
Over the years, many new features have been added to lounge chairs. Today, buyers looking for lounge chairs online in India are spoilt for choices because of the sheer variety available. Before listing the best modern lounge chairs, you may consider to buy, let us delve into the origins and history of a lounge chair.
Lounge chairs have evolved from the possession of the wealthy to a necessity for living a comfortable everyday life. The first lounge chair is believed to be designed in 1928 by Marcel Breuer, a Hungarian architect.

The original design was tubular steel, plated in chrome, and upholstered with leather. Later, Ray and Charles Eames crafted the Eames Lounger for the Herman Miller Furniture Company. These chairs were made using plywood, with an aluminum base, and were furnished with leather.

An interesting fact to be remarked is that the Eames Lounger itself was inspired by Club Chairs, which were not loungers exactly. Because of these overlapping ideas in inventions, sometimes lounge chairs and recliners are used interchangeably too.
Uses of Lounge Chairs
To lounge is to lie or sit in a relaxed or lazy way, which is the primary use of lounge chairs. However, with the rising trend of work-from-home during the COVID-19 pandemic, many people prefer to sit in a lounge chair and work on their laptops.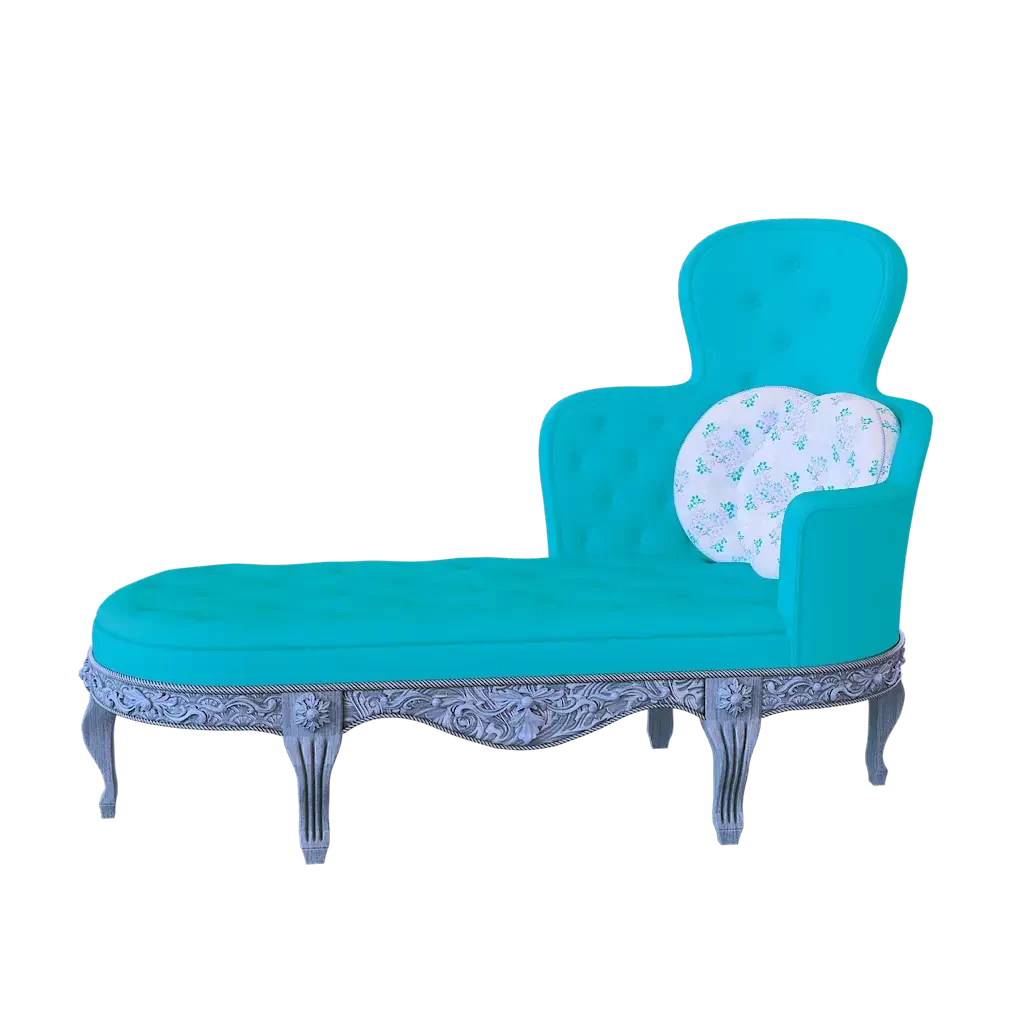 Top 5 Types of Lounge Chairs
As mentioned earlier, there are many different types of lounge chairs available today. However, there are a few alternatives that are in vogue more than the others. These include industrial furniture, butterfly chair, Audrey chair, etc., among others. Here are some details on these lounge chair options in India.
Butterfly Chair
Crafted by the Argentinian architect named Jorge Ferrari-Hardoy in 1938, butterfly chairs became an iconic symbol of modernism. Also known by the name of their designer, these chairs have a minimalist design that is the right balance of form and function.
Made with a simple wood or metal frame, butterfly chairs have a single piece of fabric/foam fixed as a seat.
These chairs suit the modern aesthetics of a house or a café, but they may also be used as outdoor or beach chairs.
Also Check: How to choose the Right Color for Your Bedroom Furniture?
Audrey Chair
A versatile type of lounge chair, Audrey can be used everywhere: indoor and outdoor, home, office, etc.
Given its contemporary design with clean and simple lines, light and durable iron frame, and fabric upholstering on the seat and the back, the Audrey chair looks elegant in all types of settings.
Besides, it takes minimal space and thus fits well into small spaces too.
Also Check: Top 4 Tips On How To Select Restaurant Booths?
Industrial-style Lounge Chairs
Industrial-style furniture had developed during the early 20th century when the trend towards globalization went northwards.
Lounge chairs of this type are available in neutral hues and made using materials that accentuate unique textures and go well with the décor, lighting, and furniture. It is easy to create a bold statement despite the minimal design tropes and simplicity of industrial chairs.
Moreover, the use of recycled material makes it an environment-friendly option to create fantastic interior décor. The USP of industrial chairs is its bare and natural finish using materials such as wood and aluminum; this means no cosmetic tricks are needed to make it stand out.
Also Check: How To Choose A Sofa And Clean It?
Accent Chairs
Another type of lounge chair is accent chair. Accent chairs are used to create additional space for sitting in a room, to add a decorative element, to create a snug corner near a fireplace, or all of it together.
Accent chairs are available in many eye-catching designs and usually provide adequate support to the sitter. However, rocking chairs are one of the most common types of accent chairs found in modern homes.
These chairs may or may not have armrests, depending upon their type. More oversized and plush accent chairs are also in trend these days. However, if there's not enough space, buying metal and leather-made accent chairs is a wise choice.
Also Check: How To Buy The Perfect Office Chair?
Chaise Lounges
If you love leaning back and lazing around, these French-origin chairs designed by Charlotte Perriand in the late 1920s could be your best purchase.
Translated literally, Chaise Lounges means "Long Chairs" and can be used in outdoor areas such as gardens, balconies, gazebos, and even around the pool.
These are long enough to let you stretch out entirely without having to use an ottoman. Therefore space is a non-negotiable aspect if you want to use these types of chairs.
Also Check: Benefits Of A Comfortable Gaming Computer Chair
Conclusion:
No matter which type of lounge chair you choose, remember what Evan Davis said about chairs,
"The function of a chair is not just to provide a place to sit, it is to provide a medium for self-expression."
That means that a chair's design is as essential as its ergonomic performance.
Also Check: Finding the Right Cushions for Your Home Decor
Featured Image by Jazella