The number of sunny, pleasant days will increase as the spring goes on. This is the time of the year when people start making plans for reorganizing and redecorating their households. Maybe you too wish to give your house a new, refreshed look for this year? Whether you look for tips for decorating your own home or you want to add to the curb appeal of some commercial properties, we can help you. In this article, we will give you six helpful exterior house design trends and ideas.
Top 6 Exterior House Design Trends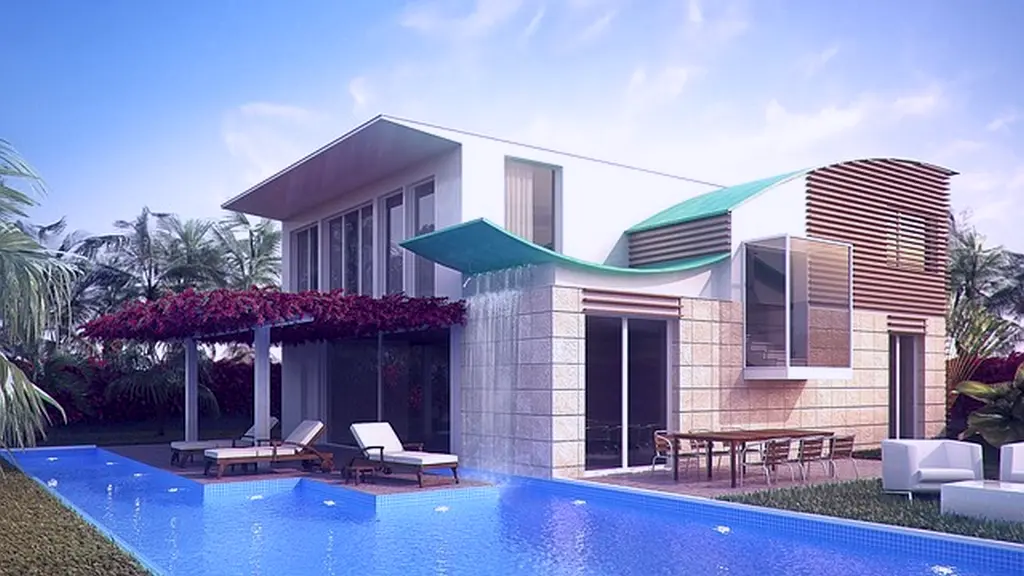 Popular Color Combinations and Contrasts
The minimalistic monochromous exteriors in white or light grey colors are still used for expensive houses. However, color combinations will be a more popular trend this year. Clever use of contrasting colors can effectively change the exterior design of your house for the better or give it a whole new look. For example, darker colors, such as charcoal, onyx, or dark brown; should be used in contrast with lighter tones or tones from the same color group. You can use black as an articulation color by painting the window trim, door frames, and porch railings; while the rest of the house can be in another, lighter color. This rustic combination can give you an array of creative and stylish results.
Furthermore, combinations of warm and inoffensive colors will undoubtedly be a popular pick among younger homeowners. Painting your house with soft earthly tones is a great way to give your house a warmer and more neutral look. Ultimately, shades like beige, black, ivory and warm white replace bright colors. Another benefit is that earth-tone colors are more stable on exterior exposure. Pigments used in these colors are inorganic and therefore are less likely to break down than bright colors that are organic.
Invest in Quality Materials
Buying cheaper but shorter-lasting materials is a temporary option. Vinyl siding or faux stone will quickly require repair that will cost more money in the long run. Strong materials can provide safety and can withstand any harsh weather conditions. Consider investing more money in higher quality materials like brick, stone, or metal. You can equally use them to protect the household and boost aesthetic value. For example, concrete or stone sidings add visual texture to the exterior design of a house and highlight desired architectural features.
It will attract more potential buyers and significantly increase the value of the homestead, too, if that is your goal. The most common siding options are board and batten, clapboard, Dutch lap, and shingle. They can be implemented in various innovative ways to outline or alter the original structure. Either way, they will make your home watertight and resilient to sudden temperature changes.
Wide Windows Mean More Daylight
We are evolutionarily predestined to enjoy natural outdoor settings. Therefore, more and more homeowners connect their homes with the outside world through the creative use of panoramic windows. There are casement (vertical) and awning (horizontal) windows and skylights. This way, you can illuminate your home with sunlight and decrease the use of artificial lighting.
You can ensure a broad and mesmerizing view of the sky and beautiful greenery on your property. This is an effective stress reliever that never goes out of style. It's one of the house exterior design trends nowadays. Additionally, your house will look fantastic from the outside with its new intriguing design.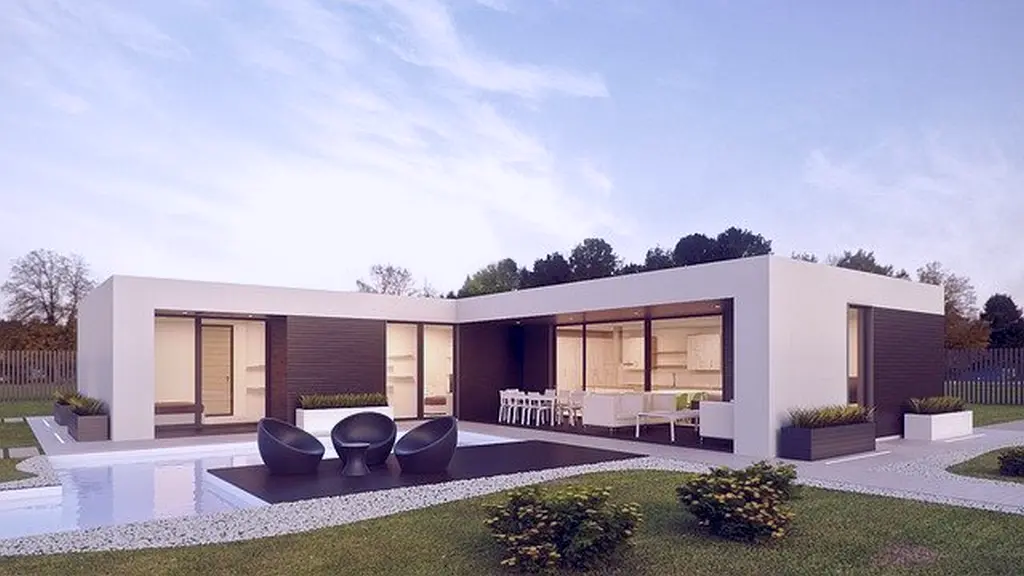 Outside Living Space Arrangements
Speaking of the outdoors, hosting outdoor activities and gatherings is fun for most homeowners with a large backyard. There are many accessories to choose from to enrich your outdoor living:
The most important are the pieces of furniture, such as outdoor sofas, swings and garden chairs. High-quality seating will make socializing and spending time outside more relaxing and comfortable.
Outdoor kitchens, bars, grills, and fireplaces will warm up the atmosphere and provide more enjoyment. Make space for psychical exercise too. Designate a part of your backyard for sports such as tennis, badminton, or football.
Consider constructing and stylizing a gazebo, porch, or patio.
They have been a hot trend for a while, and they still are rising in popularity in 2022. A solid floor with a reliable and durable roof will allow you to spend some time in your backyard despite blazing sun or drizzle. Trusty and well-designed shades and pergolas are also intelligent choices, and such are made by Pioneer Shade. Well-thought-out construction and galvanized steel framework are the staples of these durable roofings.
Also Check: The Ideal Kitchen Layout For A Family That Loves To Entertain
Create Your Backyard Oasis
If you are looking to boost your house's curb appeal but don't want to give up your privacy; so you can opt for multipurpose retaining walls. They can double as built-in planters, and you can decorate them in many exciting and innovative ways. Let your imagination run free. You can add an exciting house number, design interesting line patterns and sketches; or hire a skilled painter to provide you with more elaborate illustrations. Entering your front yard, a walkway will lead you and your guests to the front door.
Walkways can serve two purposes, the other being an eye-catching part of a homestead exterior design. Stone-and-pavers walkways look organic and natural and fit well with an elaborate garden. Speaking of gardens, they are most definitely among the hottest house exterior degign trends in 2022. If you have a green thumb, get creative with Australian native plants. For example, you can choose Swan River daisies, Lilly pilly, Westringia, Grevilleas, and Banksias. Turning your front yard into a green, safe haven is a perfect expression of your unique décor style.
Also Check: Interesting Gardening Design Ideas For Your Backyard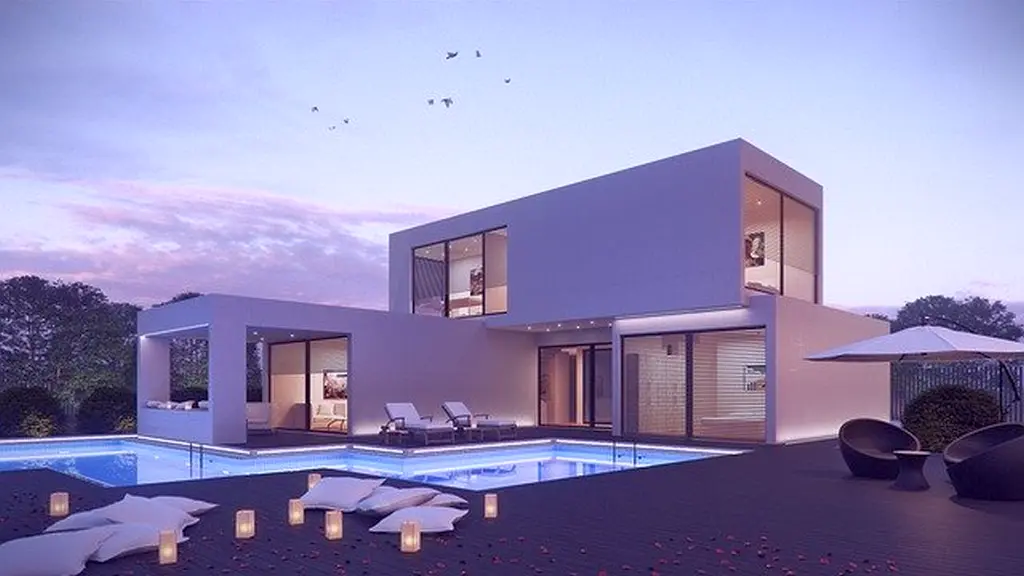 Illuminate Your Yard
If you are looking for advice on how to make your backyard more comfortable and safe; the easiest way is by adding backyard lighting. During the night, good lighting allows you and others to move around the house safely without the risk of tripping and falling down. Another great benefit is that the proper lighting triggered by timers can help you protect your home against possible robbers. If your lighting is limited or set in the wrong place; it can hurt nighttime aesthetics and lower the value of your property.
You probably already have some backyard lighting installed; but if you want to upgrade it, there are dozen of options available on the market. For example, if you're going to minimize your carbon footprint, solar lights and LED bulbs are the perfect options. Perhaps, you are planning on hosting parties; and you are looking for something that can add instant festivity to a space. In this case, color-changing lights are the right choice for you.
Also Read: 6 Do's and Don'ts of Basement Waterproofing
Conclusion:
Catch up with current house exterior design trends and renovate your house in the spirit of 2022. Hopefully, this year will bring more stability to our lives as the global pandemic subsides. We might still spend a lot of time at our homes; but we can enjoy it more by breathing in a new life to our surroundings.
We hope that our list of ideas has inspired you. Maybe you have already started designing new exteriors in your head. Sometimes, a change like this can significantly elevate your mood and make you look at your property with a new passion. If you are looking to deal with your house, this will create a stand-out in the housing market.
Also Check: How to Do Home Foundation Repair – 5 Possible Efforts to Repair Home Foundation Problems
Images by giovanni gargiulo from Pixabay
---

Author Bio: Grace Wilson is a 28-year-old biotechnologist and a kind of a bookish girl. Surfing the Internet is her favorite, and that's why she had turned into blogging. Following a healthy mindset and lifestyle is what she consider her life principle. If interested, follow her in Twitter.