Think about what you will use the box for and where it'll be kept when looking for the best outdoor storage boxes for your needs. Suppose you need space for pool supplies and toys. In that case, children's backyard toys, grilling utensils, pillows, gardening equipment, or any myriad of other reasons, the outdoor storage boxes can hold it neat, safe, and at your convenience.
12 Best Outdoor Storage Boxes You Must Use
Outdoor storage boxes can vary from simple and functional to stylish design enhancements to your outside living room. It comes in rectangular vertical boxes, ample cabinets, and cube sizes, depending on your preference. They have big doors, racks, and hanging hooks. Some also double as additional seating. Add a nice cushion, and you're ready to go. Here are some great outdoor storage boxes that you can purchase.
1. Suncast Outdoor Storage Containers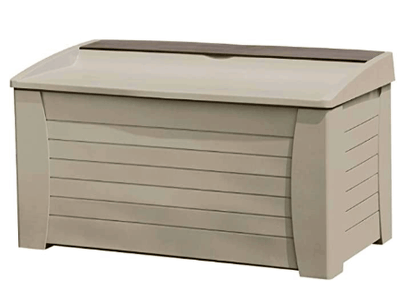 Suncast's elegant wicker waterproof outdoor storage box has a 99-gallon range and is ideal for deck, porch, yard, driveway, garden, and shed storage.
The water-resistant poly resin design prevents fade and corrosion. Your outdoor storage boxes looks brand new for the coming years.
You can use it indoors and outdoors to store barbecue supplies, sports gear, gardening equipment, patio pillows, yard gloves, pool toys, and other products. The lid opens on hinges for quick access to your possessions, and rainwater drains off the box. So, it keeps them dry and free of black mold and rusty.
2. YOUDENOVA Folding Storage Ottoman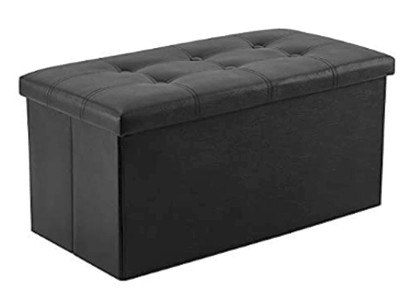 This waterproof outdoor storage boxes from YOUDENOVA are ideal for reducing clutter and arranging toys, pillows, blankets, sheets, or magazines beautifully.
It is made of waterproof PVC leather, Medium Density Fiberboard, and sponge padding to provide a comfortable seating environment.
You can use it as a console table, step stool, footstool, or shoe bench. The storage chest can be easily installed and assembled in a minute. So, it is ideal for use in the bedroom, lounge, entryway, living room, and other areas.
Also Read: How Outdoor Rugs Are Made?
3. COVERONICS Patio Storage Deck Box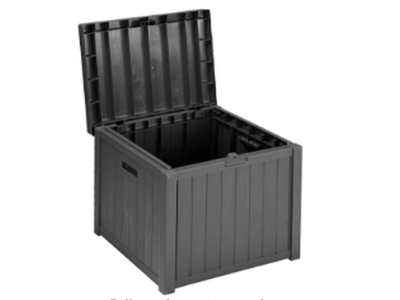 This waterproof plastic outdoor storage boxes have a total capacity of 120 gallons and is ideal for lawn, balcony, ground, greenhouse, bench, and shed storage.
It's made of weather-resistant plastic poly material with a wood-like feel that won't mold or fade. The flip-open nature makes it simple to bring in and pull out your things.
Moreover, the lockable lid efficiently protects your pool accessories, floor, and patio. No tools are needed for assembly; follow the steps in the installation instructions to complete the installation in a matter of minutes.
4. B FSOBEIIALEO Storage Bench Footrest Seat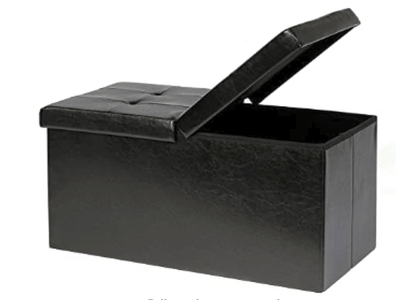 This storage bench's dimensions are 30″L x 15″W x 15″H, making it a good height for sitting and resting your legs and feet.
It has a unique flip-cover feature that allows you to quickly take out and store products without removing the whole lid. It's easy to put together and takes just seconds to set up.
When not in use, the retractable ottoman folds quickly for storage in garages, under beds, and closets.
Its extra-large volume is ample to meet various needs, and you can use it to arrange clothing, books, shoes, toys, blankets, and other sundries on your patio, terrace, bedroom, dining room, corridor, or utility room.
Also Read: Learn How Cardboard Packing Boxes Provide Safety to Your Products
5. Furinno Hardwood Storage Box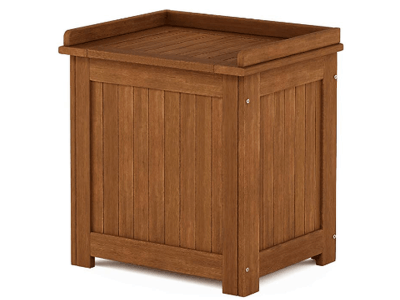 Furinno's hardwood outdoor storage boxes have solid, robust, and long-lasting construction made of dark red meranti wood coated with teak oil and natural hardwood paint.
It is waterproof plus weatherproof since it is designed to last a lot longer.
The dimensions of the product are 21.00 (W) x 23.75 (H) x 16.50 (D).
6. ANMINY Foldable Storage Ottoman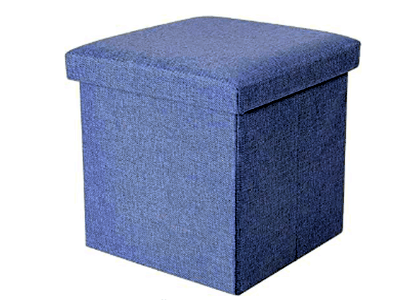 This long bench cube box bin measures 30 x 15 x 15 inches and is built from eco-friendly cotton linen fabric and memory foam with a durable frame.
So, it is ideal as a storage box and footrest stool with a maximum load capacity of 400 lbs.
It is covered with memory foam on the top and has a comfortable height of 15″.
So, it is perfect for sitting and resting your feet or legs, as well as storing your sundries. It is low maintenance, sturdy and long-lasting, and can provide you with luxurious warmth.
7. Leisure Season Vertical Storage Shed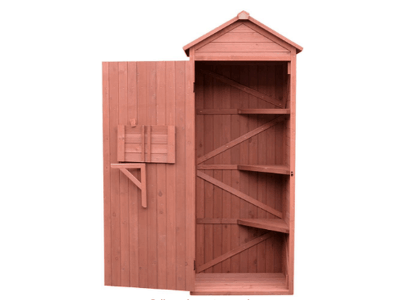 This tall vertical storage shelf arranges both large and small items. It helps keep gardening and lawn supplies such as sports equipment, pool furniture, rakes, and brooms.
This outdoor storage boxes are similar to metal lockers, but they have more attractive and sturdy because it is made of rich brown and rough, strong wood from the cypress tree family.
The tools cabinet has pre-built double panels for quick entry and exit, as well as pad-lockable doors to keep children, robbers, and pets out of your supplies.
8. Dex Protection Large Deck Boxes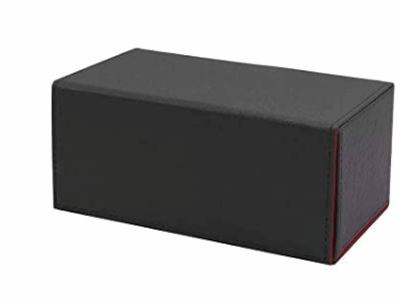 The large deck box has two compartments that can hold 175+ double-sleeved or single-sleeved regular playing cards.
It can store additional cards, character figures, dice, or other accessories in the side compartment.
It has a Dex Protection Saffiano exterior that is lightly textured, a matte finish that is robust and can withstand the demands of everyday play.
The velvet-lined décor provides a safe and comfortable resting place for your deck.
Also Read: How To Purchase a lean-to shed for additional storage needs
9. Keter Portable Outdoor Table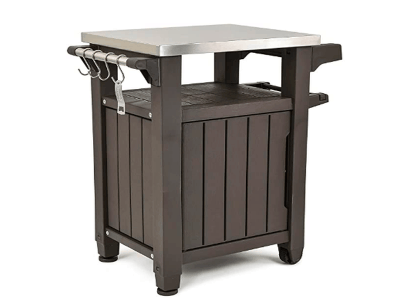 This portable outdoor table and storage cabinet with hooks measures 52.7″ W x 20.5″ D x 35.5″ H on the outside and 40.9′ W x 16.3″ D x 18.5″ on the inside, with 54-gallons internal storage and 24-gallons open storage for a total storage capacity of 78-gallons.
It's made of weather-resistant resin polypropylene construction with an attractive wood-like texture that, unlike natural wood, inhibits rusting, flaking, and denting.
It also has an easy-to-clean 201-grade stainless steel upper surface for cooking and serving food.
10. Christopher Knight Outdoor Deck Box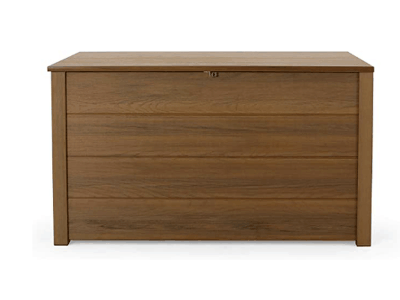 This synthetic wood provides the beauty and textures of natural wood without high maintenance by using a rare mixture of wood and resin.
It is completed with a rustic slat panel style and handles for fast transport.
This deck storage box will accommodate up to 100 gallons, providing plenty of closet outdoor space for your cushions, sheets, and beach items. So, this uses friction hinges to keep the lid open on its own and to maintain a gentle close.
11. Rubbermaid Outdoor Storage Cabinet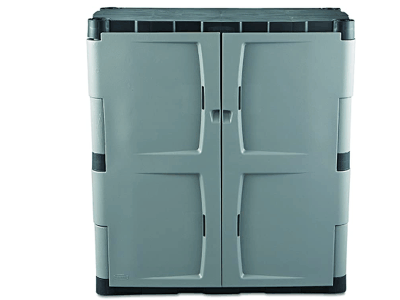 This small plastic lockable storage cabinet is made of resin and is highly resilient, robust, and practically maintenance-free.
It will not rust, stain, crack, or peel like metal or wood. The lockable doors hold valuables hidden and toxic materials out of reach of most people.
Also, it has one ventilated and one solid shelf, and the shelving is not adjustable or removable.
It can hold things up to 336 pounds and has a storage capacity of 13.5 cubic feet.
12. B FSOBEIIALEO Pink Storage Ottoman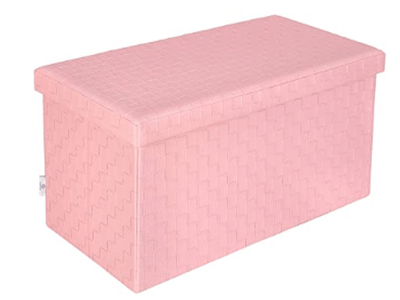 This pink folding storage ottoman is solid and stable, with a static load capacity of up to 550 pounds.
By dimensions of 30″L x 15″W x 15″H. It is ideal for small spaces and has a decent height for sitting and resting your legs or feet.
It has a robust frame and is coated in durable imitation leather.
Also, sizeable secret storage space for sundries like shoes and blankets, ideal for decluttering your entryway and bedroom.
Also Read: 8 Best Ways to Maximize Bathroom Storage
In A Nutshell
Most outdoor storage boxes are made of wood, rattan, resin, and high-density polyethylene plastic. Most outdoor storage boxes have waterproof or water-resistant materials that can endure years of use, direct sunshine, and inclement weather. When determining which storage box to buy, you should remember where will you place it.
Also Read: How To Determine Outdoor Roller Blinds Will Save You Money?
---
Images from amazon.com and Featured Image by Bo Mei