The Rado watches have reputation for being durable, stylish, and elegant. Rado was founded in 1917 under the name Schlup & Co. by brothers Fritz, Ernst, and Werner Schlup. The three brothers converted their parent's home to their first factory. Today, the company is still making timepieces that are durable, reliable, and of high quality.
The most notable feature of the Rado brand is its use of innovative technology in the best watches production. Standing by their company's slogan, "if you can dream it, you can do it."
The simple designs have a very classy feel and yet can convey a strong sense of personality. This is what is so great about the Rado brand. Its ability to provide elegant watches with a strong sense of style.
4 Best Rado Watches For Men To Choose From
If you are thinking of owning Rado watches, here are some of the best choices available.
1. Rado Captain Cook Bronze Burgundy Automatic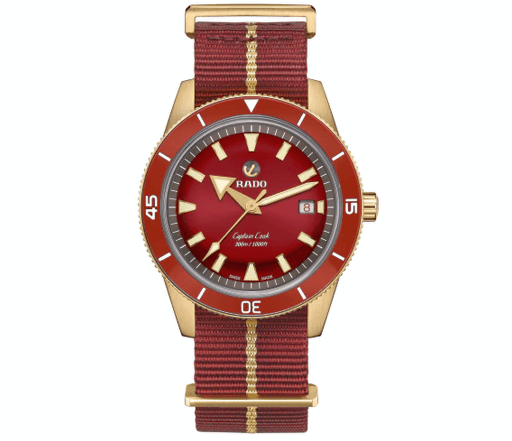 The Rado captain cook bronze diver's watch has a dazzling burgundy color. This is a sequel to similar models that are available in green, blue, and brown colors. It also has a ceramic bezel. It was named after a British explorer from the 18th century.
The watch is 42mm in diameter and 12.5mm in thickness. It is also a diver's watch as it is water-resistant. A water-resistant watch means that it can resist being damaged by water, at least to a certain depth.
Are you serious about having a feature-rich piece of jewelry that will last you for a long time. Then, you should aim for models that have a built-in water-resistance feature. This way, you won't have to worry about your watch getting damaged from the rain or splash of water.
2. Rado Captain Cook Bronze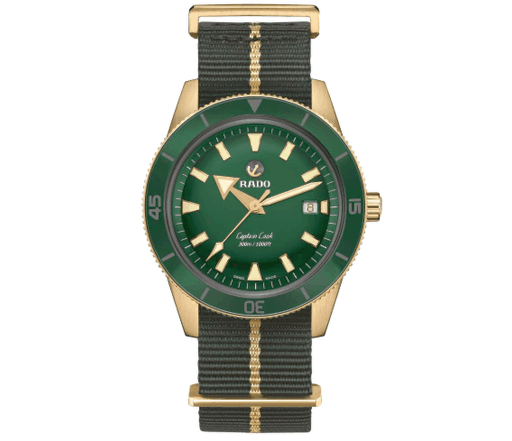 The captain cook bronze is a model characterized by 42mm bronze cases and water resistance of up to 300 meters. The look appears vintage, which was inspired by the original released back in 1962. With this newer model, the specifications, accuracy level, and reliability are more advanced.
The model is available in blue, brown, and green color. Automatic movements also power the watches. Some watch enthusiasts prefer automatic movements because of the high level of accuracy they offer.
Also Check: Top 11 Men's Essential Accessories For Modern Working Man
3. Rado Tradition Captain Cook Green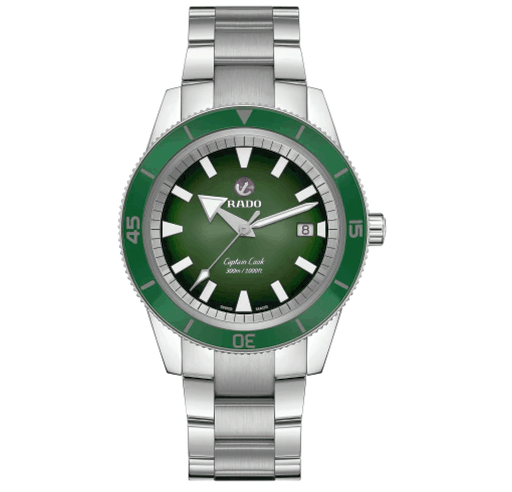 Like the bronze and burgundy, the Rado Traditional watches are the advanced sequel to the first captain cook model released in the 1960s. The visually appealing watch is enhanced by a bezel in green ceramic framing.
The indexes are oversized, and the hands of the arrow are chunky and arrow-shaped. It also comes with a stainless steel strap.
Some watch owners prefer stainless watch straps because of their durability. Most problems experienced by watch wearers occur when they do not protect it adequately. So, the damages can occur while traveling, carrying out operations, and even during daily usage.
A stainless steel watch band may be more expensive than one with silicon rubber or fabric strap.
Also Check: 5 Tips For Choosing The Best Gym Clothing for Men
4. Rado Hyperchrome Tennis Automatic Chronograph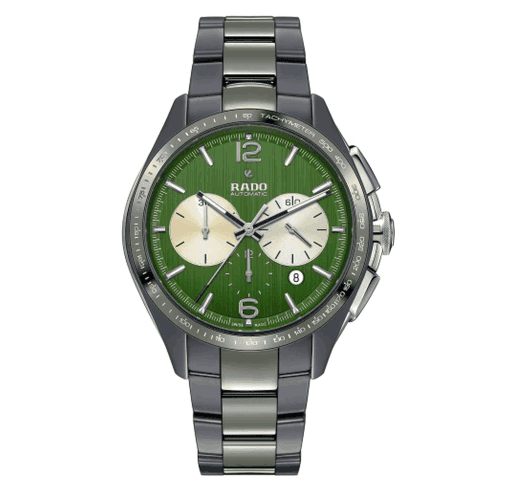 The Rado hyper chrome tennis automatic chronograph, as the name implies, is dedicated to tennis fans. It is characterized by a green dial to represent the color of the green grass during the Wimbledon championships.
Are you looking for a plan to show your extreme tennis fan. Then, the Rado hyper chrome tennis automatic would be a perfect choice. This watch is black with a stainless steel band and features a round dial. It has luminous hands that improve readability.
The Rado hyper chrome tennis automatic watch can also be worn with any outfit. Also, it is appropriate for anyone who is fond of wearing jewelry and has an avid interest in tennis.
Also Check: Best Dive Watches | Top 10 Durable Dive Watch Collection
What Is So Special About Rado Watches For Men?
1. Cutting Edge Technology
Rado watches are distinguished by the use of cutting-edge nanotechnology. When it comes to the style and design of a timepiece, there are few more exciting features that Rado offers. They released the Rado V10K watch that features a resistant high-tech diamond surface.
This brand has been around for over a century. They make a fantastic watch for those who appreciate quality timepieces. There are just some names that can rival the Rado style and craftsmanship. You will also notice that they are highly styled and that they feature very intricate and colorful dials. Their unique watches have an elegant look about them.
If you want to buy a new watch today, you should certainly look at some Rado watches. There are some significant differences between these watches and others that you'll find on the market today.
2. Quality of Materials
Another factor that sets the Rado apart from others is the quality of the materials used for the watches. The designers always make sure that these products are made from the best materials available.
For instance, titanium is used in some of their watches. This material has proven to be both strong and lightweight, ensuring durability and reliability.
Also Check: 5 Reasons Why You Should Have A Smartwatch
3. RADO Watches are Colorful and Fashionable
Perhaps one of the most remarkable points about this brand is its stunning colors. Black, brown, and silver are probably two of the most popular colors seen in the Rado collection.
However, the designer also offers many other color options, including gold, green, and burgundy, as seen in captain cook's collection. This is another reason the Rado brand has gained a reputation for creating versatile timepieces.
Of course, as stylish and fashionable as these watches are, they are also perfect for people of all genders. While there are Rado watch models designed specifically for men, there are also designed for all genders.
This is ideal because people of all genders need to look their best. Wearing a watch that looks good can be more critical than other accessories people wear. With so many choices in the market, there is undoubtedly something for everyone.
Also Check: The Tudor Pelagos Watch To Dive In The Ocean Depths
4. Lightweight
For somebody who is frequently on the go, practical watches are the best choice. This is because the straps of these gadgets are not too heavy. So, you can quickly wear them at any time.
This is probably one reason people prefer Rado watches and their watches feature bands that are simple and lightweight.
5. Design of Rado Watches
Another distinctive feature of Rado watches is that it has a vintage-inspired design. Most of their watches are inspired by older designs that were released decades ago. They also have a choice of strap styles from thick leather to thin, flexible leather and even fabric. Which means you will have a vast selection to choose from.
A leather wristwatch strap is one of the more commonly used straps for a men's watch. This is because it looks great, is very comfortable to wear, and provides the needed support when wearing a watch.
Also Check: 7 Tips New Luxury Watches Collectors Should Keep in Mind
Conclusion
There are many different options available when choosing the best Rado watches. The overall price, model, and material used to construct the watch will all affect your final choice. Rado watches are for horology lovers who appreciate a blend of new-age technological features with traditional wrist watch craftsmanship.
Compared to other luxury wristwatch brands, Rado watches are affordable. However, the term 'expensive' is subjective and holds different meanings for people. Rado beasts a diverse wristwatch collection. Whether you're a tennis fan or you simply want to appear fashionable, there are Rado watches for you.
Also Check: Maurice Lacroix Watch Brand Journey Will Inspire You to Own One
---
Featured Image by Tyler Clemmensen