Are you looking for the best gaming mouse with good quality and affordable price? Well, you are in the right place! Today I am sharing the best corsair gaming mouse that is Nightsword RGB. Its high-end performance and great features make it the best-wired gaming mouse. I know that it is tough to buy a gaming mouse online because many brands and companies offer many different mice.
And all of have different prices that suit to only some people. Because a lot of people have a budget problem. But I am here with a detailed review of the Corsair gaming mouse. And after reading this article, you shall have no problem to buy it according to your choice. This mouse is very comfortable for large hands.
Corsair Nightsword RGB gaming mouse has a lot of useful features, and almost everyone loved this mouse. Due to its smooth performance, adjustable weight, RGB light zones, iCUE software, and suitable buttons, this is one of the best gaming mice. And that's why I am reviewing it.
A right mouse is the number one priority for gamers. And also suits their gaming PC to play a smooth and comfortable game. Because while playing the game, you don't know when the enemy attacks. So, you have to prepare and have a full grip on your mouse.
Read Also: Best wireless microphone for iPhone and iPad
Corsair Gaming Mouse Nightsword RGB
This corsair Nightsword RGB mouse is very good. But as you know that there are also cons with the pros. Its scroll wheel and buttons are not so perfect for someone with small hands and are not comfortable for a long time.
But the fact is that you can't feel uncomfortable due to its other great features and fantastic design. It is similar to Logitech G502 but not exact like that. Its best part is its adjustable weight according to your choice and need and its iCUE software to customize the mouse. All of this we discussed below:
We can discuss:
Design
Features
Pros & Cons
Conclusion
Also Read: How To Choose Electric Shavers – 8 Things You Must Know
Corsair Nightsword RGB Gaming Mouse- Design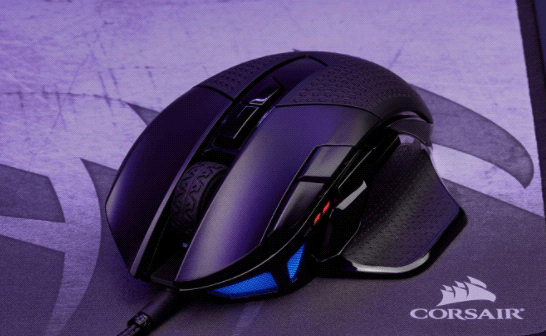 This Corsair gaming mouse is in black with RGB lighting. It is only for right-handed. It is usually comfortable for big paws. Because it comes with quite a large size. Also, it has 5.08 inches of length and 3.39 of width, and 1.72 inches of upper height. So, its size is pretty good. It builds with a contoured shape that easily fits in hand.
Buttons:
This gaming mouse comes with ten programmable buttons. The five buttons are on the front side that includes two right and left buttons and one scroll wheel. Also, that includes in button and just below it two profile switching buttons. Its texture feels rubberized at thumb and palm grips. This mouse has a beautiful logo at its front and looks great.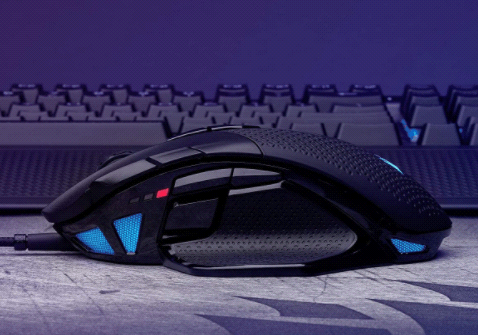 And on the just lest side, there are a pair of macro buttons for changing the DPI setting quickly. Another is just below it so that you can easily click them with your thumb, and of course, a considerable thumb rest is also on the left side because it is for right-handed people. According to its features, like RGB lights and adjustable weight, it is one of the best affordable gaming mice.
Size:
I think this mouse is not so right for small hands because it becomes difficult for them to handle the position of fingers and thumb. Because while playing, you have to press the buttons when the enemy attacks suddenly. So, comfortable people can only fight with them. Also, the portion close to the wrist is low, so you can't change or drag your hand, and it feels a little uncomfortable.
Weight:
Including the size and buttons, this corsair Nightsword RGB gaming mouse has a great feature that everyone loves. Its weight. The weight of this mouse is 4.2 ounces. Usually, gamers like the typical weight of the mouse that they can drag it easily while gaming. And it's eight also good. But the most satisfying part is that there is a huge panel under this mouse.
Adjustment: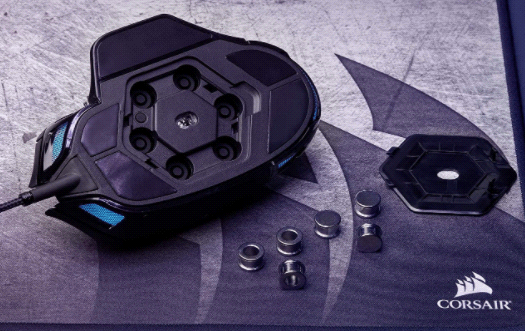 Which is removable and hexagonal and contains six metal spots that maintain the weight of the mouse. There are three donut-shaped spots with 2.8g of weight and three solid spots with 4.5g of weight. So, it means that you can adjust the weight between 119g to 141g. The choice is yours. If you are comfortable with the heavy mouse, you can add weight and if you are comfortable with a lightweight mouse, remove the weight from the holes.
Read More: What Are The Pros and Cons of Robot Lawn Mower
Corsair Nightsword RGB Gaming Mouse – Features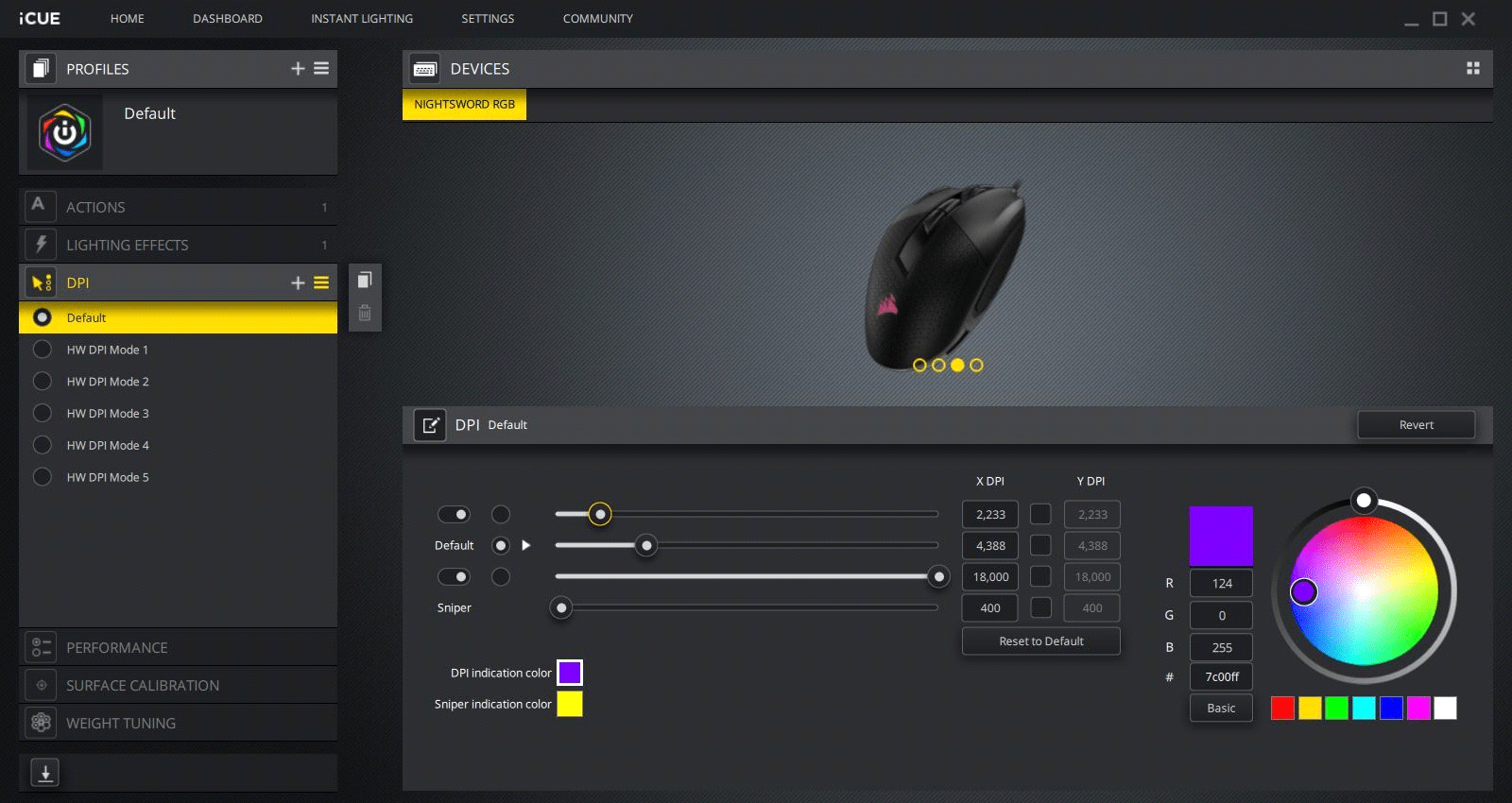 Corsair Nightsword RGB can be configured by its iCUE software, which you can download from its website. So, with iCUE software, you can easily adjust the buttons action and RGB lighting according to your choice. It comes with the 18,000 of DPI optical sensor.
As I tell you that it has ten programmable buttons, so you can easily set the macros to each button via this iCUE software. And when we talk about lighting, usually normal mice come with the three lights, but this mouse has more RGB lights.
You can find these light spots under your palm(logo), light on the front side and another side, and under the scroll wheel. So, thought this software, you can easily change the lighting of this mouse. You can also change the light color when you press the button. There are many options for you.
Must Read: Things To Consider And Check when Buying A Used IPhone
Specifications:
Color
Brand
Sensor
Model
Dimensions
DPI
Buttons
Lights
Weight
Black
Corsair
Optical
Nightsword RGB gaming mouse
5.08 x 3.39 x 1.72 inches
18,000
10
4 RGB lights
4.2 ounces
Pros:
Customizable weight
iCUE Software
Great RGB lights
Cons:
Only for right-handed
The Scroll wheel is sometimes not comfortable
Conclusion:
Corsair Nightsword RGB gaming mouse is one of the most fantastic corsair gaming mice. This has excellent performance. Simultaneously, it is comfortable for big hands, and some times buttons are not comfortable. And its price includes in the high-end gaming mouse. But other features are useful like adjustable weight, RGB lights, and iCUE software to adjust the features. So, I attempt my best to describe everything. This corsair gaming mouse is very comfortable to play popular games, etc. I hope that this remains useful to you.
Must Read: 10 Signs to Tell You that it's Time to Get a New Laptop