In the crowd of Digital Marketing Training Institutes spread across cities like Pune and Mumbai; it has become a kind of difficult to identify and search for the right kind of institute; to pursue a Digital Marketing course. While some of them offer a Digital Marketing course with placement,some institutes offer just training and leave the job part.
Factors like faculty, syllabus, infrastructure, institute's reputation, etc., also got to be considered. Likewise, the Digital Marketing course fees could also vary depending on the institute and its offerings. So, carry out your research in line with these and other aspects you find vital while opting for an institute. Once done, you are all set to kick-start your career in this field by undergoing proper training.
Over here, we will be introducing you to some of the top Digital Marketing institutes in both Pune and Mumbai. This would make your task of finding a suitable one for yourself more comfortable. Isn't it? So, here they come…
List of top Digital Marketing training institutes in Pune and Mumbai
Digital Trainee
A leading and established name in the world of Digital Marketing training; Digital Trainee, is famous as India's 1st practical Digital Marketing training institute; which believes that 'it is about doing rather than just knowing!' It is this that makes Digital Trainee different from its competitors. As claimed by them, the institute has been rated 4.9/5 by its trainees. This speaks a lot about the quality of training offered over there. The institute has successfully trained over 3500+ candidates till now. It also owns the experience of conducting 175+ batches!
Digital Trainee has an intensive practical oriented Digital Marketing Courses in Pune – Digital Trainee; which covers the advanced globally recognized 50 modules. Due to this, one benefits from the hands-on training on the A to Z of Digital Marketing. The course design and structure are suitable for the needs of the job seekers; business owners/entrepreneurs, and the working professionals alike.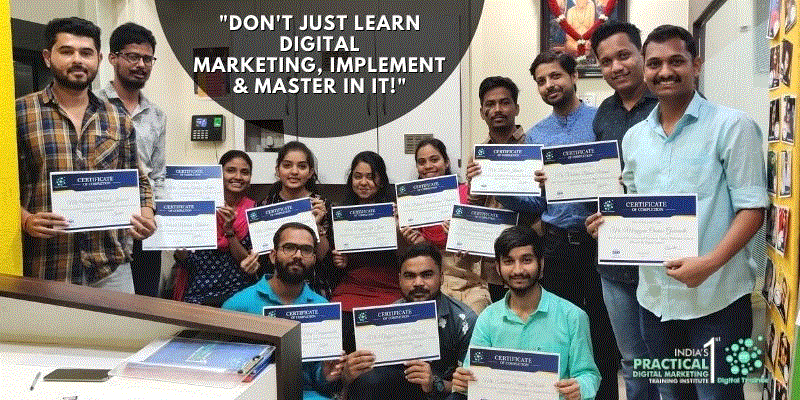 As far as the institute's training ideology goes, it constitutes of
portfolio creation and evaluation,
in-class practical implementation training, and
learning that is assignments and case study based.
In addition to this; they boast of a team of trainers with 7+ years of experience in the Digital Marketing industry.
Salient offerings from Digital Trainee:
Get access to an award-winning and all-inclusive Learning Management Portal (LMS)
Guaranteed internship along with 17+ international certificates
100% job placement assistance is provided
Flexible weekday and weekend batches
Freelancing, job, and business-oriented training
Campaigns with live money spent, for real-time learning
Micro-batch size to achieve Individual focus on each student
Exposure to 50+ online Digital Marketing tools
Competitive and lowest fees for the best Digital Marketing training
and it does not end here.
An online live interactive Practical Digital Marketing Training Program is the institute's latest offering.
Digital Trainee has state-of-the-art training centers situated across India's major cities like Mumbai, Pune, Udaipur, etc.
With such attractive and exclusive offerings; it is worth considering that Digital Trainee is concerned as far as undergoing a Digital Marketing course.
IIDE – Indian Institute of Digital Education
Indian Institute of Digital Education, better known as IIDE; is India's #1 award-winning Digital Education institute offering Online, Offline, Live, Short-Term & PG Courses in Digital Marketing.
Karan Shah, the founder, is himself a Digital Marketing trainer and a tech enthusiast. The institute came into existence in 2016 and has trained 1,00,000+ students and 25+ corporates in Digital Marketing; via online and offline channels.
IIDE has four branches in Mumbai, located at Andheri, Mulund, Navi Mumbai, and Churchgate, in the famous Jai Hind College. Each subject of their training is also covered by highly experienced digital marketers and trained professionals. A Lot of focus is provided to the practical training of the subjects. 
IIDE offers both online and in-class modes of training. Their three-month online digital marketing course gives a personalized and exhaustive online learning experience. So, it consists of high-quality online video lectures, followed by weekly live training sessions and custom-tailored 1-on-1 mentoring sessions. They also have an MBA level Post Graduation Program in Digital Marketing. It provides a broad prospect of the digital marketing field. It includes
Industry-based case studies, 
Assignments, 
Career guidance, 
Mentoring, and 
A 2-month mandatory internship, all capsuled into a period of 11 months. 
Apart from this, the institute has offered a wide range of certification courses, namely SEO, Content Writing, Google Ads, etc. The course syllabus is revised and updated by the industry experts periodically. They also provide 100% Placement assistance.
SimpliLearn
As far as Pune is concerned, SimpliLearn is a known name. Post its foundation, initially, SimpliLearn was just a blog that gave useful tips. Later on, it transformed into a training company. Mr. Krishna Kumar happens to be the founder of SimpliLearn. As of now, they are offering as many as 100+ certification courses! The institute provides training in both the offline and online modes, depending on the students' requirements.
Advanced Digital Marketing Certification Training Course is what they have on offer. It consists of 7 courses. The course duration is 180 days and consists of 175+ hours of e-learning content; if one is to go by their claim.
SimpliLearn assists with the OMCP certification. OMCP.org will facilitate both the study material and the certification. OMCP certification is awarded to all those professionals who have undergone in-depth training. And have several years of online marketing experience.
EduPristine
This training institute from Mumbai was founded by four industry professionals from reputed MNCs, back in 2006. It has a presence in 40+ countries and has got 1000+ faculties. Moreover, EduPristine offers 25+ courses in various fields.
These include Accounting, Marketing, Finance, Analytics, and Healthcare. In Mumbai, the institute is located in Andheri.
It has both classroom and online training session facilities, with the course syllabus being the same for both. Their intensive Digital Marketing course is made up of 25+ modules and exposure to 40 tools. These are SEO, Social Media Marketing, Search Engine Marketing, Web Analytics, Email Marketing, etc. That provide certification after the successful completion of the course. They also prepare the students for different certification exams.
So, match your requirements with those of the various institutes offering a Digital Marketing course in Pune; and enroll for the best-suited one.
SEED Infotech
SEED Infotech is a known name in the world of training and placement. Because, it offers the students and professionals with several Digital Marketing and technology-specific courses.
They have got an intensive advanced classroom-based course in Digital Marketing in Pune city. The course duration is of 3 months and consists of 300 hours of training. While all the key concepts and techniques of Digital Marketing are covered; as a part of the syllabus, trainees are likewise prepared for Google certification.
Industry experts are there to train you, and quality standards are also maintained concerning the course content; and the trainees' performance assessment. After completing each module, the institute is known to conduct practical oriented hands-on practice sessions for the trainees. It facilitates clearing the concepts and in better understanding of the particular topic. 100% placement assistance is also provided under this course from SEED.
Operating Media Digital Marketing Institute
Operating Media is another name as far as the Digital Marketing training institutes in Mumbai are concerned. The institute is situated at three locations in Mumbai, namely Borivali, Andheri, and Vashi. The branches here are at a walkable distance from the stations. The institute has got an overall rating of 4.5 out of 5. So, anyone looking to pursue a diploma either in Digital Marketing or any of its disciplines can join this institute.
The courses offered include a Diploma in Digital Marketing and Advanced Diploma in Digital Marketing. These courses have designed to provide detailed knowledge of Digital Marketing. Another option is to go for individual courses in SEO, WordPress, SEM, etc.; or a combination of two or more such courses.
All these courses are known to be curated by both the subject matter experts and industry professionals. The course syllabus has a regular updates. Some of the courses available here are Digital Marketing Overview, Content Writing, Reputation Management, Blog creation, etc.
LIPS INDIA
Their journey began seven years ago. More than 7000 students have undergone training at LIPS INDIA Digital Marketing so far. The focus is on fulfilling the needs of the trainees. Some highlights of this institute include;
IIT alumni mentors,
paid campaigns-based training,
access to various tools and platforms,
and regular project work to assess the trainees' progress.
Not just this, they also provide hands-on experience by permitting their students to handle live social media campaigns. LIPS INDIA Digital Marketing encourages its trainees to come up with and maintain their own social media representation!
The training institute has on offer a Digital Marketing Courses in Mumbai, Pune, and Bengaluru. So, depending on where you are, you can go for the nearest destination for pursuing the Digital Marketing course.
Conclusion:
This article aims to provide information about the top Digital Marketing training institutes in Pune and Mumbai; not to rank them by any means. You can make use of this information while shortlisting an institute for undergoing training.
Must Read: Evergreen Internet Marketing Strategies – Must to Check Out