How to create Black Friday videos to promote your products and boost your sales? Thanksgiving is coming now. You must have prepared well for this traditional big festival. After enjoying a wonderful Thanksgiving dinner with families and friends with a grateful heart; you will start your purchase journey from Black Friday, which is marked as the first day of the big Christmas season. Also, malls and stores provide various attractive big sales and promotion programs for you there.
What Customers and Businesses Do for Black Friday?
Being an ordinary customer, you can get the most significant discounts on all goods you want happily. Things you may need to do in advance are making a complete purchase list; gathering helpful promotion information, choosing particular shopping malls, and arranging your shopping time well to not miss the great things you need. You can certainly choose to stay home for a more convenient and relaxing online shopping regarding the severe Coronavirus disease.
Compared to customers, malls, and stores, other businesses have more work before starting this purchase festival. They have to think hard to make profitable sales and promotion plans for Black Friday; do advertising, develop collaborators, prepare enough quantities of goods, and do other marketing works. They all want to seize this tremendous annual opportunity to promote their products and boost their sales.
Promotional Videos for Black Friday is Important
Among all preparation works of businesses, advertising using video making has become famous and influential in recent years. Today, you can also hardly find out a business that warms up its Black Friday sale programs without promotional videos. In today's information world, a video may not be the most straightway to deliver information; but would be the most vivid and dramatic way to do perfect advertising and promotion. Attracting customers and catching their eyes with a short video, dynamic pictures, matching sounds and music, promotional videos for Black Friday is crucial in boosting sales.
Also Read: How to Reach Audiences with Animated Video Storytelling in 2021?
What is a Promotional Video?
A promotional video is a common way of marketing; used mainly by businesses to promote their products, services, events, and sales. A well-made promo video has good content to represent your brand and promote your products to your targeted audience. It does not just speak out "buy, buy, buy" loudly to the public, but more smoothly, tell people something about your promotion events; your brand history, your excellent reputation by society, and your prospect for the future. If needed, you can, of course, make the video with a crazy style to evoke people's strong passion for purchase.
Therefore, if there is a promo video segmentation, a promo video can be a video ad, an intro video, an event video, a monumental video, and a video of other types. No matter which type you choose to use to promote your products and boost your sales, think over its core content, as well as the form of expressions.
You can make the video in the form of a product presentation, a campaign introduction, an impressive short story, an interesting conversation, an inner monologue, and so on. Make sure you utilize the two core elements competently to make people receive all information you want to deliver and convert them to your customers in the promotions.
Also Read: How Explainer Videos Can Help In Your Business Growth
How to Create Black Friday Videos?
So how to create Black Friday videos before Thanksgiving? It is not enough that you only filmed one with your mobiles. You have to make and edit one by combining the original video with some photos, GIFs, music, text, icons, filter, and other elements. You need to do this using some video-making tools. Also, you can easily find different video-making factories and brands online, and many of them provide free video-making services.
For Black Friday, you can easily choose a free video maker to try; if it helps you make an awesome promo video with solid video editing skill; then you do not need to pay for further use. To capture the market and win customers, most video-making factories, big or small; are very friendly to users and consider much in product functions and rights of free use.
Also Read: What Makes a Great Video Camera?
How to Create Black Friday Videos with FlexClip Video Maker?
Here we take a free online video maker – FlexClip Video Maker, for example. FlexClip Video Maker is one of the free video makers you can find online. It is an in-browser application. Stocked with excellent photographs and video templates in its library; FlexClip allows you to create custom videos for personal life or business use. It offers delicate Black Friday video templates for you to produce a Black Friday promo video to boost your sales on that day. Here I will simply guide you how to make Black Friday videos with FlexClip Video Maker.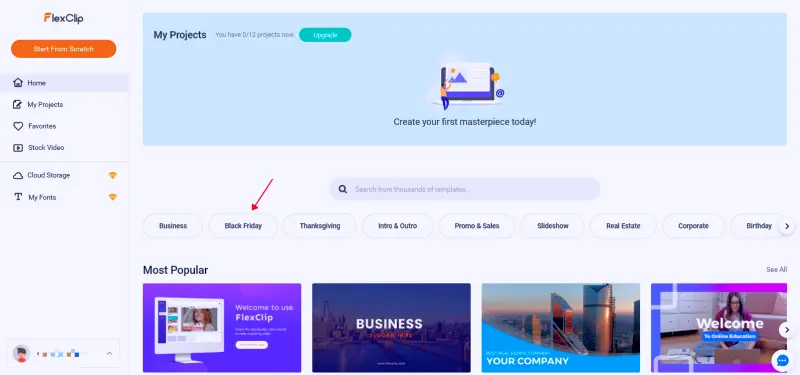 First, sign up for an account for FlexClip and log in. You can see the template in different categories. Click "Black Friday" to pick up a template you want.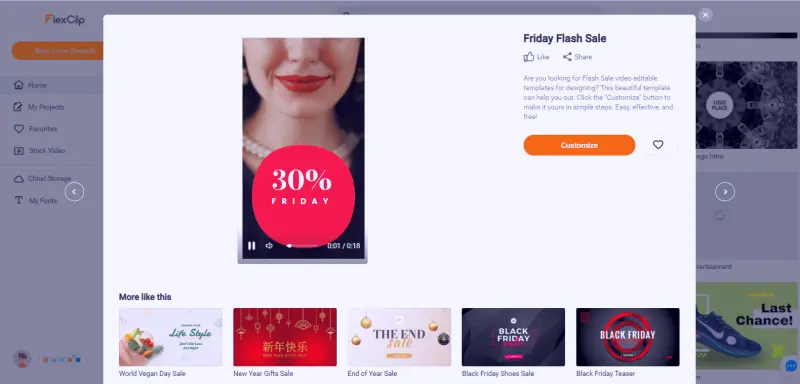 Enter the editing interface by clicking "Customize". You can notice that the video template you choose is separated into several video clips. That is to make it easy for you to do different edits for each part of the video. You can add transitions between each clip, duplicate clips, and remove clips. In the left part, strong editing abilities are presented for you to use. You can also add media, texts, photos, elements, watermarks, trim videos with video frames, overlays, and backgrounds, and adjust each element's properties. You can make good use of all functions the application has.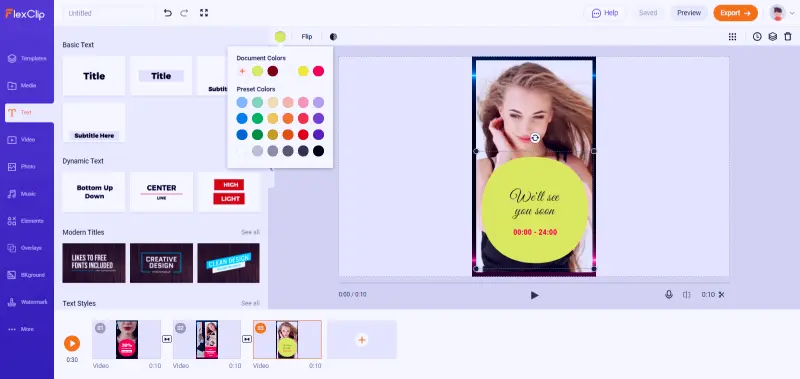 After finishing all editing works, you can preview the brand new video before exporting it in the end. As long as something is not perfect, in your opinion, you can get back to reedit.
Easy, isn't it? If you try FlexClip, you will find it indeed a helpful tool. You can explore more stunning functions and features. FlexClip provides different plans for users. If the free plan can not meet all your needs, then you can turn to higher-paid ones. You may just take a look at the Black Friday Super Sale of FlexClip these days.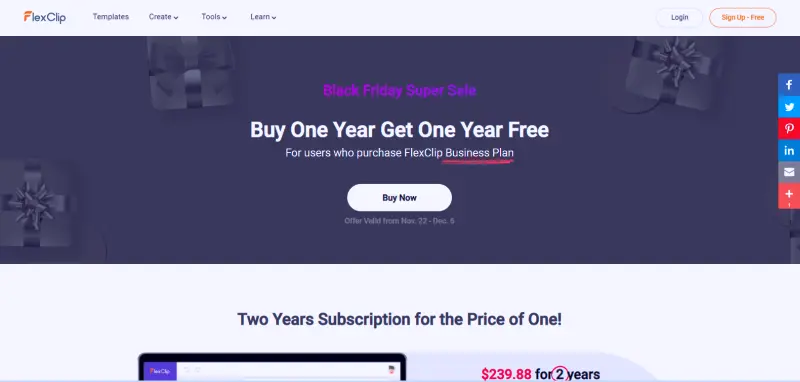 Similarly, if you want to try other free video makers, that is OK. Whatever you choose, just design and make the video boldly according to your promotion need. Once everything is ok, spread your video to grab customers' attractions. It will do help promote your products and boost your sales on Black Friday.
Also Check: How to Create Tutorial Videos in 6 Steps?
Featured Image by Joshua Woroniecki