The future is mobile devices – are you with them or not? With a mobile Personal Office, any place on Earth can become your office anytime. Meet this future today, download the FBS Personal Mobile Area app on Google Play or click the button for a direct download.
But first, learn more about the personal area mobile.
A Brief Introduction to FBS Mobile Personal Area App
This is the best smart app with the trading information you need. You can access your personal trading data and manage your funds from anywhere in the world. Your daily trades will be easy and profitable with concise and comprehensive information.

Convenience as a Synonym for FBS Personal Area
FBS Personal area is a private cabinet application where clients can manage their trading accounts and interact with FBS.
The purpose of the FBS Area Mobile is to provide a client with all the data necessary for account management gathered in one place. Using the FBS Personal Area, you can make deposits and withdrawals to/from your MetaTrader accounts, manage your trading accounts, change your profile settings and download the required platform in just a few clicks!
In FBS Personal Area, you can create any account type, e.g.:
Standard;
Micro;
Cent;
With Zero Spreads;
ECN;
Crypto.
And also set up leverage and proceed with financial transactions.
Also Check: Best Ways For Preparing Yourself As A Forex Trader With The Right Attitude?
FBS Mobile Personal Area Access
FBS has launched a new mobile FBS Personal Area for Android. It's a welcome way for more users to access their FBS accounts. However, iOS users are waiting for updates. FBS developers are now working hard on a particular new version for iOS and will be launching it soon.
Features from FBS Mobile Personal Area
FBS Mobile Personal Area already offers many features, including:
open and manage accounts on the go (applies to demo and real accounts);
activate 100% deposit bonus;
verify personal data (email, phone number, identity);
deposit and withdraw funds via different payment systems with just a few moves of your hand.
Just activate the Swap Free option, change your password, get a download link, and more.
Also Check: Useful Business Tips For Investing In Gold And Precious Metals
FBS App Review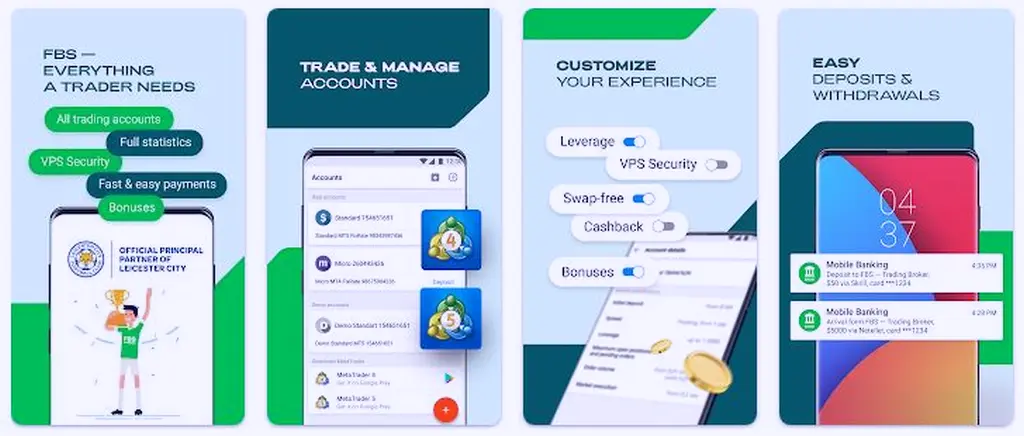 The company refers to the app as an all-in-one trading platform that contains all trading tools.
FBS App tools are, in fact, the most in-demand tools around the world. The demand for them is exponentially high. The app allows users to trade right out of their pocket, and the service provides 24/7 access to trading from any device.
You can intelligently trade the forex market with this app.
Your FBS Dashboard is the place where you can manage your accounts and interact with the system. Let's explore this section together!
Also Check: How To Start Trading For A Living?
Download FBS – Trading Broker For Android And iOS
Features and Options of the Personal Area
So what does the Personal Area offer?
In a private cabinet, you can:
Change your profile settings (name, time zone, mobile number, email, country, zip code, city, and home address).
Make deposit and withdrawal requests.
Download trading platforms.
Set up confirmations and email notifications.
Restrict access to IP-address.
So, complex data is accessible! Go to the official FBS website and get your app today.
From step-by-step registration to general descriptive statistics, the FBS application will delight you with its user-friendliness.
Also Check: 5 Rules On How To Be Good At Stock Trading
Featured Image by kajalbabar