If you need to see a doctor but can't manage time to do that or live so far from doctors' locations, that makes it hard. Telemedicine services come in handy for these cases. Today, there are several excellent quality and the best telemedicine apps for Android and iOS available. By using those apps, you can get the care you want whether you're at home, at work, or on the go! No need to go to the doctors' chamber every time! Here below, we have listed the five best telemedicine apps for you to choose the most suitable one for yourself & your family.
So, let's check the list first!
List Of 5 Best Telemedicine Apps for Android and IOS
Here below, we have listed the five best telemedicine apps for you to choose the most suitable one for yourself & your family.
Antidote Telehealth: Ask a Real Doctor 24/7
This telehealth (formerly Med & Beyond) is our first pick on this list. It helps you receive quality healthcare for every family member of your family without leaving your home or office. It offers video visits with online doctors 24/7.
The app is simple, easy to use, and gives you access to a board-certified doctor on-demand anytime. You don't even need health insurance!
Some of the primaries offered telemedicine services are regular doctor check-ups, new prescriptions, existing prescription refills, referrals to specialists or tests, consult with a doctor about anything, and check whether to go to the ER for urgent care.
Once you get started with this Antidote Telehealth app, its advanced AI-based medical diagnosis medium will ask you easy questions about your symptoms and medical records before seeing the doctor.
After that, you can schedule your appointment with the doctor, or you can choose to see the doctor immediately. Wherever you are and in what condition, it doesn't matter. A doctor will examine you live on a video call and diagnose each symptom in real-time.
Some of the health & medical symptoms you can get treated by Antidote Telehealth are Cold and flu symptoms, Children's health, Skin & rashes, Bronchitis, Sexual health, pink eye, Stomach problems, and more.
Overall, one of the best telemedicine apps to get professional board-certified doctors on-demand and affordable Medicare anytime at anywhere.
Also Read: Top 5 Best Audiobook Apps – Listen Anywhere, Anytime
HealthTap — 24/7 Telemedicine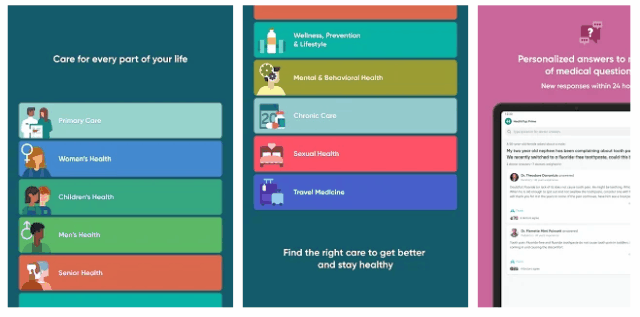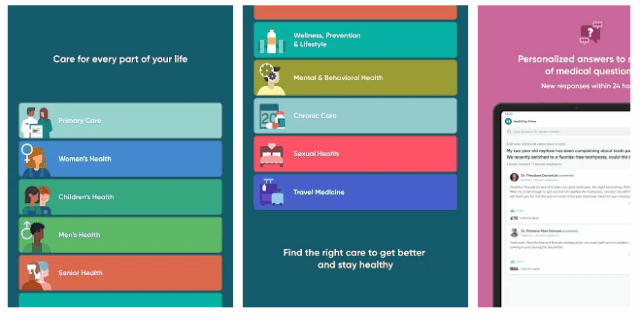 HealthTap is a popular app when it comes to some of the best telemedicine apps, offering high-quality, affordable telehealth service when you need it. Just schedule an appointment with a primary care doctor of your choice or get 24/7 urgent care within seconds.
No need for an expensive and inconvenient trip to a doctor's office! Anytime from anywhere, you can get help with writing prescriptions, ordering lab tests, analyzing results, and referring yourself to specialists.
There are two different subscriptions, HealthTap Prime and HealthTap Basic.
HealthTap Prime offers most of the essential telemedical services, including a low price for Primary Care, and 24/7 on-demand Urgent Care visits $39 or your insurance copay (50% savings each visit), exclusive access to Primary Care.
Find doctor care that fits your need, conveniently schedule appointments with nearby walk-in clinics nationwide, search millions of trusted answers from 90,000 US doctors across 147 specialties or ask your questions, store all your medical records securely in one convenient-to-access app, and care for all your children is covered at no additional membership cost.
On the other hand, with HealthTap Basic, you can talk with the first available doctor within seconds over video or text chat for prescriptions, advice, test orders, and referrals just for $80 per visit. Also, like HealthTap Prime, you can still ask doctors anonymously or search millions of trusted answers.
Also Read: 8 Best Real Estate Apps – Buy and Sell Your Home
Doctor On Demand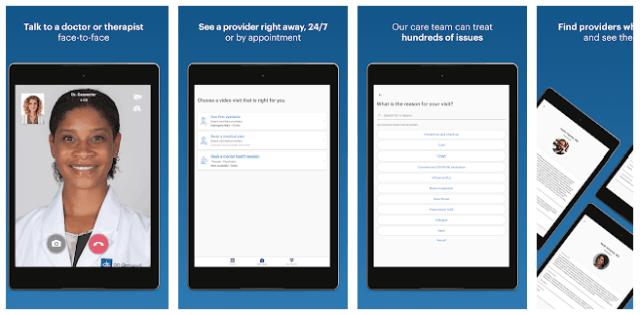 Another one of the great telemedicine apps is Doctor On Demand that ensures face-to-face with board-certified providers, including licensed therapists, over live video call on your smartphone or tablet. You can see providers anytime, anywhere – 24 hours a day, seven days a week, immediately, or schedule a visit at your convenience.
With the app, you can get advice & treatment for Cold & flu, UTIs, Depression & anxiety, Allergies, Skin & eye issues, Urgent Care & more.
Once you select the type of visit and provide your medical history and symptoms, you'll meet with your provider. Then the doctor will prescribe and recommend lab work and treatment if needed.
All your visit details will be stored in your Doctor On Demand health record that you can review anytime you want. With the service of Doctor On Demand, you can enjoy both with and without health insurance, and you can see exactly what your visit will cost before you connect. There is no monthly fee!
Also Read: 8 Best Anonymous Social Media Apps
PlushCare: Medical Doctor Care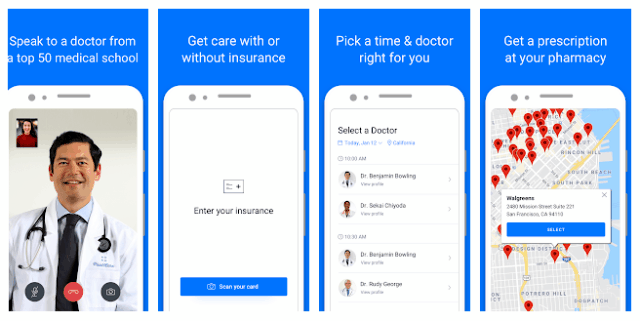 Now it comes to PlushCare, one of the most popular telemedicine apps to see a trusted, world-class doctor and get prescribed medications. It accepts major insurances and offers cost-effective & convenient online Medicare services Nationwide in all 50 states and the District of Columbia.
The doctors of PlushCare come from top medical schools, board-certified, and based in the USA. It helps you save time to commute to a doctor's office, ER, or urgent care center. You can see doctors 365 days a year, 24/7, with weekends and all holidays included.
The standard treatments of PlushCare are acne, asthma, back pain, anxiety, birth control, depression, diabetes, erectile dysfunction, hair loss, high blood pressure, hypothyroidism, insomnia, migraine, and more.
You can also get treatment for urgent care & non-emergency condition like allergies, cold, dental infection, diarrhea, bronchitis, cellulitis, ear pain, flu, and more.
To start with PlushCare, simply create your account, select a time for an appointment, enter your insurance information (if applicable), and you'll be able to connect to one of the doctors through your smartphone or webcam.
Also Read: Top 30 Best Job Search Apps to Find You Dream Job
LiveHealth Online Mobile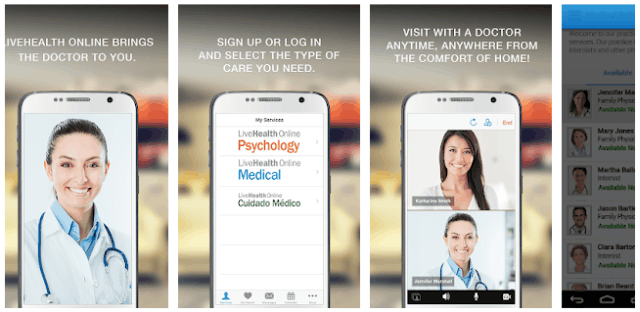 LiveHealth Online Mobile is our last pick on this list, another fantastic telehealth option to visit with board-certified doctors, licensed therapists, registered dieticians, lactation consultants, and more through live video on your smartphone, tablet, or computer and get the care you need whether you're at home, at work or on the go! Easy and convenient!
To start with LiveHealth Online, all you need to sign up or log in to your existing account and select the doctor you would like to see. After that, you'll be connected through a private and secure video chat in about 10 minutes or less.
You can get care for common health conditions like the flu, sinus infection, pink eye, bronchitis, fever, cough, cold, allergies, urinary tract infection, skin infection, diarrhea, and more! You can also get a treatment plan and prescriptions to the pharmacy you select if needed.
Video visits to doctors with LiveHealth Online are covered by many insurance plans. So, enter your health insurance information within your account settings and understand how much a video appointment will cost you after your insurance is applied.
Also Read: Top 6 Best Apps of 2022