Playing games on Smartphones is the usual trend now—we almost everybody who has a Smartphone play at least one or two games. However, the game type is different according to our choices. Do you love to play fun and challenging games? Are you searching for the best fun and challenging game for Android device? Then you can check the games below on this post.
These are some of the best fun driving games and challenging games for Android, and you'll love to play all of them for sure. So, let's go for having fun and accept the challenges!
8 Best Fun And Challenging Games for Android
Duet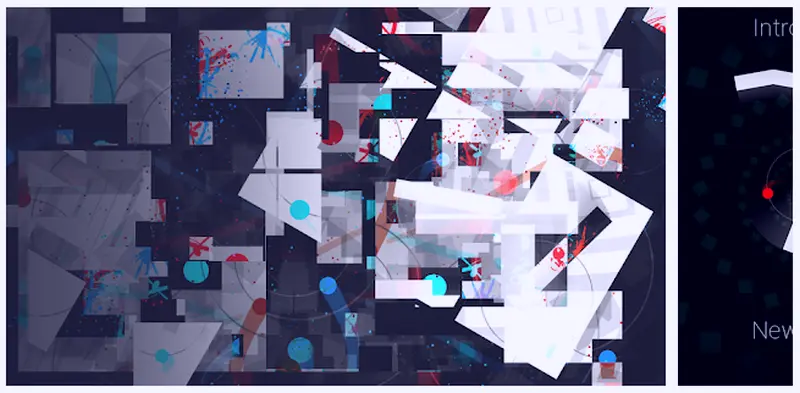 Now it comes to Duet — one of the most challenging and fun games for Android, yet the playing rules are simple. You have to control 2 vessels in sync and protect 2 vessels from hitting obstacles around. You need to stay calm and act fast; the more your reflexes will be fast more quickly you can go. With smart controls and gameplay, this game provides challenge and gaming satisfaction at the same time.
There are 8 chapters of deceptive narrative and nerve-twisting exciting gameplay. Also, there are Daily Challenges, the Survival mode, and four additional chapters of bonus challenges. You can even replay any stage to perfect your movements and sync your progress across all your devices.
Data Wing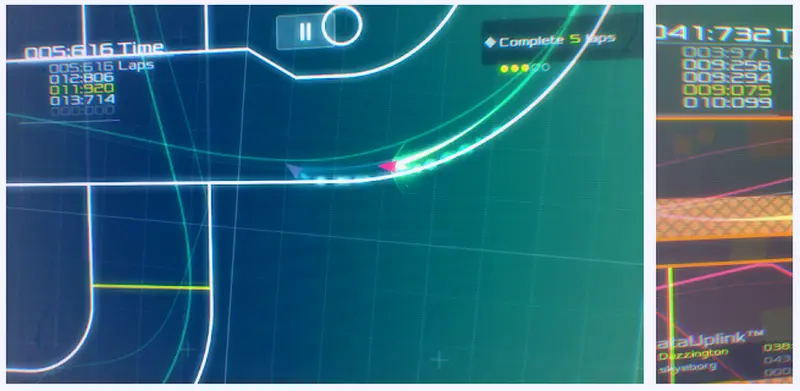 DATA WING is mainly racing type game that's very merely built, but it's not about car or bike racing! It's about a racing adventure in a neon landscape along with a charming story. In the story, DATA WINGs deliver critical data throughout the computer system following Mother's orders. But when the system falls under attack and Mother becomes helpless, something must be done to make it right even if it's hard.
The game provides intuitive two-touch control with an arcade feel and lets you enjoy sleek racing to focus on thrusting off walls. With 2+ hours of story with over 40 different levels, own courses and the leaderboards, and amazing soundtracks from world-class producers including luxury elite, 18 Carat Affair, and ESPRIT, DATA WNG is an undoubtedly a great game that's worth to try.
Spout: Monochrome Mission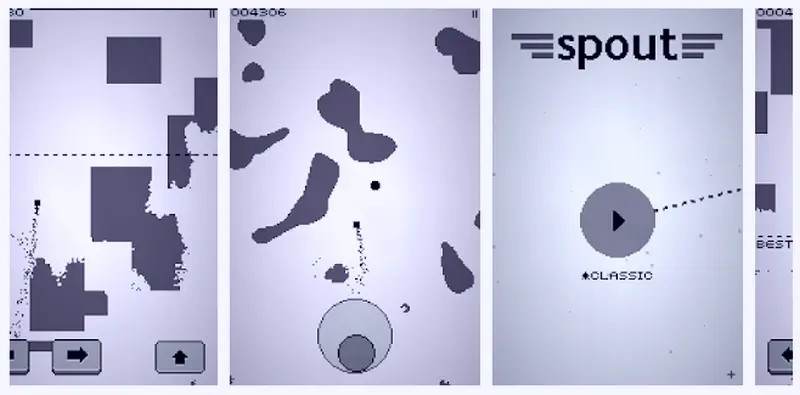 Spout is genuinely a fantastic game that fun to play, challenging, and addictive. It's about the monochrome mission in space. The Spout is your spaceship, and you aim to go as high as you can to reach the outer space or just get a better score.
Its low-resolution graphics may seem not good at first sight! But, actually, they have been procedurally crafted to make the game lovely to the eyes. Here, you can feel the comfort too after playing a while. You must try this game only if you want to experience something new.
Beat Stomper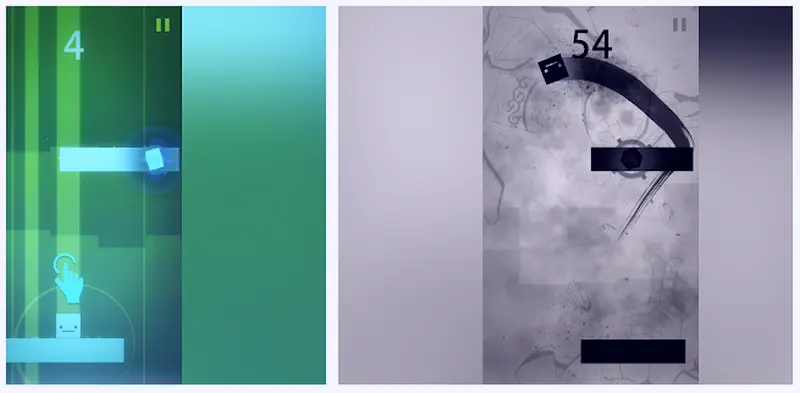 Beat Stomper is an ideal game for those who love challenges and fun at the same time while playing a game. This is an action-based arcade game with simple one-button control. That's why it's straightforward but very challenging. Satisfying endless gameplay, fresh sounds, and with mind-blowing graphics and animation Beat Stomper is just fabulous. You'll love to play it for sure.
It is all about "Jumping" and "Stomping". Simply jump, hold, and stomp! Try jumping up as far as possible without falling to your death.
Orble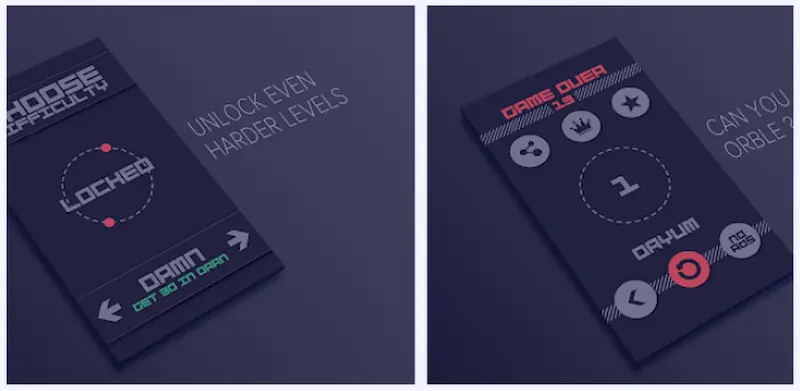 Do you think you've got hand-eye coordination and faster reflex? Well, think again! Because Orble is here to test your limit. It's one of the minimalist reflex-based game that's simple yet very difficult to master. Just download, start playing to put your reflexes in the ultimate test.
Gaming rules are simple, you are the Gray ball, and your mission is to avoid the Orange balls and Collect the Green ball. Jump through the orbits to survive — tap left to jump to an inner orbit and tap right to jump to an outer orbit. The game has its leaderboard, so play, share your scores, and show them who's the boss!
Brain Dots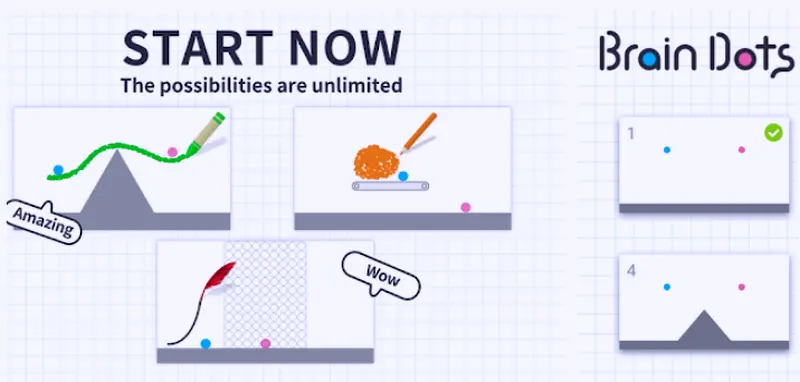 Brain Dots is a cool game with a simple gaming rule, but it needs creative thinking to play. The only rule is that make the blue and red balls bump, that's it! It seems so easy, yet it's very challenging. Draw lines and shapes freely to move and roll the balls, while flexible thinking is the best way to victory.
You have to start with a simple pencil, but according to the progress, you can move onto color pencils, crayons and so on. There are more than 24 varieties of pens of different colors and sizes to collect. You can also review and share the moment you cleared a stage on video or picture. The most exciting part of Brain Dots is that you can create your own stages, and you know, there are over 3 million stages already created! If you love to play something that can boost your brain, try Brain Dots.
Orbit – Playing with Gravity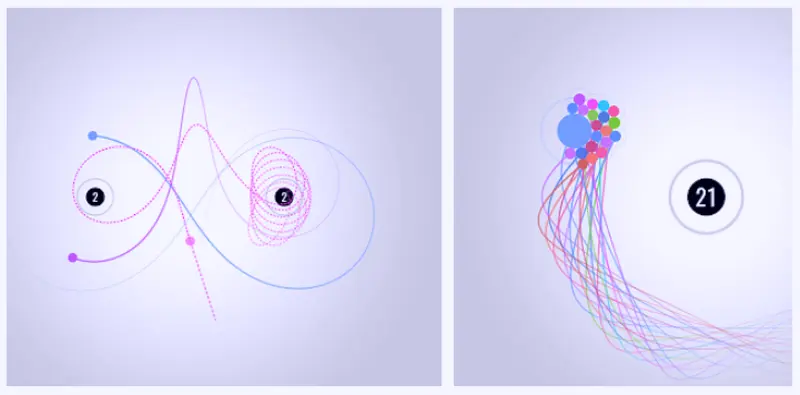 Orbit is our last pick on this list, and it's about playing with Gravity! The rule is simple, and you have to launch planets with flicks of your finger and try to place those planets into stable orbits around black holes. Also, you can launch as many planets as you want to watch the mesmerizing orbital mechanics unfold.
The game contains 45 free levels, with new mechanics including repulsive black holes and planets with their own gravity that attracts each other. Playing the Orbit's pro version, you can even create your own levels and share with other millions of players worldwide. Simple, challenging, and satisfying. Play, control time, disable collisions, paint with gravity, and enjoy.
Protect The Squircle – Fun and Challenging
Protect The Squircle is a new android game brought to you by Squircle Studios that's fun to play, exciting, and challenging. So, are you ready for it? The gaming rule is quite simple; all you need to protect the squircle from incoming enemies towards it. Just keep tapping over the enemies to destroy them before hitting the squircle.
To protect your Squircle from all the enemies and make good progress, you'll have to think and react as fast as possible. As many enemies, you'll destroy as many points you'll make.
Play, gather points, and upgrade your Squircle's shield, power, health, and appearance to defeat the enemy while going through all the levels. You can also try the Squircle game that's challenging and fun, too, developed by the same developer.
So why are you waiting for, try your best protecting the squircle?